This Winix 5500-2 review can broaden your knowledge of how an air purifier can keep indoor air quality at the cleanest levels. This is important to know because airborne pollutants are seriously threatening to health.
Its features such as auto mode, remote control, activated carbon filter, and pre-filter make it one of the best air purifiers. But what are its drawbacks? Following are all the details you should know!
Quick Answer
Read on to learn about the important details of the Winix 5500-2:
This model is capable of covering 360 sq. feet.
It possesses a smart and intelligent sensor to track indoor air quality in real time with a quality indicator.
The Winix 5500-2 has four-stage filtration to provide clean and best- indoor quality air with a True HEPA filter, a washable pre-filter, and a carbon filter.
Also, an air purifier has Filter Reset Indicator, Auto-mode, Remote Control, PlasmaWave, and Light Sensor features.
The Winix 5500-2 is covered by a 2-year manufacturer's warranty.
Before you make up your mind, let's go through the pros, cons, and unique features of the device to get a better understanding!
Upsides and Downsides
Check the upsides & downsides of the device: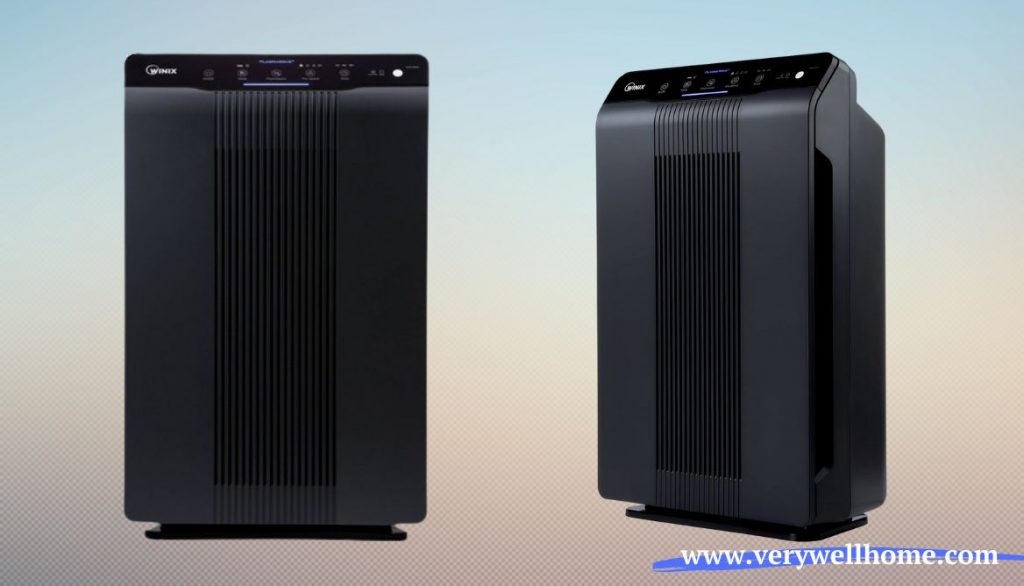 Upsides
Efficiently filters at about 250 CFM (Cubic Feet Per Minute).
True HEPA filter (High-Efficiency Particulate Air) for advanced cleaning.
A pellet-based washable AOC carbon filter with replacement filters and pre-filter.
Unique PlasmaWave technology enhances indoor air quality effectively.
The device's remarkable energy efficiency is one of its most outstanding perks.
It does not generate a lot of noise while operating.
Excellent air quality cleaning performance with added pre-filter and indicator.
Remote control included auto mode functioning.
Downsides
The filters are pricey, and the overall maintenance is expensive due to frequent filter changes.
Some users complain about the quality of the remote unit
The device is bulky and heavy
Complicated return and warranty path
Winix 5500-2 Specifications
Listed below are the specs:
Size: 23.6H X 14.9W X 7.8D inches
Weight: 15 pounds
Suited for room size: 360 sq. feet
Power Options: AC and DC
Filter Type: Activated Carbon
Battery Type: 1 Lithium Battery Required (Included in box)
Filter changing requirement: Every 12 months
Filter Stages: 4-Stage Filtration Process
Noise Intensity: 27 dB
Total Fan Speeds: 5
Timer: Yes
Air Quality Indication: 3-color LED
Product Certifications: AHAM, Energy Star, UL, CARB, Prop65
Filters: True HEPA, PlasmaWave, carbon filter, and washable pre-filter
CADR (Clean Air Delivery Rate) Smoke/Dust/Pollen: 232/243/246
Control Type: Remote control with auto mode panel and fan speed settings
Noise level: Low to a minimum with silent fan speeds
Fan Speed: Adjustable and auto-mode
Energy use: 0.105 kWh in 24 hours with high fan speeds
Warranty: 2-year limited warranty
Layout and Design: Explore the Build and Functionality
Premium build, high-grade material, and a simplistic design are the initial impact you will have at first glance at the Winix 5500-2. The color choice of the air purifier helps it to easily adjust to any type of room setting or theme.
Control Panel and Initial Operations: Mastering the Controls
This air purifier does not feature a touch panel, touch sensor, or haptic functionality. Instead, it follows a classic button operational method which requires you to press the button for your desired function.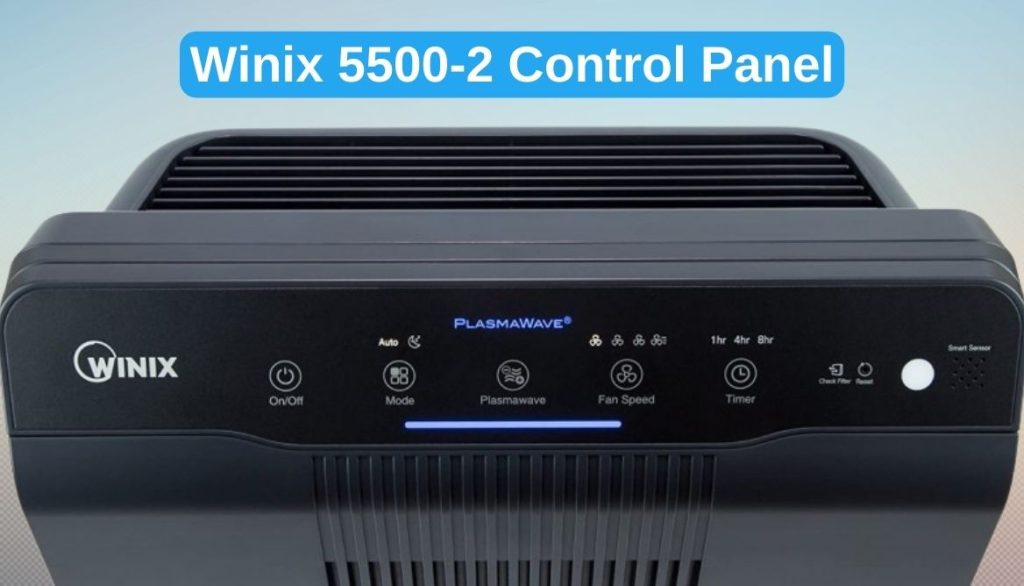 Although, you can use the remote control to operate the device from a distance. Let's have a look at a quick Winix 5500-2 review of the operations!
1. Turning the Device On/Off via the Power Button
A power button to switch the on and off the device is present on the control panel of the Winix 5500-2 air purifier.

2. AUTO Mode Button Makes Functionality Easier
This feature automatically adjusts the fan speed when it detects that the quality of air is low in a room:

The fan speeds increase, and the room air is quickly purified to maintain a healthy AQI.
The auto mode button changes color per the Air Quality Index or AQI.
3. Sleep Mode Button
With the sleep mode button, the device starts operating at the quietest fan speed, so as not to disturb your sleep in any way.

4. PlasmaWave Technology Button Ensures Better Health
It comes with a PlasmaWave Technology button on its control panel, enabling you to activate or deactivate this feature easily.

When this technology is activated, it uses an ionization process to neutralize harmful pollutants, such as:
Bacteria
Viruses
Chemicals
It creates positive and negative ions, which attach to the pollutants, rendering them harmless through chemical reactions. Overall, this feature helps to improve the air quality in your living space and promotes a healthier environment for you and your loved ones.
5. Adjusting Air Flow by Using the Fan Speed Button
This air purifier is equipped with an intelligent fan speed control system that adjusts it on the level of pollutants detected in the surrounding air. This cleaner has four fan speeds.

For a better picture, they are listed below, along with their respective functionalities:
Low Speed: Turn the fan speed button to low when you need minimal air cleaning or if you want to keep the noise level down.
Medium Speed: Pressing the medium button helps remove airborne pollutants and allergens from the air more effectively.
High Speed: The high-speed setting is ideal for times when you need to clean the air quickly, such as after cooking or if you have pets.
Turbo Speed: The fourth and final turbo speed provides maximum airflow and air-cleaning power.
However, each speed mode is accompanied by the fact that the corresponding indicator on the panel lights up.
6. Try the Timer to Customize Your Usage
This air cleaner is also designed with a timer feature that allows you to set a specific time for the device to operate.
This feature is easily accessible with a simple push of a button, and you can choose between hours, such as:
One hour
Four hours
Eight hours
Once the desired time is set, the air purifier will run for the selected duration before automatically turning off.
7. Filter Reset Button
It enables resetting the filter replacement indicator. Press and hold this button for 3 seconds to reset.

The Spatial Features: Size and Dimensions!
It has a very plain yet elegant design that blends into any type of room setup. Its dimensions are as follows:
Width – 18 inch
Depth – 8 inch
Height – 23.5 inches
Weight – 15.5 lbs.
Winix 5500-2 Air Purifier: Content in the Box
Careful unboxing reveals the contents as follows:
Single-page informative manual with easy directions
Winix air purifier
Remote control
Simple Steps for Filter Installation and Setting it Up
To properly install the filters, follow the given below instructions:
To remove the front panel of the air purifier, gently apply pressure to the upper edge and pull it forward.
Next, remove the pre-filters and the plastic bag containing the filters behind them.
Make sure to remove the filters from the plastic bag.
The filters need to be placed in a specific order, starting with the pre-filter in the front, followed by the washable AOC Carbon filter in the middle, and ending with the True HEPA filter at the back.
Ensure these air filters are installed securely.
After you have installed it, close the front panel.
Your device is now ready to be used.
A Quick Video Review
The device improves the Air Quality Index (AQI) via its high-end features. It has a 4-stage filtration process to provide you with optimal environmental conditions. Check out the video review to learn more!
A Sneak Peek into the Features
If you are looking forward to efficiently using the innovative features of the device. Then let us shed some light on them one by one. Let's get started!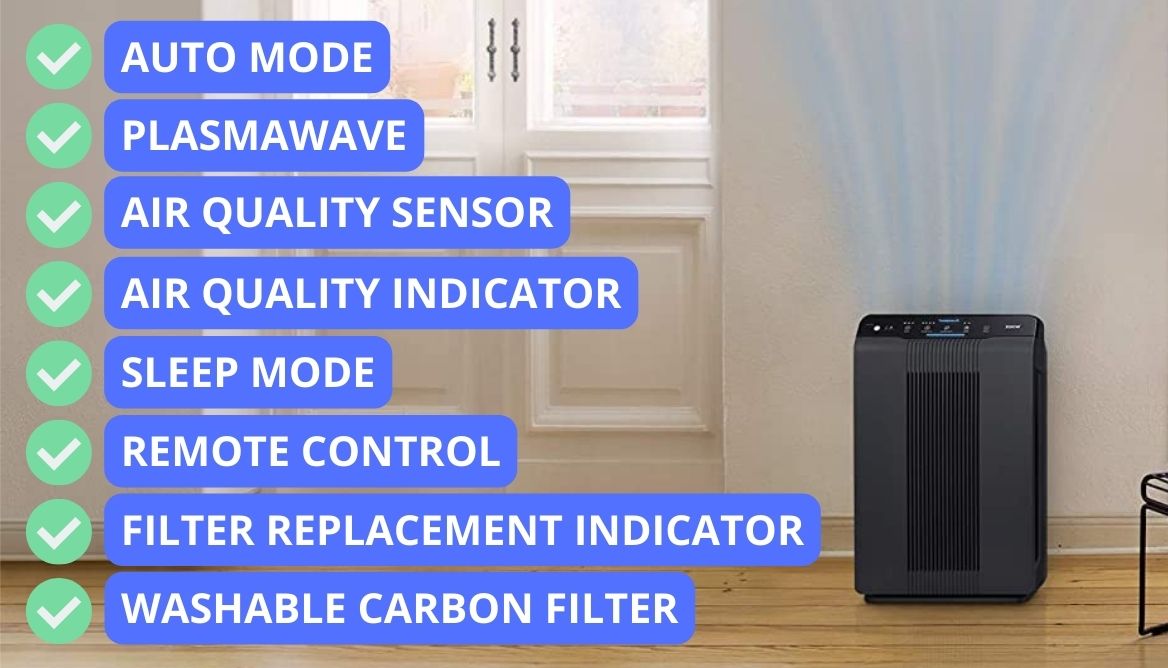 1. Auto Mode Saves Time
The auto mode adjusts itself depending on the air quality index indoors and it starts to rigorously clean the air to maintain a healthy environment. If you are not sure which setting is right, simply switch to this mode.
2. PlasmaWave – The Latest Technology in Air Purifiers
The indoor air quality is maintained using the high-end PlasmaWave technology present in the air purifier:
It breaks down any pollutants in the air by making use of electricity.
It produces hydroxyl ions that will neutralize any type of harmful particles in the air and ensure a safe breathing environment for you at all times.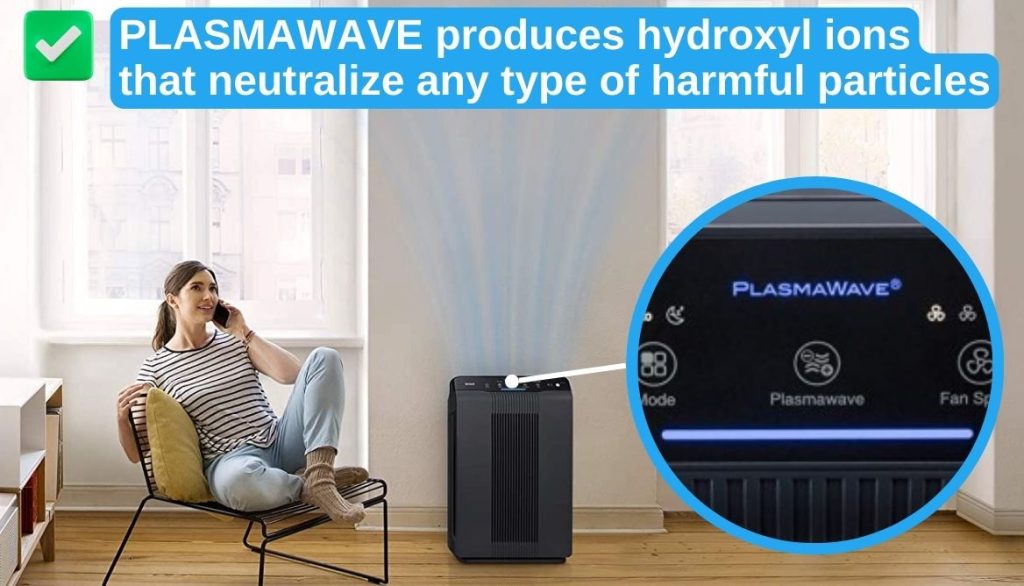 3. Sensor for Air Quality Monitors and Tracks Pollutants
The Winix 5500 air purifier has a highly efficient air quality sensor:
It that can detect various pollutants, chemicals, and smoke.
When set to auto mode, this air cleaner initiates the purifying process to ensure a healthy, breathing environment for you.
4. The Air Cleaner Indicator Provides Important Information
It has an easy-to-understand air cleaner quality indicator in the formation of a blue/orange/red indicator light, which helps provide the current status of the air: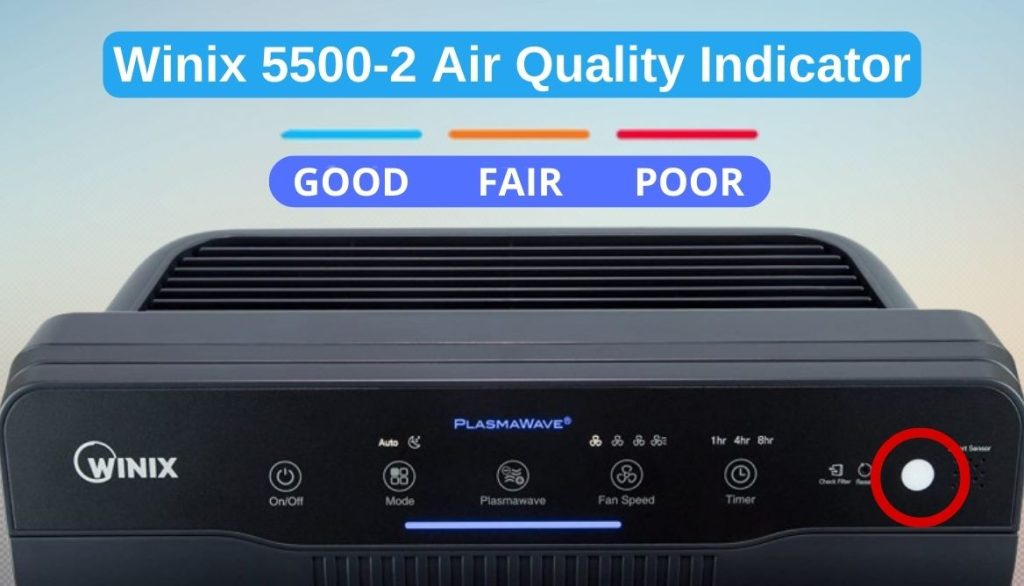 Blue means fine-quality of air.
Yellow means ramping up.
Red means a high level of pollutants.
5. Sleep Mode Ensures You Quality Nap Time
A sensor in the device:
It is light sensitivity.
In low-light conditions or a darkened room, the sleep mode is activated in the air purifier.
You can also set a time using the timmer button to switch between different modes for efficient use.
6. The Remote Control Feature Provides Ease of Use
This air cleaner is accompanied by a remote control permitting extra convenience while using the device. You can easily toggle the modes or make changes to any setting while being seated at a distance from the air purifier.
Moreover, it has a sleek design and is small enough to fit comfortably in the palm of your hand. The following are the button present on this remote: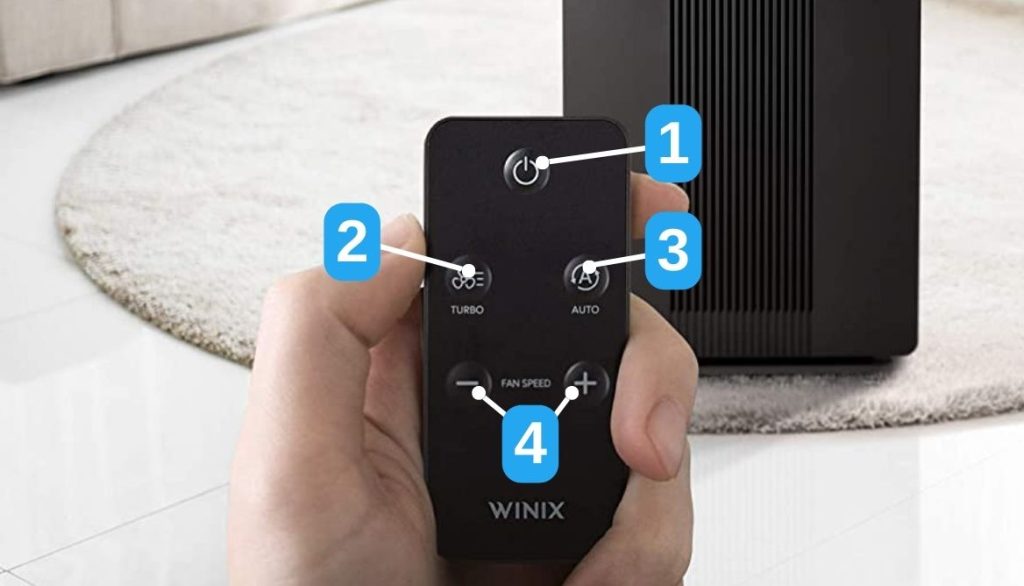 Power Button: It switches the device on and off remotely. You don't have to get out of your chair or bed to operate it.
Turbo Button: This activates the turbo mode when the fan runs at full power and the air in the room is cleaned quickly.
Auto Mode Button: This button sets the device to an automatic operation mode. If the smart sensor detects poor air quality, the unit will increase fan speed. As soon as the level reaches a good level – immediately reduce it.
Fan Speed Buttons: These allow you to adjust the air purifier's fan speed manually. When you press the "plus" – the fan speed increases, and when you press the "minus" – respectively decreases.
7. Filter Replacement Indicator is Always Spot On!
The filter replacement indicator in the Winix 5500-2 air purifier makes it easy for you to track the lifespan of the filter. This feature notifies you if the filter needs to be changed.
The filter replacement indicator also stays enabled in auto-mode.

8. Washable Carbon Filter
The filter inside the air purifier will reduce any unwanted odors from pets, cooking food, or any pollutants in the atmosphere. Making indoors feel more fresh and healthy for you.
Efficient and Quick Room Coverage
There are some points of the Winix 5500-2 efficient:
It is excellent for room sizes that do not exceed an area of 360 sq feet.
The powerful air purifying technology can keep the environment fresh.
The auto mode will maintain the optimum fan speeds to remove odors and pollutants from the atmosphere.
Winix 5500-2 Review of the Filtration Technology: How Does it Clean the Air?
Let us learn more about the filtration process and the type of filters equipped in the device. Read on!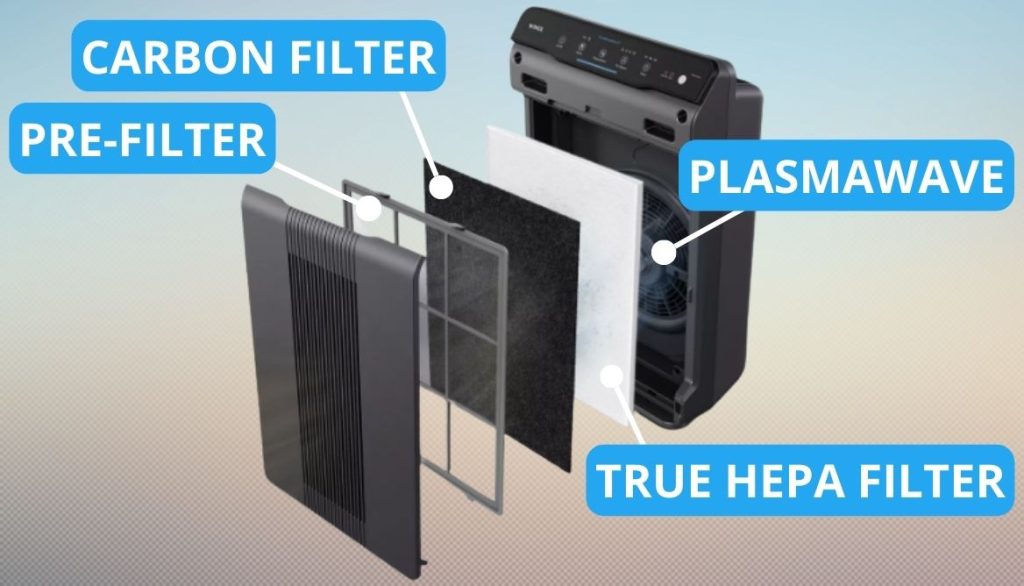 Pre-Filter: Important for the Efficient Operation of the Device for a Long Time
The pre-filter helps in trapping large particles of contaminants which include dust, pet dander, and pollen.
Washable AOC Filter Saves You Extra Bucks
The pre-filter also has an attached washable carbon filter with high-graded activated granular carbon to absorb the odors and smoke and protect against VOCs (volatile organic compounds). This carbon filter, along with the pre-filter, is easily washable and can be cleaned regularly.
True HEPA Filter Makes It a Better Choice than Others!
The true HEPA filter captures all the microns, allergens, and virus particles that appear as nano-particles.
FAQ
Can I use my Winix 5500-2 air purifier 24/7?
Yes, there is no harm in using it full-time. But, it's better to turn it off when you are not at home.
What is PlasmaWave technology?
Plasmawave technology uses electricity for the production of Hydroxyl ions. These ions are used to break down and neutralize the particles and chemical pollutants in the air for better AQI (Air Quality Index).
Does Winix PlasmaWave really work?
Yes, the Winix Plasmawave 5500 is one of the best purifiers available. It contains highly reliable carbon filters and HEPA filters to generate PlasmaWave for a highly efficient process of cleaning the air and thereby improving the AQI (Air Quality Index).
Do Winix 5500-2 air purifiers produce ozone?
Yes, the WINIX PlasmaWave Technology works under the natural filtration process of producing positive and negative ions to separate toxic elements (on the molecular level) without producing toxic ozone, and not damaging the environment.
How long does the Winix 5500-2 filter last?
Winix 5500-2 uses specialized Plasma Wave Technology, which consists of a highly effective filtering system that lasts 1-2 years and has the capacity of clean spanning 360 sq. ft.
Should I wash the Winix 5500-2 air purifier filters?
Yes, both pre-activated and activated carbon filters can be washed as they are washable.
Final Thoughts
The Winix 5500-2 is a technological upgrade to your home space for improving the air quality indoors. The impressive combination of design, build quality, and features provide exceptional performance at the most affordable price.
Maintaining air quality constantly can be challenging but that is not a problem if you have features like HEPA filter, PlasmaWave, auto-mode, and pre-filters installed.
Sale
Winix 5500-2
Perfectly copes with any pollutant. Increase indoor air quality and relieves allergy symptoms. Eliminates unpleasant odors.
Which features did you prefer before investing in such a device? Let us know in the comments section!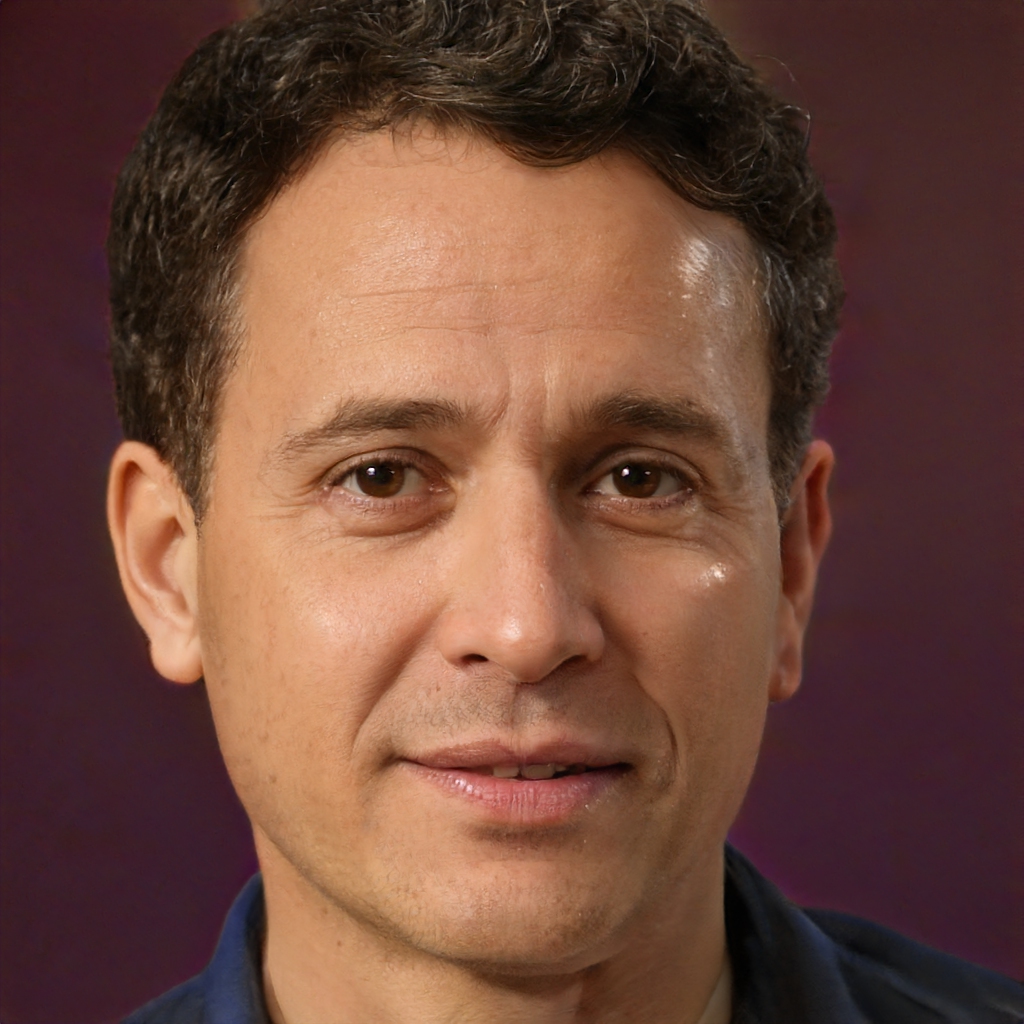 Danny is a passionate writer who loves to share his knowledge about air purifiers. He's been writing for 10 years, and he'll share all that experience with Very Well Home viewers to help you make the best decision when it's time to buy an appliance!