Guests coming over and you're worried about the weird smell in your bathroom? The best air purifier for bathroom is certainly your best bet. Its got all the features to deal with this problem at hand. There's no doubt that bathrooms are the most germ-infested places on the planet. Add the foul smell and it becomes the most revolting place to breathe in.
Made with advanced technology, an air purifier smoothly tackles all these problems and provides fresh and healthy air to breathe in. With the right filters that include the activated carbon filter, an air purifier helps capture all the targeted particles along with the odor to quickly filter them from the place. It's incredible how well these things work. With recent technology ready to make things easier it's hard to imagine a world without AC or even a machine that gives off clean, fresh air.
Our two best air purifiers for bathrooms are the Germ Guardian Ac5350bca and the Pure Enrichment PureZone 3-in-1.
Comparison Table for Best Air Purifiers for Bathroom
When it comes to choosing an air purifier for your bathroom, you want to make sure that you select a model that will work effectively to remove odors and contaminants from the air. There are a few different factors that you'll need to consider when making your decision, and our experts have put together this guide to help you choose the best air purifier for your needs.
IMAGE
PRODUCT
FILTERS
AREA COVERAGE
RATING
PRICE
Germ guardian
ac5350bca
1. True HEPA
2. pre-filter
3. activated carbon
4. UV-C Light
1800 Sq Ft
⭐⭐⭐⭐⭐
Pure Enrichment
PureZone 3-in-1
1. Activated carbon
2. True HEPA filter
3. UV-C light bulb
4. Pre-filter
200 Sq Ft
⭐⭐⭐⭐⭐
NuWave OxyPure
1. True HEPA
2. pre-filter
3. Bio-guard
4. Ozone emission
removal
1200 Sq Ft
⭐⭐⭐⭐⭐
LEVOIT Vista 200
1. True HEPA
2. pre-filter
3. activated carbon
170 Sq Ft
⭐⭐⭐⭐⭐
HomeZens
UV-C Air Sanitizer
1.UV-C technology
filter
107 Sq Ft
⭐⭐⭐⭐
Hamilton Beach
04384
1. Permanent HEPA
2. Activated carbon
3. Pre-filter
140 Sq Ft
⭐⭐⭐⭐
Germ guardian
gg1000
1.HEPA filter
456 cubic ft
⭐⭐⭐⭐
NoMO
Activated charcoal
100 Sq Ft
⭐⭐⭐⭐
1. Germ Guardian Ac5350bca – Overall Best Air Purifier for Bathroom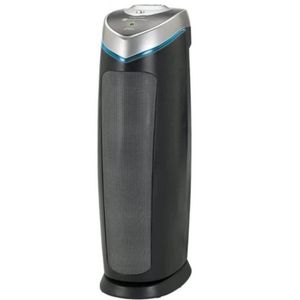 Air purifiers have been gradually cementing their place in the market for a really long time.
The reason I placed Germ Guardian Ac5350bca at top of the list is that it is an all-in-one air purifier. It has a very modern filtration design and comes with a pre-filter, activated carbon filter, True HEPA filter, and UV-C light bulb. All of these work together to make sure that the air you breathe is as clean as possible.
It is rare to find air purifiers that are perfect in every sense, due to which we might get a little disappointed with the ones that show a little less than their best. Germ Guardian is a well-known brand that always offers the best products to sell. The same goes for this AC5350BCA model that might not be a flagship but definitely gets the job done of cleaning the air.
Specifications
Modern filtration design
Pre-filter with activated carbon
True HEPA filter
UV-C light bulb
Ach rating is 4X
Room coverage is 167 sq ft
Noise ranges from 40 to 60 decibels
Power consumption is 60 watts
Timer
Control panel
Design
A single glance at this air purifier for toilet would be enough to understand the exterior design. This is due to the simplicity with which it is formed. The device has that typical front and back airflow system with air grills with handles. The light at the front of the machine shows whether the device is on or off. Despite the conventional design, the device has a height of 28 inches, extremely tall for a non-flagship air purifier. It is has a digital display with a control panel to show you how to work the system.
Filtration system
Don't go for its typical exterior when it comes to going through its bathroom air filter system. The air purifier has a modern 3-in-1 staged air filter for bathroom that makes sure a clear exchange with air. The first is the pre-filter that has collaborated with carbon activated filter to clear large particles from the environment leaving all the tiny ones for other filters. It protects the main filter from being damaged and clogged by large particles. The next one is the true HEPA filter that captures 99.97% of particles that have a small size of 0.3 microns so that all these small particles can easily be cleared. The UV-C light bulb is present there for extra caution to kill mold spores, bacteria, and viruses from the environment.
Room coverage
The Germ Guardian air purifier covers a room size of 167 sq ft. The ACH rating is 4X which means the air purifier exchanges air every 15 minutes in an hour. One thing I didn't like about this bathroom air purifier deodorizer and ionizer is that it has a very low CADR rating. This means that it might not be able to clean the air in a very large room quickly. But if you're looking for an air purifier for a smaller room, then this is definitely the one you should go for.
Noise
Since the device has 5 fans speeds, at the lowest speed the noise goes up to 40 decibels, and at the highest, 60 decibels.
Pros
Modern design
Great filtration
Amazing performance
Cons
Low CADR rating
Very noisy at the highest setting
Related Post: Best Air Purifier 2022
Related Post: Best Air Purifier for Kitchen
2. Pure Enrichment PureZone 3-in-1 – Advanced Bathroom Air Purifier with True HEPA and UV-C Light Bulb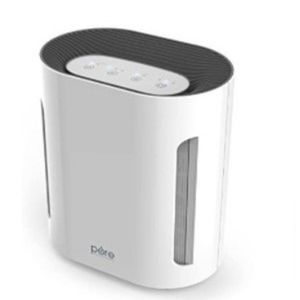 Pure Enrichment is one of the most leading brands of this generation.
Time and time again their products have proved their worth by providing the best performance for all. In this exceptionally tough time, air purifiers are all anybody's buying to prevent viruses from growing in their homes. Therefore, pure enrichment with its modern design and affordable price has given us the chance to purchase this amazing technology.
Specifications
Modern design
Activated carbon filter
True HEPA filter
UV-C light bulb
Power consumption is 60 watts
Room coverage is 200 sq ft
Noise ranges from 30 to 50 decibels
Control panel
3 fan speeds
Design
The overall design of the air purifier is pretty simple-looking. It comes only in white and has a plastic body that might seem a little chunky. The air purifier has two air inlet grills on each side and a big air outlet over the top. Its shape is similar to that of a portable console giving you the added feeling of a lightweight structure. It's very compact with 12 inches of height and 11 inches of width. There is a control panel at the top with a touch screen for easy use.
Filtration system
It is believed by many marketing planners that the more filters you have, the better the performance is. This small air purifier for bathroom has following the same mindset. It is 4 stages of cleaning where it begins with the pre-filter. This filter targets large particles within the air so there's a clear path for the small ones to be captured by the main filters. The activated carbon filter takes out all the toxic gases like benzene, formaldehyde, etc. The true HEPA filter does the job of clearing out 99.97% particles with sizes as small as 0.3 microns from the air. Lastly, there's the UV-C light bulb that removes all the bacteria, germs, and viruses from your room, keeping them safe and healthy.
Room coverage
With a CADR rating of 80 cfm, the air purifier can clean a room of 200 sq ft very quickly.
Noise
The device has 3 fan speeds in which, at the lowest speed the sound of the device goes up o 30 decibels, and at the highest, its stays at 50 decibels.
Pros
Effective performance
Easy to use
Modern design
Related Post: Best Air Purifier for Odors
3. NuWave OxyPure – Smart Air Purifier for Large Area with Best Bathroom Filter
For places with frequent outside exposure where the chances of any viruses and germs present in the air might be high, the NuWave OxyPure air purifier is perfect for you.
It's got everything one would want in an air purifier. The performance, the design, and even the cleaning process, it's all aimed at serving the best air for you.
Specifications
Modern design
360-degree airflow system
Combination of 4 HEPA/activated carbon filters
Bio-guard filter
Ozone emission removal filter
Room coverage is 1000 to 1200 sq ft
Sleep mode
Auto mode
Turbo mode
Design
For large room spaces, this bathroom deodorizer air purifier has the technology to provide the right performance. It has the dimensions of 14.2 x 14.2 x 26.3-inch with a weight of 27 pounds. Overall, the device might seem like the size of a small dorm refrigerator. At the top of the machine, there are air grills with outlets so that air can be exchanged and filtered out easily through the vents. The top also has a control panel for your convenience.
Filtration system
NuWave OxyPure air purifier is manufactured with 4 stages of filtration where it starts with the pre-filter. The stainless steel pre-filter takes up the task of filtering out large particles from the air. Next up, we have the Bio-Guard filter that further protects you from germs and bacteria wandering in the air. The ozone emission removal filter uses ozone to kill viruses and bacteria from the environment. Then we have a combination of 4 activated carbon/HEPA filters to remove small particles and toxic gases from your room.
Room coverage
It covers a room of 1000 to 1200 sq ft which means it's built for large rooms that enhance the longevity of the air purifier.
Noise
The machine becomes whisper-quiet when it's on sleep mode providing you best sleeping conditions.
Pros
You can place it anywhere in your house
Great air delivery rates
Washable and reusable filters
Cons
High price range
Customer service isn't great
Related Post: Best Air Purifier for Mold
4. LEVOIT Vista 200 – Best Small Air Purifier for Bathroom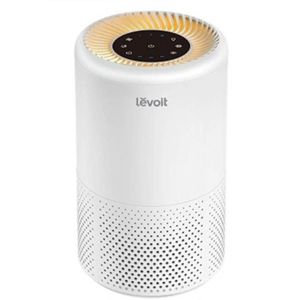 Levoit vista 200 is already one of the best-selling air purifiers on amazon with its incredible performance and amazing design.
With a low price such as this, it's hard to believe that the device might deliver the kind of air quality that it does at this range. This is the biggest selling point it has as no one wants to compromise on the price if the actual machine doesn't provide the best.
Specifications
Compact design
Pre-filter
True HEPA filter
Activated carbon filter
Room coverage is 170 sq ft
Noise level ranges from 52 to 26 decibels
Brushless motor
Power consumption ranges to 15 watts
Design
Levoit gave a lot of thought when it comes to the modern design of the air purifier. Its all-white appearance that gives a rainbow effect is enough to get your attention. Not just that, the device even has smooth curves with cylindrical edges curved so elegantly that might make the competitors envy its style. There's a 360-degree air inlet grille at the bottom and a big air outlet at the top. What makes it that much attractive is its compact size with 13 inches of height to be placed anywhere you want.
Filtration system
Despite the modern design, the air purifier took a very conventional approach to the filtering process. It is manufactured with 3 stages. The first is the pre-filter that captures large particles within its pores. Then there's the true HEPA filter that clears 99.97% of particles from the air, even ones that are as small as 0.3 microns. The activated carbon gives the finishing touches of filtering out all the gases and odors sourced from pets or outside pollutants.
Room coverage
The device has a CADR rating of 50 cfm with a room coverage of 170 sq ft. This is quite surprising due to its compact size and has been the major selling point of this toilet air purifier.
Noise
Overall, there are 3 fan speeds of the device which makes it a pretty silent operation. The device goes up to 26 decibels at the lowest speed and 52 decibels at the highest one.
Pros
Affordable price
Great performance
Compact size
If you want to read about top air purifiers with no ozone then click here.
5. HomeZens UV-C Air Sanitizer – Best for Small Bathrooms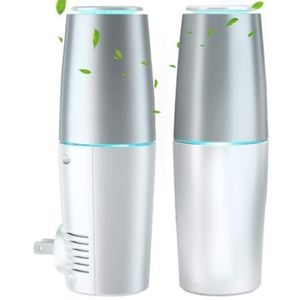 If you're looking to cleanse your room of all airborne pollutants, HomeZens UV-C air sanitizer works best for it.
It's got the perfect features to prove its worth no matter how pricey it may be. For bathrooms, the air purifier would work amazingly as it has plenty of capacity for room coverage even if the bathroom's as big as your actual room.
Specifications
Compact design
UV-C light bulb
1 fan speed
Room coverage of 107 sq ft
Noise level <45 decibels
1-year warranty
Design
The device is impeccably compact with 7 inches of height and 3.2 inches of diameter, the air purifier is highly small. Since it's portable you can even carry it around in your bag while you travel as 12 ounces would hardly be any prominent weight. Modern design is what anyone's been talking about. There's a thin light over the front that would indicate you of the machine being on. It has a good build with metallic paint coated over its plastic body to give more sustainability.
Filtration system
Overall, the device just has a filtration system of UV-C light where the germicidal irradiation ultraviolet light takes care of all the bacterias and germs present within the air. It is one of the safest ways of filtration because no byproducts or harmful chemicals will be released during the process. It's the one way to wipe out 99% of germs from your room within 2 hours.
Room coverage
There isn't any CADR here as it isn't devisable for UV sterilization. If you do a 180-degree rotation you'd see the device clearing a room up to 107 sq ft.
Noise
The device would run with a very low noise of <45 decibels.
Pros
No filters
Convenient to use
Portable device
Safe technology
Cons
Isn't as effective with large particles.
6. Hamilton Beach 04384 – Best for Bathroom Odors and Smells with Permanent HEPA Filter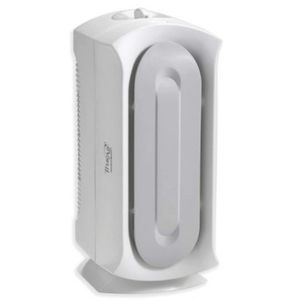 Hamilton is famous for its kitchen and accessory products, they started their line of bathroom air purifiers recently and got amazing feedback over it.
The previous air purifiers all had raving reviews and we can expect the same from the beach 04384. It has a versatile design with top-notch technology to back up its very ability to manufacture the best of everything.
Specifications
Small size
Pre-filter
Activated carbon filter
Permanent HEPA filter
Room coverage of 140 sq ft
The noise goes up to 60 decibels
CADR rating of 35 cfm
Design
With a height of 13.5 inches along with a width of 6 inches, the device has an extremely compact design. It's manufactured keeping the portability part in mind. Due to which it only weighs 6 lbs so that it can be carried anywhere in the world. It's so conveniently designed that you can place it both vertically and horizontally both. When you put it horizontally, make sure to remove its base and take out 4 adhesive feet from the bottom to position it accordingly. It has a front-to-back airflow system that enables it to easily take in and release all the air out.
Filtration system
Hamilton has manufactured the cleaning system with 3 staged filters. The pre-filter immediately carries out the job of capturing all large particles present within the air. This way it protects all coming filters from getting clogged and damaged. The activated carbon filter has 2 zeolite filters with which it takes out the pet smells therefore for pet owners, this air purifier is the best. The permanent HEPA filter is actually a HEPA filter that can easily be cleaned or vacuumed. This filter ensures a clean wipe out of 99.97% of particles in the air that are as small as 0.3 microns.
Room coverage
Since it has a better cleaning system than its previous ancestors, Hamilton has compromised on its fan power. Due to which the air purifier can only cover a room of 140 sq ft.
Design
The device goes up to 60 decibels at the highest speed so if you want a quiet operation, keep the device at a low speed.
Pros
Low price range
Versatile design
3 effective filters
Cons
Very noisy at high speed
Poor performance
7. Germ Guardian GG1000 – Plugable Air Cleaner for Bathroom
It's rare to find safe and effective air purifiers with UV-C light bulb technology ready to bang its way through the filtration system.
With a simple convert, all those bacterias and viruses bidding their time to attack you will be wiped out in a whoosh. What's greater is its pluggability. The device is pluggable and can be placed anywhere in the world.
Specifications
Compact design
UV-C light bulb
Room coverage for small rooms
Noise is relatively loud
Pluggable for 120v switch
Design
The overall design is compact which means it is small in nature. The device is pluggable which means you can carry it anywhere where there's a switch. The whole 7-inch wall air purifier can even be kept in your bathroom. It might even blend n the background as a water bottle with its concave like smooth curves. Therefore you shouldn't worry about it clashing with your furniture, germ guardian has kept it all in mind.
Filtration system
For filtration purposes, the air purifier just has a UV-C light bulb that kills and removes all viruses from your home like influenza, rhinovirus, etc. It's all there ready to capture agents that can harm our health in any way. It also works with titanium dioxide to decrease the amount of volatile organic compounds present in your environment.
Room coverage
The air purifier only covers small rooms since it is pluggable and has a small size itself.
Noise
With enough reviews mentioning the device being too loud, I think it is fair to say that the air purifier isn't whispered quietly.
Pros
Inexpensive
No replacement filters
Great performance
Cons
Too loud
Too big for some plugs
8. NoMO Air Purifier – Compact Bathroom Air Purifier
Looking for an air purifier to wipe out that embarrassing bathroom smell?
NoMO air purifier is manufactured solely for the purpose of removing that typical bathroom smells. You never have to worry about having any odors for bathrooms you will be well adjusted and won't have any problems. The device has all the features made to eradicate any foreign odors that might be there in your bathroom.
Specifications
Compact design
Activated charcoal filter
The powerful motor of 6 watts
Creates white noise
Touchless sensor
LED light indicator
Design
The air purifier is incredibly small, perfect for a bathroom air purifier to be. It has a single button used to control the machine. You can place it anywhere around the bathroom, over the counter, in corners, etc. The device can be hooked over the WC as well. It has a touchless sensor that senses any odors in the room and then orders the air purifier to do the job. The LED status indicator is present which lights up when it's on, this shows that the machine is on. It's a touchless operation, which means with a single wave of your hand the device will turn on and start removing the odors.
Filtration system
The activated charcoal filter of the machine is pretty simple it operates by working on particles present for operation. It will last a lifetime and targets all the odor molecules that need focus and attention to be captured. These molecules are very slick and might even escape into the air once they're ready.
Powerful motor
This amazing motor takes in all of 6 watts of power with 10cu ft/min of air being drawn from the environment.
Noise:
The device makes some white noise while it's operating.
Pros
Operates on a single wave
Powerful motor
Noise isn't bothersome
How to Choose Best Bathroom Air Purifier
Finding a bathroom air purifier isn't as easy as you might think. You don't just have to skim through thousands of options, choosing something completely inappropriate for a bathroom air purifier. Each room has different needs unless they're all the same size for the same use. Especially bathrooms, they are small in size (most of the typical ones at least) and are used for a very odor injecting purpose. The best way to shop for a bathroom air purifier is by going through all the factors that might be in for it.
Bathroom Filters:
Always first pay attention to the filters while you're looking at the details of the air purifier. It should definitely entail effective filters used to exchange healthy and clean air. Great air purifiers include HEPA and prefilter. If these two things are already there then you're good to go. However, for the bathroom, the air purifiers should include an activated carbon filter to take care of the odors. This could be highly effective for clearing out odors from the bathroom. Also, do check how much denser the layers of the carbon filter are. The denser they'll be, the more effective the carbon filter will be.
Cost:
Since air purifiers are available everywhere these days, make sure not to spend more than hundreds of dollars on these machines. Especially when you're only shopping for a bathroom air purifier. Bathroom air purifiers don't require much. Any fancy features will just be a waste of money. So find a simple air purifier for small room coverage with all the basic features needed to work through it.
Size:
Size matters a lot when it comes to selecting air purifiers for bathrooms. You can't fit a large device in your bathroom; it would certainly be out of place. With a small compact size, you can easily place it over cabinets or the counter to let it blend with the background. Note the size of the air purifiers because small air purifiers are best for you.
Noise:
Since you'll have to run your device overnight, you'll want something with a quiet operation. Look for air purifiers with noise ranging from 20 to 50 decibels.
Do air purifiers work for bathroom odors?
The simple answer is yes; air purifiers can work for bathroom odors. However, it is important to note that not all air purifiers are created equal. Your air purifier must be equipped with filters to remove bathroom odors effectively.
The most effective filter for removing bathroom odors is an activated carbon filter. Activated carbon filters are specifically designed to remove odors and VOCs (volatile organic compounds). VOCs are found in many household products, such as cleaning supplies, cosmetics, and air fresheners.
In order to be truly effective, your air purifier must have a pre-filter and an activated carbon filter. The pre-filter will remove large particles, such as dust and hair, from the air before it reaches the activated carbon filter. This will extend the life of the activated carbon filter and ensure that it can work at peak efficiency.
When shopping for an air purifier, be sure to look for one that specifically mentions that it is effective for removing bathroom odors. Not all air purifiers are made for this purpose, so it is important to choose one designed specifically for the job.
Why You Should Put an Air Purifier in a Bathroom?
Here are some of the reasons for putting air purifiers in bathrooms:
Mold:
Since bathrooms have a lot of moisture, mold spores usually grow over their ceilings. In order to get them off, you need an air purifier to be installed in your bathroom.
Odors:
Now, this is the most common reason for using an air purifier in your bathroom. Many people use smell sprays to mask the actual smell of the bathroom, this isn't really reducing the problem therefore using an air purifier would definitely put the problem of odor to rest.
Ventilation:
Taking showers and the constant use of water in bathrooms can create a very stuffy and moist environment in the air. This can eventually lead to mold spews etc, so you need to make sure that you use air purifiers for ventilation to make exchanges in the air.
Frequently Asked Questions
Can air purifiers be kept in bathrooms?
Air purifiers can be placed in bathrooms to reduce odors and molds from the area. This can result in fresh and healthy air being exchanged within your bathroom. However, the air purifier should be strong enough to fulfill the needs of the bathroom without leaving anything out.
Will an air purifier help with the bathroom smell?
Let's admit it, bathrooms are the most foul-smelling places in our homes, especially if they're used by a lot of people. In order to make sure that your bathroom doesn't always smell like this, an air purifier is a perfect choice for you. With the right activated carbon filter, it will do a great job of sucking in the bothersome odors and filtering out fresh and clean-smelling air.
Can air purifiers reduce odors?
Air purifiers were originally manufactured for the purpose of reducing indoor air pollution. However, some of them do have the ability to reduce odors if they have the right features for it. Air purifiers with HEPA and activated carbon filters can easily wipe out small particles as well as odors.
Are there any air purifiers that sactually work?
Air purifiers with HEPA filter that removes 99.97% of particles with a size as small as 0.3 microns are highly effective. They go deep into the texture of the air, slowly capturing dust and bacteria from the environment, leaving out filtered and healthy air.
Where is the best place to put an air purifier?
Putting your air purifier near a window or close to a doorway where there's a lot of airflows is the perfect place. This is because the air getting in and out of the room bringing in all sorts of particles that are then distributed in your room, can be controlled from this place.
Conclusion:
Bathroom air purifiers might not seem as essential until you get a single dose of what this incredible machine is capable of. It never would have crossed our mind to actually place an air purifier in our bathrooms. It's very a unique and innovative idea itself and is great for people whose bathrooms usually smell like garbage. Many restaurants have air purifiers installed in their bathrooms due to the amount of activity they're used to. It would be quite repelling to find a prestigious restaurant's bathroom to smell like your insides. Adding an air purifier would solve all problems of smell and germs present in there.
So think about placing an air purifier in your bathroom for one night and see the results. You'll be hooked by what it can truly offer you with all the features involved in improving the air quality.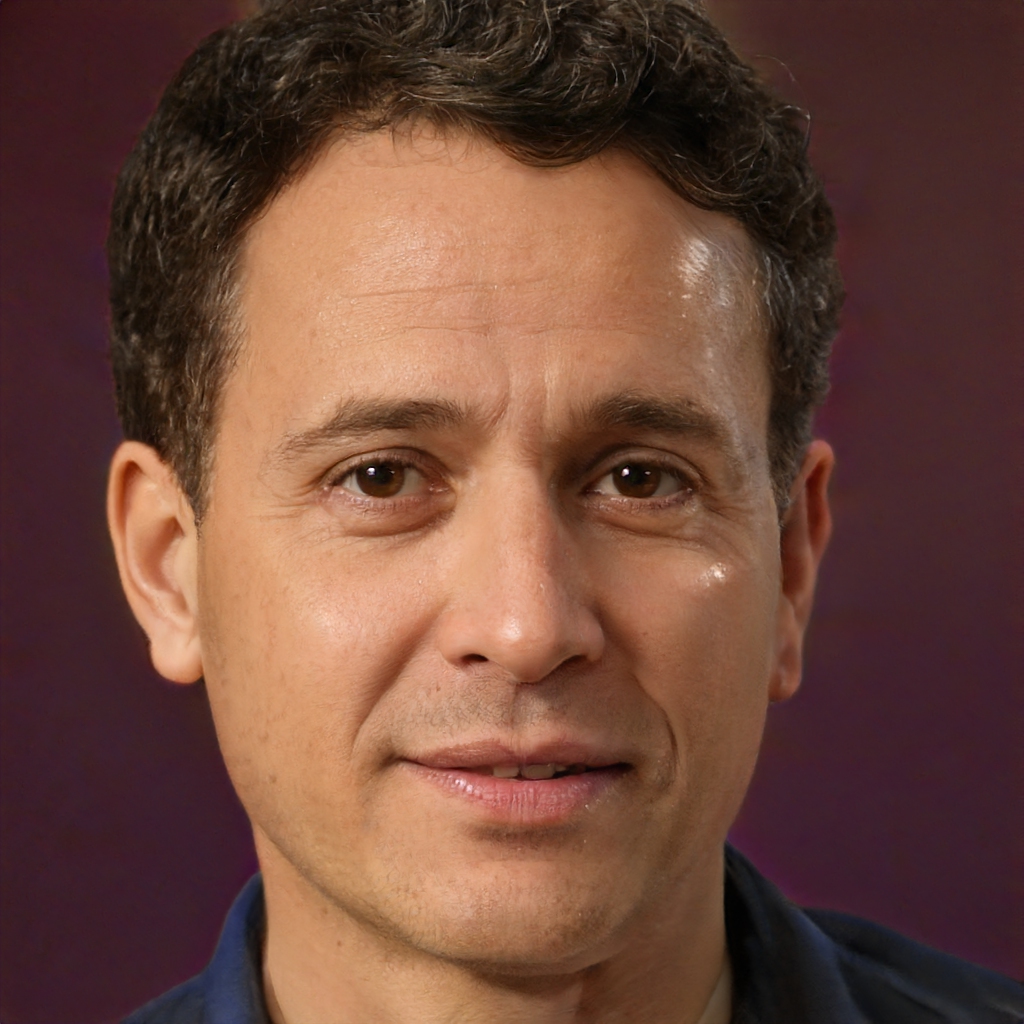 Danny is a passionate writer who loves to share his knowledge about air purifiers. He's been writing for the last 10 years, and he'll be sharing all of that experience with Very Well Home viewers in order help you make better decisions when it comes time buy one!