Sick of the smoke and dust-induced environment present at your construction site? Well if that's the case then you need not worry, there's a machine made exclusively for that. All the constant smog and pollution in the air can go up to your head, affecting your health as well. You might notice it at first but slowly and gradually you'd get used to the environment. However, your body won't get used to the constant abuse you'd put it through. Your organs might decimate at any point. Therefore, while work is work, it's important to prioritize your health as well. And that means taking care of all the pollution that hangs over your head despite everything.
Luckily for you, we've got the exact solution for that. An air purifier is the one device that technology has ultimately blessed us with. The list below consists of all the air purifier that is made for construction dust where they are highly effective at removing silica dust and smoke from the air. So go and choose your very own air purifier effective at removing pollutants from the air.
Why You Should Be Concerned About Construction Dust
There are many dangers associated with construction dust. The most common type of construction dust is silica dust, created when cutting, grinding, or drilling concrete or masonry. Silica dust can cause severe respiratory problems, including lung cancer.
Other types of construction dust include asbestos, lead, and crystalline silica. All of these can cause serious health problems if inhaled.
Construction workers are not the only ones at risk from construction dust. People living or working near construction sites can also be exposed to high dust levels. This is why everyone needs to be aware of the risks associated with construction dust and take precautions to avoid exposure.
Comparison Table for Best Air Purifiers for Construction Dust
IMAGE
PRODUCT
FILTERS
AREA COVERAGE
RATING
PRICE
Winix 5500-2 Air Purifier
1.Washable pre-filter
2.True HEPA filter
3.Activated Carbon
4.Winix 5.PlasmaWave
6.ionizer
360 Sq Ft
⭐⭐⭐⭐⭐
l
ALORAIR Air Scrubber
1.MERV-10 filter
2.HEPA filter
3.Carbon filter
5000 cubic feet
⭐⭐⭐⭐⭐
Alen 75i Air Purifier
1.Pre-filter
2.True HEPA filter
3.Ionizer
4.Activated Carbon
1300 Sq Ft
⭐⭐⭐⭐⭐
hathaspace hsp001 air purifier
1.Pre-filter
2.True HEPA filter
3.Activated carbon filter
4.Antibacterial filter
5.Ionizer
350 Sq Ft
⭐⭐⭐⭐⭐
levoit vital 100 air purifier
1.Pre-filter
2.H13 HEPA filter
3.Honeycomb
activated carbon
300 Sq Ft
⭐⭐⭐⭐⭐
1. Winix 5500-2 – Overall, Best Air Purifier for Construction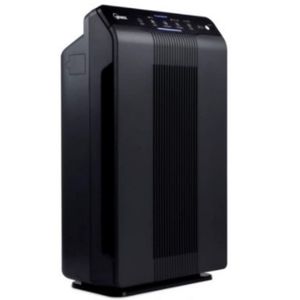 Looking for an inexpensive air cleaner with high performance and productivity levels?
Winix 5500-2 is an air purifier that will introduce you to a whole new world of multi-filters at your back and call to provide you with amazing performance. With a high-quality pre-filter made to capture large particles ready to wreak havoc on your cleaner.
Specifications
Compact design
Washable pre-filter
True HEPA filter
Winix plasmawave
Room coverage is 360 sq ft
CADR is 243 Dust/ 232 Smoke/ 246 Pollen (cfm)
The noise level is 28 decibels
5 fan speeds
Sensors
Auto and sleep mode
Design
The air purifier has a compact rectangular design with air intake grills over the sides and front. The air outlet is present over the top where the clean air is filtered out. The control buttons consist of a lot of modes like auto and sleep. It even has a remote controller for active working. The device has a height of 23.6 inches with a weight of 15.4 lbs. This makes it the perfect portable device to run things through with two handles on the sides to accommodate the traveling.
Filtration system
The air purifier has a three-staged filtration system that enhances the productivity of the cleaner enabling it to provide you with cleaner air. The first filter is the pre-filter that captures all the large particles within its system including pet hair, dander, etc. The next is the main filter called the true HEPA filter. Now, this is the one that wipes out all those hard-to-catch small particles floating in the air. 99.97% of particles as small as 0.3 microns are captured through this construction air filter. The winix plasmawave is a kind of ionizer that can boost the reduction process of pollutants.
Room coverage
The filter has a 360 sq ft room coverage with a CADR rating of 243 Dust/ 232 Smoke/ 246 Pollen (cfm). It's incredible at removing particles from the air in a short time.
Noise
Since the air purifier has 5 fan speeds it can't go lower than 28 decibels.
Pros
Great technology
Affordable price
Amazing performance
Related Post: Best Air Purifier
Related Post: Best Air Purifier for 1000 Square Feet
2. ALORAIR Air Scrubber – Dust Air Cleaner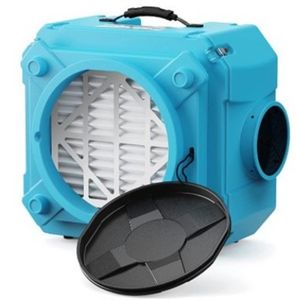 ALORAIR, an air scrubber with an intent to scrub and thoroughly clean the air off any particles present in the air.
Made with high technology and quality features, the air scrubber for construction dust doesn't disappoint when it comes to filtering out air from the environment. You can easily stack and place it anywhere in your room without disrupting its interior. With effective filters and convenient size, the air purifier is the perfect cleaner for all.
Specifications
MERV-10 filter
HEPA filter
Carbon filter
Room coverage of 5000 cubic feet
Airflow speed of 1650 cfm
10-year warranty
Portable machine
Design
The overall unit size is considerably convenient for construction sites, sewage repairs, and even for salons and different painting shops. The air machine comes with a handle that makes it easy to carry it from one area to another. However, before starting the machine, do not forget to remove the black cover from the front. As the cleaner begins doing its job from there onwards. The best part about it is the 10-year warranty it comes with. It puts your mind at ease to use it with comfort. The machine has a size of 24.6X 21.6X14.5inches with a weight of 39.6 pounds, making it pretty light.
Filtration system
The air scrubber has a 3 staged filtration system that aids in providing cleaner air. The first is the MERV-10 filter that can be considered as a pre-filter. It helps in capturing large particles from the air to make a clear way for the major filters to do their tasks. The next is the carbon filter that is highly effective at construction dust where smoke and different odors being present are a common occurrence. This construction air filter takes care of odors and smokes coming out of different machines at construction sites. Lastly, there's the HEPA filter that traps 99.5% of particles within its orbits that are as small as 0.3 microns.
Room coverage
The air scrubber covers an area of 5000 cubic feet with an airflow of 550 CFM.
Stacker
The machine is extremely easy to stack vertically or horizontally. It can be daisy-stacked with utter convenience with an airflow velocity of 1650 cfm.
Pros
Great for construction Dust
High-quality
Great room coverage
Related Post: Best Air Purifier for Chemical Sensitivity
Related Post: Best Ozone Free Air Purifier
3. Alen 75i – Large Air Purifier for Construction Dust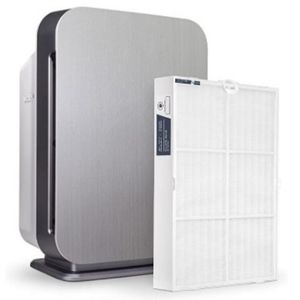 Are you ready to get yourself acquainted with the best air purifier Alen has to offer?
With incredible performance and an amazing filtration system, the Alen 75i air purifier can even beat those top-notch high-class air purifiers in the market. It's the most underrated air purifier so far and once the public gets to know what its actually capable of, no one can stop it from being a hit.
Specifications
Bulky size with sturdy design
Pre-filter
True HEPA filter
Ionizer
Room coverage of 1300 sq ft
CADR of 355 Dust/ 350 Smoke/ 400 Pollen (cfm)
Noise ranges from 25 to 49 decibels
Design
Starting with its size, the air purifier is a little bigger than what you would have anticipated it to be. It has a height of 27 inches with a metal construction that makes the overall device that much powerful and strong. It comes with 14 colors options that enhance the beauty that is the Alen 75i air purifier. It also has a bottom-to-top airflow system that is effective at capturing unfiltered air from the environment and giving it out. It is also quite large with a weight of 27 lbs making it difficult to carry it around.
Filtration system
The device has a 3 staged filtration system that begins with the pre-filter that can be detached for easy cleaning. The pre-filter does the job of filtering out large particles from the air. The next is the true HEPA filter that wipes out particles as small as 0.3 microns. The ionizer is another filter that discharges negative ions to charge the particles to make it easy for hard to fine particles to be captured as well.
Room coverage
The device has a room coverage of 1300 sq ft with a CADR of 355 Dust/ 350 Smoke/ 400 Pollen (cfm). Even though it has a high fan power, it is still not enough for a room of 1300 sq ft.
Noise
The sound at the lowest setting stays at 25 decibels while at the highest setting, stays at 49 decibels. This is what makes a better option for sound.
Pros
High performance
Amazing usability
Great quality
Related Post: Best Air Purifier for Kitchen 
Related Post: Best Air Purifier for Bathroom 
4. Hathaspace HSP001 – Budget Air Purifier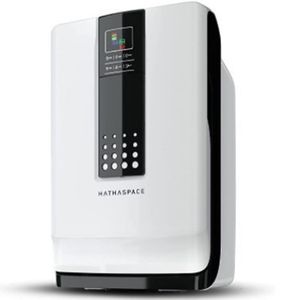 A budget-friendly air cleaner with all the perks of a high-class air purifier, yes, Hathaspace is that and more. This Chinese air purifier for construction dust is one of the most effective devices in the market.
It's got highly impressive features that are durable and great at providing quality air to your room. With high praises t every corner this construction dust removal machine has got nothing to prove, everything's just there to hold on to!
Specifications
Small size
Pre-filter
True HEPA filter
Activated carbon filter
Antibacterial filter
Ionizer
Room coverage of 350 sq ft
Noise ranges from 18 to 43 decibels.
Design
The hathaspace air purifier has a height of 20 inches along with a width of 13 inches that making it a small contender in the market. It has that typical top-to-bottom airflow system that guarantees an amazing exchange of unfiltered air. It also has an LED display with a control panel that is placed at a difficult angle for all to work through.
Filtration system
The device has a 5 staged filtration system that is quite surprising to see as it is very thorough. The first is the pre-filter that captures all the large particles in the market. This air filter for construction dust makes way for others to have unclogged pores for easy capturing of the particles. The next is the activated carbon filter that is able to remove odors and smokes from the air along with VOCs and compounds. The antibacterial filter is another filter that has nano materials to destroy bacteria and allergens from the air. The true HEPA filter is there to remove 99.97% of small particles from the air as well. Lastly, we have an ionizer that neutralizes the positively charged pollutants.
Room coverage
You can use this construction air purifier for rooms of 350 sq ft with a CADR of 100 cfm.
Noise
The air purifier at the highest setting goes up to 43 decibels and at the lowest, it is at 18 decibels.
Pros
Quiet operation
Budget-friendly
Great performance
Cons
Disappointing customer service
5. Levoit Vital 100 – Ozone Free Air Cleaner for Construction Dust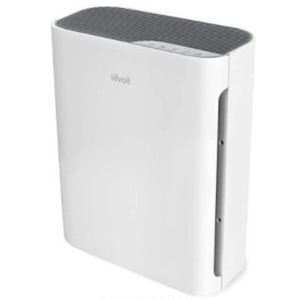 Levoit vital 100 is an all-rounder when it comes to providing top-notch performance and services to its customers.
It got everything one would want in an air purifier, the perfect balance of quality and airflow rate, and filters. The design may not be what anyone might call conventional and has the perfect features to do it. What's even greater is it is 100% ozone-free, which wouldn't damage it in the least.
Specifications
Compact design
Pre-filter
H13 HEPA filter
Honeycomb activated carbon filter
Room coverage of 300 sq ft
CADR of 130 cfm
Noise ranges from 23 to 50 decibels
3 fan speeds
Design
The device has a compact design of 12.8 by 6.4 by 16.1 inches with a weight of 9.3 lbs. This makes it highly lightweight. The has handle that you can carry the device around with. The device has air inlets present over the sides with air outlets present right at the top to let out filtered air from the upper side. It is made up of ABS plastic that is extremely strong and sturdy with heat-resistant quality. It also has a small control panel at the top.
Filtration system
In total there are 3 stages of filtration with a pre-filter that takes out large particles from the air. These include pet hair, dander, etc from the air. It is made up of a foam-like material as well. The air then transfers to the honeycomb carbon filter that takes out unwanted odors from the environment keeping it smelling clean and fresh. The finally it goes through the H13 HEPA filter that has the efficiency of removing 99.97% particles from the air.
Room coverage
The levoit vital 100 has a capacity of removing particles in a room of 300 sq ft with a CADR of 130 cfm.
Noise
The lowest noise level is at 23 decibels which makes it an extremely quiet operation. At the highest setting, the noise goes up to 50 decibels.
Pros
Quiet operation
Large console design
Amazing performance
How to Choose an Air Purifier that Helps with Construction Dust?
Air purifiers are highly important to be used at construction dust however much more crucial is the choice of air purifier you go with. This means understanding your environment and choosing an air purifier according to that. Therefore, its important to make sure everything needed for it can be considered as the ultimate choice.
HEPA Filter:
HEPA (High-Efficiency Particulate Arrestor) is an excellent mechanical filter that assists in eliminating 99.97 percent of PM 2.5 particles. HEPA air purifiers catch carcinogen particles such as dust mites, pollens, pet dander, mold spores, and cigarette smoke via three distinct mechanisms: impact, interception, and diffusion.
Activated Carbon Filter:
Any air purifier present to be used at construction dust needs to have an activated carbon filter. This filter is highly effective at removing smoke and VOCs usually present in the air of construction dust. It also eliminates odors from the air leaving it smelling fresh and clear. Therefore, it's important to use it for the purpose of removing pollutants in the air.
Power Consumption:
Different types of air purifiers, like other appliances, require different ways to operate through energy. Because air purifiers must run continually, you should think about your power expenditure before purchasing one. The majority of air purifiers require between 50 and 200 watts to operate properly. Choose the one that uses the least amount of energy. Since construction sites need constant clearance of air, pay attention to the power consumption quality as well.
Durability:
An air purifier should be durable enough to withstand the rigors of a construction site. This means it should be made of high-quality materials that can resist being moved around or being dropped. Additionally, the air purifier should have a sturdy housing that will protect the internal components from being damaged by debris or dust.
Cleaning/Maintenance:
The air purifier you choose should be easy to clean and maintain. This means that the filter should be easy to access and that the unit itself should be designed in such a way that it can be easily cleaned. Additionally, the air purifier should have an indicator that lets you know when the filter needs to be replaced.
CFM (Cubic Feet per Minute):
The CFM is a measure of the amount of air that an air purifier can move in a minute. The higher the CFM, the more efficient the air purifier will be at clearing the construction dust.
Smart Features:
Some of the newer air purifiers on the market come with smart features that allow you to control them via your smartphone or tablet. These features can include things like a timer, remote control, and an automatic mode that adjusts the settings based on the quality of the air.
In order to have the perfect air quality at your construction site, choose an air purifier with a HEPA filter that thoroughly clears the air of dust particles that might be harmful to your health. The device should also have a well-working activated carbon filter to enhance the quality of your device and reduce smoke and odor.
How Do You Clean the Air in Your House After Construction?
Although if you only refurbish one room, cleaning the air vents and filters in that room is crucial to limiting the number of dust that can spread throughout your home. Strip the vent covers from the walls and ceilings around them, clean them with soap and warm water, and allow them to dry completely.
Construction work can be very messy, and it can often leave behind a lot of dust and debris. If you've just had construction work done in your home, you'll want to make sure that the air is clean before you and your family move back in.
There are a few different ways to clean the air in your home after construction. One way is to open all of the doors and windows to let fresh air in and help to circulate the air. You can also use fans to help move the air around, and if you have an air conditioner, you can set it to run on a continuous cycle.
Another way to clean the air in your home is to use an air purifier. Air purifiers work by pulling the air in and then filtering it through filters that remove dust, pollen, and other airborne particles.
Do HEPA filters help with construction dust?
Most people are aware of the importance of using a HEPA filter to protect themselves from harmful airborne particles. But what many people don't realize is that these filters can also be beneficial in reducing construction dust.
While construction dust may not be as harmful as other airborne contaminants, it can still be dangerous if inhaled. And since construction dust is often made up of tiny particles, it can be difficult to avoid breathing it in.
That's where a HEPA filter comes in. These filters are designed to remove 99.97% of particles that are 0.3 microns or larger from the air that passes through them. This means that they can effectively remove construction dust from the air, making it safer to breathe.
If you're working in an area where construction dust is present, it's good to use a HEPA filter to help reduce your exposure. These filters can be used with other dust control methods, such as wearing a respirator to provide the best possible protection.
How Long Does Silica Dust Stay in the Air?
Silica dust is a very fine particulate that can stay suspended in the air for long periods of time. Just how long it stays in the air depends on several factors, including the size of the particles, the amount of airborne dust present, and the wind speed and direction.
In general, larger particles will settle out of the air more quickly than smaller ones. So, for example, sand that is kicked up by a passing car will settle to the ground fairly quickly, while dust from a power saw may stay airborne for minutes or even hours.
The amount of airborne dust also affects how long it will stay in the air. A small puff of dust from a passing car might dissipate quickly, while a cloud of dust from a construction site can linger for some time.
Finally, wind speed and direction play a role in how long silica dust stays in the air. If a strong breeze blows, the dust will be quickly dispersed. But if the wind is calm, the dust can remain suspended for quite some time.
Frequently Asked Questions
Do air purifiers help with construction dust?
Air purifiers certainly make a difference when it comes to improving the air quality during construction. During construction, air purifiers can significantly clear the air off dust. Blueair Pro air purifiers are a wonderful alternative because of the massive burden from all the dust and pollutants. These construction air cleaners provide effective air filtration in a compact space.
How do you purify the air in construction?
Lock or block any HVAC vents, and install a FiltreteTM Room Air Purifier with a True HEPA filter to catch 99.97 percent of particles in the air*, including construction dust. When working on a large project, use a high-quality furnace filter and replace it weekly. After you've finished, vacuum the entire area.
Will an air purifier remove drywall dust?
Drywall dust would quickly degrade one of those tower-style filters. It could be possible to use them on the other floor of the house, but they won't be able to keep up with the dust in the basement.
Do air purifiers work for viruses?
Air cleaners and HVAC filters, when used appropriately, can help minimize airborne pollutants such as viruses in a building or small space. COVID-19 cannot be protected from COVID-19 by air cleaning or filtration alone.
How do you clean dust from a building?
Starting at the top and slowly putting it down, wipe any hard surfaces. Inside all cabinets, vacuum the bookcases and shelves. Wipe down all counters, bookshelves, doorframes, and other flat surfaces and hard furnishings throughout the house to remove dust.
How long does construction dust stay in the air?
Construction dust can stay in the air for a long time. The particles are very small and can remain airborne for hours or even days. This is why it's so important to be proactive about air quality during construction.
How do you remove construction dust from furniture?
Use a vacuum with a HEPA filter to vacuum all surfaces, including furniture. Wipe down all hard surfaces with a damp cloth. If possible, wash any removable fabrics in hot water.
What is the best way to remove construction dust from the carpet?
The best way to remove construction dust from the carpet is to vacuum it regularly with a HEPA-filtered vacuum. You can also hire a professional carpet cleaning company to clean your carpets.
Does Blue Air remove dust?
Blue Air air purifiers are very effective at removing dust from the air. The air purifiers have a HEPA filter that can remove 99.97% of particles from the air, including dust.
How long does it take for construction dust to settle?
Construction dust can take a long time to settle. The particles are very small and can remain airborne for hours or even days. This is why it's so important to be proactive about air quality during construction.
Conclusion:
Wondering if you've made the right choice? This is our last effort at reassuring you about the amazing air purifiers mentioned in the market. They've got everything one would want in a construction site to be effective at removing pollutants. So don't wait for them to be sold out and get yourself the best air purifier in the market.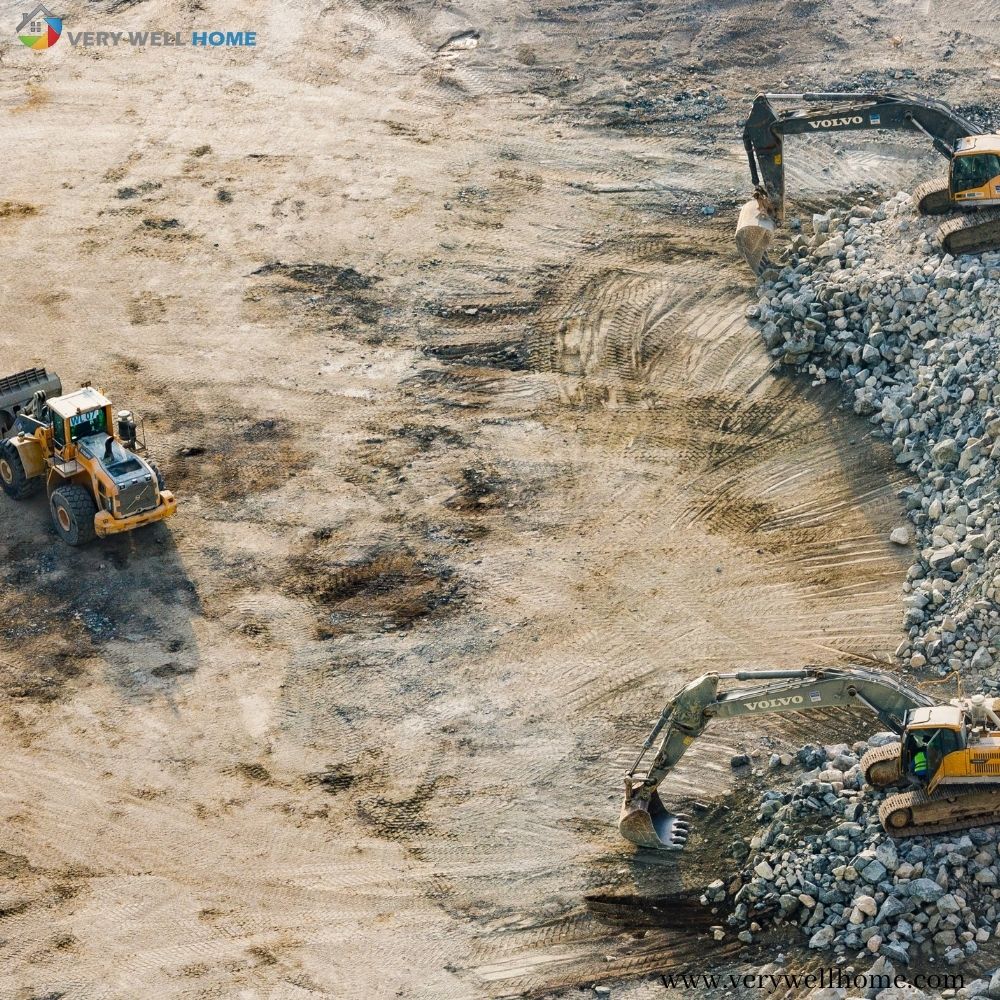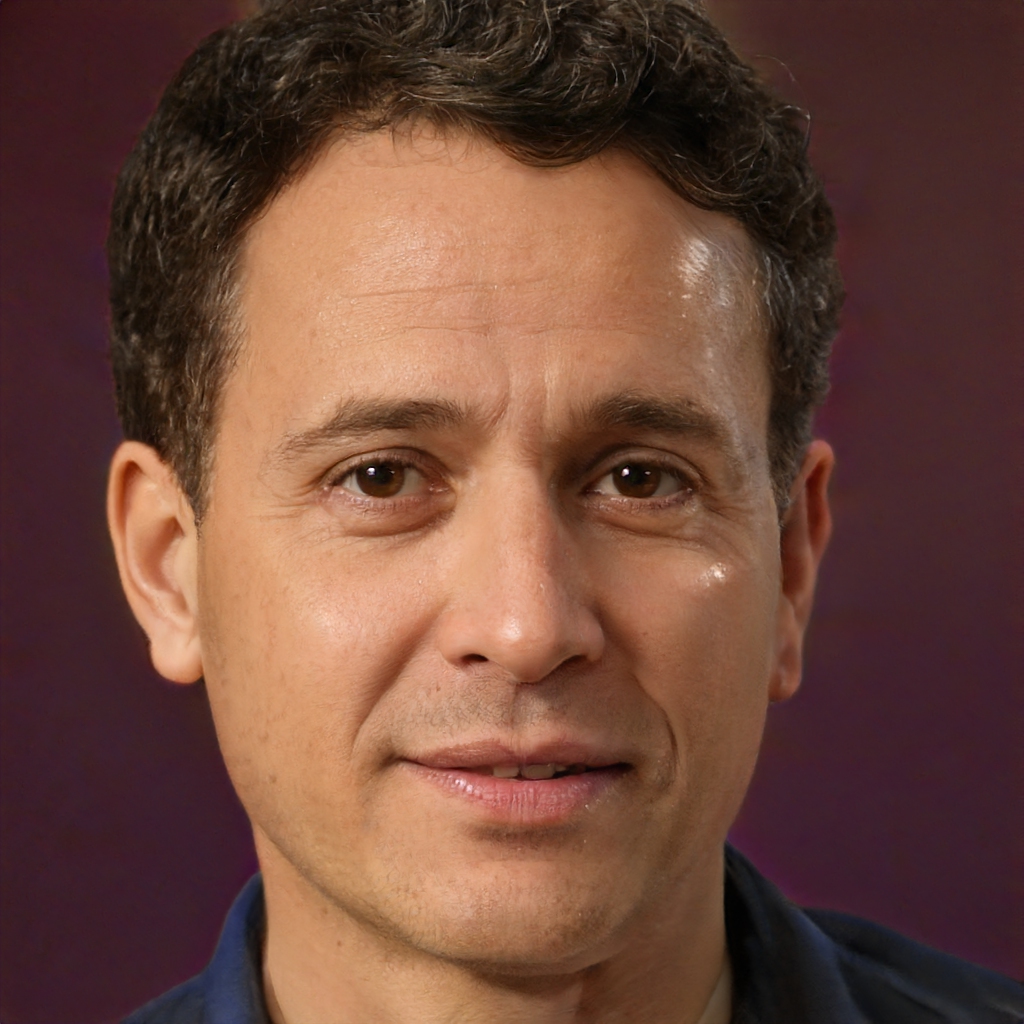 Danny is a passionate writer who loves to share his knowledge about air purifiers. He's been writing for the last 10 years, and he'll be sharing all of that experience with Very Well Home viewers in order help you make better decisions when it comes time buy one!