Classrooms are some of the most germ-infested places on earth. The funny thing about it is that many people don't even suspect it to be something like that. For many, it's just a pit stop where you can listen to lectures and get home. However, they forget it's also the breeding ground for many germs and viruses to come in contact with our species. It's not new to us since we've overlooked such a problem a lot of times. And only consider it as inconsequential to focus on such things.
Adding the best air purifier for classroom will not be beneficial for your lectures but will undoubtedly be a healthy learning process for everyone. Especially when you provide awareness for a unique technology like this, it will attract more students towards Classroom studying. You'll be serving the best air to function without any airborne germs or pollutants floating in the air. The following are some of the best air purifiers for classrooms.
We really like the LEVOIT Air Purifier 400S. It's a basic smart air purifier that offered solid performance in our testing. After careful consideration, we think it's one of the best air purifiers for schools and colleges on the market. The 360° Air Intake Circulation is great for rooms of all sizes and the 100% Ozone Free makes it safe for everyone to use. We personally think this is an exceptional product and would recommend it to anyone looking for an air purifier.
1. LEVOIT Air Purifier 400S – Best Air Purifier for Classroom
For a germ and interruption-free classroom setting, LEVOIT 400S is the perfect air purifier for you! The appliance comes with a lot more than just the capability to filter out air.
It has a fantastic smart app that controls the functioning of the device through your commands and instructions. Let's make you start stuck by its exceptionally high-functioning features:
Specifications
Product dimensions are 10.79 x 10.79 x 20.47 inches
Weight is 11 Pounds
Has a voice control method
It has a powerful and effective 360° Air Intake Circulation
Due to QuietKEAP Technology, it is very quiet
Consumes only 38Watts energy
Has 100% Ozone Free 3-Stage Filtration
It has a color-coded PM2.5 display
No assembling and batteries required
Design
If you get even a simple glimpse at this exquisite LEVOIT air purifier, you'll do a double-take. The device is the first in the series of great app-controlled LEVOIT air purifiers. It has a robust and shiny appearance that can be noticed from a mile ahead. Its size is 10.8 by 20.5, with a weight of 11 pounds. The appliance is manufactured with a convenient 360-degree air outlet on the top to keep it anywhere besides the floor without blocking out its filtering process. It's lightweight and easy to carry.
App-controlled
Its many innovative capabilities are beneficial for you as they provide several different services. Firstly, the air purifier can be easily connected to your wifi network and command it through the VeSync app. Secondly, you can keep tabs on the air quality by looking at its history through real-time PM2.5. It even helps in forming schedules and setting a timer between 24hours. Lastly, the VeSync app has a lot to offer other than just providing you with the basics of smart-control; it connects with amazon Alexa and googles assistant to assist you in hands-free commanding the device. It'll be your wingman; for all you know, you might need it for a lot more than just filtering out the air!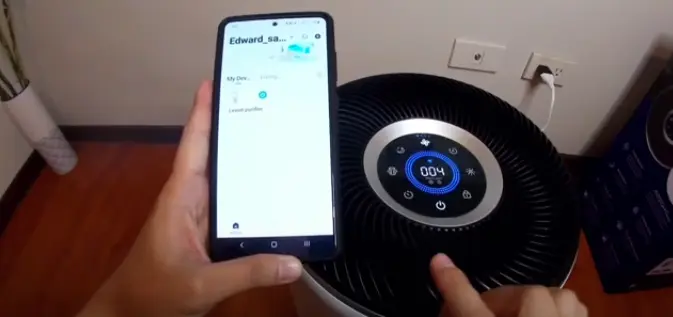 Filtration process
The filtration process consists of 3 stages: the pre-filter, H13 true HEPA filter, and the activated carbon filter. The pre-filter clears the air of any large particles like fur, lint, etc., present in the air, making it easier for the H13 true HEPA filter to function. It is recommended to clean the pre-filter with a vacuum through a small brush attached to the packaging. The H13 true HEPA filter removes 99.97% of any particles living among us in the air. Allergens and dust particles as minute as 0.3 microns will indeed be wiped out, decreasing the chances of any allergic reactions, viruses, or asthma. The third and last stage is the activated carbon filter that absorbs any combustible smokes, smells, or harmful chemicals that might be part of the Classroom.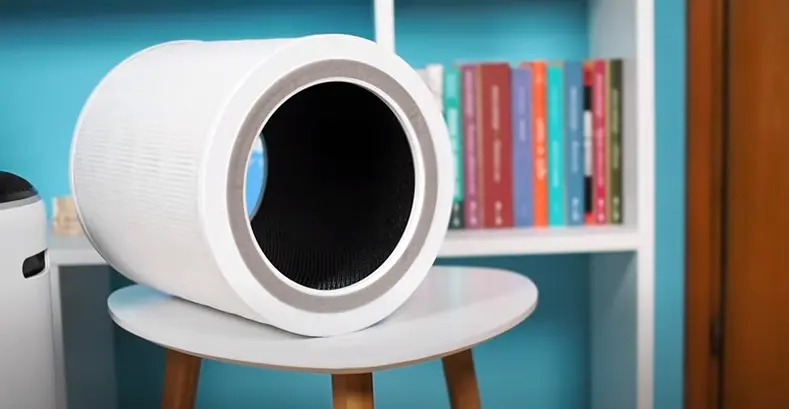 Sound
When used, the device has a pretty low noise, which will be perfect when placed in a classroom. It won't disturb the flow of lectures and provide the best air quality without a single hassle.
Expert's Opinion
We've tested a lot of air purifiers in our time, and the LEVOIT Air Purifier 400S is one of the best we've come across. It's got a 360° air intake circulation which means it can pull in plenty of polluted air from around the room, and the 3 stages of filtration do a great job of reducing PM2.5 to 0.1 – that's about as good as it gets. The WiFi connection is handy too, so you can control it from your smartphone or smart assistant. And all of this comes at a very reasonable price. One downside is that it's not the quietest purifier we've tested – it's less than 50 decibels but some competitors are quieter – but overall we think it's a great option for anyone looking for an effective air purifier.
Pros
Has a thorough filtration process
Low noise
Smart capabilities
Energy consumption is deficient.
It has a display lock of 1-24 hours that keeps the device safe.
Cons
An activated carbon filter can't remove strong smells.
There isn't a gas/VOC sensor.
There isn't a mobile app to help in maneuvering the device.
Read More: Best Air Purifier in 2022
2.IQAir – Medical Grade HEPA Filtration System for Classroom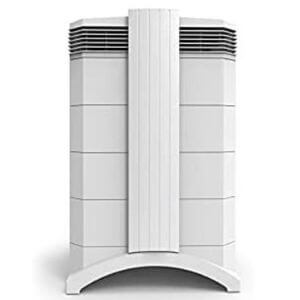 Since a classroom is ample space for germs and viruses to contact a potential host, it's a breeding ground for infections and allergens to spread through our system; IQAir air purifier will provide maximum coverage to provide the best air. The features consist of:
Specifications
Product dimensions are 24 x 16 x 15 inches;
Weight is 25 Pounds
Has a proven and exceptional air filtration system
Coverage area is up to 1,238 square feet
Very low noise
Design
As the name suggests, IQAir air purifier is a compact designed device with 24 by 15 by 16 inches dimensions. Don't worry about its weight; the appliance's 26 pounds body can easily be moved anywhere you see fit. The air events are positioned in two different places; the intake air vent at the bottom and the outlet at the top, providing a 360-degree air filtration. It also has a backlit LED screen that keeps you updated about helpful information like the speed of the fan and the rate of airflow.
Filtration system
For superior and maximum functioning, the air purifier has a 2-staged filtration system. It has a PreMax pre-filter that filters complex matters like pet hair and lint etc., for a smooth next stage ride! The pre-filter has a productivity of 55% that allows it to remove particles as mini as 0.3 microns. The second stage has a HyperHEPA filter that efficiently filters light and delicate material out of the environment. These can be anything related to different viruses and bacteria, dust particles flowing in the air. It is also mentioned that the HyperHEPA filter can filter out 99.5% of contaminated matter along with pollutants out of the atmosphere. This way, it prevents a lot of health issues that might be triggered by such air. Stroke, asthma, and allergic reactions are all part of it.
Noise
As the motor's maintenance-free, it might be assumed that the device's noise would be pretty high. That does not seem to be the case, the sound of the appliance that its lowest speed is just 25 dB. This means that the sound is much softer than was suspected. You'll have an undisturbed sleep all night long; however, the noise at its highest speed is relatively high for someone who wants to teach in a classroom. It's 59 dB, which is much more than some music in the background of some party. Good thing you don't have to use it at its highest speed; the sound level is quite low till speed 3.
Expert's Opinion
We've been using the IQAir Medical Grade Air Purifier in our test room for a few weeks now and we have to say that we're impressed with the results we got. The unit did an excellent job of removing Dust, Smoke, Pet Dander, and Pollen from the air and we didn't notice any significant noise coming from it. Our only complaint is that, it's one of the most expensive air purifiers on the market. However, given the quality of the unit, we feel it's worth the price and we recommend it for anyone looking for an effective way to improve indoor air quality.
Pros
Easy to maneuver
It covers a lot of areas to filter out
Fan speed is six levels
A lot of features to control through remote
Warranty of 10-years
Cons
Doesn't filter out odors.
Energy costs are high.
Read More:  Best Air Purifier for 1000 Square Feet
3. Honeywell HPA300 – Classroom Air Purifier for COVID and Other Viruses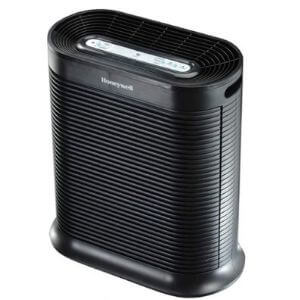 If you're on a budget and want a high-functioning air purifier for your Classroom, Honeywell HPA300 is undoubtedly the best one in the market.
Its convenient design makes it easy to maneuver and has excellent coverage and fantastic performance to provide the cleanest air in a lecture hall. Specifications:
Specifications
Product dimensions are 9.25 x 20 x 22.25 inches
Weight is 21 Pounds
It has a corded electric power source
Operated with a touch control method
Good for extra-large rooms, almost covers 465 square feet
It has 3 air cleaning levels + Turbo Clean
It has a control panel adjustable
It comes with a five years warranty
No batteries required
Design
As it comes with such an affordable price, the air purifier's structural design isn't much to write home about. Surprisingly, the users don't mind either. It has the same old Honeywell structure made up of metal with rounded edges with full-body grills that accommodate its position and wherever you put it. The controls are present at the top of the device; it has two display screens of the pre-filter and the true HEPA filter. It is 22 inches in height and has a width of 21 inches, with 24 lbs, making it heavy to carry around.
Filtration system
Honeywell HPA300 has a pretty simple filtration system; it comes with three genuine HEPA filters to wipe out significant dirty particles roaming around in the air as genuine HEPA filters have guaranteed surety of cleaning 99.97% particles minute as 0.3 microns. These particles are categorized as pollens, bacterias, and viruses that are all part of it. These filters last almost up to 12 months; replacing them is pretty straightforward. Just open the grill positioned in the front and replace the filter out of it.
Noise
The only thing lacking is its noise; it is a 100-watt purifier and has a 300 cm. With power comes annoying buzzing noise that is a little higher than your average AC. Where it lacks in noise, it makes up by being energy certified. This means you can use it day and night without worrying about going bankrupt. Energy consumption will be to a minimum, leaving low energy bills to pay for!
Expert's Opinion
In our testing, we've found the Honeywell HPA300 Air Purifier to be effective in larger spaces, though the design is a bit clunky. The aesthetic isn't my favorite, but it's effective in 465 square feet and has a good filtration system. We would recommend this for larger rooms.
Pros
Major true HEPA filters
Present in two colors
Certified energy star
High CADR rating
5-years warranty
Cons
Lacks in filtering out the odor.
No child lock.
Related Post: Best Air Purifier for Odors
4. MedifyMA-112 Air Purifier – For Large Classroom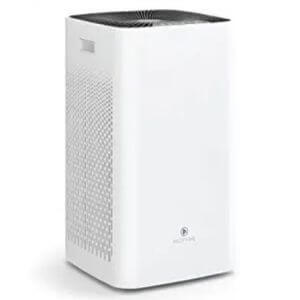 Finding an air purifier that can provide the best air and consume complex gases and pollutants is a bit complicated task.
Modify MA-112 is an air purifier that has all the capabilities needed to fulfill its purpose of filtering out fresh and clean air free of toxic and pungent gases along with pollutants. Even though a lot of praise has been received for its performance, you've yet to see its features and decide your judgment. These include:
Specifications
Product dimensions are 28 x 16 x 15 inches
Weight is 32 Pounds
It has a corded electric power source
Operated with a touch control method
Cleansing power is up to 3,700 square feet in one hour
Has a dual HEPA H13 filtration system
It runs at 110 Volts at a maximum noise level of 70 dB
It comes with a sleek touch panel and PM2.5 indicator
This product is Energy Star Certified
Lifetime warranty and no batteries required
Design
Modify MA-112 may be somewhat similar in performance to its predecessors but certainly has the enormous body ready to make its Medify family proud. The device has a height of 28.3 inches with a width of 15.7 inches. It proves its immense capacity to store multiple filters for maximum productivity. It has an LED display that keeps you informed about its significant actions, including the air quality rate.
The airflow moves in a bottom and full motion, providing the best air quality, with the air intake filter located at both sides of the appliance. It gives off a 360-degree uninterrupted airflow, covering the whole area with ease. The device weighs 33.5 lbs and has two hidden wheels to move it around with two handles.
Filtration system
Modify MA-112 air purifier has a smoothly efficient filtration system that consists of 4 stages. First and foremost, it has a pre-filter that clears large particles from the environment, ensuring the longevity of the true HEPA filter. It clears specks of dust, fur, and lint-like matter from the atmosphere. Then comes the true HEPA filter, which relieves the air of pollens, allergens, and pollutants, etc. The activated carbon filter uses carbon pellets to filter out toxic chemicals and odors from the air. The device has add-ons like an ionizer that charges the particles to trap them in the filters. It also has the option of being turned off/on at your control.
Room coverage
With a large body comes more fabulous room for coverage. It can cover a room of 1200 sq feet to 2400 sq feet, providing the best services to clear air. The CADR is one of the best Modify MA-112 air purifiers, delivering top-notch quality of400 Dust/ 450 Smoke/ 450 Pollen (cfm).
Noise
If you're looking for something quiet, Modify MA-112 won't be the appliance for you. DC motors assist in keeping the device as quiet as possible; however, it becomes impossible with the vast H13 HEPA filter to maneuver with.
Expert's Opinion
The Medify MA-112 Air Purifier is one of the most popular models on the market, and it's not hard to see why. This unit is designed to purify the air in spaces up to 3,700 square feet, making it ideal for large rooms or open floor plans. The three-stage filtration system is able to remove 99.9% of airborne particles down to 0.3 microns, and the PM2.5 indicator lets you know when it's time to replace the filter.
Perhaps most importantly, the Medify MA-112 is worth the value, passing some of the most difficult tests in the industry. We've repeatedly run this unit for 1 hour in a sealed room, and it was able to reduce the airborne particle count by 99.9%. If you're looking for an air purifier that can really do the job, the Medify MA-112 is a great option.
Pros
Great performance
High CADR rating
Perfectly convenient design.
It comes with a lifetime warranty.
Cons
Power consumption is high
Very noise
Read More: Best Plug in Air Purifier
5. Winix 5500-2 – Affordable Air Cleaner for Classroom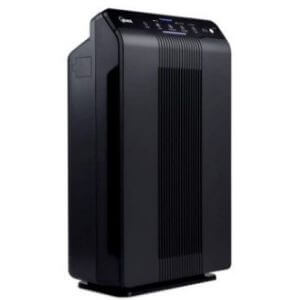 You can never be too sure about the health measures to take for your students if you want a classroom free of any allergens and pollutants with dust particles living within the vicinity of your hardworking students.
It's our advice to find the perfect device that works diligently in serving the best environment for you. Winix 5500-2 air purifier has the features to prove it. Let's check them out below:
Specifications
Product dimensions are 15 x 8.2 x 23.6 inches
Weight is 15.4 Pounds
Operated with a remote-control method
It comes with a True HEPA filter and a washable AOC Carbon Filter
It has a Smart Sensors gauge with Auto Mode adjustments
It covers almost 360 Square Feet of floor area
It has an air quality LED indicator
It requires 1 Lithium Polymer batteries
It comes with a two-year warranty
Design
Winix 5500-2 air purifier oozes charm and class with its plastic-clad body along with its signature black color. It has an air intake grill positioned right at the front of the air purifier to filter in all the air around. Right at the front of the appliance, five functions control your device according to your liking. There's a LED smart sensor to let you know about the air quality or other helpful information for its functioning. The manual already states that the device needs to be kept out of direct sunlight to not damage it.
With 15.4 lbs, the Winix 5500-2 air purifier is pretty lightweight and easy to move. It has 23.6 inches in height, with all the controls present at the top for easy maneuvering.
Filtration system
Winix 5500-2 air purifier uses advanced technology to provide you with the best services. It has a fantastic filtration system that successfully gets all germs and dust particles out of your room. The filtration process consists of 3 stages. Like any other typical air purifier, Winix 5500-2 has the first stage that relives the air of sizeable uninvited matter floating in the air. It can be anything from pet hair, pet dander to pollens. Next is the true HEPA filter that has the exceptional quality of removing particles as minute as 0.3 microns. Lastly, there's a Winixplasmawave ionizer that further helps taking out the remaining particles.
Room coverage
Winix 5500-2 offers great room coverage that extends to 360 sq feet. Even though the ACH is just 4X rate, it is still better to change air every 15 minutes to use the air purifier. Surprisingly, it has a fantastic CADR rate of 243 Dust/ 232 Smoke/ 246 Pollen (cfm). It beats all the top air purifiers present in the market.
Sound
Since the Winix 5500-2 air purifier consists of 5 fan speeds, it cannot lower its noise level by 28 dB. It isn't as noisy as it might seem; however, the noise level at the turbo is relatively high. If you want to lower it down, just change the speed to a different and lower one.
Expert's Opinion
We put the Winix 5500-2 Air Purifier to the test in a home with two cats and found that it did an excellent job of cleansing the air. The unit's smart sensors gauge the level of pollution in the room and automatically adjust the fan speed to suit; we found that on average, it ran on low for most of the day and ramped up to medium or high every 15 minutes or so. There are also five manual fan settings, which we used when vacuuming or cooking. One drawback is that replacement air filters are costly, but considering its performance, we think the Winix 5500-2 is worth the investment.
Pros
Advanced technology
Offers excellent service at an affordable price
Amazing performance
Cons
Doesn't erase a bad smell.
Reviews state it still triggers asthma.
Read More: Best Air Purifier for Mold
6. Blueair Blue Pure 211 – Best Air Filters for Germs and Bacteria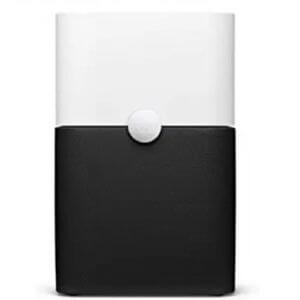 There have been a lot of raving reviews about the Blueair Blue pure 211 air purifier.
It provides the best results, impressing everyone with its performance by quickly filtering out particles without much effort. It will leave you stunt with its particle filter delivering the same superior productivity as any other true HEPA filter would do. Its specifications include:
Specifications
Product dimensions are 13 x 13 x 20.4 inches
Weight is 13 Pounds
It covers almost 540 Square Feet of floor area
Has an Advanced Swedish Design
It has an activated carbon filter
Very quiet
Low energy consumption, i.e., 30 – 61 watts
It has a washable fabric pre-filter
It has a single button control system
One year warranty and no batteries required
Design
This time, Blueair has taken a different approach in designing its air purifiers with a unique semblance. The appliance has a height of 20 inches, making it slightly shorter than blue air 121's 28 inches. However, this does not affect its lightweight. The device is pretty easy to carry and move around. It has adopted the same kind of appearance as a conventional compact air purifier. It has a 360-degree air intake filter for the perfect functioning of the fan. The best part about it is the simplicity with which it can be used. You just need a single control button to maneuver the device.
Filtration
This is the most crucial feature of an air purifier as it determines the power with which it works. The air purifier carries out three stages of filtration. The air first filters through the pre-filter that relieves it of any large airborne particles. It can be easily washed and cleaned through a vacuum or gentle cleansing with hands if you're too lazy. It then uses a particle filter called polypropylene fibers filter that fulfills a core filter true HEPA filter. The filter has the probability of clearing out 99% of dirty bacterial particles like allergens, dust, mites, etc., out of the air. For fresher air, the particles use an activated carbon filter to free the air of any odors, smoke, and VCOs in the environment.
Room coverage
With an affordable price such as this, it is great for an air purifier to be this powerful and efficient. It can cover a surface area of up to 540 sq ft. Its ACH rating of 5X is through the roof, giving a clean air experience every 12 minutes. Not only this, the icing of the cake is its CADR rate of 350 Dust/ 350 Smoke/ 350 Pollen (cfm). Having a godspeed system of fan speed and air filtration.
Noise
Blueair has offered a genuinely unique HEPAsilent technology that keeps the noise at a lower level. It is pretty impressive with such a powerful fan high at work; it will go from 36 dB to 50 dB, kept between this 3-fan speed.
Expert's Opinion
We tested the Blueair Blue Pure 211 Air Purifier when we first got it and were impressed with how well it worked. We had it on for a month in our living room and bedroom and noticed a significant difference in the quality of the air. The stink in the house was gone within a few hours and we didn't notice any bad smells when we turned it on. The peak pollen season was especially difficult for us, but the Blueair Blue Pure 211 Air Purifier made it much easier to breathe. We would highly recommend this air purifier to anyone who is looking for a way to improve the quality of the air in their home.
Pros
Outstanding performance
Great technology
Built efficient within appropriate price-range
A little quiet
Cons
There isn't an air sensor
Lacks timer
Read More: Best Air Purifier for Office
7. LEVOIT LV-H134 – Large Area Coverage with Best Classroom Air Filters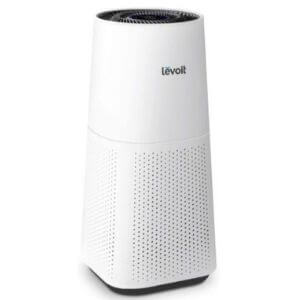 It's no news that LEVOIT has always been at the top of its game, always striving to compete with whatever comes high on the list.
This time they've targeted the blue pure 112 with its mid-range qualities. With LEVOIT's LV-H134 air purifier, things have gotten pretty intense. After skimming through all the reviews, it is believed that LV-H134 has surpassed its competitor in both the appearance and coverage area of the device. Let's find out more about its features in detail below:
Specifications
Product dimensions are 32 x 16 x 15 inches
Weight is 26.05 Pounds
It has a corded electric power source
It covers 710 Square Feet floor area
Has 3 step filtration system
Noise Level is ≤ 54 dB
It has a Smart Auto Mode with laser sensors
It has a Powerful 360° Suction
No assembling and batteries required
Design
LEVOIT has launched this newer and more advanced air purifier, clearly distinguishing it from the others. It's a huge-sized air purifier that might be the biggest one we've reviewed so far. It is 32 inches and has a large bottom that promises a stronghold on the extensive body. Derived from the design of LV-H133, LEVOIT brings top-notch 360-degree air intake filtration to maximize its outcome. It also weighs 30 lbs, making it a pretty heavy device for all.
Filtration system
Like a typical air purifier, LEVOIT LV-H134 has three staged filter types with a pre-filter used first. It removes large particles to make way for the next stage, the true HEPA filter. This filter has all the necessary capabilities to remove 99.97% particles as minute as 0.3 microns from the environment. Lastly, the activated carbon filter clears the air of any odors and toxic smoke in the air.
Room coverage
LEVOIT LV-H134 has an excellent room coverage of 700 sq ft that covers a lot more surface area than the Blue Pure 121's 620 sq ft. It has an ACH rating of 4X which means it will clean out your room every 15 minutes. However, the CADR rating may not be up to your expectations. With 312 cfm, the device will take a long time cleaning your room of 700 sq ft. This is a disadvantage of LEVOIT'S LV-H134.
Noise
The noise stays at the lowest speed level at 32 dB, which means it isn't as distinct as it might seem for such an excellent air purifier. LEVOIT's advanced technology allows the device to keep a quiet operation while performing.
Expert's Opinion
The Levoit LV-H134 Air Purifier is a top pick for large spaces. We were impressed with its performance in our tests, and we particularly like that it's designed to be easy to move around. The filter is a bit pricey, but it's worth the investment if you have a large space that needs purifying. The only thing we like to improve is the wheels, which only move in one direction. However, overall, the Levoit LV-H134 Air Purifier is an impressive unit that does a great job of purifying the air in a large space.
Pros
Smart sensor to lower the speed level
Amazing performance
Great CADR rating
Powerful design
Keeps low power consumption
Related Post: Best Air Purifier for Bathroom
8. Blueair Classic 605 – Dual Protection Filters for School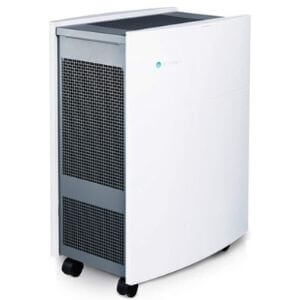 If you do not want a compromise in purchasing the best air purifier in the market, Blueair Classic 605 will be your ideal device.
It's a tremendous technology-infused machine that has everything needed for the perfect air purifier. Let's go through its features:
Specifications
Product dimensions are 13 x 20 x 26 inches
Weight is 31 Pounds
Operated with a voice control method
Has an electric corded power source
Use HEPASilent technology
It has a CADR of 500 cubic feet per minute
Its energy consumption is 15 – 100 Watts
Wifi-enabled and very quiet
The coverage area is almost 700-800 square feet
Has dual protection, recyclable filters
It has a Sustainable, Swedish design with no batteries required
Design
Blueair classic 605's design may have a different design than you're used to but has quite a purpose behind it. It is made up of 3-dimensional airflow, which is used from the bottom and two sides. One side is used to take in air while the other outputs it. Maximum optimization of filtration is gained with this uniquely innovative airflow design. It is made of pure steel with 35 lbs in weight, making it heavier and more significant than other air purifiers.
Filtration system
Since it is a powerful appliance, it has a logical filtration process to keep things going. The Blueair classic 605 has a filtration system that uses three filters called the Particle Filter/ DualProtection Filter. It has the probability of freeing the air of 99.97% particles like allergen, dust, mites, lint, etc.
Room coverage
The device has an excellent room coverage of 775 sq ft; it is easy and convenient. The device has an exceptional ACH and CADR rating of 5X and 400 Dust/ 450 Smoke/ 450 Pollen (cfm). At this price, this makes it the air purifier to purchase!
Noise
LEVOIT LV-H134 has a shallow noise range thanks to its HEPAsilent technology. The device works at the lowest speed with only 33 dB, which is even quieter than the library noise.
Expert's Opinion
We cover a lot of air purifiers here at the Allergy Center, and the Blueair Classic 605 is one of the most impressive we've come across. With a CADR of 500 cubic feet per minute, it can easily handle rooms up to 800 square feet, and we noticed a significant difference in the air quality after just a few minutes. The odor removal feature is also extremely effective, and we were impressed with how well it worked in our tests.
The voice control feature is a nice touch, and we appreciate that it's silent on low speed. After a year of use, we can confidently say that this purifier has made a real difference in our allergies and we would highly recommend it to anyone with similar symptoms.
Pros
Excellent airflow with outstanding ACH AND CADR rating
Extraordinary performance
Low noise
Plenty of room coverage
Warranty of 5 years
Cons
Smart sensor isn't integrated
The machine is large and heavy
Buying Guide for Best Air Purifier for Classroom
Choosing the perfect air purifiers for your Classroom isn't an easy task. There are several factors that you look into before getting yourself into such a tricky business. Air purifiers maybe some of the best innovations, but buying one comes with many features that you need to know about. Here are four features and points that you should consider before buying an air purifier.
Area Coverage:
The first thing you need to know about an air purifier is the area that it covers. This is perhaps the most important factor to consider because you want to be sure that the machine can actually clean the air in your classroom. The rule of thumb is that the higher the CADR rating, the better and more powerful the machine is.
True HEPA filter:
An air purifier having a feature of a true HEPA filter is a significant win most of the time. It is quite a powerful feature to have; this filter has the capacity of removing 99.97% particles from the environment, even those that are small, like a 0.3 micron. These particles can be pet hair, lint, dust, etc. However, an H13 HEPA filter is another type of filter that has proved to be much more helpful in clearing out particles with an even smaller size than your 0.1. It goes into the depths of the matter present in the air and goes right about cleaning it from the environment. It's your call to choose which one suits your environment better.
Activated Carbon Filter:
The feature of an activated carbon filter is another useful one to have. It helps in getting rid of the smoke and other foul smells from the environment by trapping them in its pores. This process happens because of adsorption. The activated carbon filter is usually made out of coconut shells, which are known for their excellent absorption abilities.
High clean air delivery rate:
Having a high CADR is very important for an efficiently working air purifier. It means the device is providing a maximum and thorough cleaning of the room. All of it depends upon the area you want to cover. Classrooms are usually 900 sq feet; having an air purifier according to that would be much cleverer. For 900 sq feet, you need to purchase two air purifiers with CADR of 420 and 500 cfm. And for an area coverage of more than that, you should buy multiple air purifiers.
Avoid extra features:
An air purifier having add-ons like ionizers and UV lights may be helpful in your environment but can also be your ultimate demise. Ionizers have the aim to boost the air filtration rate, providing high-quality air all around. Similarly, UV-C lights are also used to disinfect your environment. These may effectively complete this purpose but do have to emit toxic chemicals and other byproducts, doing more harm than good to your health. So make sure not to purchase any air purifiers with add-ons.
Filter Replacement Indicator:
This is a very vital feature to look into when you are choosing an air purifier. Replacing filters can become quite a hassle if not given due importance. This task needs to be done from time to time so that the device may function properly. An air purifier with a filter replacement indicator will notify you as and when the filter needs to be replaced. This will help you save time, money and effort in the long run.
Noise Level:
The noise produced by an air purifier is another essential thing to keep in mind while making your purchase. No one wants a machine that's going to produce a lot of noise and disrupt the peace of the environment. Consider buying an air purifier with a low noise level so that it doesn't disturb you or others around you.
Should schools put air purifiers in every classroom?
Air purifiers are devices that remove contaminants from the air. These devices come in various shapes and sizes and can be used for both commercial and residential purposes. Air purifiers can be used to remove airborne particles such as dust, pollen, smoke, mold spores, and pet dander. Additionally, air purifiers can also remove gases and odors from the air.
Several benefits can be associated with using air purifiers in schools. One of the most important benefits is that it can help to improve the air quality within the school. Poor air quality can lead to a number of health problems, including respiratory infections, headaches, and fatigue. Additionally, poor air quality can exacerbate existing conditions such as asthma and allergies. By using air purifiers, schools can help to improve the air quality for both students and staff.
Another benefit of using air purifiers in schools is that they can help to reduce absenteeism. When students are sick, they often miss school. This can lead to them falling behind in their studies. Additionally, when students miss school, it can impact their social development. By using air purifiers, schools can help to reduce the number of sick days that students take.
There are a few different air purifiers that schools can choose from. One type of air purifier is an activated carbon filter. These filters are designed to remove contaminants from the air by absorbing them into the filter material. Another type of air purifier is a HEPA filter. HEPA filters are designed to remove tiny particles from the air. These particles can include dust, pollen, and mold spores.
Installing air purifiers in every classroom is a decision that the school district should make. There are a number of factors that should be considered before making this decision. One factor is the cost of the air purifiers. Another factor is the types of air purifiers that are available. The school district should also consider the benefits and drawbacks of using air purifiers in their classrooms.
Frequently Asked Questions
Do air purifiers help with Covid in a classroom?
Air purifiers help to clean the air and decrease one's exposure to Covid, but what is most important is preventive measures such as wearing a mask or staying outside. Air purifiers will not protect you from Covid particles on furniture or the floor.
Those who are very sensitive to the inhalation of Covid should seek medical advice about whether it would be prudent for them to stay at home while their school sick co-workers remain in school without masks.
What air purifiers are schools using?
You can't find a definitive answer to this question, but I've always heard that purifiers with HEPA filters are most efficient.
Apart from poor air quality, part of installing an air purifier is to help keep allergens out of your school. Scientists generally believe HEPA filters to be most effective for this purpose. Other types of filters may or may not have some effect in removing particles and other allergens from the air (much depends on their efficiency), but they're usually less expensive, so it's worth considering as well.
How can we purify the air in the classroom?
Buy a ventilator.
Purify the air by adding ozone to the vents, ionizing ultraviolet light to destroy all harmful pathogens and bacteria in your air conditioning unit, or using a UV reactor that releases ozone on demand. Some chemical signals (mainly lactic acid) can produce an unwanted smell like sour milk or vomit while heating up to 100 Celsius. Make sure they're getting clean, purified air before releasing it into your school at high speeds! Lights will be automatically turned off if there is oxygen deficiency- so no need to worry!
Make sure good ventilation is happening, and some plants are near the area where you're breathing.
How do you test air quality in your Classroom?
Many educators and health professionals at school have found that the best method for assessing air quality is with a simple device called an "Indoor Air Quality Monitoring Kit." These kits allow you to monitor multiple contaminants in a short amount of time using non-intrusive, easy to identify, low-cost materials which are also generally available. Multiple studies suggest that the IAAQ monitoring kits are sensitive enough to detect airborne contaminants in classrooms and offices up to two or three feet away from the detector.
Should I put an air purifier in my Classroom?
It's best not to put a purifier in your Classroom if you're interacting with the students, as that might make it difficult for those with allergies or respiratory problems.
However, the idea is that having a purifier installed in an area with little human traffic will prove helpful for those with such sensitivities. The low installation cost makes this worth considering if some other particles are causing serious trouble within the room (e.g., pet dander or smoke).
Final verdict:
You know where to look if you've got some air purifiers to buy for your classrooms. We have a variety of some of the best air purifiers with affordable prices that will be a dream to have. Now the ball's in your court, decide what works for you and go with the flow!
Comparison Table for Top Air Purifiers for Classroom
IMAGE
PRODUCT
FILTERS
AREA COVERAGE
RATING
PRICE
LEVOIT
Air Purifier 400S
1. Pre-filter
2.True HEPA filter
3. Activated Carbon
403 Sq Ft
⭐⭐⭐⭐⭐
IQAir [HealthPro-
Compact Air Purifier]
1. PreMax filter
2. HyperHEPA filter
1240 Sq Ft
⭐⭐⭐⭐⭐
Honeywell HPA300
1. Pre-filter
2. True HEPA filter
540 Sq Ft
⭐⭐⭐⭐⭐
MedifyMA-
112
1. Pre-filter
2. True HEPA filter
3. Activated Carbon
4. Ionizer
2400 Sq Ft
⭐⭐⭐⭐⭐
Winix 5500-2
1. Pre-filter
2. True HEPA filter
3. Winix
PlasmaWave
360 Sq Ft
⭐⭐⭐⭐
Blueair Blue
Pure 211
1. Pre-filter
2. Particle filter
3. Activated Carbon
540 Sq Ft
⭐⭐⭐⭐⭐
LEVOIT
LV-H134
1. Pre-filter
2. True HEPA filter
3. Activated Carbon
710 Sq Ft
⭐⭐⭐⭐
Blueair
Classic 605
1. Particle Filter
2. DualProtection
Filter
775 Sq Ft
⭐⭐⭐⭐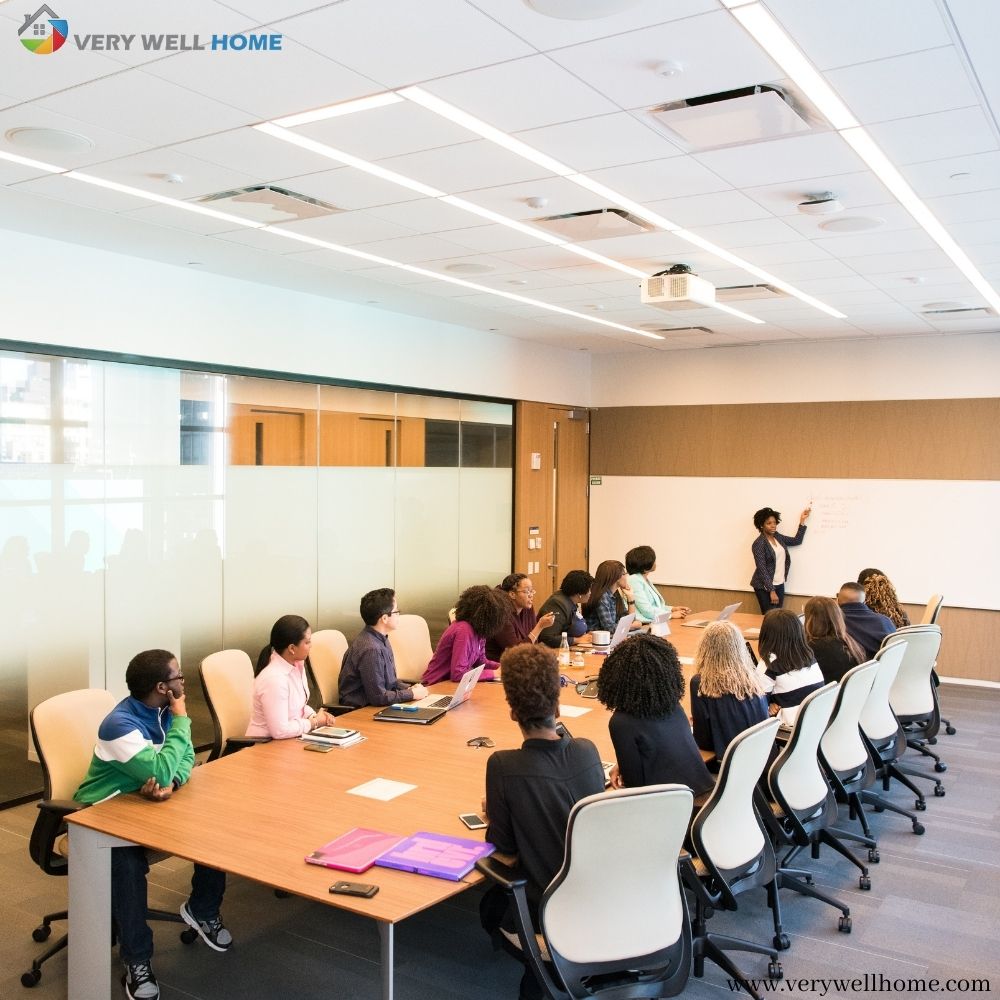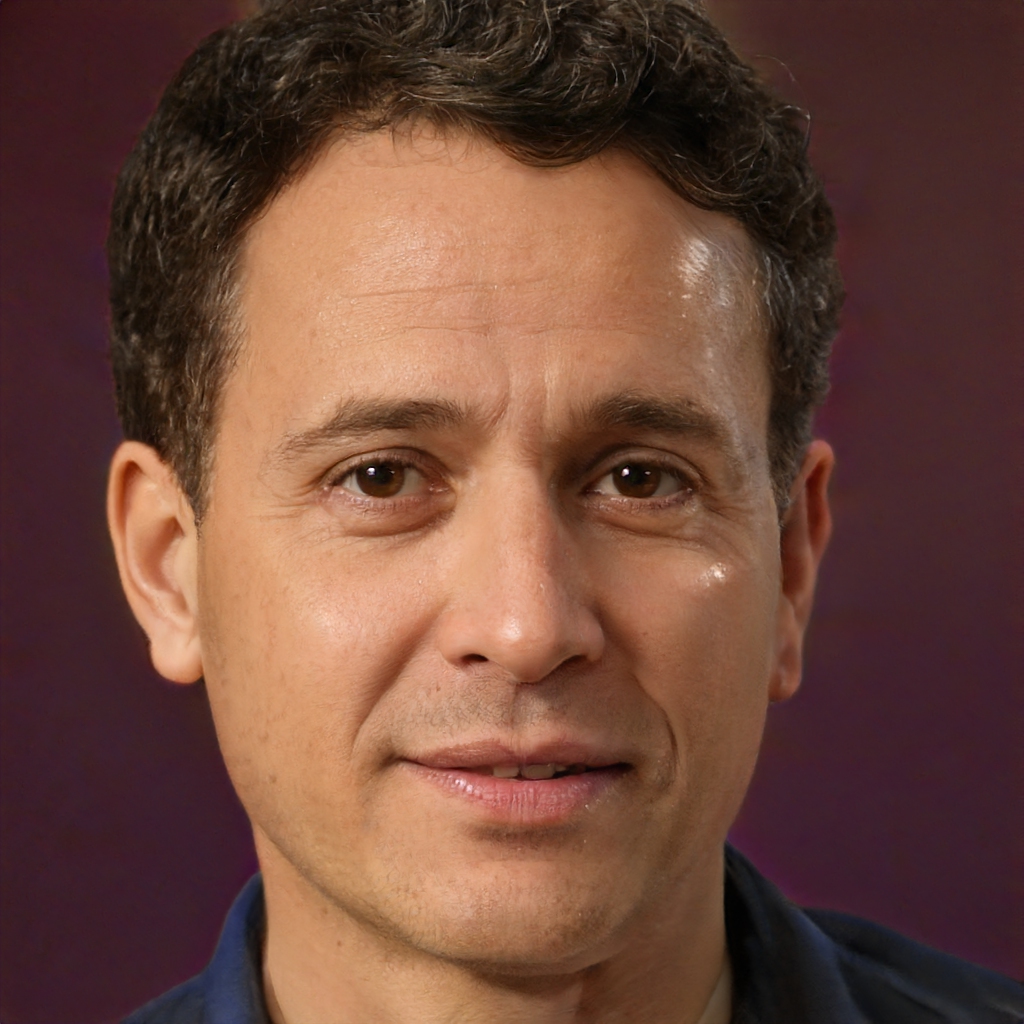 Danny is a passionate writer who loves to share his knowledge about air purifiers. He's been writing for the last 10 years, and he'll be sharing all of that experience with Very Well Home viewers in order help you make better decisions when it comes time buy one!