Are you stuck between Blueair 311 vs 411 dilemmas? It's a tough choice to make as both purifiers are great purification devices with amazing features. But which air purifier is best for your need? You shall find out the winner between the contender in this article. So, let's get started!
A Quick Overview
Blue Pure 311 Auto and 411 Auto have incredible functions and air purification power. They have some great similarities like:
Three layers of filtration system.
Auto mode for undisturbed performance.
360-degree air intake.
Easy setup and cleaning.
However, the similarities are not all. Both air purifiers have some differences, such as:
Blueair 311 can filter bigger rooms than the 411 model.
Blueair 411 costs nearly half the price of the 311 model.
Continue reading to find out the detailed comparison between these air purifiers.
Comparison Chart of Blueair 311 and 411 Air Purifiers
| | | |
| --- | --- | --- |
| | | |
| | | |
| | | |
| | | |
| | Washable Pre-filter, Main Particle Filter, Carbon Filter | Washable Pre-filter, Main Particle Filter, Carbon Filter |
| | | |
| | | |
| | | |
| SmokeBlock Filter Upgrade: | | |
| | | |
| | Smoke-250, Pollen-244, Dust-250 | Smoke-123, Pollen-96, Dust-107 |
| | | |
| | | |
| Wi-Fi/Smartphone connectivity: | | |
| | 10.2 x 10.2 x 20.5 inches | |
| | | |
| | | |
| | | |
| Auto Mode and Manual Mode: | | |
| Filter Change and Air Quality Indicator: | | |
| | | |
| | Grey, Blue, Silver, Pink, Green | Grey, Blue, Silver, Pink, Green |
| | | |
| | | |
| | | |
Pros and Cons of Blueair 311 Air Purifier
Blueair 311 Air Purifier
Blue Pure 311 Auto is one of the best air purifiers for medium room sizes. It has certain advantages and drawbacks. Let's have a brief look.
Pros
Three layers of filtration.
Aesthetic design and different color options.
Air Quality Monitor.
Optimal for allergy and asthma patients.
Energy Star Rated and AHAM verified.
Cons
A bit expensive.
No Wi-Fi connection or Sleep Mode.
Pros and Cons Blueair 411 Air Purifier
Blueair 411 Air Purifier
Blueair 411 is the smaller version of the 311 Auto with limited operating power. Let's now see what benefits and drawbacks it offers.
Pros
Minimum noise output.
360 Degree Air Intake.
Affordable Price range.
Easy to clean and maintain.
Energy efficient.
Cons
Not suitable for big room coverage.
No auto-timer or sleep mode.
Now we shall find out the similarities and the differences between these two purifiers side by side. So let's delve into the details.
Area Coverage Between Blueair 311 and Blueair 411
The most crucial part of choosing an air purifier is to know the expected area coverage. Now, let's compare which one has better room coverage.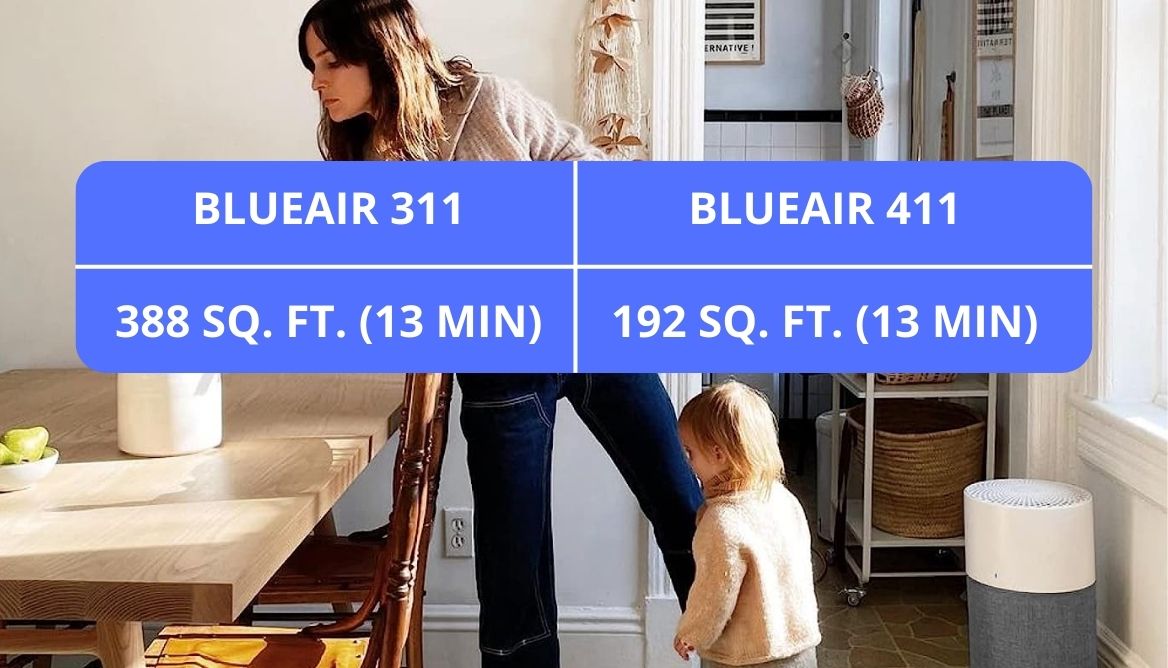 The Blue Pure 311 Auto can filter up to 388 square feet within 13 minutes. Or it can clean 1862 square feet within an hour.
The Blue Pure 411 Auto model can filter 912 square feet of the area within an hour. And it can clean 192 sq ft within just 13 minutes.
Winner: Blueair 311 air purifier reaches and cleans bigger areas than Blueair 411. So Blue Pure 311 Auto air purifier is the winner.
Air Filter and Air Quality
311 and 411 models have similarities and differences when it comes to filters and air quality. Let's find out: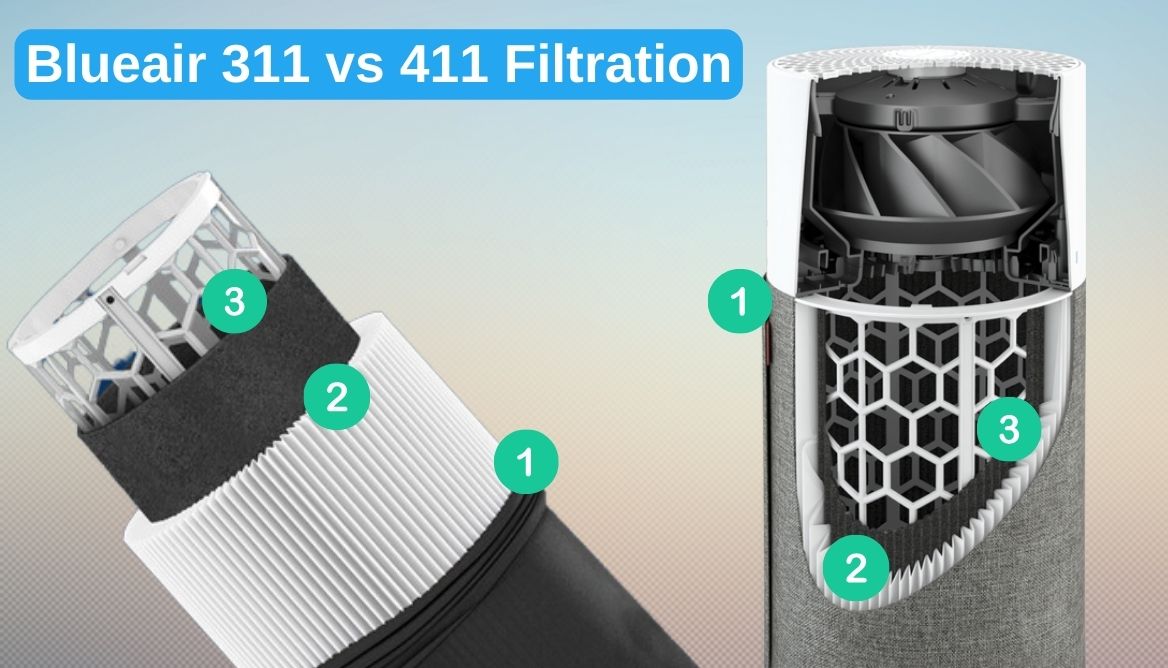 Both Blueair Blue Pure Auto purifiers have three layers of filters: fabric pre-filter, particle primary filter, and carbon filter.
The 311 model has a CADR of around 250, and the 411 model has a CADR of around 100.
Blueair 311 can improve air quality pretty much faster than the 411 Auto.
Winner: Blueair 311 has a clear advantage in clean air delivery rate and air quality.
Control Method and Operation
Blueair Blue Pure 311 Auto and 411 Auto are touch-controlled but lack remote control or app control features. They have a number of common operating modes. Let's have a brief glance at them.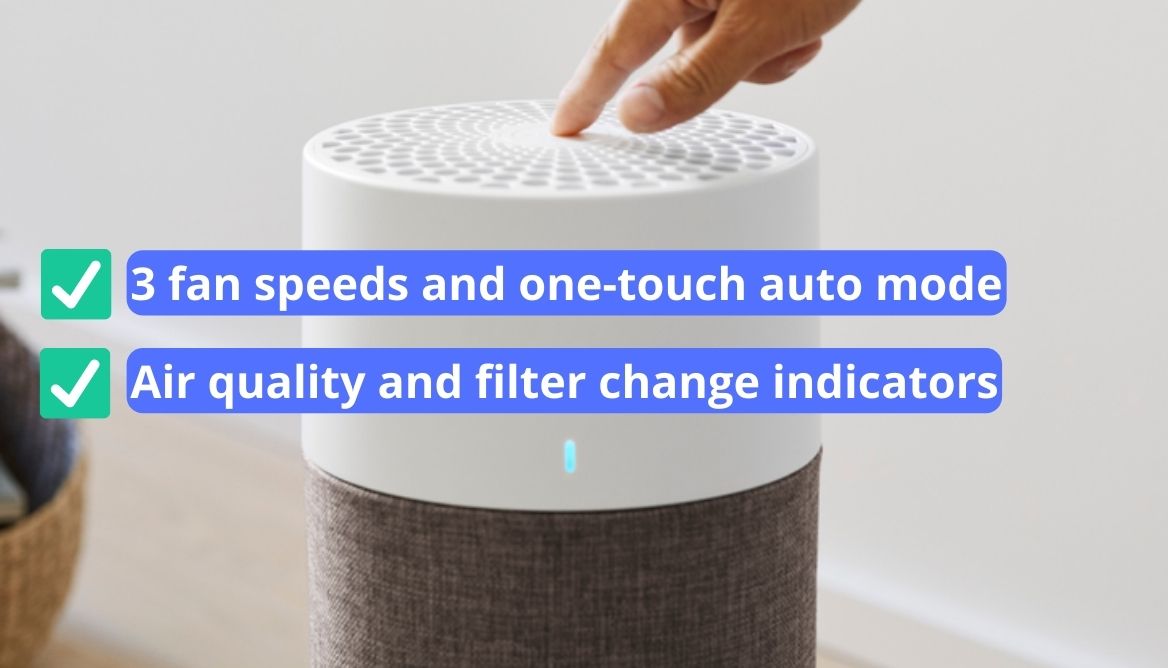 Both models have three fan speeds and one-touch auto mode for better cleaning performance.
The air quality indicator and filter change indicator are both present.
There is no timer option, so no scheduled cleaning is possible for both purifiers.
Both devices lack sleep mode and child lock options.
Winner: There is no great difference in control and operating methods. You get the same options in both air purifiers. It's a tie here.
Power Consumption
Both air purifiers are Energy Star certified, making them suitable products for low energy consumption. Both devices use 120 voltage of power. However, the difference is in Watts, which reflects the power of purifying capacity.
Blueair 311 uses 35 Watts of power,
Blueair 411 uses 10 Watts.
Therefore, Blueair 311 uses more power and improves air quality to a greater level. The 411 model consumes less power and is not as powerful as the 311 model.
Winner: No clear winner.
Noise Output
Noise level is an important factor to consider when choosing an air purifier. Let's see which one has less noise output.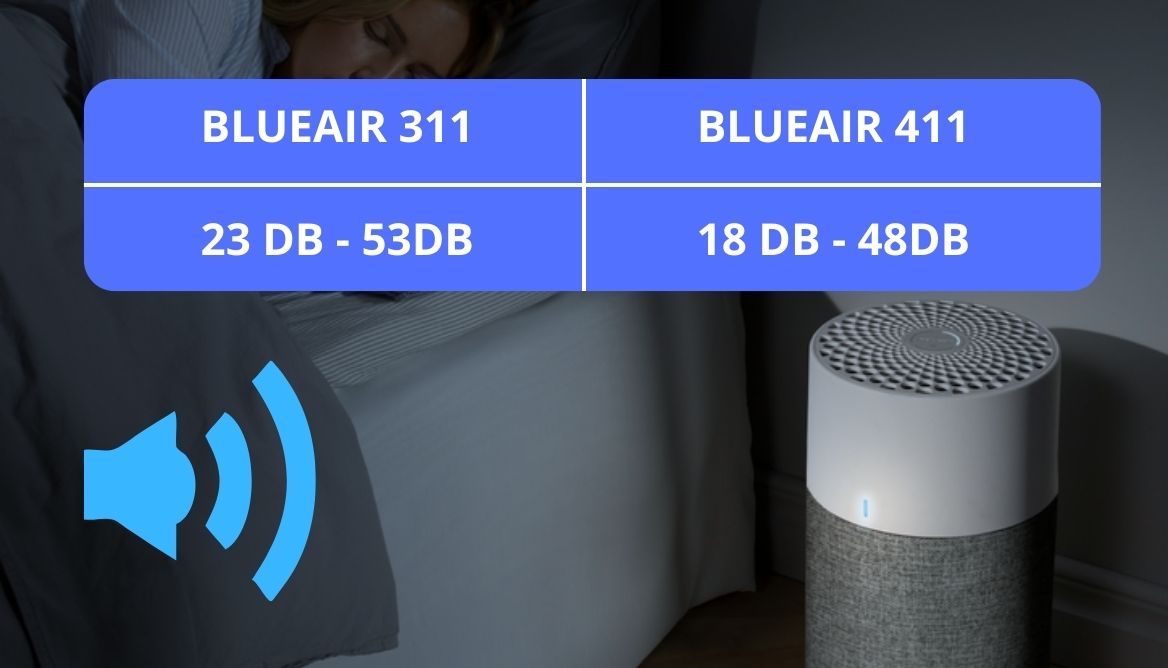 Blueair Blue Pure 311 Auto produces 23 dB of noise at the lowest fan speed and 53 dB at the highest.
Blue Pure 411 Auto has a noise level between 18 dB and 48 dB.
Winner: Blueair 411 provides quiet operation in comparison to other air purifiers.
Technology and Smart Features
Well, that's an interesting part of the comparison. Let's see what we have got.
Blueair 311 and 411 lack Wi-Fi and app connectivity.
Both purifiers don't support Google Assistant or Alexa voice commands.
Winner: So no clear winner here. If you need these features anyway, you should choose more expensive options.
Find out more about the features and technology in this review:
Design, Size, Weight
If you have ever seen Blueair air purifiers, you shall find a traditional, sleek design. Blueair Blue Pure 311 Auto and 411 Auto have similar looks and designs. However, the difference is in their size and weight.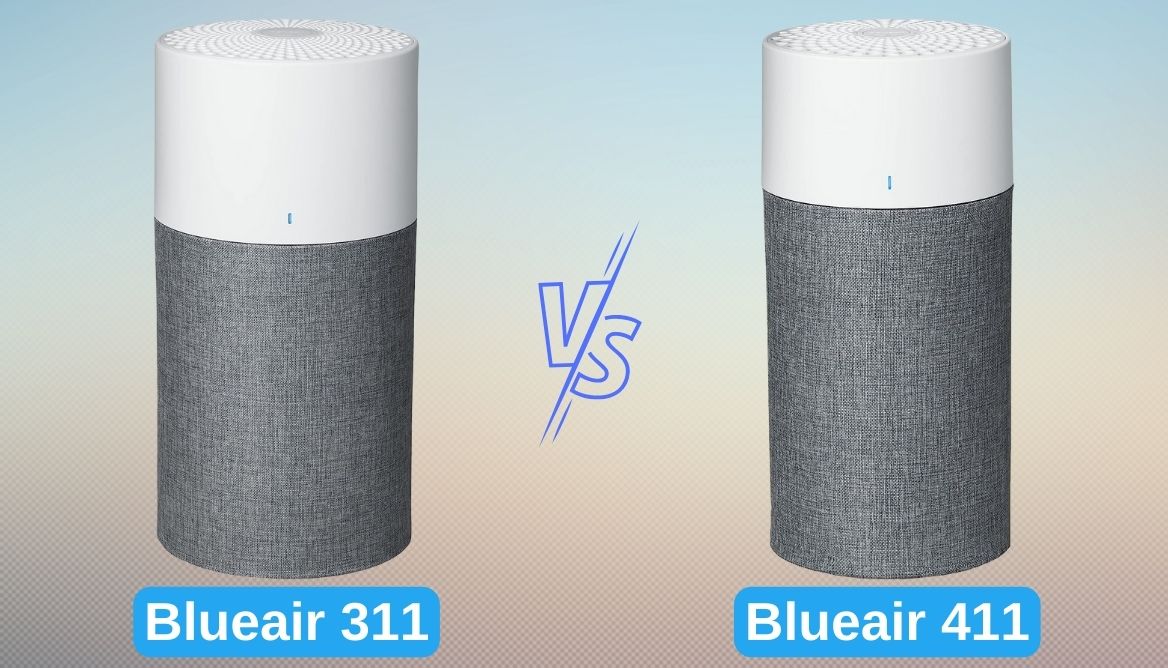 The 311 Auto is slightly bigger in size than the 411 Auto.
The weight of the 311 model is nearly double of the 411.
Winner: No clear winner. It depends on individual choice.
Find out more here:
Price
The price of Blueair Blue Pure 311 Auto is around $220, while the 411 Auto costs around $140. So the former is pretty expensive in comparison, but it provides clean air of twice the room size of the latter. So, I would say the 311 model is worth spending.
Winner: Blueair 411 is more budget-friendly.
Certifications and Warranty
Both Blueair devices have a one-year warranty period. They are verified and certified by a number of institutions. For example,
Winner: Blue Pure 411 Auto has been certified by Quiet Mark for its incredibly lower sounds. So, the 411 model gets an extra edge here.
Similarities
As both air purifiers belong to the same Blueair series, they have more things in common than differences. Here's a list of similarities.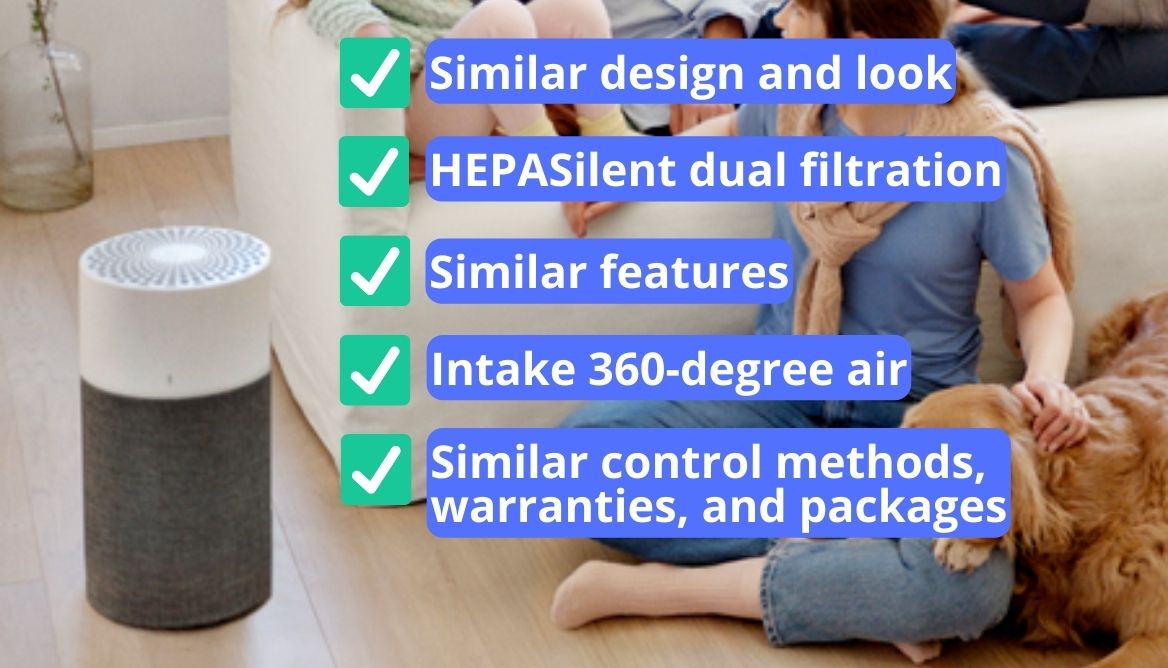 Both purifiers have similar design and look.
Devices have HEPASilent dual filtration for great air purification.
Both have similar features of auto mode, air quality indicator, and three fan speeds.
Units intake 360-degree air.
They have similar control methods, warranties, and packages.
Which Air Purifier to Pick?
You should choose the Blueair Blue Pure 311 Auto model if:
Blueair 311 Air Purifier
Your room size is medium and large.
You can spend some extra bucks.
You want a powerful air filter.
And you should definitely go for the Blue Pure 411 Auto model if:
Blueair 411 Air Purifier
Your room size is smaller.
You like compact and light devices.
You cannot afford to spend much.
Now the choice rests on you. Pick the one you like.
Read Also:
Best Dyson Air Purifier: 7 Great Units For Healthy Air
How to Clean a Blueair Filter: 10-Step Ultimate Guide
Frequently Asked Questions
Does the Blueair 411 Remove Smoke?
Yes, Blueair 411 air purifier removes smoke. The activated carbon filter eliminates smog, wildfire, and harmful gases.
What is the Difference between Blueair 411 and Blueair 411 Auto?
The main difference is that the Blueair Blue Pure 411 Auto model has some extra features like Particle sensors, LED indicators, and better pre-filters.
Is Blueair as good as HEPA?
As Blueair has incorporated HEPASilent technology, it has become as good as a HEPA filter. In some cases, Blueair air purifiers operate better.
Conclusion
So both air purifiers are good devices for healthy air filtration. You can expect top-notch performance from both of them, and both can be upgraded with SmokeBlock filters.
However, I personally prefer Blueair Blue Pure 311 Auto for its bigger area coverage and great performance. It can clean both smaller and medium size rooms, whereas the 411 Auto would take a huge amount of time to clean a medium room. So, it's better to invest your money in the 311 Auto air purifier.
Blueair 311 Air Purifier
This air purifier has a sleek, aesthetic design and can clean big areas within a short time. Its powerful three-layer filtration can provide fresh, dust-free air. And the auto mode is greatly accurate in capturing pollen, VOCs, smoke, pet danders, and whatnot.
Blueair 411 Air Purifier
Blueair 411 is the perfect air purifier for a small room, kitchen, and living space. It is affordable, lightweight, and compact in size. You can expect superb air purification from this purifier in a concentrated area.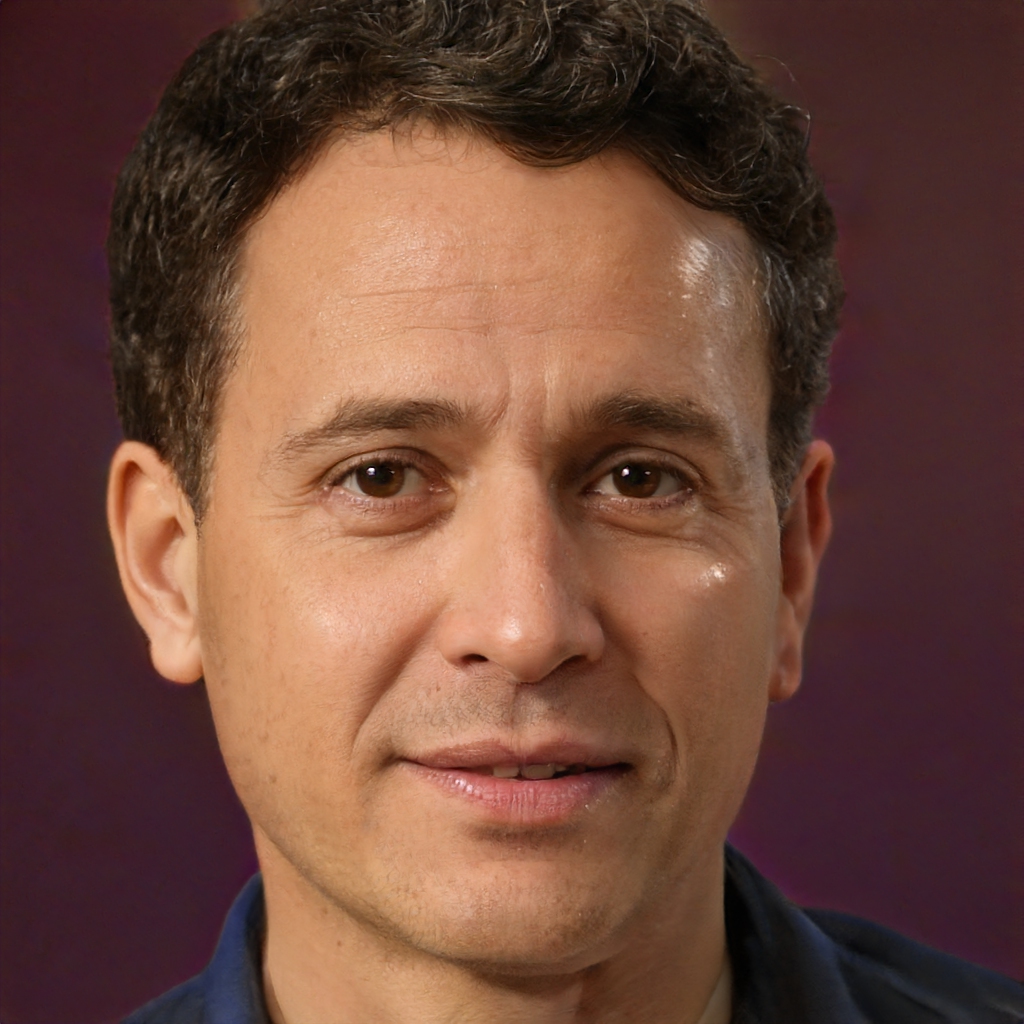 Danny is a passionate writer who loves to share his knowledge about air purifiers. He's been writing for 10 years, and he'll share all that experience with Very Well Home viewers to help you make the best decision when it's time to buy an appliance!