Are you in the market for a budget-friendly robot vacuum? Look no further, as I have made this comprehensive comparison of the Roomba i2 vs i3 EVO for you. Let's dive into the details!
Quick Comparison
These two robot vacuums are budget-friendly. However, if you're choosing your model based on price, then i2 is the cheaper model.
The i3 EVO has a selective cleaning feature that allows you to customize your cleansing schedule by room. On the other hand, the i2 only allows you to set the cleaning schedule.
Both the i2 and i3 EVO have dirt detect technology. This feature enables your vacuum cleaner to detect areas with high concentrations of dirt and spend more time cleansing these areas.
This is just the tip of the iceberg. Keep reading to learn more about these two Roomba models and know which one best suits you.
Roomba i2 vs i3 EVO Comparison Chart
Look out to the Roomba i2 vs i3 EVO comparison chart below:
| | | |
| --- | --- | --- |
| | | |
| | | |
| | | |
| | | 13.34 x 13.26 x 3.63 inches |
| | | |
| | | |
| Selective Rooms Cleaning: | | |
| | 10X Suction Power than 600 Series | 10X Suction Power than 600 Series |
| Dual Multi-Surface Rubber Brushes: | | |
| | | |
| | | |
| | | |
| | | |
| | | |
| | | |
| Personalized Cleaning Suggestions: | | |
| | | |
| Self Cleaning Dock Compatible: | | |
| | | |
| | | |
| | | |
| | | |
| | | |
| | | |
| | | |
| | | |
The iRobot Roomba i2 Pros and Cons
Here are the key benefits and potential drawbacks of the iRobot Roomba i2.
Pros
It offers great value for money
Easy to set up and use
User-friendly menus
Its navigation is sensible
Excellent battery life of up to 120 minutes
It avoids getting tangled in pet fur
Expertly goes under furniture
Reliable in maintaining clean carpets, resulting in a refreshed home.
Cons
Cannot navigate around objects
Fails to clear all spots in one pass
Not recommended for deep cleaning
It is loud
The cleaner cannot empty itself
Sensors require frequent maintenance
It does not come with virtual wall barriers as standard
The iRobot Roomba i3 EVO Pros and Cons
The iRobot Roomba i3 EVO has its strengths and weaknesses, as can be seen below.
Pros
Effective on all types of floors
Works well with the latest software
Effective in eliminating pet-related debris, including fur and hair
Well-planned cleaning route
Cons
Can't detect obstacles in its cleaning path
Does not come with the virtual wall accessory feature.
Navigation System
When it comes to navigation, both the Roomba i2 and i3 feature advanced systems that allow for efficient and thorough cleansing. These features include:
A reliable navigation system that intelligently partitions your floor into neat rows before cleaning them.
The ability of robot vacuums to go around obstacles and clean the areas below your furniture without falling down the stairs.
They can easily detect the different floor types and reconfigure their suction power accordingly.
Selective Room Cleaning & Dirt Detect Technology
When it comes to cleaning performance, the Selective Room Cleaning and Dirt Detect Technologies are key features that set the Roomba i2 and i3 apart. However, there are some other notable technological differences between the two models, such as:
Selective Room Cleaning: The Roomba i3 EVO has this capability. It uses the Imprint Smart App to assign names to rooms in your home after completing an initial cleaning. Afterward, it can clean specific rooms selectively. The Roomba i2 does not have this feature.
Dirt Detect Technology: The Roomba i3 EVO and i2 have this nice feature that uses sensors to detect high-concentration dust areas and then spends extra time vacuuming those areas.
Suction Power & Performance
Is there even a difference when it comes to comparing the suction power of the i2 and i3 EVO relative to their performance? Let's find out below.
Roomba i2
When it comes to its powerlifting suction, the i2 works best in the:
Thorough cleansing thanks to its dual multi-surface rubber brushes.
Detecting areas that need extra cleaning. This is made possible due to its Dirt detection technology feature.
Roomba i3 EVO
The i3 EVO has more powerlifting suction power and better performs in:
Cleansing hard floors effectively.
Removing pet hair from upholstery and furniture.
Deep cleansing carpets and rugs thanks to their greater suction power.
Reaching tight spaces and corners.
Imprint Link Technology – Mopping?
Ever wondered if the Roomba i3 EVO and i2 can be used to mop your floors? Unfortunately, they are not capable of doing so. Roomba models are purely robot vacuum cleaners.
However, you can connect the i3 EVO and the i2 models to the iRobot jet m6 robot mop. This is made possible thanks to Imprint Link Technology which allows the two devices to work in sync.
Maintenance – Tangle-Free Brushes?
For these robot models to give you optimal results, they need regular maintenance. The maintenance tasks include:
Emptying the dustbin on a daily basis.
Wiping the sensors every two weeks.
Removing lodged debris or hair from the power edge sweeping brush once a month.
Use a clean base to reduce the number of times you empty the bin.
Empty the clean base once every 2 months. This keeps your house fresh.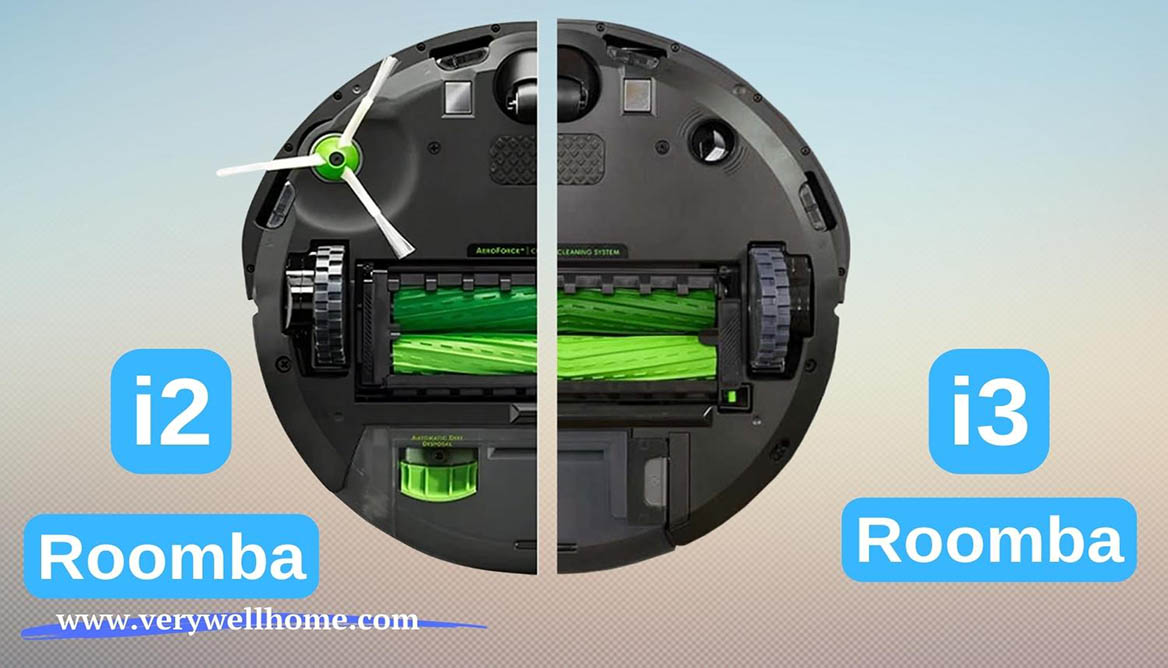 Dustbin Capacity
The Roomba i3 EVO and i2 come with a 0.5-liter dustbin that can hold a decent amount of trash.
HEPA Filters Effective for Dealing With Pet Hair
The robot vacuums, i3 EVO, and i2 are equipped with high-efficiency filters. These HEPA filters are highly efficient in trapping pet hair and other pollutants and allergens.
If you have pets, these two vacuum models are particularly suitable for you. They can effectively remove all your pets' hair, dander, and other allergens that may be present in your home, providing you with a cleaner and healthier living environment.
Roomba robot Vacuums Battery Life & Charging Time
There are no known battery specifications for the Roomba i3 EVO and i2 robot vacuum. However, after I tested dozens of models, I found that these Roomba robot vacuums have an approximate runtime of 120 minutes per full charge.
A standout feature of the Roomba i2 and i3 EVO models is their ability to resume cleaning from where they left off, making them a valuable investment.
Personalized Cleaning Suggestions & Custom Routines
Some notable similarities and differences between the Roomba i3 and i2 EVO's cleaning routines and suggestions include:
Both can set a personalized cleaning schedule thanks to the new iRobot OS. These suggestions are based on your schedule, the current season, and cleaning history.
The main difference is in selective room cleaning. The Roomba i3 allows you to customize cleaning by room through the iRobot Os Home App. However, the i2 does not have this feature.
Connectivity & Additional Features – Voice Commands
When it comes to connectivity and voice command, the Roomba i2 and i3 are equipped with advanced features that enhance their performance, such as:
The ability to connect to the iRobot HOME app for remote control.
Integration with smart home devices like Amazon Alexa and Google Home for hands-free control when they are Wi-Fi connected.
Customizable cleaning schedules.
Voice commands for easy and convenient operation of your robot vacuum cleaner.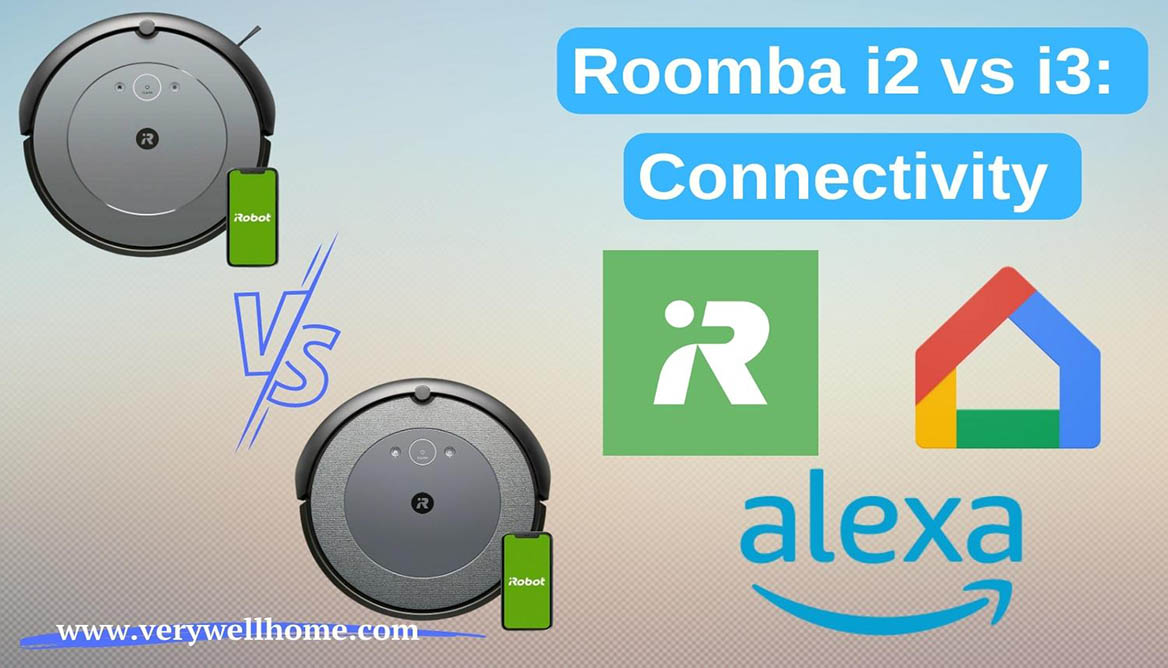 Color
The Roomba i2 and i3 EVO models have different color schemes. The i2 is ash-colored, while the i3 EVO is woven neutral.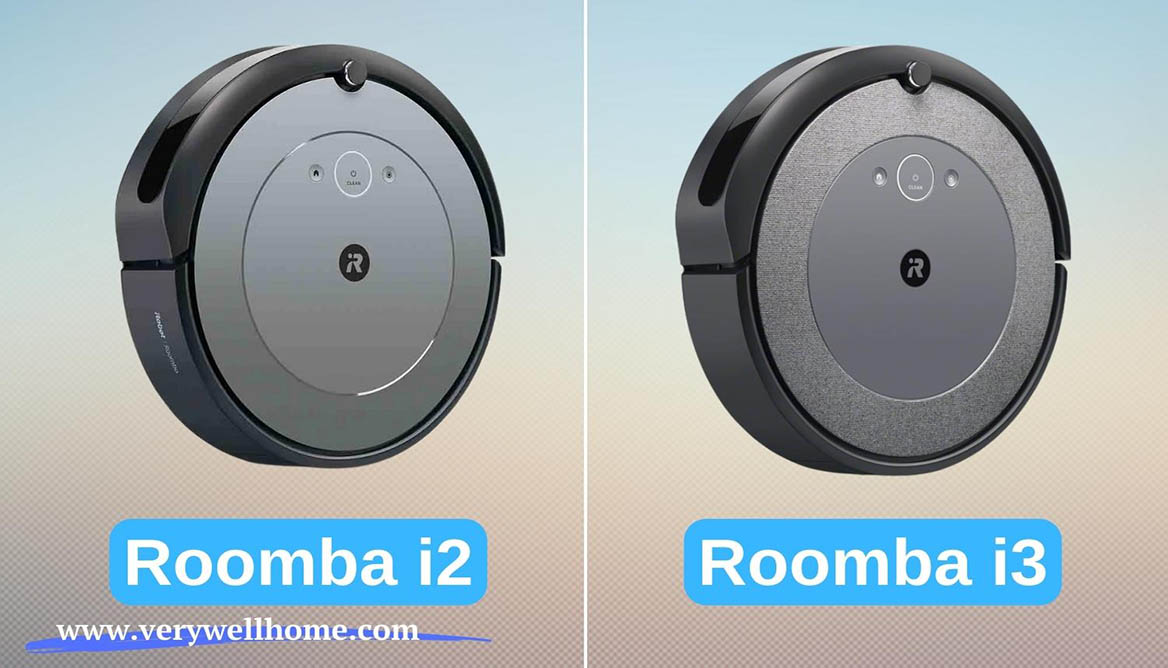 What Else Makes the Roomba i2 Special?
The Roomba i2 robot vacuum is packed with special features that make it user-friendly, such as:
Ability to self-charge and can create a map of your home using its onboard smart sensors, allowing it to clean in neat rows.
Its powerful suction and 3-stage cleaning system, which includes rubber brushes that adjust to different floor types, makes it a great option for pet owners.
This Roomba model also includes self-emptying and can be paired with a separate self-cleaning dock station.
You can also use the iRobot Home app to switch between different settings and integrate the robot with your home system.
What Makes the Roomba i3 EVO Special?
You can distinguish the i3 from other Roomba models with the following qualities:
It has the ability to return to its charging dock after completing tasks.
It has a self-emptying feature that automatically empties its dustbin after cleaning.
It can create a map of your home and remember the layout of all rooms using its Imprint Smart Mapping feature.
It has reactive sensor technology that allows it to navigate stairs easily.
FAQ
Does the iRobot i2 have mapping?
Yes. The Roomba i2 has the ability to map your home, allowing it to cover your floors in a systematic and efficient manner through its smart navigation technology.
Does the Roomba i3+ map your house?
Yes. The Roomba i3+ Evo can learn about your home and create an Imprint Smart Map to keep your rooms clean.
Does Roomba i3 get smarter over time?
Yes. As you use it, the robot's performance improves, ensuring the best customer experience.
Does Roomba i3 avoid poop?
Yes. The robot is equipped with advanced cameras that help it monitor its movements and avoid poop.
Can I pick up my Roomba i3 and move it to another location?
Yes. The robot can adapt to new conditions and surroundings, allowing you to move it to another location without any issues.
Conclusion
The iRobot Roomba i3 Evo and i2 are top-of-the-line robot vacuums that come with various advanced features right out of the box. The Roomba i2 is well for those who searching for a more budget-friendly option with smart navigation and good suction.
As a pet owner, I exactly recommend you would go for the Roomba i3. Because it perfectly cleans pet fur, has a self-emptying feature, and imprints smart mapping technology.
Please let me know in the comments section if you have any specific questions or requests for future reviews.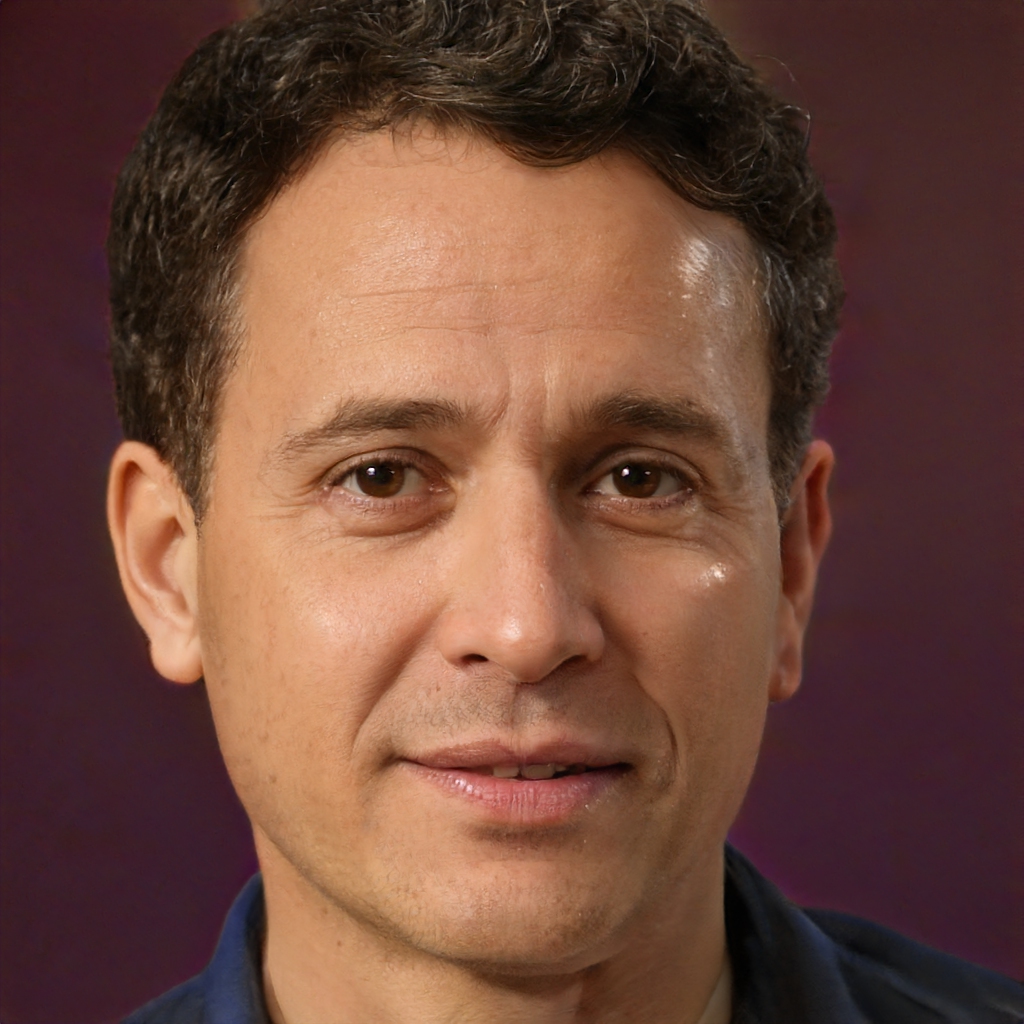 Danny is a passionate writer who loves to share his knowledge about air purifiers. He's been writing for 10 years, and he'll share all that experience with Very Well Home viewers to help you make the best decision when it's time to buy an appliance!