Studies show that indoor air is 5x more polluted than outdoor air putting your health at stake. This Winix C545 review will assist you in understanding how a powerful air purifier can help you combat this problem. Let's dive into it!
Quick Answer
Winix positions itself as the world leader in the air purifier industry. Winix air purifiers have a patented Plasmawave technology, that uses a natural and safe filtration process to neutralize harmful vapors without producing dangerous ozone.
Plasmawave effectively cleans and eliminates all types of airborne pollutants, bacteria, viruses, and smells from the air.
This technology differentiates Winix air purifier models from its competitors.
Winix C545 air purifier has a pre-filter, activated carbon filter, and true HEPA filter to ensure rigorous filtration:
It purifies your air as well as keeps your home dust-free and clean.
You can control and configure the Winix air purifier remotely through an app.
Winix C545 air purifier is energy star certified.
That makes it environment-friendly and cost-effective.
Let's examine the Winix C545 air purifier's pros, cons, and specifications.
Winix C545 Specifications
Check the Winix C545 specification:
| | |
| --- | --- |
| | |
| | |
| | |
| | |
| | |
| | |
| | Low, medium, high, & turbo |
| | |
| | |
| | |
| | |
Winix C545 Pros and Cons
The Winix C545 has the following pros and cons:
Pros
4-stage air purification process
Natural and safe Plasmawave technology
Wi-Fi connectivity for remote control via the Winix Smart app
Washable pre-filter
Air quality indicator shows the quality of air in real-time
Affordable price with high value for money
AHAM Verified
Energy star-rated certification
Auto mode
Sleep mode
Alexa compatibility
Cons
Incompatible with Google Assistant
Issues with the mobile app
Replacement filters are expensive
Winix C545 Top Features
Winix air purifier provides you with a wide variety of features for effortless accessibility and control. We have highlighted the top features which make Winix C545 efficient and easy to use.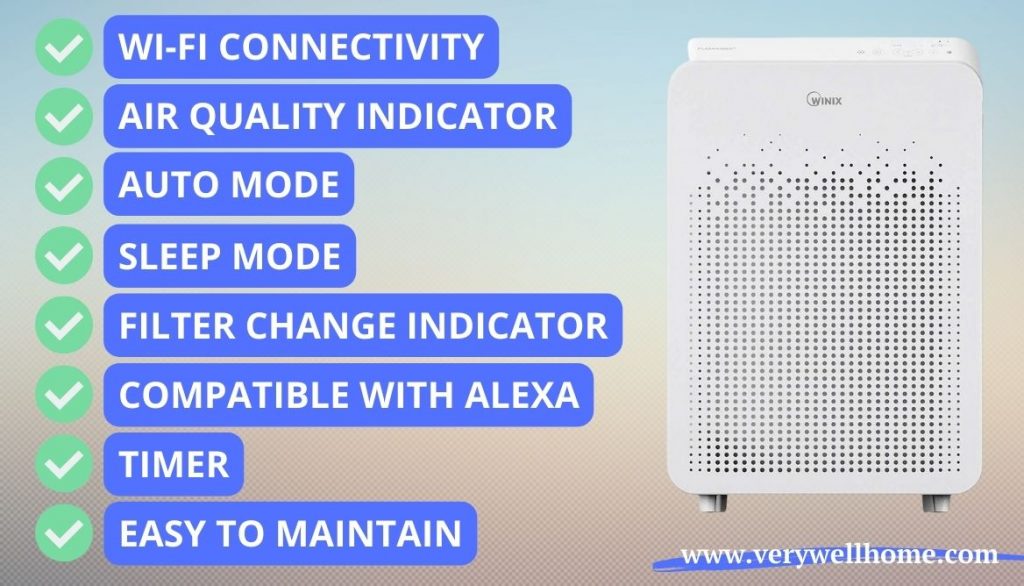 Wi-Fi Connectivity
Winix C545 is Wi-Fi enabled. You can use the Winix Smart app to control and configure the air purifier from your smartphone. You can also monitor indoor air quality, check real-time updates of your air purifier's performance, set a timer, and schedule when and how you want the Winix air cleaner to work.
Air Quality Indicator
LED lights on the control panel indicate the air quality in real-time using smart sensors. You can also check this on your mobile app. If the LED light is red, the air quality is poor. Orange is for fair, and blue is for good air quality.
Auto Mode
Auto mode is a user favorite. If you switch to auto mode, it monitors the quality of the indoor environment automatically using dual smart sensors. It adjusts the fan speed accordingly. If the air quality is good, the speed of the fan will be low, and high or turbo for poor air quality.
Sale
Winix C545
Having a smart and stylish air purifier isn't enough. It has to provide the best air cleaning experience as well. The Winix C545 is all you must be looking for!
The powerful motor present in this purifier can withdraw air efficiently.
A large washable pre-filter is present to catch all air pollutants.
The C545 has good cleaning performance and cleans the air every 15 minutes.
Control panels have an easy touch system and you can easily adjust the fan speed and the modes.
You can use Wi-Fi connectivity and Winix App for receiving real-time updates.
The Alexa support enables you to create different configurations through your voice.
Sleep Mode
Sleep mode activates during the night to produce the least amount of noise and let you sleep peacefully. You can either schedule it or let the light sensors detect the amount of light in the environment and activate sleep mode automatically. Many users love the white noise produced by the Winix air cleaner and claim it helps them sleep better.
Filter Change
A LED light on the control panel lets you know when it's time to replace the filters. It eliminates the guesswork. While there are guidelines for filter replacement, different environments can have different replacement periods. Replacing filters on time ensures your air purifier works in optimal conditions.
Compatible with Amazon Alexa
Winix C545 is compatible with Amazon Alexa. You can give voice control commands to Alexa to control it.
Timer
The timer function lets run the air purifier for several hours before shutting down automatically.
Easy to maintain
Winix C545 air purifier is easy to maintain and clean. The pre-filter needs to be cleaned every two weeks with a vacuum cleaner or a fine brush. The activated carbon filter needs replacement every three months, and the true HEPA filter once a year.
Winix C545 air purifier's features make it a powerful, efficient, and easy-to-use air purifying device.
Winix C545 Air Purifier Filter Types
Winix C545 uses a 4-stage air filtration system. In this section, we will cover the air purification process of the Winix C545 air purifiers.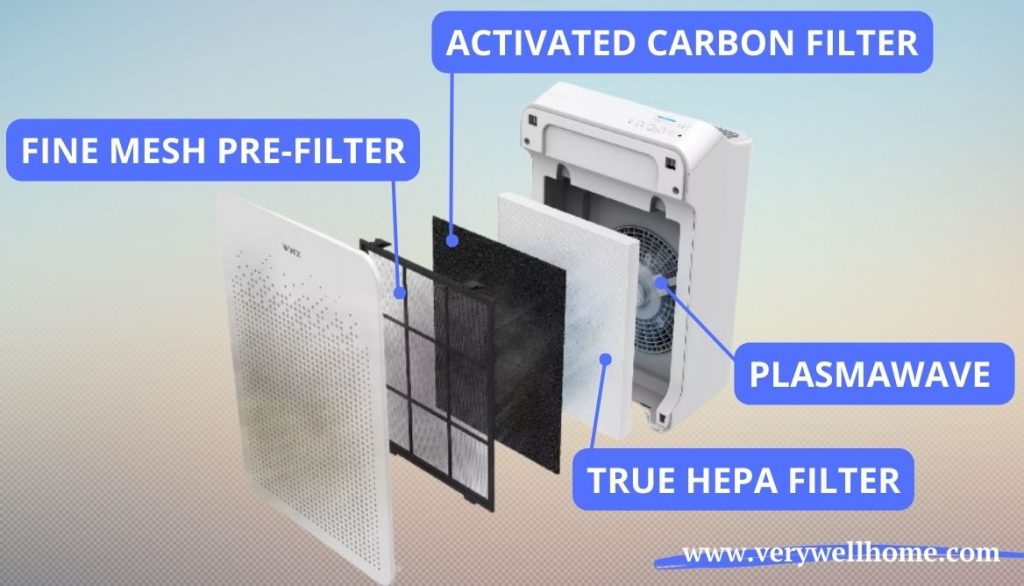 The air filters included in Winix C545 are:
1. Fine Mesh Pre-filter
The washable fine mesh pre-filter catches larger airborne particles like dust particles, hair, fiber, feathers, pet hair, dirt, and pet dander.
The pre-filter needs cleaning every two weeks. You can use a vacuum cleaner or a fine brush. Never use soap or detergent to clean the pre-filter.
2. Activated Carbon Filter
Activated carbon filter reduces and eliminates Volatile Organic Compounds and odors from the air. Volatile Organic Compounds (VOCs) are invisible toxins causing irritation and difficulty in breathing.
Activated carbon filters eliminate household odors from cooking, smoke, pet odors, new equipment, paints, or any unwanted chemical gases. It makes sure that your home always smells fresh and deodorized.
The carbon filter needs replacement every three months
3. True HEPA Filter
The true HEPA filter catches the microscopic pollutants floating in the air. It traps 99.97% of airborne allergens as small as 0.3 microns in size, including mold spores, pollen, allergens, and airborne bacteria.
True HEPA filter needs replacement once a year.
4. Plasmawave Technology
Winix has patented Plasmawave technology, which means no other air cleaners have it.
Plasmawave meets the most meticulous American certification benchmark for indoor air cleaning.
This technology uses a natural filtration process to destroy viruses and bacteria at the molecular level. Unlike most air purifiers, there is no possibility of them re-entering your airflow.
Winix C545 Video Review
We suggest you watch a detailed video customer review of the Winix C545 air purifier.
Winix C545 Room Coverage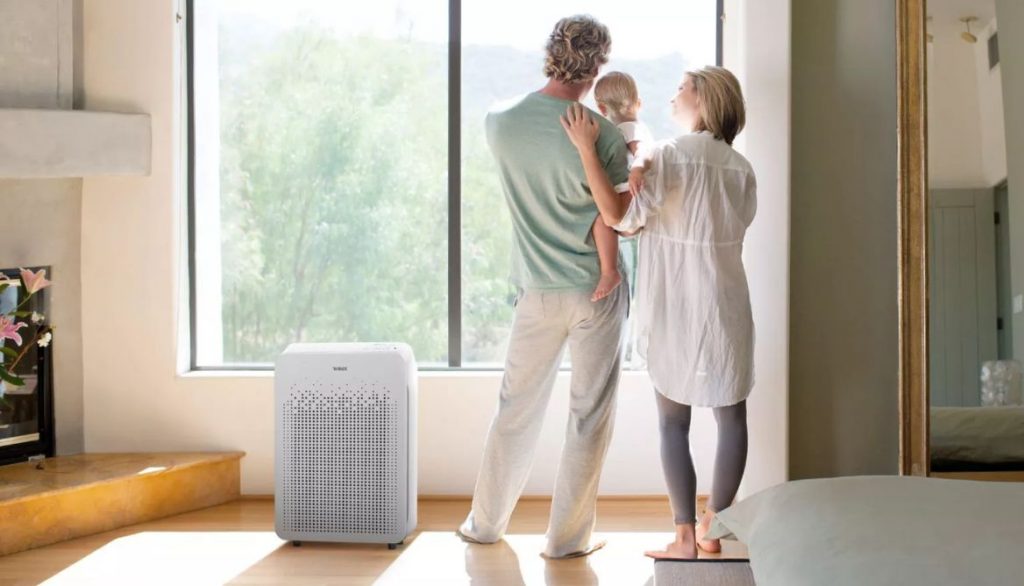 Winix C545 air purifier is for medium and large rooms. It covers an area of 360 sq ft.
The room coverage makes it suitable for areas like:
Living room
Bedroom
Kitchen
Dining room
Office
Libraries
Classrooms
Workshops
Winix C545 ACH Rating
ACH stands for Air Changes per Hour. It indicates how often the air purifier will purify the complete airflow within a room in an hour. The Winix C545 has a 4x ACH rating, which means it can exchange the entire air volume in a 360 sq ft area four times an hour. You can get fresh air in a matter of 15 minutes.
Winix C545 AHAM Certification & CADR Rating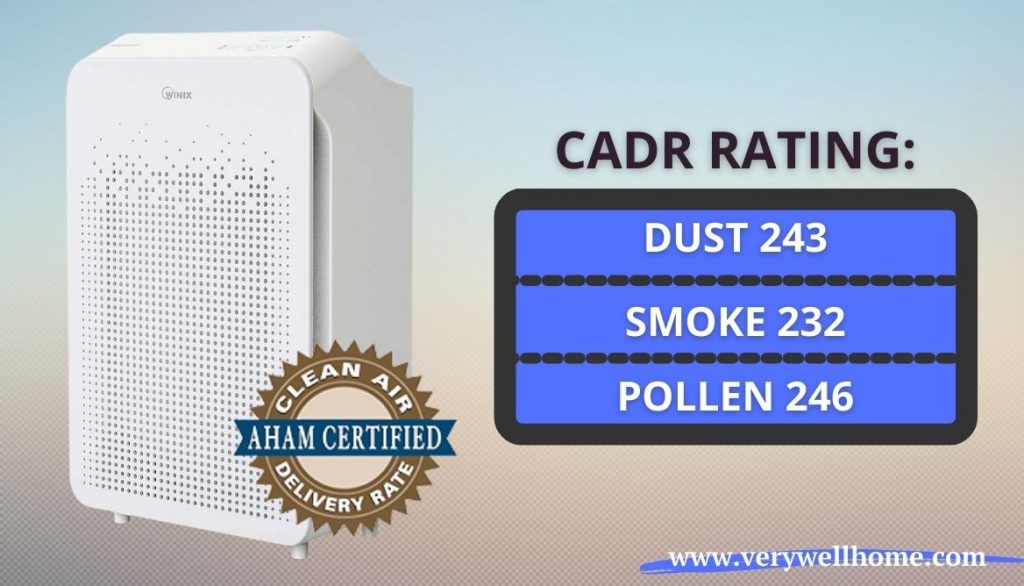 CADR stands for Clean Air Delivery Rate. It indicates the volume of clean air an air purifier delivers. Simply put, how efficient an air purifier is at eliminating harmful toxins from the air.
CADR comprises three numbers, dust, smoke, and pollen. The CADR ratings come from the AHAM, an independent tester for air purifier manufacturers.
CADR ratings of the Winix C545 air purifier are:
Dust 243
Smoke 232
Pollen 246
A number close to the room coverage number indicates efficient purifying. Winix C545 is AHAM verified.
Winix C545 Design & Size
Winix C545 is compact, minimalistic, and rectangular. It's almost the size of a medium-sized suitcase. Its dimensions and weight are:
Dimensions – 13.7″W — 8.4″D — 20.5″H
Weight – 11 lbs
Winix C545 air purifiers are easily portable due to their lightweight. The soft edges make it visually appealing. The subtle white of the Winix C545 looks aesthetic with any home decor and interior.
The front panel has an air intake grille with multiple different-sized perforations. The control panel at the top has easy-to-touch buttons and labeled functions, with the air outlet nearby.
The control panel has the following indicators and buttons:
Auto mode indicator – indicates when the Auto mode is activated
Air quality indicator – shows the quality of air. Red for poor, orange for fair, and blue for good
Sleep mode indicator – indicates when the sleep mode is on
Filter replacement indicator – points out when it is time for filter replacement
Filter reset button – used after replacing the filter
Power button – to turn the air purifier on or off
Fan speed arrow buttons – used to change the speed of the fan or modes
Plasmawave indicator – indicates whether Plasmawave is on
Wi-Fi button – to enable Wi-Fi
Smart sensor – detects the amount of odorous gas in the environment
Light sensor – detects the amount of light in the environment
Who Should Use Winix Air Purifiers?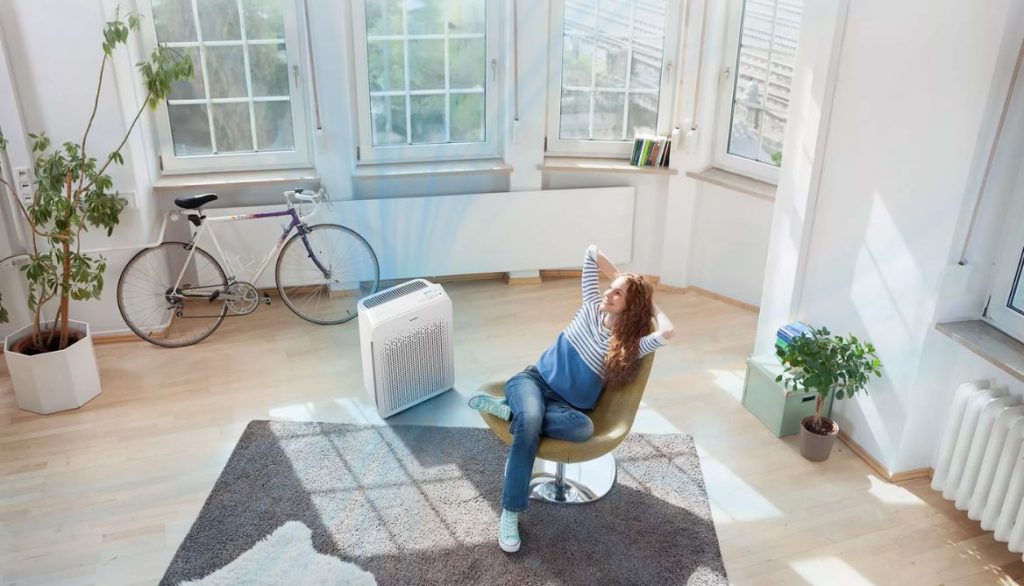 The Winix C545 is for anyone looking for an air cleaner to purify the air.
Yet, certain people would benefit the most:
People who want to remove harmful toxins from the air they breathe.
Having an allergic reaction to dust
Suffering from respiratory diseases
Wanting to get rid of pet dander and odor
Living in areas with high smoke levels
Looking for a Wi-Fi-enabled smart air purifier
Winix C545 Warranty
Winix C545 air purifier comes with a 2-year warranty. The company will repair or replace the air purifier if it fails because of manufacturing or material defect.
The Winix air purifier comes with a filter replacement supply of 2 years, which means eight carbon filters and two true HEPA filters. After which you will have to buy them online or in-store. Winix America site has the required information.
More Winix C545 Reviews
Hopefully, this Winix C545 review helped you see that this air purifier has great features. If you are still confused about whether to buy it, what better than to look at what fellow users have to say about it? Check out Winix C545 reviews on Amazon.
FAQs
Does Winix c545 filter mold?
Yes. The true HEPA filter traps 99.97% of airborne allergens as small as 0.3 microns in size, including mold spores, pollen, allergens, and bacteria.
How long do Winix C545 filters last?
The carbon filter lasts three months, while the true HEPA filter lasts a year.
Conclusion
Winix C545 air purifier is one of the best air purifiers with a 4-stage filtration process, Plasmawave technology, and top-notch features. There are no contaminants that this efficient and powerful air purifier cannot tackle.
Due to its low cost, wide range of modern features, efficiency, and high customer satisfaction, Winix C545 is widely known, loved, and used.
We hope this Winix C545 air purifier review was helpful to you in making the final decision. What great feature caught your eye? Please leave a comment below.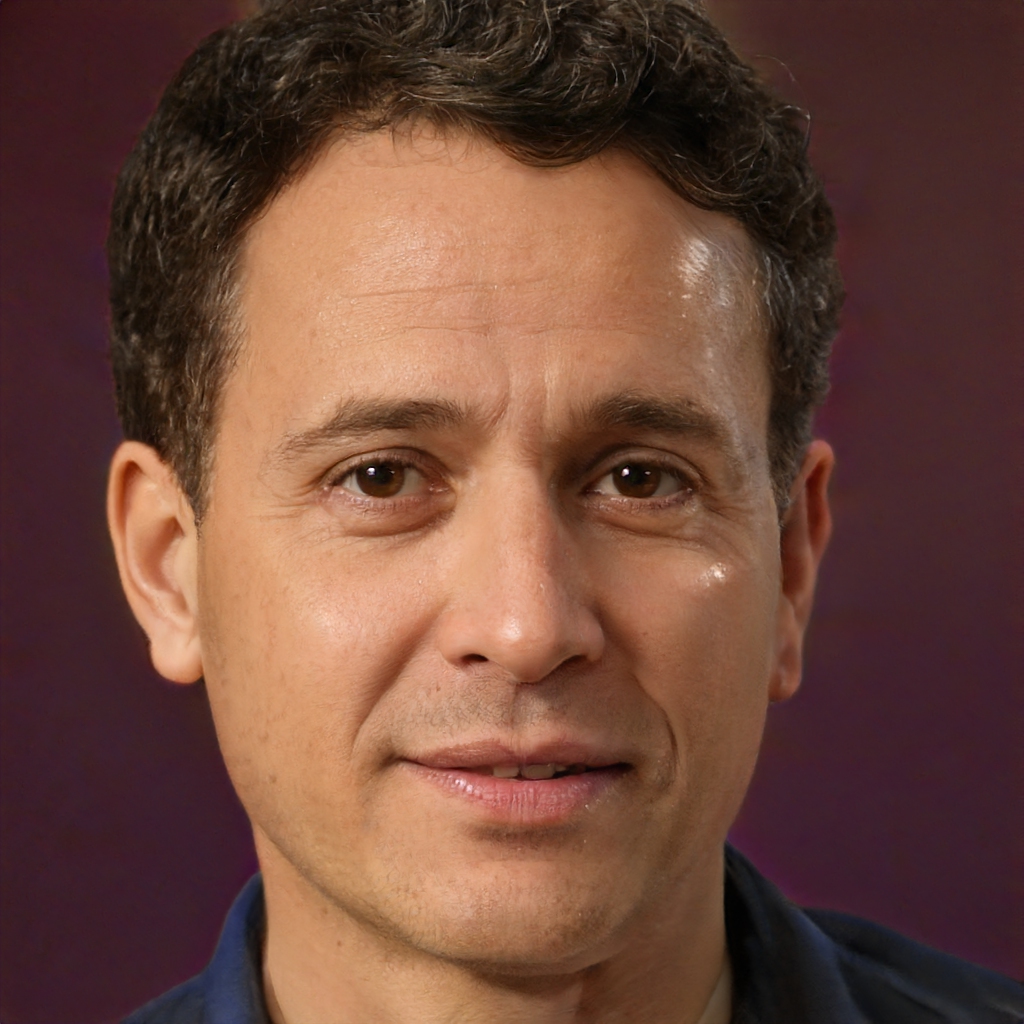 Danny is a passionate writer who loves to share his knowledge about air purifiers. He's been writing for 10 years, and he'll share all that experience with Very Well Home viewers to help you make the best decision when it's time to buy an appliance!