If you are in pursuit of the best air purifier for wildfire smoke, you've come to the right place. Here, I present to you a comprehensive review of the top 10 models that are highly effective in reducing smoke and improving indoor air quality. Let's dive into the world of purifiers and find the perfect appliance for you!
Quick Answer
When wildfires ravage nearby areas, the presence of high levels of smoke can lead to various health problems including irritated eyes, coughing, and sneezing.
Before selecting an air purifier for wildfire smoke, it's crucial to consider certain factors to ensure optimal performance. Here are some key aspects to keep in mind:
High-Efficiency Particulate Air (HEPA) Filters in order to capture a range of pollutants
Carbon or Activated Charcoal Filters to neutralize smells
Room Size and Coverage Area for optimal cleaning
To make your selection process easier, I have personally handpicked and reviewed the best 10 models currently available in the market. Continue reading to learn about their detailed specifications, pros, and cons. I will also reveal my personal favorite among them.
So, let's begin this informative journey toward cleaner air!
Best Air Purifiers for Wildfire Smoke – Top 10 Comparison Chart
Listed below is the table with all the essential details:
Area Coverage

(12.5 Minutes)

1. Pre-filter,

2. Activated carbon filter,

3. Impregnated alumina pellet filter,

4. HyperHEPA filter

1. Washable pre-filter,

2. True HEPA filter,

3. Activated carbon filter,

4. PlasmaWave technology

1. Pre-filter,

2. Deodorization filter,

3. True HEPA filter

1. Washable pre-filter,

2. Polypropylene pre-filter,

3. Activated carbon filter,

4. True HEPA filter, ionizer

1.Pre-filter,

2. H13 true HEPA filter,

3. Activated carbon filter

1. Washable pre-filter

2. Max2 filter set (activated carbon + green true HEPA)

1. Pre-filter,

2. H13 true HEPA filter,

3. Activated carbon filter,

4. Ionizer

1.Pre-filter,

2. H13 true HEPA filter,

3. Custom high-efficiency activated carbon filter

1. Pre-filter

2. Carbon and true HEPA filter

1.Fabric pre-filter,

2. High efficiency filter,

3. Activated carbon filter
1. Best Option Overall: IQAir HealthPro Plus Air Purifier
IQAir HealthPro Plus Air Purifier
Let's explore the strengths and weaknesses of IQAir and learn why it's at the top!
Pros
It is quiet across all fan settings.
Long-lasting and budget-friendly filters to reduce costs.
320-degree diffusion of clean air to provide every corner with fresh air.
Able to capture CoV-1 and 2 viruses.
Cons
You have to place it a little above the floor for proper intake.
Each HealthPro Plus air purifier is meticulously crafted in Switzerland and undergoes individual testing to ensure total system efficiency. It has great filtration capability and operates with ultra-quiet performance across all four fan speeds, emitting low-decibel sound levels. It also comes with a 10-year limited warranty, ensuring long-term peace of mind.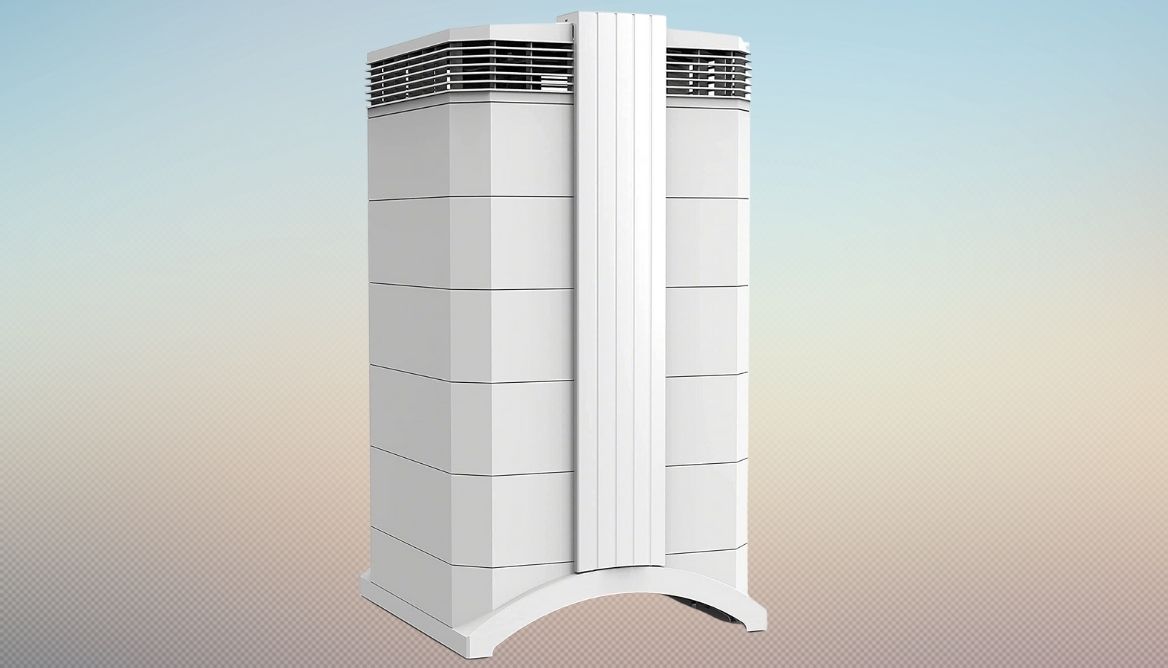 Features
See here to review its remarkable attributes and specs in detail:
A flow diffuser to distribute clean air evenly.
Medical Grade H-14 filter to protect you from wildfires.
Pelletized Chemisorption to remove gases and odors.
Specs
| | |
| --- | --- |
| | IQAir HealthPro Plus Air Purifier |
| | |
| | 240 CFM (Smoke), 240 CFM (Dust), 240 CFM (Pollen) |
| | Pre-Filter, Activated Carbon Filter, True HEPA air purifier |
| | |
| | |
| | |
| | 9.13 x 16.13 x 24.06 inches |
| | |
Recommendation: If you want the best of the best air purifiers for wildfire smoke, HealthPro Plus represents the pinnacle of air purification technology. Its HyperHEPA filter can remove 99.5% of particles as small as 0.003 microns, which is 100 times smaller than the standard HEPA filter. It also provides real-time feedback. The included remote control allows convenient adjustment of settings from a distance.
Check out this video for more details.
2. Best Value Air Purifier: Winix 5500-2
Sale
Winix 5500-2
Let's check out its positives and negatives and see what makes it the best value:
Pros
The filters are cost-effective so it doesn't cost a fortune to replace them.
You can set the speed on four different settings.
Noise levels are almost not noticeable even on turbo mode.
Air quality monitor shows directly on the display making it user-friendly.
There is an automatic mode that sets the fan speed according to the air quality.
Cons
The remote control could be better.
Weighing only 17.5 lbs, the 5500-2 Air Cleaner is a lightweight and portable air purifier, allowing you to move it effortlessly throughout your home as needed. This air cleaner is suitable for bedrooms and living rooms. Its durable ABS construction ensures long-lasting performance, and its compact dimensions make it easy to fit into any space.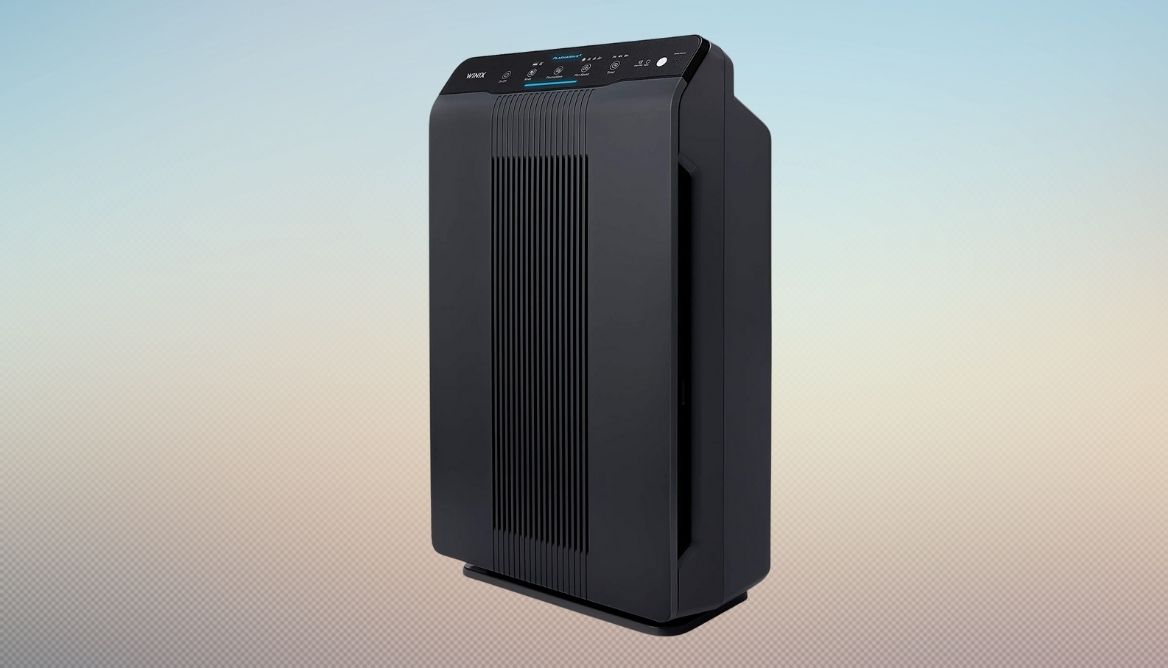 Features
See here to review its remarkable attributes and specs in detail:
Air quality indicator to monitor current air quality.
Light sensors allow you to activate sleep mode when the room is dark.
Smart settings allow you to change the fan mode speed.
Specs
| | |
| --- | --- |
| | |
| | |
| | 232 CFM (Smoke), 243 CFM (Dust), 246 CFM (Pollen) |
| | True HEPA, Plasmawave, Carbon Filter, and Pre Filter |
| | |
| | AHAM Verifide®, ENERGY STAR |
| | Two-year limited warranty |
| | |
| | |
Recommendation: The 5500-2 is another exceptional choice for combating wildfire smoke. Its True HEPA filter eliminates 99.97% of airborne pollutants, including smoke, dust, mold spores, and VOCs (volatile organic compounds). The washable AOC carbon filter efficiently traps odors and gases emanating from smoke and other sources.
3. Best Filtration Technology: Coway Airmega AP-1512HH
Coway Airmega AP-1512HH
Let's explore the pros and cons of this unit:
Pros
Eco mode detects the air quality levels for turn on and off by itself.
Provides 3 different fan speeds.
The air filter indicator reminds you to clean/change your filters.
The pre-filters are washable so you don't have to buy them regularly.
Quiet and efficient to be used within bedrooms.
Cons
Some users faced a delayed response from the manufacturers.
The four-stage filtration system effectively eliminates odors and pollutants. AP-1512HH continuously monitors the air quality and adjusts the purifier's settings accordingly, kicking into high gear when needed to ensure optimal performance. It is not only efficient but also ideal for people living around wildfire-prone areas.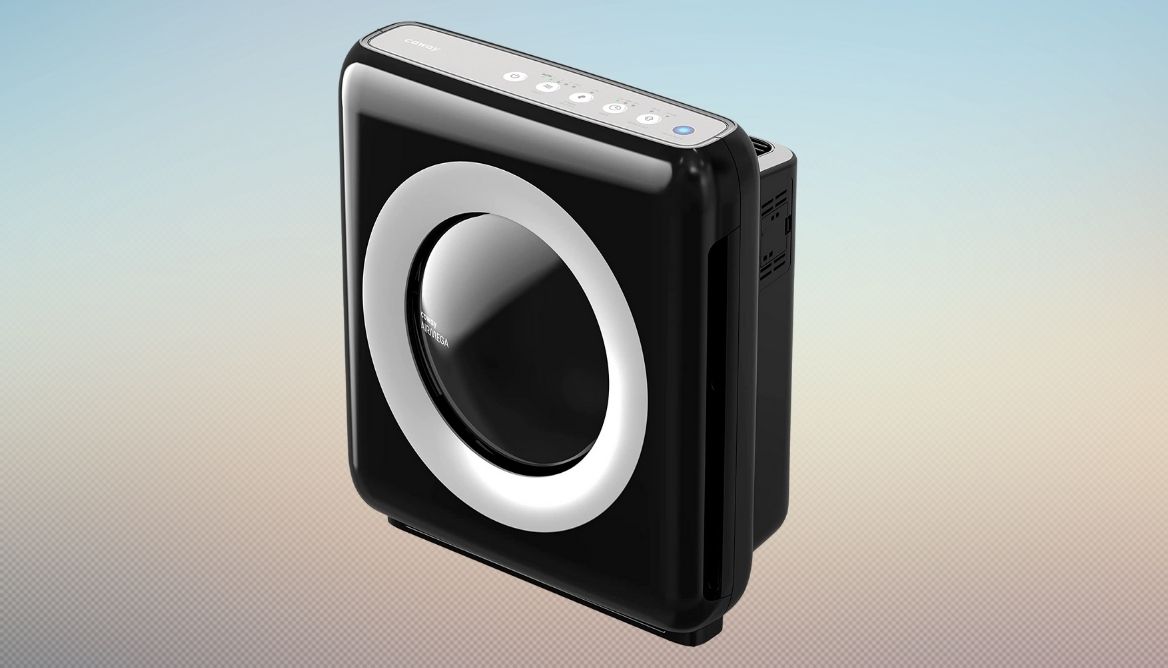 Features
Let's dive into the features and specs of this awesome unit:
AQI for real-time air quality control and can be turned off during nighttime.
Timer settings allow for 1, 4, or 8 hours of running time before they automatically turn off.
Filter indicators let you know when they need to be replaced.
Specs
| | |
| --- | --- |
| | |
| | |
| | 247.5 CFM (Smoke), 232.3 CFM (Dust), and 241.3 CFM (Pollen) |
| | 4-stage filtration system that includes a pre-filter, an activated carbon filter, a True HEPA filter, and a Vital Ionizer |
| | |
| | Certified by the California Air Resources Board (CARB) and Energy Star |
| | Three years from the date of purchase |
| | |
| | |
Recommendation: For those seeking a compact air purifier without compromising on performance, the Airmega AP-1512HH is a good contender to deal with wildfire smoke. Featuring a four-stage filtration system, including a True HEPA filter, activated carbon filter, pre-filter, and ionizer, this model effectively filters out smoke and other contaminants from your indoor air. Just keep in mind you have to be patient while talking to support.
4. Best High Performance: HATHASPACE HSP002
HATHASPACE HSP002
Let's have a look at the merits and demerits of HSP002 and discover what makes it powerful!
Pros
Can get rid of wildfire smoke and other airborne contaminants in a space of 1500 sq ft in an hour.
Superior H-11 filtration for removing smoke, VOCs, and dander.
It is user-friendly which allows for automatic particle detection and adjusting its setting.
The easy-to-use display setting for real-time air monitoring and pollutant levels.
Cons
With an easy pre-wash filter and the ability to eliminate smoke and odors, the HSP002 provides a comprehensive solution to improve your wildfire smoke problem. It offers additional features such as the option to turn off the display light, activate sleep timer mode, and easily adjust the fan speed to suit your preferences and needs.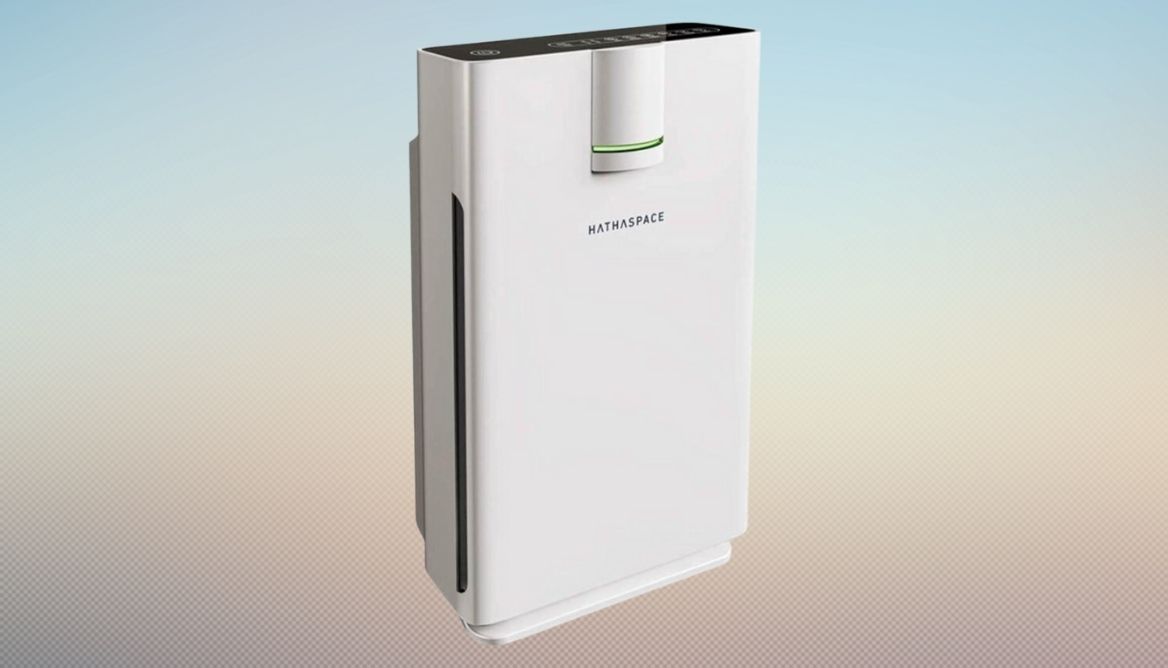 Features
See here to check out its special features:
Adjustable speed controls and energy-efficient smart automatic mode.
Real-time monitoring of PM 2.5 to check pollutant levels.
Sleep timer mode to turn itself off after the room darkens
Specs
| | |
| --- | --- |
| | |
| | |
| | 160 CFM (Smoke), 160 CFM (Dust), 160 CFM (Pollen) |
| | |
| | |
| | CARB Certified, ETL Listed, FCC Certified |
| | |
| | |
| | |
Recommendation: If you require a device capable of handling medium-sized spaces, the HSP002 is a high-performance option to eliminate wildfire smoke. With its five-stage filtration system, it will make sure that you breathe in the best environment. Beware that its CADR value is a little bit short compared to other contenders.
5. Best Smart App Enabled: Levoit Core 400S
Levoit Core 400S
Let's explore the strengths and weaknesses of this unit and discover why it is the best deal for voice control commands!
Pros
Sleep mode allows for the quietest noise level for a restful night.
You can view the pollutant levels in the air with the PM 2.5 sensor color rings.
WiFi enables you to control the unit from your phone.
Has voice command features to control it hands-free.
Cons
Users reported issues with noise levels.
Levoit air purifier works seamlessly with Alexa and Google Voice Assistant to control your air purifier effortlessly with compatible voice control services. Core 400S is safe and easy, thanks to its low-maintenance design and easy-to-replace filters. Moreover, its 3-stage filtration is plus!
Features
Let's check out the features and highlighted specs of this model:
Auto mode adjusts fan speed according to the wildfire smoke concentration in the room.
VeSync App to control and change any setting from the smartphone.
Display lock addition so no one changes your settings.
Specs
| | |
| --- | --- |
| | |
| | |
| | 260 CFM (Smoke), 260 CFM (Dust), 260 CFM (Pollen) |
| | 3-stage filtration system with H13 True HEPA filter |
| | |
| | CARB Certified, FCC Certified, ETL Listed |
| | |
| | 10.8 x 10.8 x 20.8 inches |
| | |
Recommendation: If you want something that combines smart technology with a sleek design to deliver outstanding air purification performance against wildfire smoke. Then this is the one for you. By connecting to your smartphone or voice assistant, you can easily control the Core 400S. Keep in mind that it can be loud in the highest settings.
6. Best High-Capacity Option: Coway Airmega 400
Coway Airmega 400
Let's have a look at the strengths and weaknesses of this powerful Coway Purifier:
Pros
Remove wildfire smoke and other airborne allergens in a large area.
Comes with 3 smart modes (auto, smart, eco) which suit your needs.
Durable and high longevity of washable filters.
The activated charcoal removes any smell in the house.
Cons
The metal screen needs to be cleaned quite frequently and is activated periodically.
You can use real-time air quality monitoring to have peace of mind knowing that the Airmega 400 is constantly at work, ensuring that your air remains clean and fresh. It is designed to maintain large spaces. Further, it features an eco mode to save power too.
Features
Listed below are its special features and specs:
HyperCaptive Filtration System to remove smoke, odors, and VOCs.
Smart mode to adjust to its surrounding real-time air quality sensor levels.
Double purification for better faster cleaner air.
Specs
| | |
| --- | --- |
| | |
| | |
| | 350 CFM (Smoke), 350 CFM (Dust), 350 CFM (Pollen) |
| | Max2 filter - activated carbon and True HEPA filter |
| | |
| | AHAM Verified, Energy Star Certified, CARB Certified, ETL Listed |
| | |
| | 14.8 x 22.9 x 14.8 inches |
| | |
Recommendation: If you have a larger space to purify, the Airmega 400 is a powerful, high-capacity air purifier that can cover up to 1560 sq ft to clean up wildfire smoke. With its dual-filtration system, including a True HEPA filter and activated carbon filter, it effectively eliminates odors and gases. The blower may not be suitable if used long-term.
7. For Customizable Experience: Alen FLEX
Alen FLEX
Let's explore the strengths and weaknesses of this unit and learn what it's great for customization!
Pros
Highly recommended for removing smoke from open spaces.
Captures mold, fungi, and bacteria.
Air Quality Indicator lights provide 5 different levels and adjust the unit accordingly.
Pink noise for a relaxing calm ambience.
Cons
Customers reported that replacement filters are expensive.
What sets this model apart is the ability to choose from different types of filters that target specific concerns such as smoke, odors, mold, bacteria, or VOCs. With 5 air-quality colors, you can easily monitor the condition of your indoor air. Also, Pet owners who want to improve their indoor air quality and ensure the well-being of their loved ones should go for it.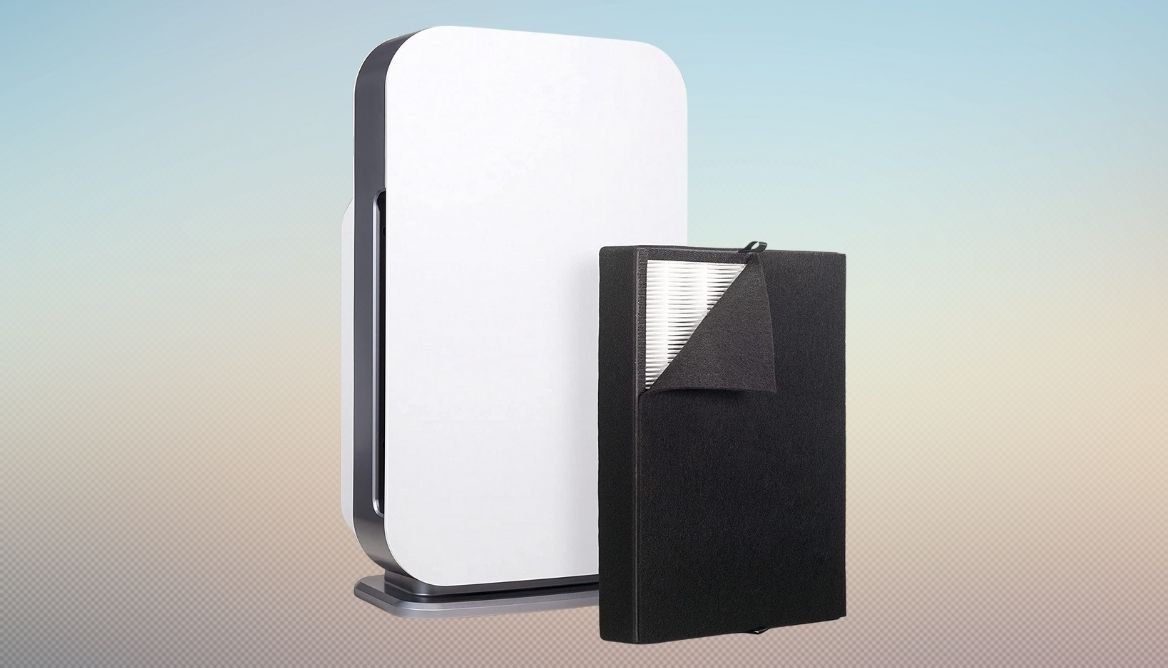 Features
Let's dive into the features and specs to learn more!
True HEPA 13 filtration for medical grade cleaning.
Four-speed setting with WhisperQuiet Option to produce ambient noise.
B-7 Pure filter to help capture allergens and mold.
Specs
| | |
| --- | --- |
| | |
| | |
| | 240 CFM (Smoke), 240 CFM (Dust), 240 CFM (Pollen) |
| | 3-stage filtration system consisting of a pre-filter, True HEPA filter, and an activated carbon filter |
| | |
| | |
| | |
| | |
| | |
Recommendation: For those seeking versatility and customization options, the FLEX offers a tailored air purification experience. Its True HEPA filter removes wildfire smoke, odor, and residue. The only downside is the price factor of the filters.
8. Ideal for Open Spaces with Voice Control: Levoit Core 600S
Levoit Core 600S
Let's have a look at the hits and misses of this smart-app-enabled purifying unit:
Pros
Easy to use with minimal maintenance.
Compatible with Vesync App for voice controls.
Light sensor to enable auto-mode and change the fan speed setting.
You can set a turn-off time anywhere from 1-12 hours.
Can be run continuously without any issues.
Cons
Levoit features it as their most powerful device. Don't worry about wildfire smoke as it delivers exceptional air purification while maintaining noise levels as low as 24 dB. The 600s works seamlessly with Alexa and Google Voice Assistant, offering a hands-free and effortless experience. For convenience just turn on the auto mode and it will get things done for you.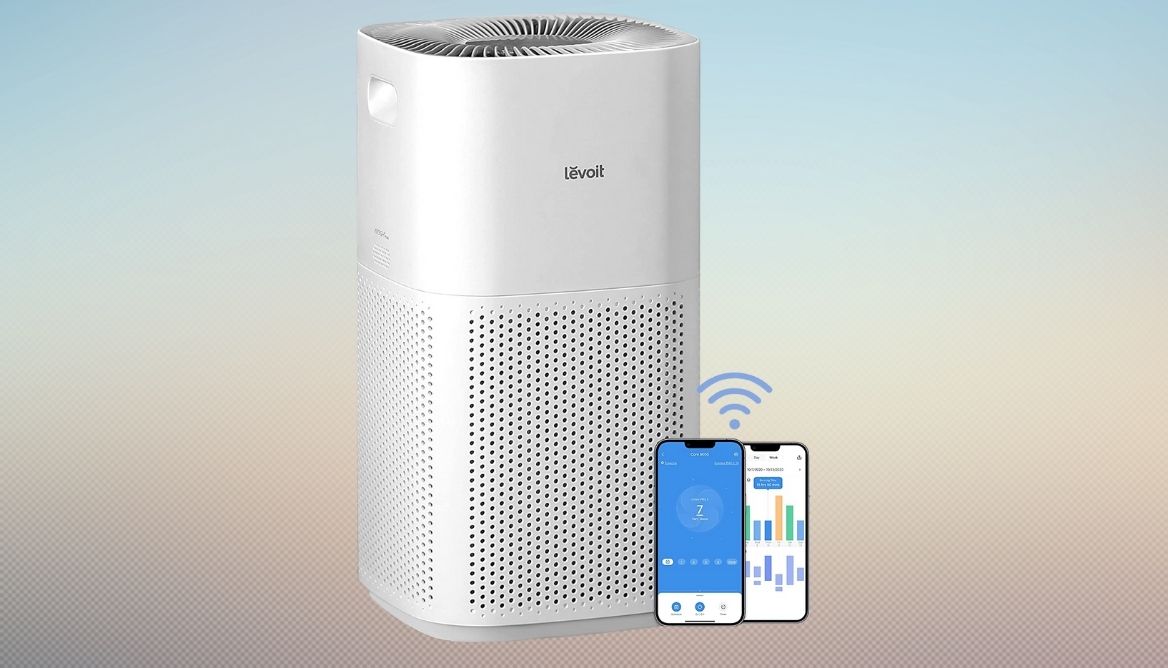 Features
Let's check out its specs and features in detail:
Activating the Sleep mode dims the lights and operates quietly.
It emits Pink Noise which helps with relaxation.
Child locks so the kids do not change mess with the machine.
Specs
| | |
| --- | --- |
| | |
| | |
| | 240 CFM (Smoke), 240 CFM (Dust), 240 CFM (Pollen) |
| | Prefilter, Activated Carbon Filter, HEPA Filter |
| | |
| | FCC, AHAM, and CARB certified |
| | |
| | 10.8 x 10.8 x 20.8 inches |
| | |
Recommendation: If coverage and powerful performance for wildfire smoke is your priority then 600S is a great choice. It offers all the smart features and can run for a very long time without any issues. But, you'll have to spend a little more on it as compared to the traditional purifier.
9. Air Purifier for Powerful Filtration: Honeywell HPA300 HEPA
Sale
Honeywell HPA300 HEPA
Let's explore the strengths and weaknesses of the Honeywell unit:
Pros
Can handle large rooms with ease for improved air quality.
This unit is durable and will last up to many years.
Best for wildfire season to eliminate any smoke particles.
Meets strict energy efficiency guidelines set by the EPA.
It dramatically reduces allergy respiratory issues.
Cons
The filter needs to be cleaned frequently.
Perfect for large rooms, this powerful air purifier filters and circulates the air up to 4.8 times per hour. The filters are certified to capture smoke and microscopic airborne particles, guaranteeing you the highest level of performance and efficiency.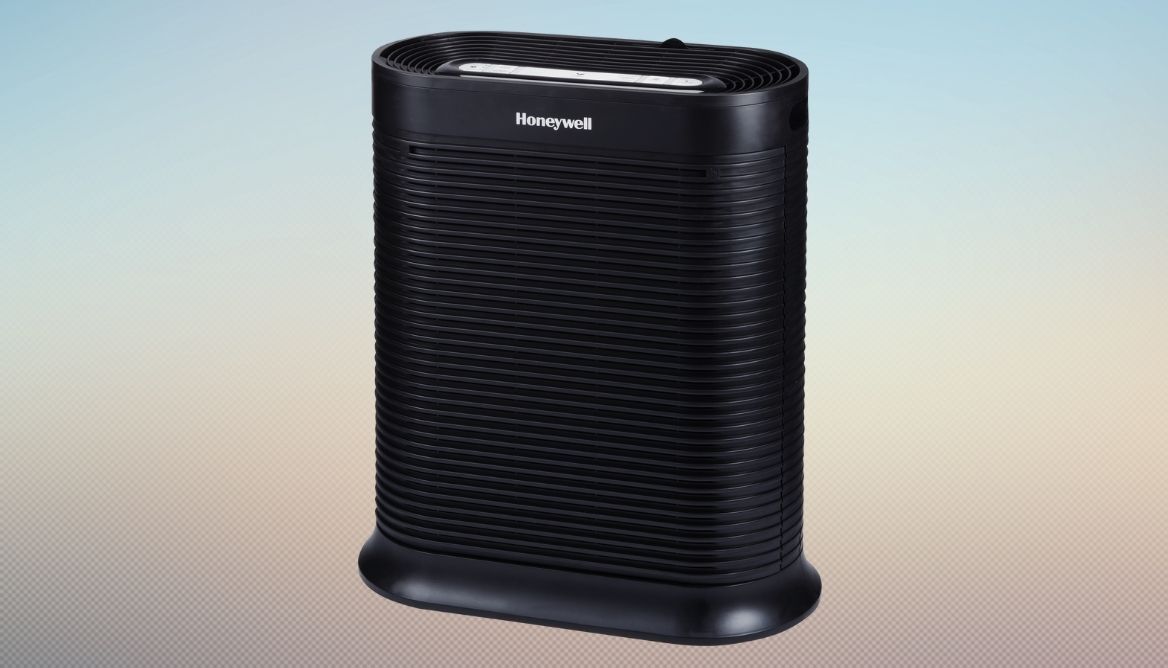 Features
Discover the remarkable aspects and qualities that make it truly extraordinary.
Genuine Honeywell air purifier filters provide maximum powerful filtration technology.
HEPA air purification with 3 levels of cleaning plus a Turbo Mode.
Auto-off timer option to set how long you want your unit to run.
Specs
| | |
| --- | --- |
| | |
| | |
| | 300 CFM (Smoke), 320 CFM (Dust), 300 CFM (Pollen) |
| | Pre-filter carbon and true HEPA filter |
| | |
| | |
| | One year from the date of purchase |
| | |
| | |
Recommendation: If you are seeking a fast-acting and powerful air purifier capable of handling large rooms, the Honeywell HPA300 is an excellent choice. Equipped with a True HEPA filter, this model can capture up to 99.97% of wildfire smoke particles. Keep in mind that its filters need occasional cleaning!
10. Best Minimalistic Style: BISSELL air320 Smart Air Purifier
Sale
BISSELL air320 Smart Air Purifier
Let's examine the pros and cons to understand why it excels at filtering smoke:
Pros
3 stage filtration catches every particle in the air.
Industrial grade fan to pull in the air effectively.
Simple button control to adjust each setting mode.
AHAM Verified to clean the air effectively.
Cons
The fabric-covered exterior picks up lint and needs to be cleaned.
Air320 purifies the air in rooms up to 1582 sq. ft. with one air change per hour. With its advanced 3-stage filtration system and medical-grade HEPA filter, this air purifier is a good choice for wildfire smoke. It also effectively captures a wide range of particles, allergens, and odors. It is designed for energy efficiency with 5 fan speeds.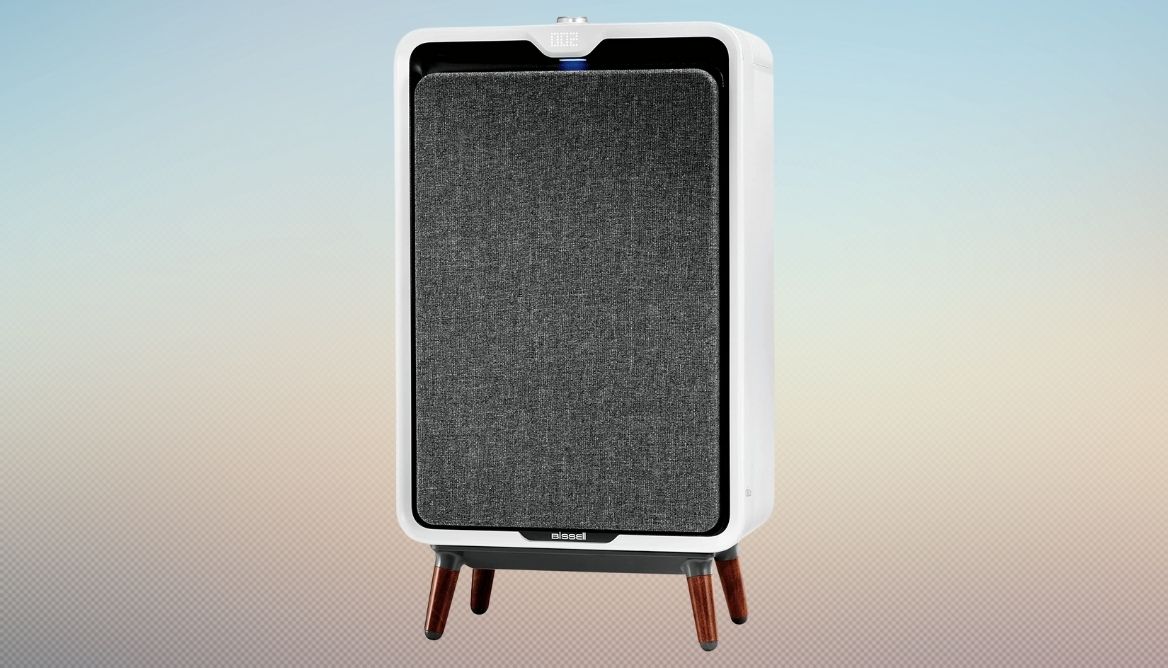 Features
Discover the remarkable aspects and qualities that make it truly extraordinary.
Honey-comb carbon filter structure for removing smoke and odors.
Medical grade HEPA filter to eliminate wildfire smoke particulates.
Easy filter access with cord storage to connect extra cords lying around.
Specs
| | |
| --- | --- |
| | BISSELL air320 Smart Air Purifier |
| | |
| | 240 CFM (Smoke), 240 CFM (Dust), 240 CFM (Pollen) |
| | Prefilter, Activated Carbon Filter, HEPA Filter |
| | |
| | Certified Frustration-Free, AHAM Verified |
| | |
| | 9.8 x 16.1 x 24 inches (L x W x H) |
| | |
Recommendation: I highly recommend the BISSEL air320 if you want a stylish and functional purifier for dealing with wildfire smoke. The auto mode along with the in-built sensors will help you achieve optimal clean air in no time. Just keep an eye on the exterior and clean it regularly so that it doesn't catch lint.
Choosing the Best Air Purifier for Wildfire Smoke: 7 Important Considerations
When it comes to protecting ourselves and our loved ones from the potential health hazards of wildfire smoke, selecting the right device is crucial. Air purifiers not only help combat smoky seasons but also contribute to maintaining excellent indoor air quality throughout the year.
In this comprehensive guide, I will explore the key factors to consider when choosing the best air purifier for wildfire smoke.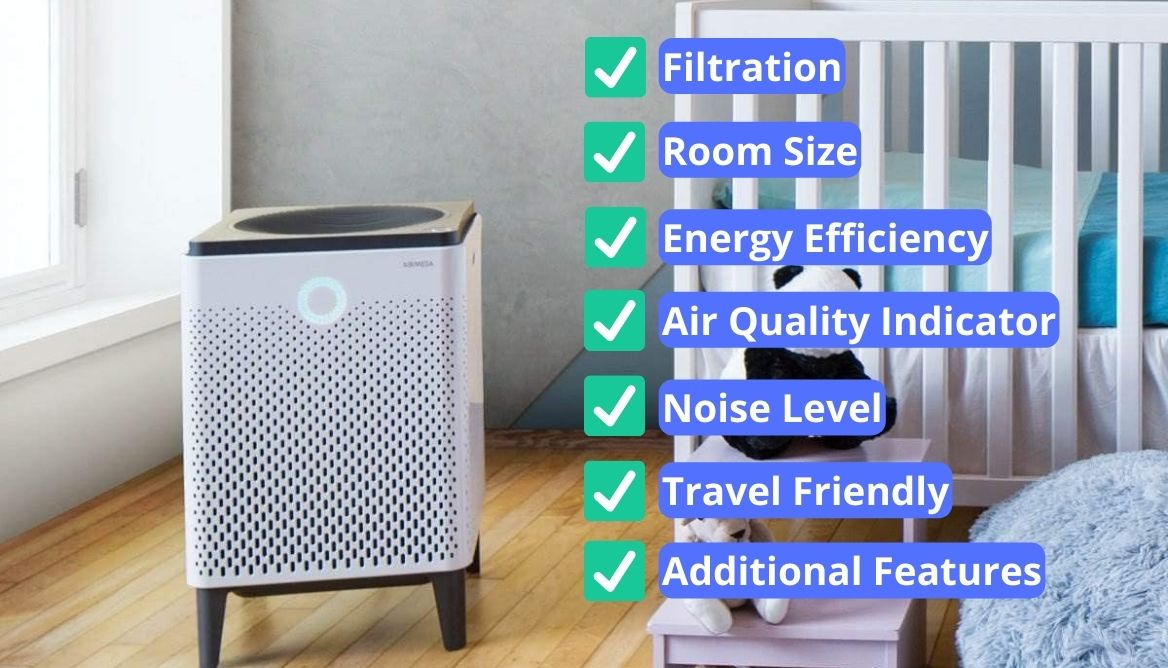 1. Filtration: The Key to Effective Air Purification
To effectively tackle wildfire smoke particles and other pollutants associated with it, you need the best possible process for excellent filtration. The best air purifiers employ a combination of mechanical HEPA (High-Efficiency Particulate Air) filtration and filters with activated carbon.
Let's delve into these filtration methods in detail: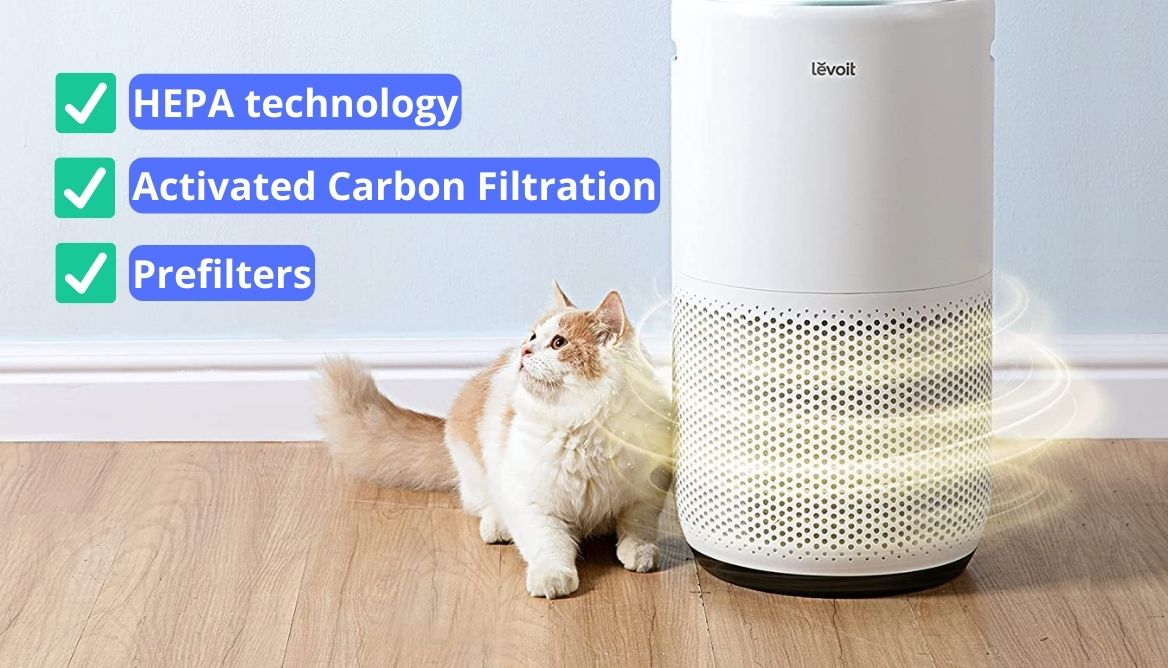 HEPA technology: Trapping Undesirable Particles
The finest home air purifiers utilize mechanical HEPA filters, renowned for their ability to capture bigger pollutant particulates.
HEPA filters boast an impressive efficiency of 99.97 percent which captures the particle as little as 0.3 microns.
This type of filter is able to capture and eliminate mold spores, smoke particles, pollen, dust mites, pet dander, and odors.
It is crucial that you purchase an air purifier that has "true HEPA" or "Genuine HEPA" filters (such as IQAir Pro), as products tagged as "HEPA-type" or "HEPA-like" do not meet the stringent quality criteria needed to get rid of wildfire smoke.
Activated Carbon Filtration: Eliminating Smells and Gases
While HEPA filters excel at capturing particles, they are not as effective when it comes to eliminating odors and gases. That is why you need an activated carbon filter to help you get rid of bad smells such as that of smoke.
These filters specialize in capturing and retaining airborne molecules, including common home odors and some gaseous compounds found in wildfire smoke.
By chemically attracting and trapping these undesirable contaminants, activated carbon filters drastically diminish odors and VOCs.
For optimal smoke filtration, consider an air purifier equipped with an activated carbon filter in addition to a HEPA filter.
Prefilters: Enhancing Filtration Efficiency
To prolong the lifespan of HEPA filters and prevent them from clogging prematurely, many air purifiers incorporate prefilters.
Prefilters capture larger particles in the air, effectively preventing them from reaching and obstructing the main filtration system.
By utilizing both prefilters and HEPA filters, air purifiers offer enhanced filtration efficiency while reducing long-term maintenance costs.
Monthly cleaning and periodic replacement of prefilters are necessary to ensure optimal performance.
2. Room Size: Square Footage Matters
Air purifiers are designed for specific room sizes, which are typically indicated in square feet. To determine the appropriate air purifier for your needs, calculate the square footage of the room by multiplying its length by its width. If you plan to use a single air purifier for multiple rooms, add up the square footage of each room to find a suitable unit.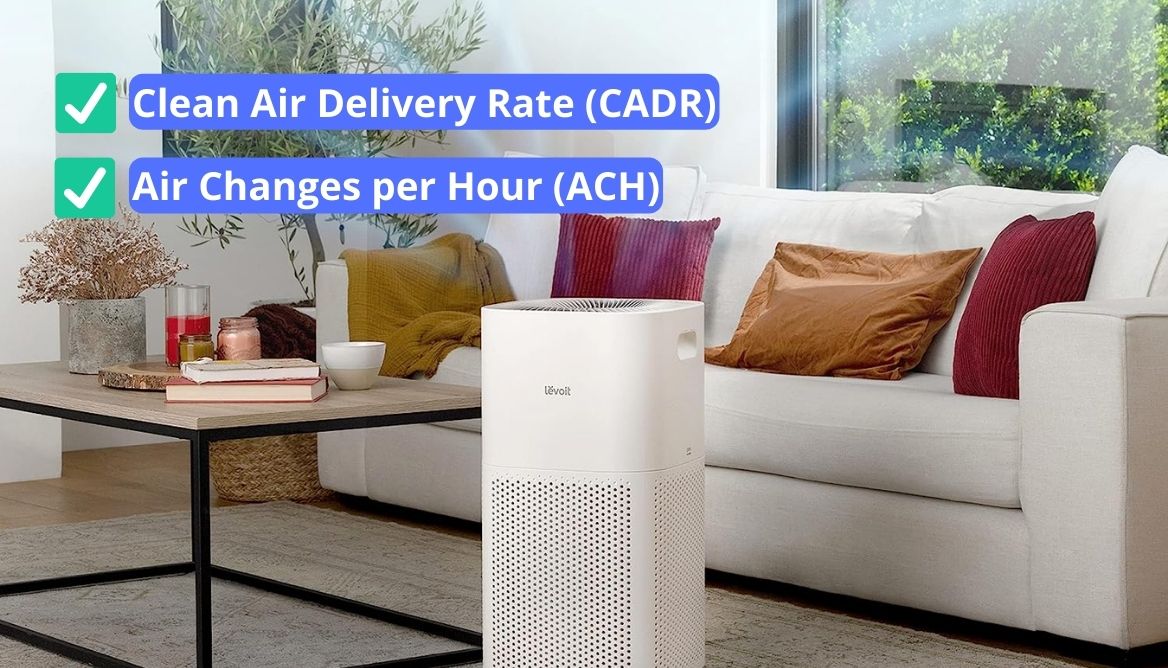 Clean Air Delivery Rate (CADR): Speed and Efficiency
CADR is one of the most important factors to consider while combating wildfire smoke.
It measures the levels of efficiency of purifying units for getting rid of smoke, dust, pet dander, and odors
You should go for devices with higher CADR ratings.
I would recommend going with the highest tobacco smoke CADR to deal with wildfire smoke.
Pro-tip: It is generally suggested to have CADR of at least 2/3rd of the room area. For instance: With an area of 150 sq ft., a good value of CADR rating will be at least 100 CFM.
I would suggest going for a unit with a minimum CADR of 217, which is suitable for average hotel room sizes of approximately 325 square feet.
Air Changes per Hour (ACH): Efficient Filtration Cycle
In addition to CADR, another important factor to consider is the number of air changes per hour (ACH).
This metric indicates how many times the entire air volume of a room can be filtered within an hour.
Although the ACH rating may vary depending on the room size specified by the manufacturer, it provides valuable insights into filtration efficiency.
Ensure to carefully read the product's details to understand its ACH rating in relation to the room size you intend to use it in.
3. Energy Efficiency: Environmental Considerations
There are numerous benefits to opting for an air purifier that comes with an Energy Star certification.
You should look for any products certified by the Environmental Protection Agency (EPA) and the Department of Energy (DOE). As these are known for their energy efficiency and reduced environmental impact.
By picking an Energy Star-certified air purifier, you not only save on operating costs but also contribute to a cleaner and greener future.
Important! Check to see if the device comes with a blue Energy Star logo when browsing for air purifiers to find certified products.
4. Air Quality Indicator: Your Way to Real-Time Air Monitoring
You should be aware of the air quality of your home particularly in areas with higher levels of air pollution.
You can find plenty of brands that offer an air quality indicator, which utilizes infrared beams and sensors to see and examine particulate matter and other pollutants.
These indicators can help check the actual real-time levels of PM 2.5 and give you feedback accordingly.
This enables you to take the necessary measures to improve your living environment.
For instance: Сertain smart air purifiers can automatically adjust their operation based on detected air quality levels, ensuring optimal purification efficiency.
5. Noise Level: Creating a Peaceful Environment
When choosing an air purifier, noise level considerations are essential, particularly If you plan to use your air purifier in spaces such as sleeping chambers or home offices.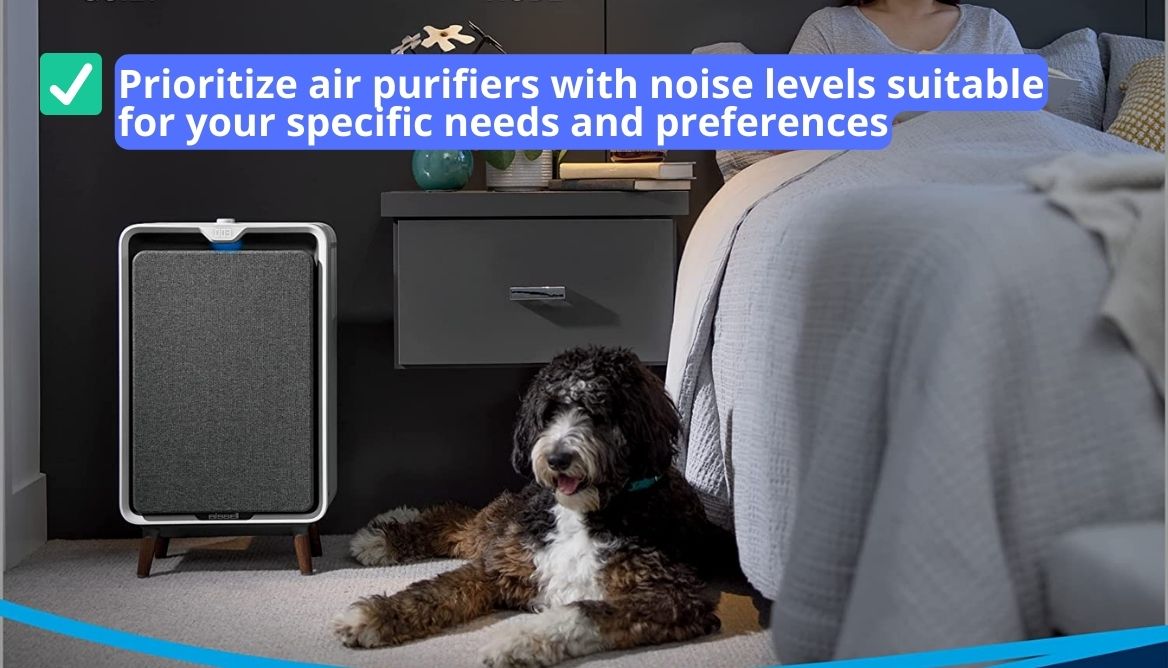 Quieter air purifiers, generally operating at a level of around 40 to 55 decibels, offer a more calm atmosphere without sacrificing performance.
Units with noise levels as soft as 20-30 decibels are ideal for smaller rooms or travel purposes, where minimal sound emission is desired.
Note: Prioritize air purifiers with noise levels suitable for your specific needs and preferences.
6. Travel Friendly: On-the-Go Air Purification
For individuals frequently on the move or in need of air purification in different locations, portable air purifiers can be invaluable. These compact devices are designed with handles and caster wheels, allowing for easy transportation and hassle-free usage in various environments.
7. Additional Features: Enhancing Convenience and Control
To provide optimal user experience and convenience, many air purifiers come equipped with additional features. Here are some notable ones: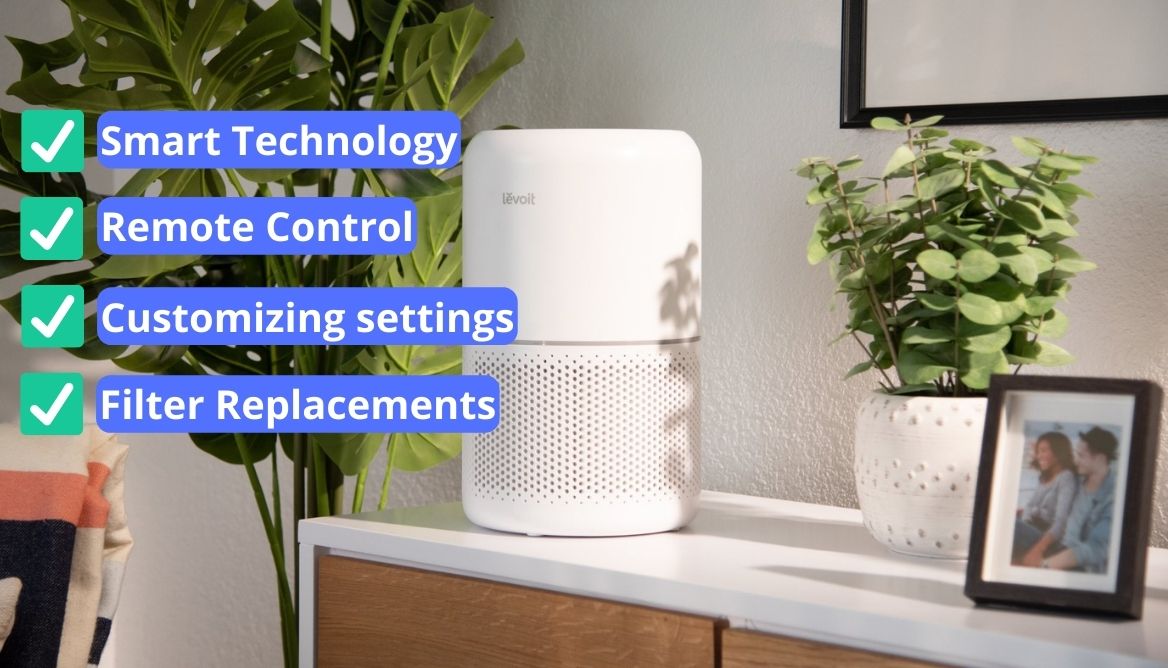 Smart Technology: Intelligent Air Purification
Air purifiers that come with smart technology feature advanced functionalities, such as inbuilt sensors measuring air quality.
These detectors automatically modify the device's fan speed contingent upon the monitored air quality in your home.
This makes sure that your house air quality always stays at the maximum purified levels.
Bluetooth connectivity, smart device apps, and compatibility with personal digital assistants enable remote monitoring and control, even when you're away from home.
Remote Control: Effortless Operation
You are working in your kitchen and the purifier device is all the way down in the living room. In order to change settings, all you need is a remote control to modify any way you can with a touch of a button.
This convenient feature enhances ease of use and accessibility.
Additionally, with smart air purifiers, you can utilize dedicated mobile apps as remote controls.
This provides seamless control from anywhere within your network range.
Customizing settings: Tailoring the Purification Process
As the air conditions vary you may want to change the settings accordingly.
You may alter its fan speed according o the pollutant levels.
You may also want to adjust its brightness if you prefer a darker room.
For example, during a cozy evening by the fireplace, you might want to increase the purifier's speed to address the resulting smoke.
Some models also feature a sleep setting, which operates the purifier at a lower, quieter setting—often accompanied by a built-in night light—for a peaceful night's sleep.
Smart air purifiers allow you to program specific operating intervals and modes based on your preferences.
Filter Replacements: Timely Maintenance
Regular filter replacements are essential to guarantee the best air purification performance.
You should buy air purifiers that come with:
Indicator lights that remind you when it's time to change the filters.
Convenient filter covers and accessible access points, ideally located near the top or front of the machine, facilitate quick and hassle-free filter replacement.
Magnetic fasteners or sliding latches provide ease of access compared to screws, streamlining the maintenance process.
Factors to Look For:
By considering these factors and selecting an air purifier that best meets your needs, you can create a healthier indoor environment with improved air quality. Remember to assess the unique requirements of your living space, such as:
Room size,
Filtration needs, and
Desired features.
Top 8 Safety Tips: What You Need to Know to Combat Wildfire Smoke
During a wildfire, it's crucial to take steps to keep smoke out of your home. Smoke particles can cause respiratory issues and pose a threat to people, especially those with pre-existing health conditions.
By following these guidelines, you can minimize the entry of smoke into your home and protect your indoor air quality.
1. Close Windows and Doors Tightly
During a wildfire, ensure that all windows and doors in your home are tightly closed to prevent smoke from entering. Check for any gaps or cracks and seal them using weather stripping or masking tape.
2. Use Weather Stripping or Masking Tape
Weatherstripping is an effective way to seal small openings around windows and doors. It helps create a tight seal, preventing smoke from entering your home. Alternatively, you can use masking tape to cover gaps temporarily.
3. Close the Outdoor Air Damper of Window Air Conditioners
If you have a window air conditioner, close the outdoor air damper to minimize the amount of smoke that enters your home. Also, seal any gaps between the unit and the window to ensure a tight seal.
4. Wear Protective Gear When Venturing Outside
When going outside, especially in areas with heavy smoke, it's important to protect yourself. Wear goggles and a face mask approved by the National Institute for Occupational Safety and Health (NIOSH).
5. Find a Room with the Fewest Windows and No Ventilation Ducts
Identify a room in your home with the fewest windows and no fireplace or ventilation ducts. Spending most of your time in this room will minimize your exposure to outdoor smoke. If you have a fireplace, make sure to close the chimney flue to prevent smoke from entering.
6. Use Air Purifiers in the Room
Place an air purifier in the room where you spend most of your time. Keep it running continuously to filter the air and remove smoke particles. Follow the manufacturer's instructions for replacing filters and maintaining the air purifier.
7. Install a High-Efficiency Filter for HVAC Systems
If you have a central heating, ventilating, and air conditioning (HVAC) system, consider installing a high-efficiency filter with a Minimum Efficiency Reporting Value (MERV) rating of 13 or higher.
8. Keep Yourself Informed
Stay updated on the wildfire situation in your area by monitoring local news, official websites, or emergency management channels. Follow the guidance provided by local authorities to ensure your safety and take necessary precautions.
By following these additional tips, you can further minimize smoke infiltration and help in maintaining air quality in your home during smoke events. Stay safe and take necessary precautions to protect yourself from the harmful effects of smoking.
Read Also: Best Air Purifier for Weed Smoke – Latest Reviews
Read Also: Best Air Purifier For VOG (Volcanic Smog) SO2 & Laze
Read Also: Are Air Purifiers Worth It? 9 Solid Reasons To Buy Them
FAQ
Can air purifiers help with wildfire smoke?
Yes, air purifiers can help reduce the amount of fine particles and gases from wildfire smoke that enter your home. However, you should stay indoors and not expose yourself to smoke as much as possible to stay safe and healthy.
What is the best filter for forest fire smoke?
The best filter for forest fire smoke is a high-efficiency particulate air (HEPA) filter. HEPA air purifiers can capture 99.97% of particles that are 0.3 microns or larger in size, which includes most of the harmful pollutants in wildfire smoke.
Conclusion
It is crucial to protect yourself and your loved ones from the harmful effect of wildfire smoke. You need to look at the filtration technology with a high CADR rating and a true HEPA filter with activated carbon to avoid any harmful effects the smoke might have.
After conducting a comprehensive analysis of all the purifiers, it is evident that IQAir HealthPro is a top contender. Its smart sensor, color-coded front panel, and auto mode functionality makes it intuitive and user-friendly.
IQAir HealthPro Plus Air Purifier
6 V5-Cell Gas & Odor Filter tackles gases, odors, and smoke. Employs a three-stage filtration process to eliminate a wide range of airborne pollutants.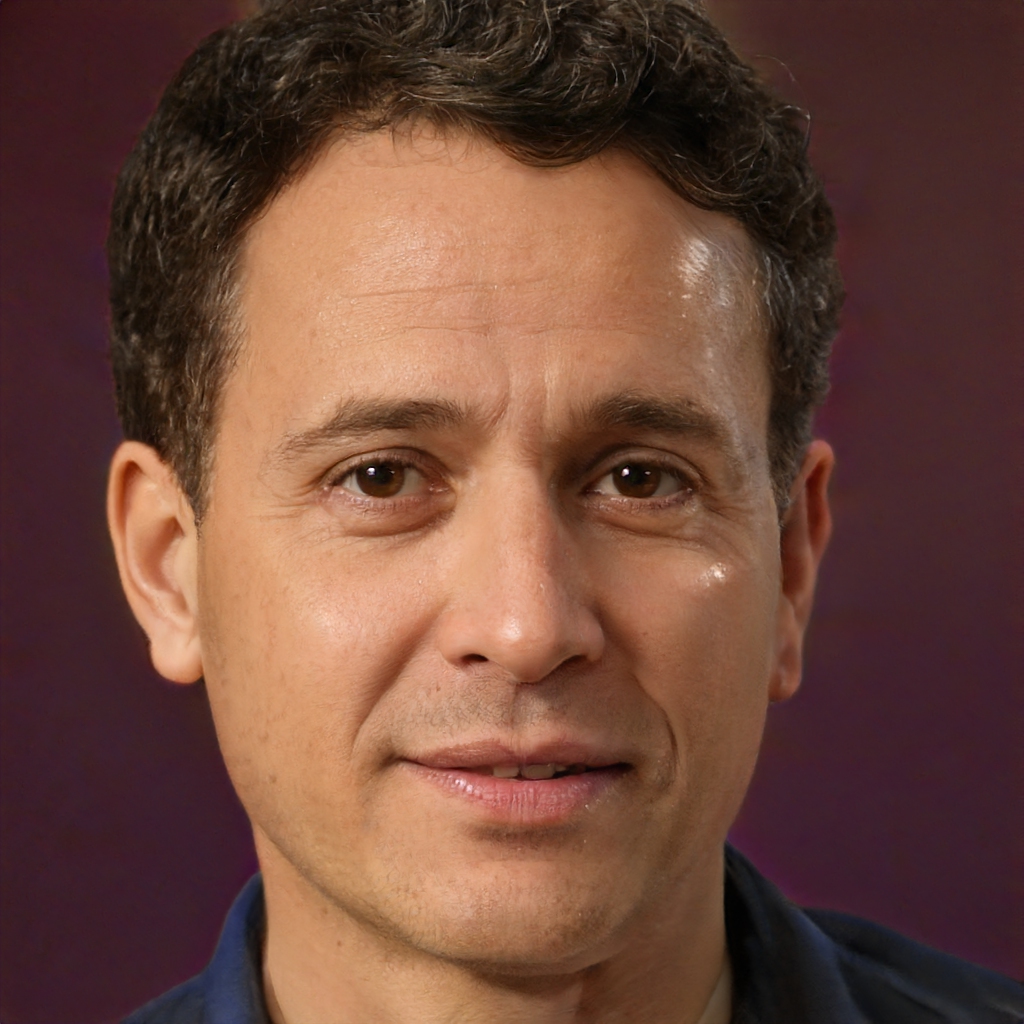 Danny is a passionate writer who loves to share his knowledge about air purifiers. He's been writing for 10 years, and he'll share all that experience with Very Well Home viewers to help you make the best decision when it's time to buy an appliance!