Are you confused between the Levoit 200S vs 300S? You probably want the best piece of equipment to tackle harmful contaminants, unwanted particles, and smoke that can cause harm to your family.
No need to worry! I have compared two outstanding air purifiers that will fulfill your requirements to reduce pollution. Let's get started!
Air Purifier Quick Comparison
The Levoit 200S and 300S are top-of-the-line models that ensure clean pollution-free air with their advanced technology such as:
Multiple Filtration System
HEPA and Activated Carbon Filters
Smart Scheduling Features
Effective Coverage Areas
But they have differences in terms of coverage, power consumption, and more. So, which one is the better choice? Continue reading to find out more about the positives and negatives of both purifiers. Also, get insights into 7 different parameters and find a winner. Let's dive into the details!
Levoit 200S vs 300S: Comparison Chart of the Air Purifiers
The table listed below has all the essential details:
| | | |
| --- | --- | --- |
| | | |
| | | |
| | | |
| | | |
| | Pre-filter, True HEPA Filter, and Activated Carbon Filter | Pre-filter, True HEPA Filter, and Activated Carbon Filter |
| Filter Replacement Indicator: | | |
| | | |
| | | |
| | | |
| | | |
| | 4-Sleep Mode, Speed 1, Speed 2, and Speed 3 | 5-Sleep Mode, Speed 1, Speed 2, Speed 3, and Auto Mode |
| | | |
| | | |
| | | |
| | | |
| | | |
| | | |
| | | |
| | 8.1 x 8.1 x 12.6 inches (20.5 x 20.5 x 32cm) | 8.7 x 8.7 x 14.2 inches (22 x 22 x 36 cm) |
| | | |
| | | |
Levoit 200S: The Positives and Negatives
Levoit 200S
Let's highlight the pros and cons of this unit:
Pros
It can be controlled via voice control.
The purifier connects with an App and unlocks various options for efficient control.
This device offers value for money with its budget-friendly price tag.
Delivers excellent performance in smaller areas.
While running it offers a noise-free environment.
Cons
Does not come equipped with automatic mode.
The unit is unable to notify the current indoor air quality metrics to the user.
Levoit 300S: The Positives and Negatives
Levoit 300S
Mentioned below are the pros and cons of the 300S:
Pros
The 3-stage filtration system removes unwanted particles, pet odors, dust, mold, and similar airborne pollutants of up to 0.3 microns from the air.
Core 300S has an integrated particle sensor.
The quiet operation of the unit does not disturb even during sleep.
The power consumption is less compared to the counterpart.
With the help of an App, the device can be controlled easily.
Easy-to-use controls allow users to effectively use the unit without any hassle.
Cons
A bit heavier on the purse.
Some customers reported app connectivity issues.
A Deep Dive Into the 7 Differences Between 2 Models:
Let's talk about the major differences between both Levoit air purifiers. With this basic comparative study, you will get to know which one is better as per your needs or preference. Let's differentiate now!
The Levoit Core 200S air purifier costs less than the 300S model.
For people seeking a cheaper unit, the 200S air purifier is the choice. But, if performance is what you prefer then then 300S delivers results.
A larger space is covered by the 300S air purifier giving it a slight advantage over the 200S.
A noticeable difference can be seen in the CADR levels. The 300S is the winner with a reasonable difference and better performance.
If you would like to save money on your utility bills then the 300S is your choice. It consumes almost half the amount of power (energy efficiency).
1. Room Coverage: Which Unit Has a Better Reach
The data below gives you a clear idea about the coverage area of each air purifier. Read on now!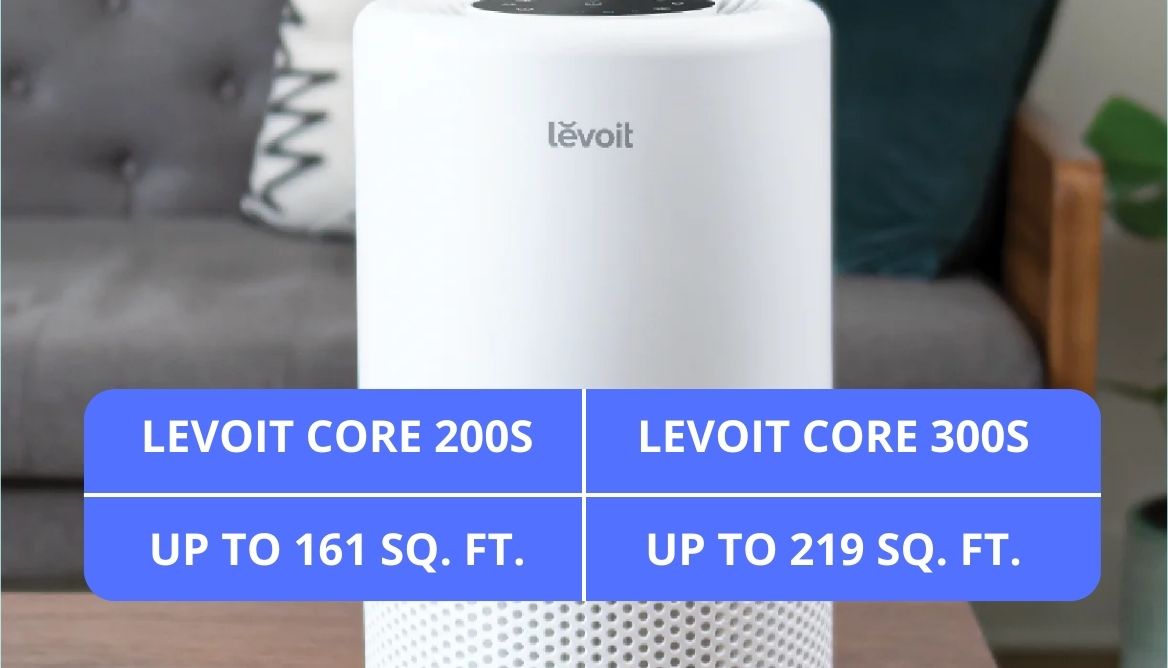 | | | |
| --- | --- | --- |
| | | |
| | Up to 161 sq. ft. (17 m²) | Up to 219 sq. ft. (20 m²) |
| | Small to medium-sized rooms | |
| | | |
| | | |
Winner: Based on the table above, you can clearly see that 300S takes the lead. It offers more coverage and the added PM sensor is also a plus!
2. 200S vs 300S: CADR for Better Air Quality
CADR as known as Clean Air Delivery Rate is defined as the capacity of a purifier to cleanse the air in a certain time. Both units have EnergyStar ratings. Shown below is a table with some statistics that can help you understand the CADR rating and more. Learn more!
Winner: If you want better CADR coverage, I would recommend you blindly trust the 300S.
3. Levoit Core 200S vs 300S: Energy Consumption
The table below shows the energy requirement of both air purifiers. Let's learn about it in detail!
Winner: In the long run, going with 300S will be beneficial. It consumes less wattage and is more efficient.
4. What is their Noise Level?
Noise level is the amount of sound produced by the purifier while operating.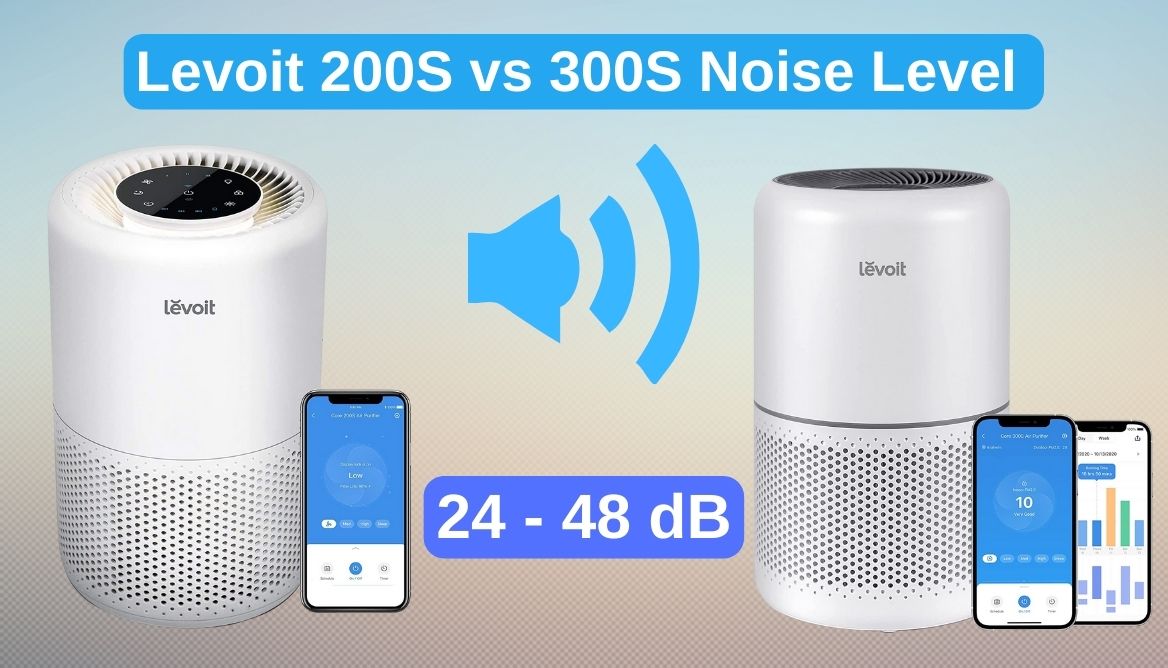 Both purifiers relatively have the same noise levels.
The 200S and 300S feature a minimum level of 24 dB.
The maximum sound produced by the duo is at 48 dB.
Winner: As both operate on the same level, I will call it a draw.
5. Tech and Automation
In the table below, different technologies and compatibilities have been mentioned to help you understand the operation and utility of air purifiers. Let's have a look!
| | | |
| --- | --- | --- |
| | | |
| | | |
| | | |
| | | |
| | | |
| | | |
| Works with Google Assistant: | | |
Winner: There is no clear winner when it comes to tech as both models are neck to neck with each other. It's better to call it a draw.
Note: Check out this video review of 200S for more information.
6. Design, Size, Weight
Here is a comparison of the physical attributes of both units. Take a look at the measurements and learn more!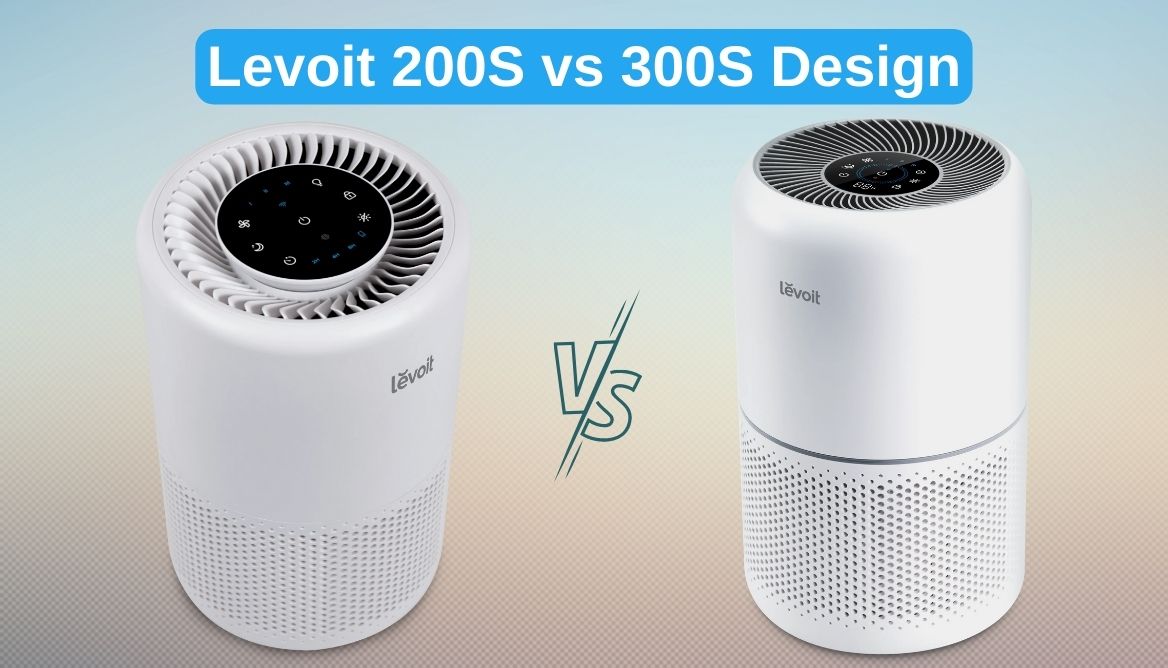 Winner: Things get interesting in physical attributes. 300S is bigger in size but a little lighter in wait. So, here is how I summarized it: If you need a unit that is smaller in size, go for 200S, if the preference is lightweight, 300S is a good pick.
Also, check this video of 300S for a detailed insight into the product.
7. Warranty and Certifications
The information below presents the warranty and certifications provided by the manufacturer of the unit. Let's dive into the details!
| | | |
| --- | --- | --- |
| | | |
| | | |
| | | CARB, Energy Star, ETL, FCC |
Winner: Both purifiers share the same warranty period but extra certifications give 300S an edge, hence, becoming the winner in this category.
Common Features Between Both Modes
Besides the differences, there are also quite a number of similarities between both purifiers upon close inspection. Let's uncover the identical features: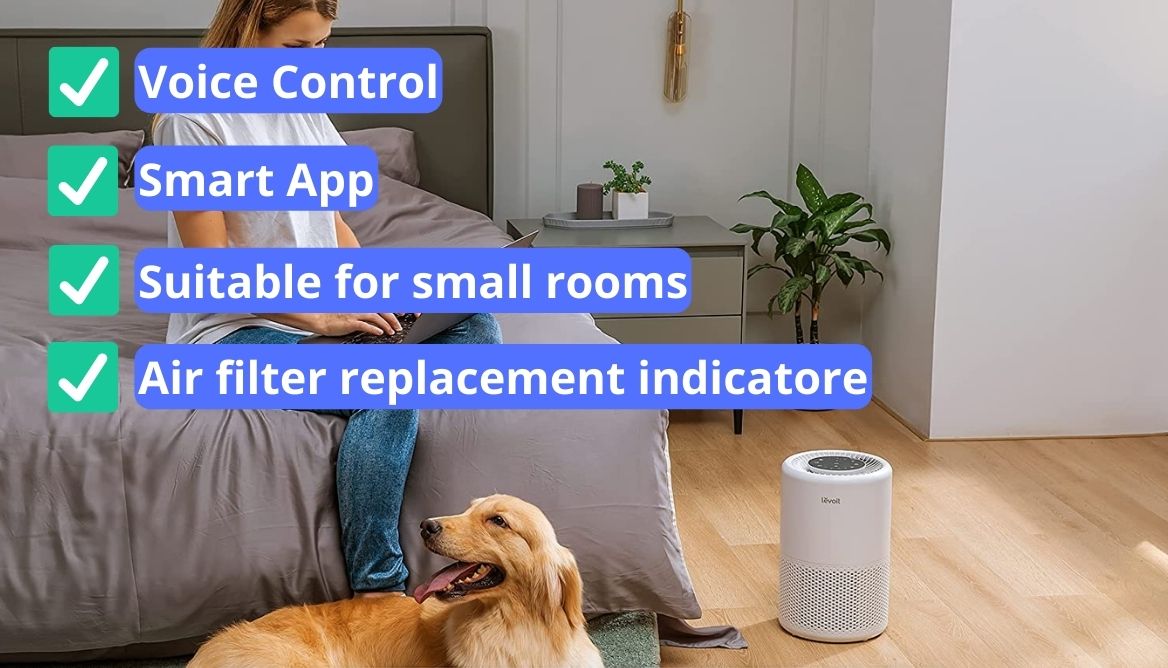 Voice control feature is present in both models and allows users to easily create schedules or transmit commands.
The 200S and 300S are compatible with the smart app enabling you to use some added features.
They are suitable for small rooms and have no hassle functioning in a tight space.
The 200S and 300S have an air filter replacement indicator that notifies if the filter needs to be changed.
The 200S and 300S: Which One to Get?
Based on the result of the in-depth comparison, I would recommend going with the 300S due to following reasons:
Better CADR and coverage values
Less power consumption
Extra Certifications
But if cost is your major concern and you want to run the unit in a smaller space then the Levoit 200S is also a good pick.
Read Also: Best Levoit Air Purifier: 12 Top Models for Healthy Air
Read Also: Air Purifier Made in the USA: 9 Best Models for Clean Air
Read Also: Best Affordable Air Purifier: 8 Models For Powerful Air Cleaning
Read Also: Levoit 300 vs 300S: Which One is the Best for Your Needs?
Read Also: Levoit 600S Review: Is It the Best Choice for Your Needs
FAQ
How long does a Levoit 200S filter last?
A Levolt 200S filter lasts depending on the air pollution levels. Typically, it can last for a year but a filter change is recommended after 6-8 months.
Does Levoit 300S remove mold?
The Levoit 300S removes mold effectively via HEPA filtration that traps airborne mold spores.
How loud is Levoit Core 300S?
The Levoit Core 300S produces 60 decibels proving it to be a little bit louder. Although, it does not produce a very loud noise although a clear whirring sound can be heard.
Can mold grow on HEPA filters?
Mold can grow on almost any surface but a HEPA filter is designed using anti-mold technology. This prevents any growth of mold on the filter.
Conclusion
Summing it up, the Levoit 200S and 300S are dependable air purifiers possessing advanced filtration technology. They easily trap particles, filter pollutants, and clean air to guarantee a healthy environment.
For me, the best air purifier is the Levoit Core 300S. It covers more area, offers quality performance, consumes less energy, and has a higher CADR.
Levoit Core 300S
It is a remarkable smart air purifier that offers convenient features such as a timer, voice control, and an impressive Clean Air Delivery Rate, making it ideal for medium-sized rooms. Moreover, its certifications give it a plus!
Levoit Core 200S Smart Air Purifier
This air purifier is a small and inexpensive unit. It can clean air with 99.97% efficiency in rooms up to 183 sq ft. It has a smart remote control and quiet operation!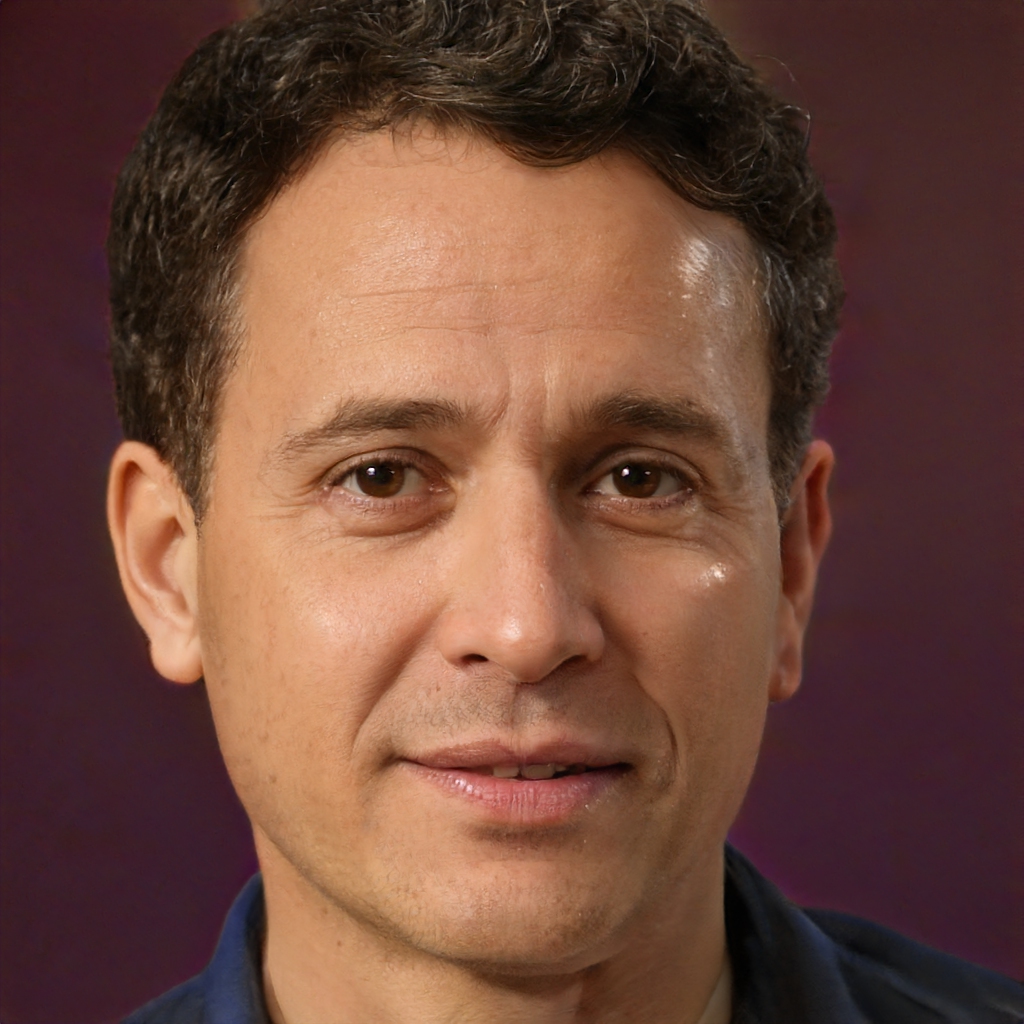 Danny is a passionate writer who loves to share his knowledge about air purifiers. He's been writing for 10 years, and he'll share all that experience with Very Well Home viewers to help you make the best decision when it's time to buy an appliance!