Are you confused about choosing the Levoit 300 vs 300S? Look no further! I understand what you are going through. To help you in this process, I have conducted an in-depth comparison between the two models. So let's dive in to see which one is the better choice for you.
Quick Comparison
When comparing the Levoit 300 and Core 300S air purifiers, there are several key factors to consider.
The Levoit Core 300 and 300S are both powerful purifiers known for their:
Three-stage filtration system: pre-filter, True HEPA filter, and activated carbon filter,
Effectively captures and neutralizes airborne contaminants,
Exceptional air cleaning performance,
Whisper-quiet operation for a peaceful environment.
But the Levoit Core 300S additionally offers:
Wi-Fi connectivity for remote control via smartphone
Convenient management using the Levoit Smart App
Real-time air quality indicator with smart sensors to monitor indoor air quality.
Auto mode -adjusts fan speed based on detected air quality
By exploring their features, functionality, and benefits, I want to help you find the perfect Levoit air purifier that suits your needs well. Continue reading to uncover more detailed information about each model and make an informed decision!
Comparison Chart
Here is a quick comparison table showcasing the key specifications and features of both purifiers:
| | | |
| --- | --- | --- |
| | | |
| | | |
| | 3-stage (Pre-filter, HEPA, Activated Carbon) | 3-stage (Pre-filter, HEPA, Activated Carbon) |
| | | |
| | | |
| | | |
| | | |
| Real-time Air Quality Monitor: | | |
| | | |
| | | Amazon Alexa, Google Assistant |
| | | |
| | | |
| | | |
| | | |
| | | |
| | | |
Keep reading to uncover the comprehensive pros and cons of each model
Is Levoit 300 the Right Choice? Weighing the Pros and Cons
Levoit 300
Let's dive into the remarkable pros and cons of this unit:
Pros
Effective three-step filtration method for capturing pollutants and odors.
The whisper-quiet operation has the lowest level of noise at 24 decibels.
For removing 99.97% of airborne impurities HEPA filter is quite effective.
An activated charcoal filter eliminates unpleasant odors and harmful VOCs.
Energy-efficient design and Energy Star certified.
Cons
This model lacks smart features.
You cannot measure the real-time air quality.
Is Levoit 300S the Right Choice? Weighing the Pros and Cons
Levoit 300S
Let's discover the benefits and drawbacks of this unit.
Pros
Three-stage purification approach for thorough air purification.
Ultra-quiet performance produces a barely audible noise level of just 24 dB.
Wi-Fi connectivity allows controlling the Levoit air purifier remotely via a smartphone app.
Get real-time monitoring with an air quality sensor for optimal performance.
The smart sensor modifies fan speed according to the air marker quality.
Cons
Slightly higher price compared to the Levoit Core 300 model.
For a better understanding, have a look at this interesting review of the 300S with other models.
Now, let's move on to the comparison section where I will explore the main dissimilarities between the Levoit Core 300 and Core 300S air purifiers. Let's get into the details:
1. Coverage Area & Efficiency
First of all, let's start with the coverage area of these units. These models are built to keep smaller spaces like bedrooms, offices, and cubicles.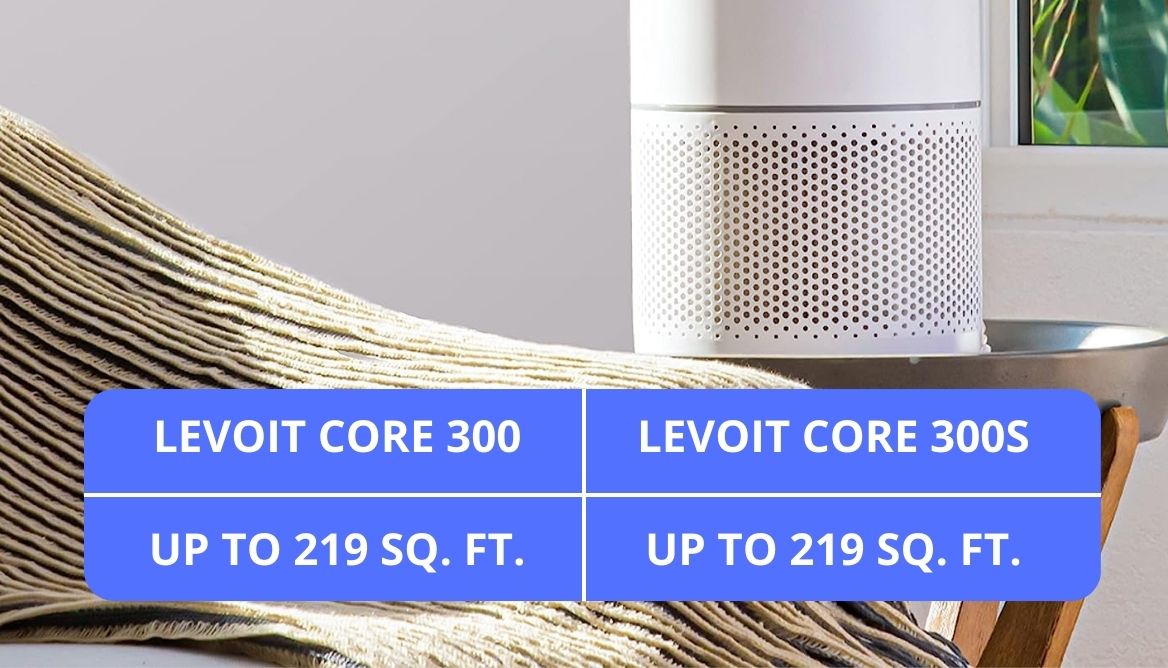 Both the Core 300s and Levoit Core 300 are capable of covering an area of 20 m² (219 ft²).
You can place them anywhere in the room as the inclusion of the VortexAir Technology makes sure that the discharged cleaned air is thoroughly distributed in the designated room.
You can also use these products to clean larger rooms but it may take a bit longer than usual.
Winner: It's a draw as both models feature the same coverage.
2. Clean Air Delivery Rate
Next, we have the CADR rating of these models. The Clean Air Delivery Rate (CADR) measures how efficient it is in removing particular pollutants from the air.
Both models deliver high CADR ratings of 240 m³/h (141 CFM).
In this aspect, both the Levoit Core 300 and Core 300s excel, providing high CADR ratings.
For smoke, dust, and pollen, both the Levoit Core 300 and Core 300S offer a CADR of 135 CFM, 141 CFM, and 140 CFM, respectively.
The Levoit Core 300s offers a comparable CADR, ensuring the rapid removal of contaminants and maintaining excellent air quality in your space
Winner: Both of them boast an impressive rating of 141 CFM in removing smoke, pollen, and dust. Thus there is no winner in terms of the CADR rating and the efficiency with which they clean up the room.
3. Levoit Core 300 vs Core 300S Filters:
Both purifiers utilize a comprehensive 3-stage purification procedure to make sure the air you breathe is clean from harmful particles.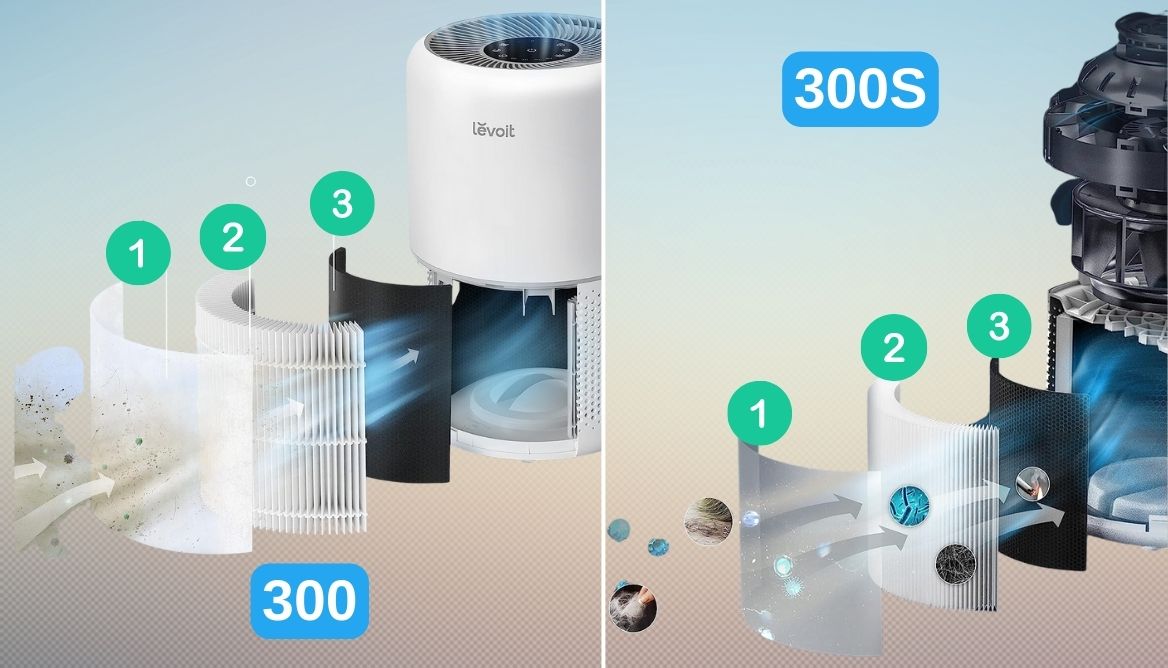 Stage 1: Pre-Filter – The first stage involves an initial filter that effectively catches bigger contaminants like dust, hair, and pet fur.
Stage 2: HEPA Filter – The second step employs an H13 True HEPA sieve, adept at clearing impurities and allergens as small as 0.003 microns, including pollen and pet dander.
Stage 3: Activated Carbon Filter – In the final stage, a coating of activated charcoal acts to remove VOCs, chemicals, cooking smells, pet odors, and fumes.
But the 300S also supports extra filters that are meant to tackle pet allergies, toxins and smoke.
Winner: When it comes to the filtration capabilities, it is also a draw. However, the additional filter support gives 300S an edge and hence it becomes the winner here.
4. Working Noise
When buying an air purifier, it is important to consider the noise levels of the operation sound. Both the Core 300 and 300s come with whisper-quiet technology for you to enjoy a peaceful noise-free slumber.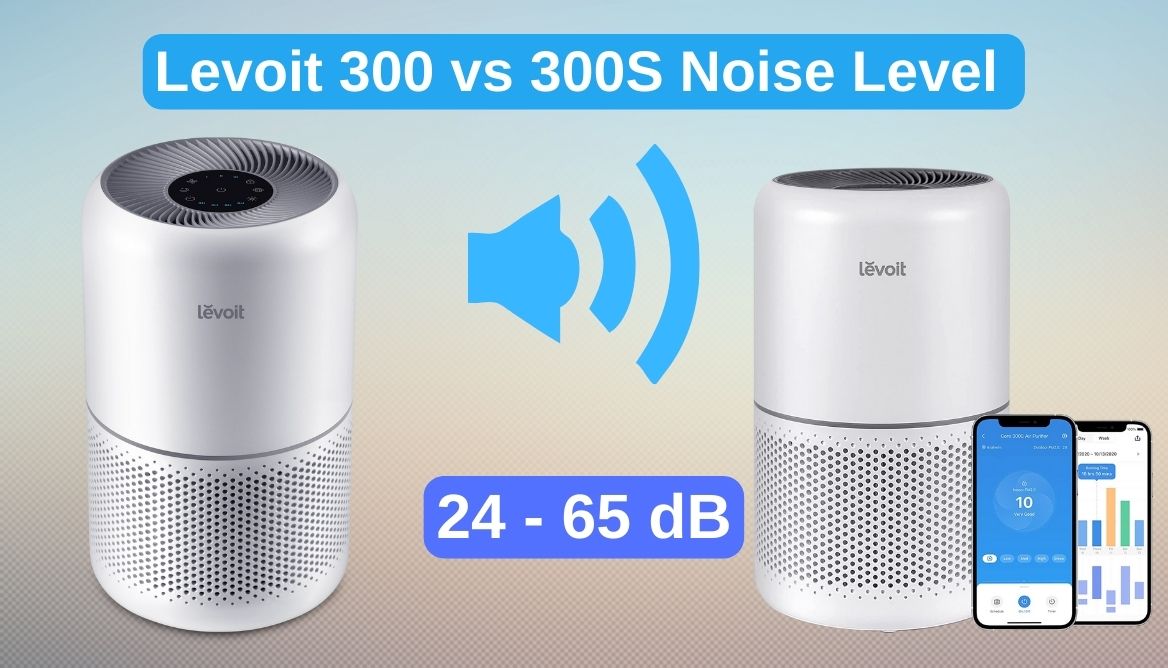 Sleep mode: These air purifiers operate at an incredibly low noise level of just 24 decibels (dB) in this mode.
Highest Fan Speed: Both of them produce the same noise of 65 dBA at the highest fan speed.
Winner: It's a tie as both air purifiers have the same noise levels of operation. The Levoit 300 and 300s ensure a peaceful environment while they are operating in sleep mode. Therefore you can enjoy the serene joy of clean air without any nuisance.
5. Sensors & Display
The 300S air purifier offers several advantages over the former model with the inclusion of advanced sensors and an intuitive indicator display system.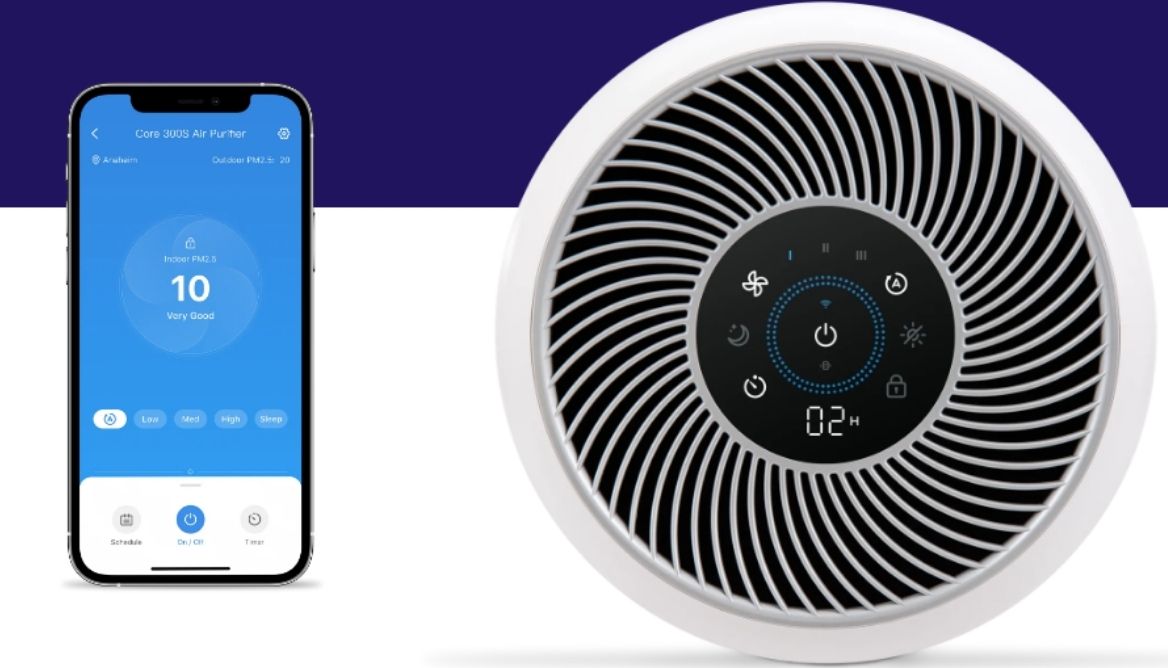 The 300S additionally comes with:
Real-Time Updates: With the AirSight Plus technology, you can continuously monitor the air in real-time, informing you of any updates and changes in the air intake quality of your space.
Quick Assessment: The color-indicating ring offers a quick way to assess and checks the air quality allowing you to change your settings accordingly to achieve optimal air.
Detailed Insights: The synchronization with the VeSync App gives information about PM 2.5 particles.
Winner: Equipped with the Airsight Plus, PM 2.5 sensor and VeSync App integration, the 300S air purifier takes the lead providing you with more feasibility and user-friendly displays.
To discover the impressive features the 300S comes with, take a look at this video.
6. Connectivity & Compatibility
The standard model Levoit Core 300 lacks smart connectivity, while the Core 300S air purifier's ability to connect to Wifi and the VeSync App allows for: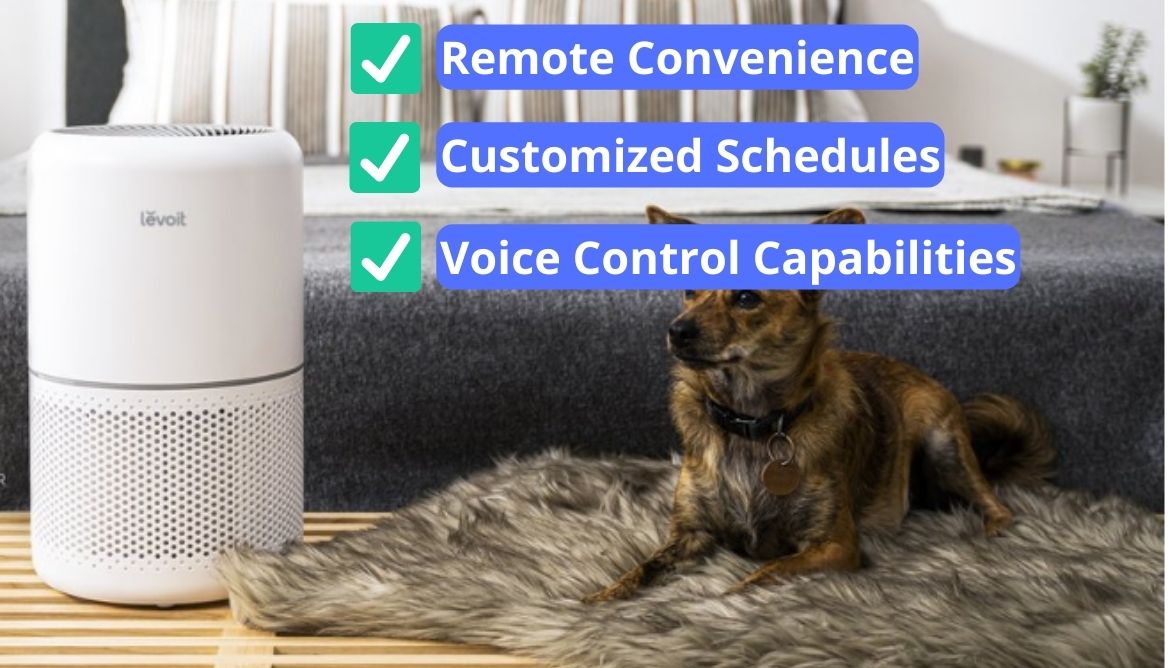 Remote Convenience: The VeSync app gives you the freedom to control the air purifier from anywhere, at any time.
Customized Schedules: You can also create personalized schedules which suit your need without needing to actively manage the device.
Voice Control Capabilities: For a more hands-free and user-friendly experience, the integration with Alexa and Google Home allows for voice commands.
Winner: The unparalleled convenience and control provided by the Levoit core 300S air purifiers give its user more advantage.
7. Levoit Core 300 vs 300S Power Consumption
Levoit products come with Energy Star Certification:
This means they are energy-efficient devices designed to consume the minimum amount of energy.
This way you don't have to worry about the excessive electricity bill while your air purifier is running all day long.
The Levoit Core 300S consumes a much lower power of 26 W as compared to the 300 which has a power rating of 45 W.
Winner: While delivering exceptional purification, the Levoit Core 300S is both eco-friendly and cost-effective. This way it'll keep your electricity bills in check.
To see how Core 300 performs, watch this video.
8. Weight & Dimensions
Lastly, let's talk about the design and the outlook of these models.
Though the 300S comes with more enhanced features, the dimensions of both of them are identical measuring at 8.7 x 8.7 x 14.2 inches.
Regarding its weight, the 300S is almost 2 pounds lighter weighing 5.95 lbs than its counterpart, the 300 weighs 7.5 pounds.
Winner: Compared to the Core 300, the Core 300S is considerably lighter. This means it can be effortlessly moved across rooms making it more portable. So go for the 300S for better functionality and convenience.
Which One To Choose? The Winner Declaration!
The answer to the ultimate purification quest comes to an end. You want to live in a space where fresh, clean, and serene air fills your breath. So which one to choose in order to achieve that purity of the air that not eliminates any impurities but also revitalizes your mind and body?
While the Levoit Core 300 is undoubtedly an exceptional purifier that I hold in high regard and have used and personally tested. I was instantly captivated when the Core 300S surpassed all of my expectations with its smart features.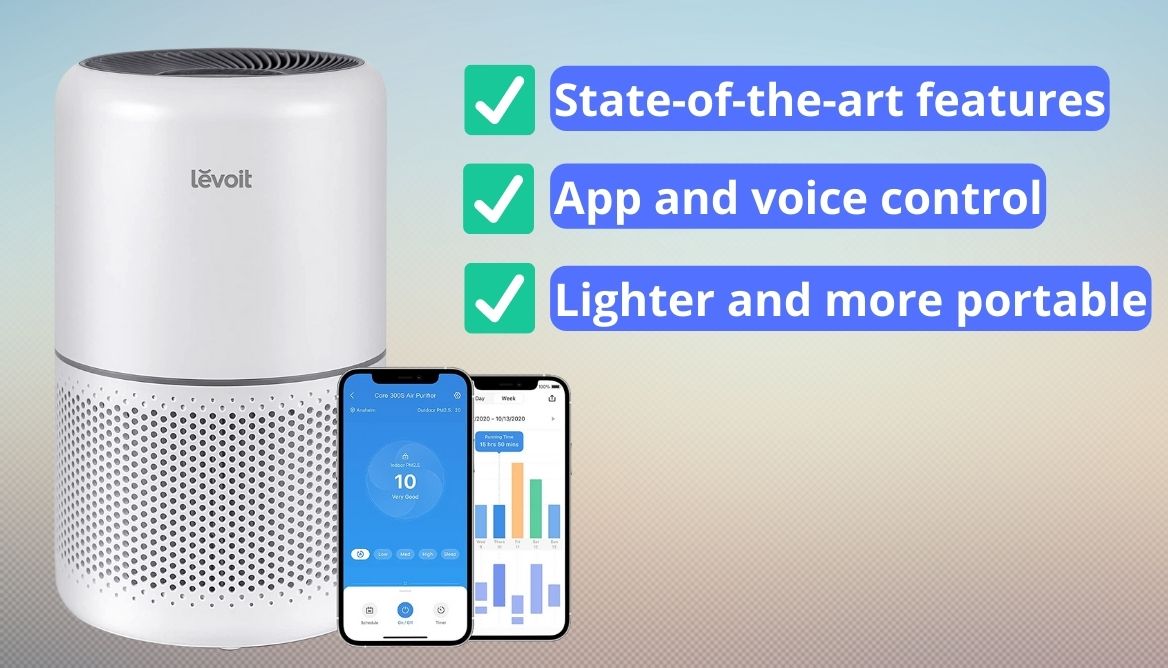 Here is why:
The Core 300S comes equipped with state-of-the-art features.
The convenience of App control and voice control.
It is remarkably lighter and more portable.
This is what makes the Levoit 300S a clear winner from my point of view.
FAQ
Does Levoit 300S show air quality?
Yes, the Levoit Core 300S has built-in air quality sensors that display the current air quality level on the control panel.
Does Levoit 300 use an ionizer?
No, the Levoit Core 300 does not incorporate an ionizer. This air purifier relies on its efficient three-stage filtration system to purify the air.
When did the Levoit Core 300 come out?
The Levoit Core 300 was released in 2016 and has since gained popularity for its effective air purification capabilities.
Read Also: Levoit 200S vs 300S: Which One is the Best Choice for You?
Read Also: Best Levoit Air Purifier: 12 Top Models for Healthy Air
Read Also: Air Purifier Made in the USA: 9 Best Models for Clean Air
Read Also: Best Affordable Air Purifier: 8 Models For Powerful Air Cleaning
Read Also: Best Dyson Air Purifier: 7 Great Units For Healthy Air
Read Also: Levoit 600S Review: Is It the Best Choice for Your Needs
Conclusion
Both the Levoit Air purifiers, Core 300 and 300S are reliable devices to clean up your spaces. When buying the model, consider the required coverage area, features, and compatibility options to choose the best option for you.
Between the two, the Levoit Core 300S air purifier has an upper edge as it has everything the 300 model has and more! Equipped with a smart sensor, auto mode, voice command control, and VeSync compatibility. This purifier will surely win your heart, making your life easier and cleaner.
Levoit Core 300S True HEPA Air Purifier
Concise and compact filters up to 219 sq ft in 12 minutes. Comes with sleep mode, auto-mode, and an air quality sensor. Perfect for bedrooms. Ideal for light sleepers
On the other side of things, if you are on a tighter budget and don't mind manually controlling the device, then definitely go for the Core 300.
Levoit Core 300 True HEPA Air Purifier
Covers up to 219 sq ft with 5 ACH. HEPA filter for Small Rooms. Comes with quiet operation and white noise. Safe for pets. Effective in removing dust, smoke, and allergies.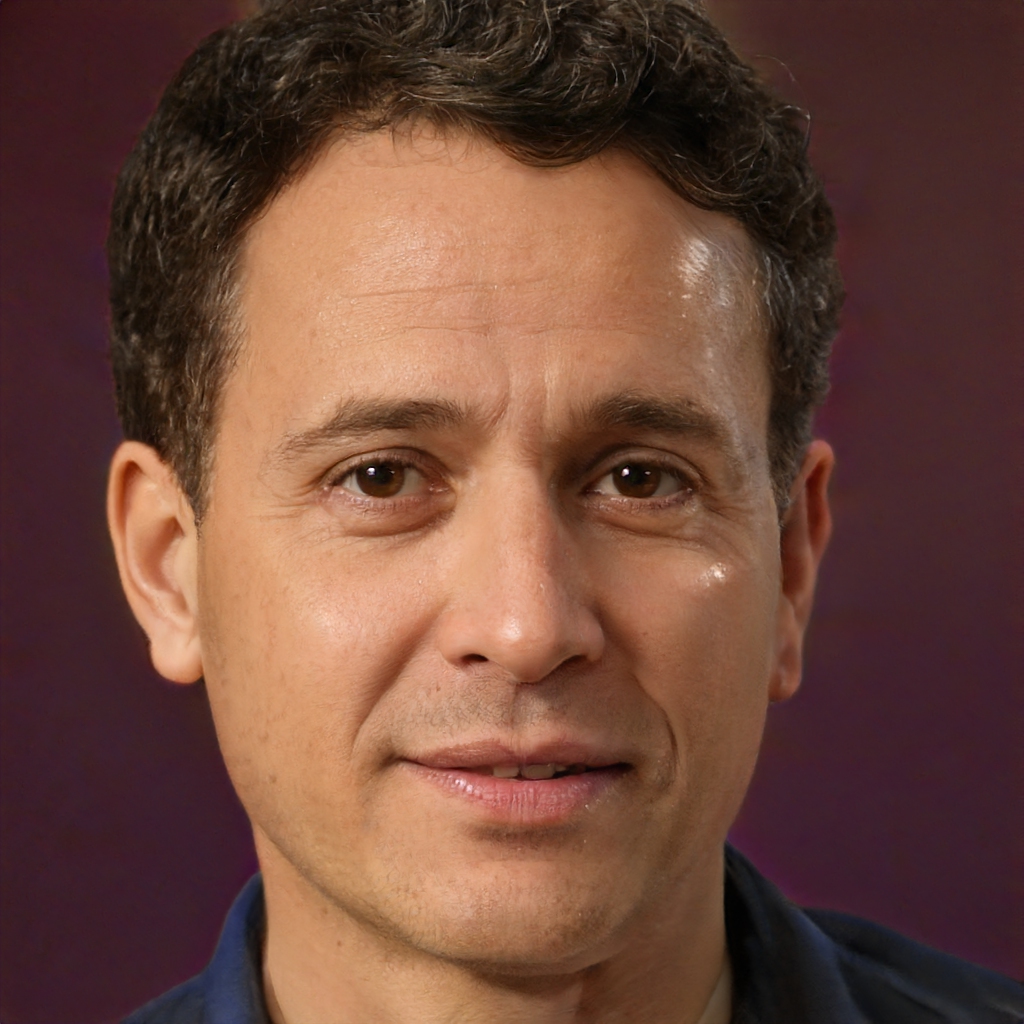 Danny is a passionate writer who loves to share his knowledge about air purifiers. He's been writing for 10 years, and he'll share all that experience with Very Well Home viewers to help you make the best decision when it's time to buy an appliance!