Are you confused about who wins the prize for best features between Roomba i3 vs i7? We all wish we could just snap our fingers, and our house would be magically clean. While that is now possible with iRobots, which one of the above is the most suitable for you? Let's find out.
Quick Comparison
The crucial difference between the two Roomba models is the integrated camera in the i7. It facilitates advanced features like detailed maps, ultra-smart navigation, and creating keep-out zones.
A lack of an onboard camera in the i3 makes it cheaper than the i7 (almost half the price). Besides this, both the vacuums have a similar 3-stage cleaning technology, smart sensors, and control via the smart app and voice assistants.
I will detail the top differences and similarities between the two models. Hopefully, it will help you make a confident choice in which robot vacuum to invest. Let's dive in.
Comparison Chart
The below table compares different aspects of iRobot Roomba i3 and i7.
| | | |
| --- | --- | --- |
| | | |
| | | |
| | | |
| | | |
| | | |
| | | |
| | | |
| Voice assistant compatibility: | | |
| | | |
| | | |
| | | |
| | | |
| Auto height adjusting feature: | | |
| Compatible with self emptying docks: | | |
| | | |
| | | |
| | | |
| | | |
| Personalized cleaning suggestions: | | |
| | 13.34 x 13.26 x 3.63 inches | 13.34 x 13.26 x 3.63 inches |
| | | |
| | | |
| | | |
Roomba i3 Pros And Cons
Sale
Roomba i3
Pros
Half the price of the Roomba i7.
3-Stage intense cleaning system.
Voice assistant compatibility.
Smart navigation.
iRobot Home app connectivity.
Dirt detection sensor.
Spot cleaning.
Imprint smart mapping.
Personalized cleaning suggestions.
Compatible with i3+ Self-emptying dustbin.
Cons
Cannot create clean or keep-out zones.
No obstacle detection technology.
Roomba i7 Pros And Cons
Roomba i7
Pros
All the features of the Roomba i3.
Can create clean and keep-out zones.
Camera integration.
Can produce up to 10 detailed maps.
Advanced navigation.
Compatible with i7+ Self-emptying dustbin.
Cons
Double the price of Roomba i3.
No obstacle detection technology.
What Makes Roomba i3 Vs i7 Robot Vacuums Different?
Let's examine how the Roomba i3 and i7 differ from one another.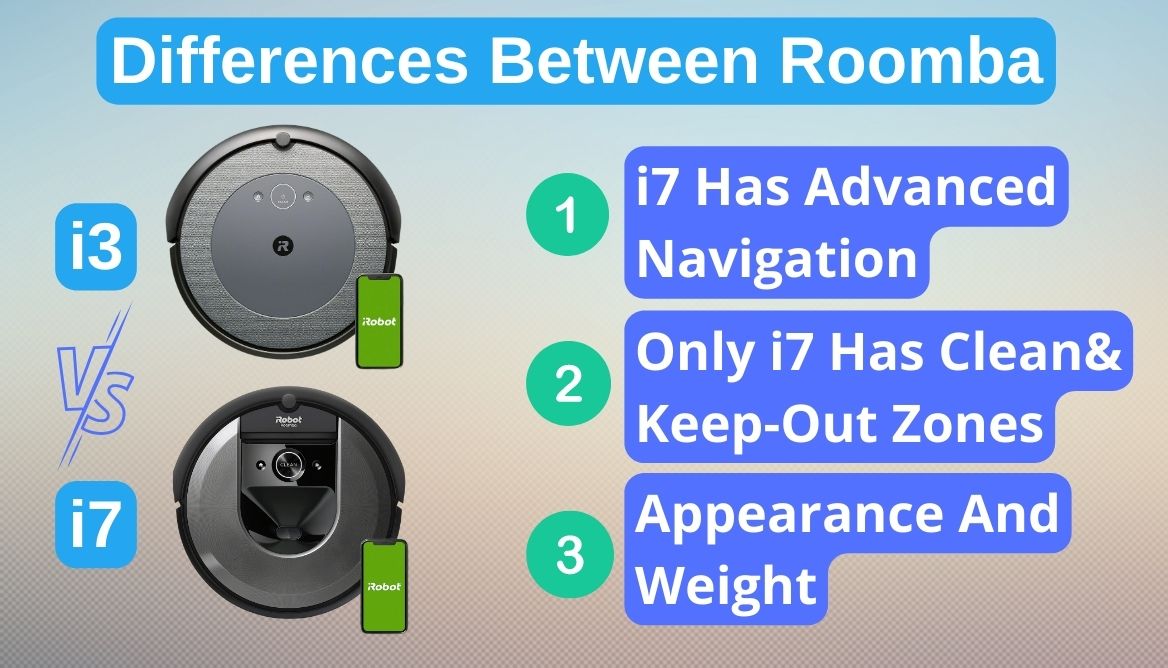 Difference 1: Roomba i7 Has Advanced Navigation Due To Camera Integration
Roomba i7 navigates more efficiently than i3. Let's see how:
Roomba i7
It has a camera on top. With its help, the robot plots your house intricately and creates detailed maps (up to 10). It combines floor tracking data and camera data to know where the barriers are. Hence, it has ultra-smart navigation.
Roomba i3
It does not have a camera. It still navigates logically in straight lines due to the floor tracking sensor at the bottom.
Both
The vacuums track where they have been. It saves the energy spent on cleaning the same place twice. They are also great at avoiding bumping into walls and removing themselves from narrow spaces.
Difference 2: Only Roomba i7 Has Clean And Keep-Out Zones
You cannot create specific zones within rooms in i3. Let's see why:
Roomba i3
It has an imprint mapping system. It creates a single map of your house with a distinction between rooms. You can name them and instruct the vacuum to clean particular rooms. But due to a lack of precise maps, it cannot create or exclude specific cleaning areas within a room.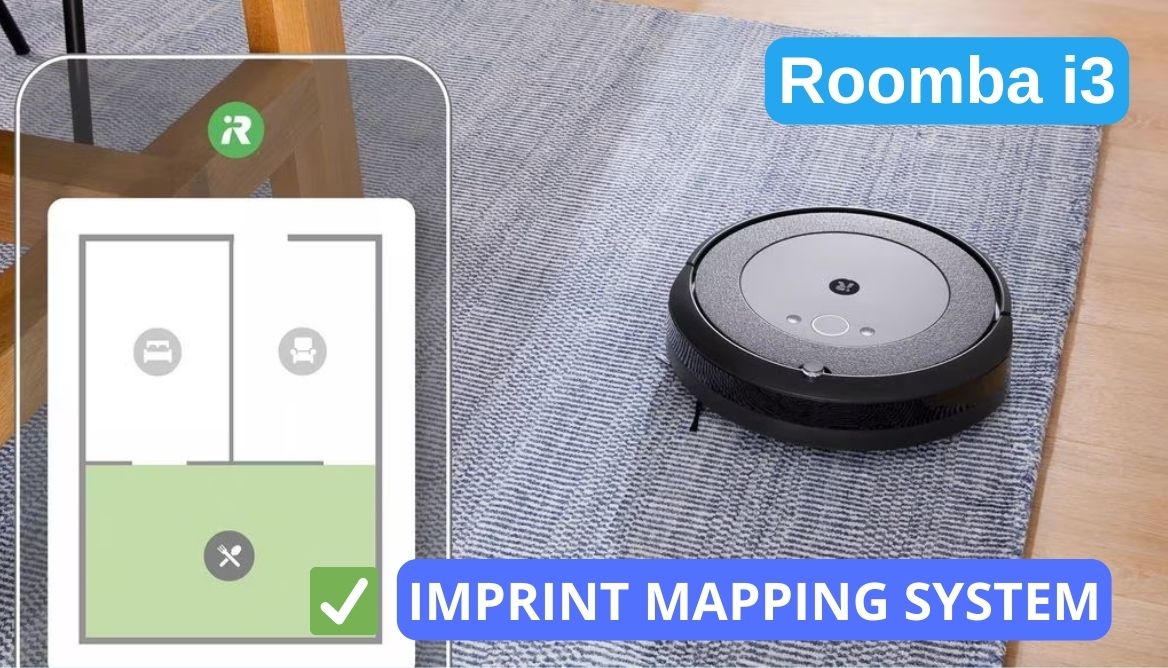 Roomba i7
It goes one step further than the i3 because of the camera feature. It draws intricate maps like a blueprint of the house. You can not only clean individual rooms but also designate clean and keep-out zones within them.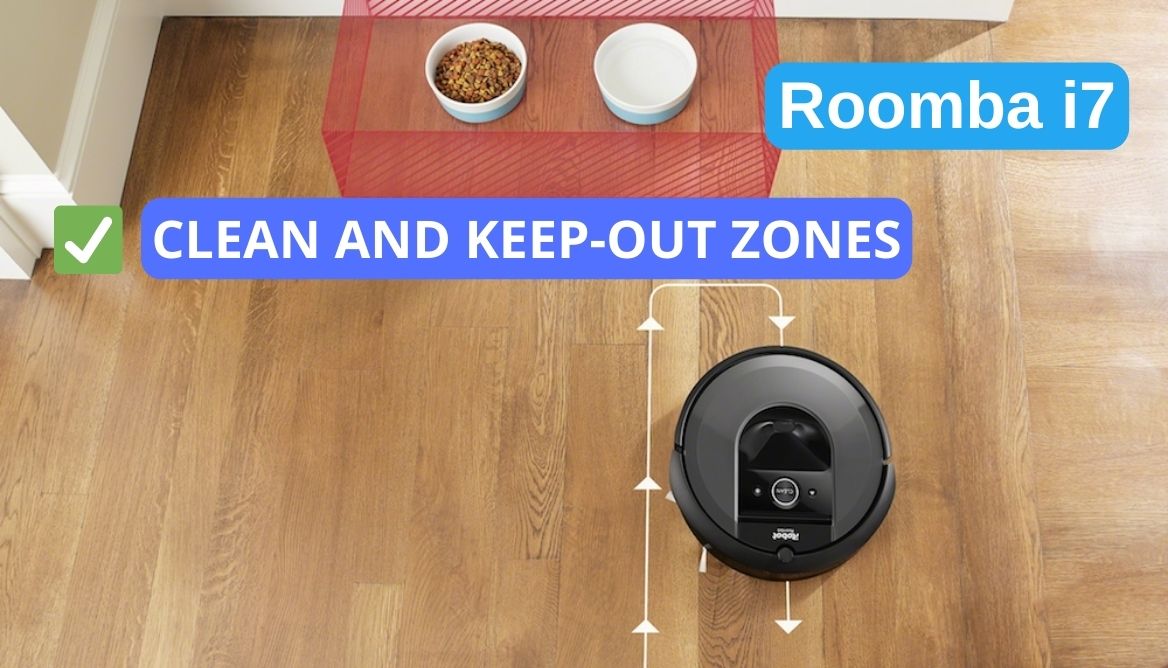 For instance, you can ask the robot to clean under the dining room table when you spill something during meals. Or you can ask it not to go near the pet house where you keep the water bowl.
Difference 3: Appearance And Weight
Roomba i3 and i7 have dissimilar designs.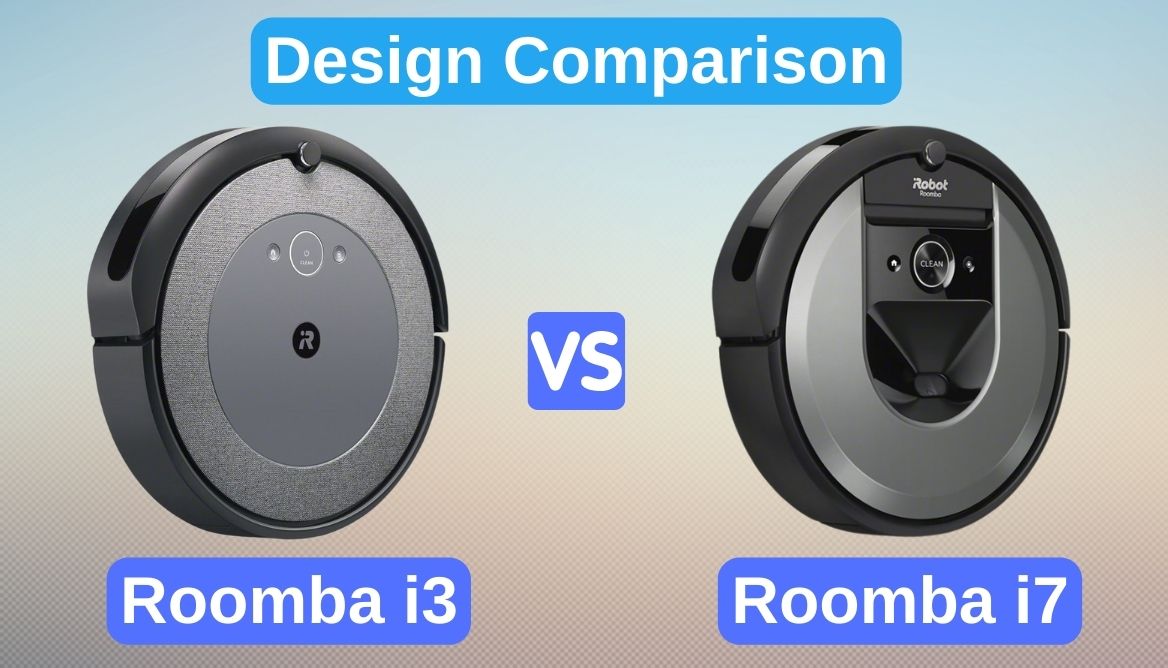 Roomba i3
It has a grey fabric textured circle.
Roomba i7
It has a black glossy finish and is lighter than the i3.
These are trivial distinctions and do not impact their cleaning performance.
In What Ways Is The Roomba i3 Robot Vacuum Similar To The i7?
Both the Roomba i3 and i7 share the following similarities: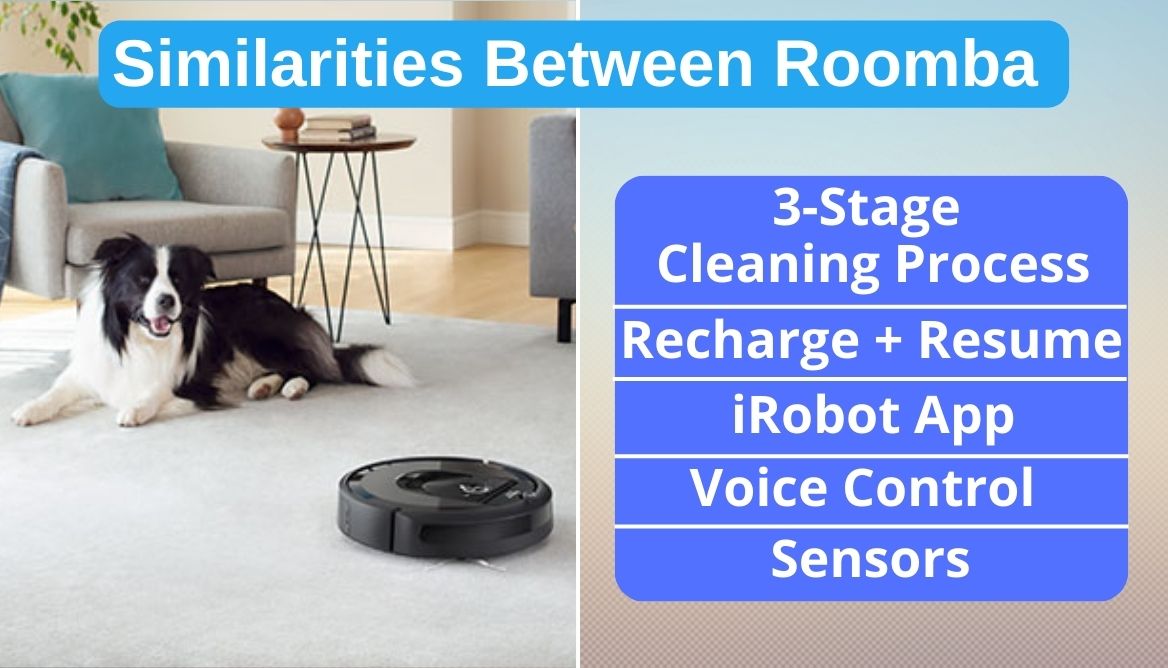 3-Stage Cleaning Process: Both vacuums have an intense three-stage cleaning method. I have explained it in the next section.
Recharge And Resume: Both robots recharge automatically when low on energy and then pick up the vacuuming where they left off.
iRobot App: Both vacuum cleaners are accessible through the iRobot Home app.
Voice Control: You can give voice commands to Roomba vacuums via virtual assistants like Google Assistant.
Sensors: The Roomba vacuums have multiple sensors like Dirt detection, Floor tracking, Reactive, Light Touch, and Cliff Detection.
Cleaning System
Both Roomba i3 and i7 have a 3-stage cleaning technique with high-powered suction, rubber brushes, and a high-efficiency filter. They have two modes:
Normal Mode: The Roomba cleans the entire room going back and forth.
Spot Cleaning Mode: The vacuum cleans a specific spot thoroughly by circling outward and then inward.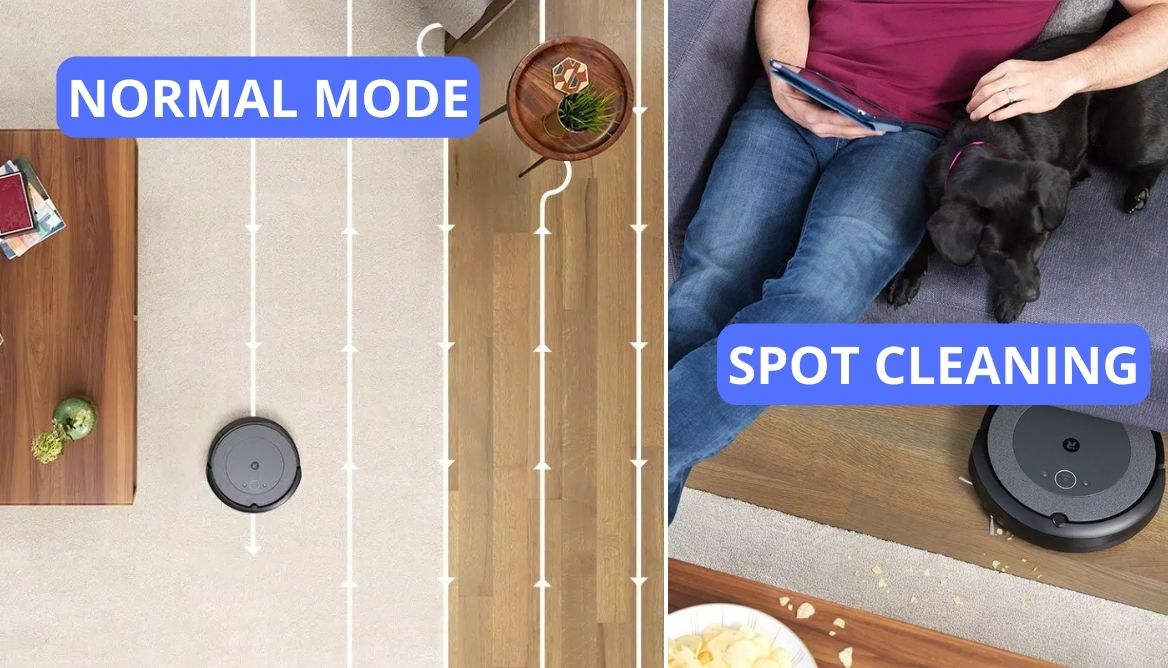 These models also have a:
Dirt Detection Sensor: It identifies dirty areas and cleans them rigorously.
Auto-Adjusting Feature: The vacuums have an auto-adjusting cleaning head that adjusts their height in response to the surfaces like carpets, rugs, and bare floors.
With these two advanced features, no floor surface in your house will remain uncleaned. Let's look at the cleaning process.
High Suction Power
The suction power of Roomba i3 and i7 is 10x of its base 600 series. It efficiently lifts and pulls dirt and debris into the vacuum.
Dual Multi-Surface Brushes – No Entangled Pet Hair
Both the Roomba vacuums have two rubber brushes. They work well on multiple floor surfaces like tiles, hardwood floors, high-pile carpets, and rugs.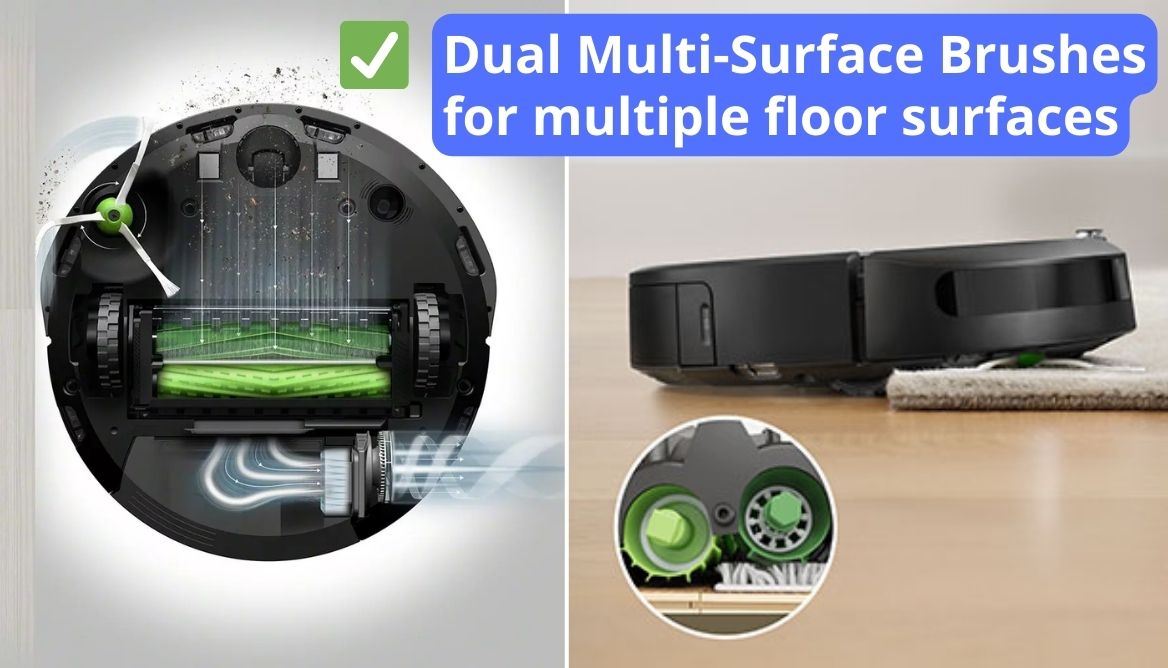 They do not have bristles. Hence, pet hair does not get entangled in them. Instead, they get sucked into the bin. As for long hair, they roll around the side of the brushes and are easy to pull out.
Edge-Sweeping Brush
It has three blades that rotate in a circular motion to push the dirt from the corners and into the cleaning path. They get sucked into the vacuum due to the powerful suction power.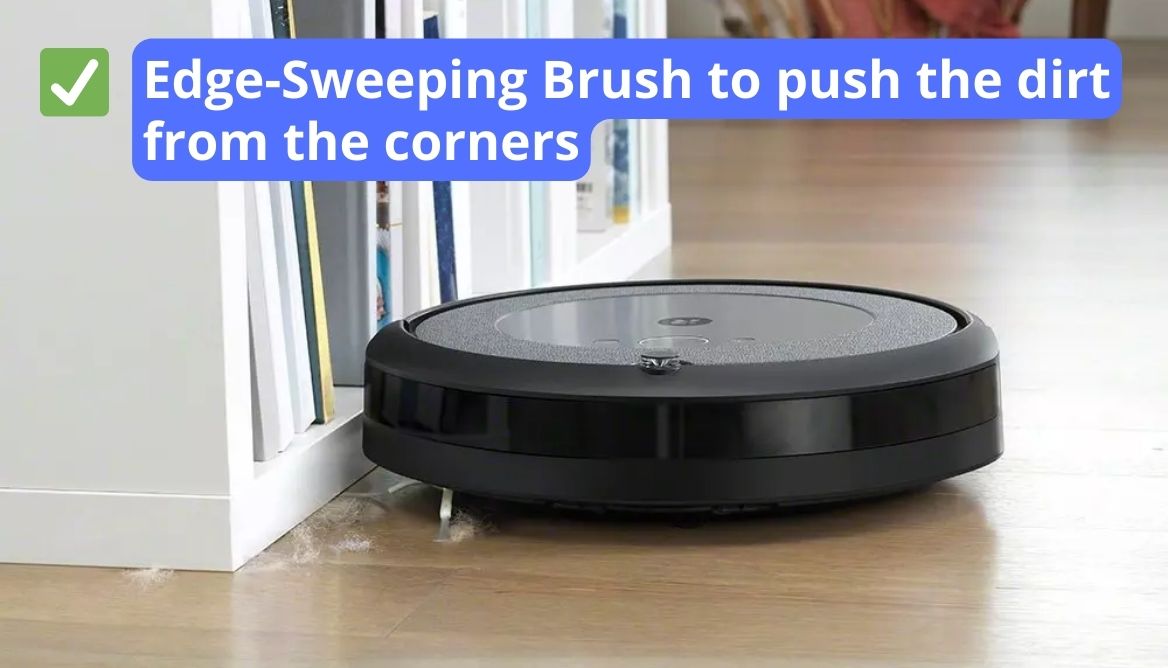 HEPA Filter
The vacuums have a high-efficiency filter inside the bin. It traps 99% of the finer dust particles and pet dander. It is a great feature for pet owners.
Winner: Tie
Battery Life And Recharge Time
Both Roomba i3 and i7 batteries have a run time of 75 minutes and a charging time of 2 hours. Their batteries have lithium-ion that charges quickly.
| | |
| --- | --- |
| | |
| | |
| | |
| Docking Station Power Consumption: | |
Winner: Tie
Smart Mapping System And Navigation
Let's take a look at the mapping system and navigation!
Roomba i3
Roomba i3 has a floor tracking sensor and an imprint smart mapping. It navigates intelligently in a logical pattern instead of bouncing around randomly like other robot vacuums. It distinguishes between rooms and can clean specific rooms instead of the entire house.
Roomba i7
In addition to the above features, the Roomba i7 has an in-built camera with advanced technology. It draws detailed maps and lets you create keep-out zones. But the downside of the camera in Roomba i7 is it cannot work in the dark.
The robots navigate efficiently with the help of several sensors:
Reactive sensor: It warns where the robot cannot fit and prevents getting stuck.
Light Touch Sensor: It identifies walls and furniture, slows down, gently nudges them, and then changes direction.
Cliff Sensor: It identifies stairs and prevents the robot from falling off them.
Winner: Roomba i7
Appearance
Both Roomba i3 and i7 have different designs. The i3 has a grey fabric texture on top, whereas the i7 has a black glossy look.
Here are the specifications of the robotic vacuums:
Roomba i3
Shape: Circular
Color: Black and Grey
Dimensions: 13.34 x 13.26 x 3.63 inches
Weight: 11 Pounds
Watch this video review of Roomba i3 for more details.
Roomba i7
Shape: Circular
Color: Black
Dimensions: 13.34 x 13.26 x 3.63 inches
Weight: 7.44 Pounds
Watch this video review of Roomba i7 for more details.
Winner: Roomba i7
iRobot Home App And Voice Assistant
You can add the Roomba i3 and i7 to the iRobot app. Using the app, you can:
Set cleaning schedules.
Track your robot's whereabouts.
Know the areas the vacuum has cleaned.
You can also pair the robots with any virtual assistant for voice control.
Winner: Tie
Clean Base Compatibility
Roomba i3 and i7 are compatible with their respective self-emptying docks. You can buy them separately. The Plus models (i3+ and i7+) have a clean base as a part of the package.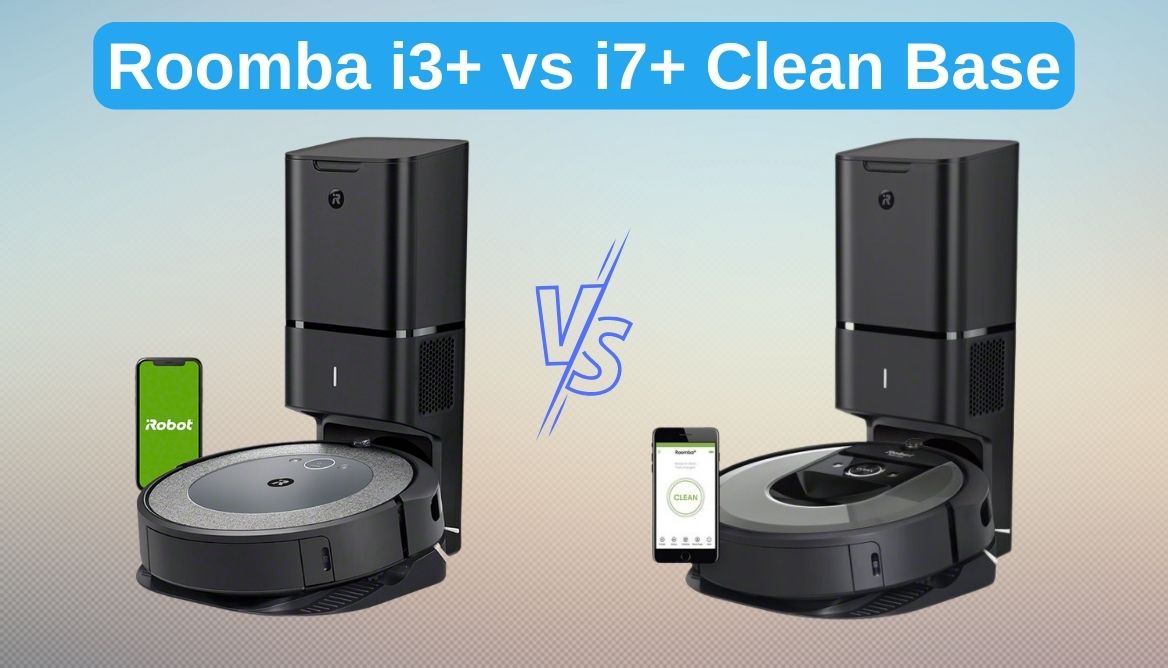 With this feature, the robot automatically disposes of the dustbin's contents. All you need to do is replace the dirtbag in the clean base every few months.
Winner: Tie
Warranty Period
Both the vacuums have a warranty period of 1 year. If your iRobot breaks down during that period, you can get it serviced for free.
Winner: Tie
FAQ
Is the Roomba i7 much better than the i3?
Yes, the Roomba i7 is much better than the i3 because of the camera integration. You can create clean and keep-out zones in i7. You cannot do this in i3.
Does Roomba i3 have room mapping?
Yes, Roomba i3 has a smart mapping that differentiates between rooms. You can also name or merge them as desired.
How old is the Roomba i3?
Roomba i3 was launched in September 2020 by iRobot.
Does Roomba i3 get smarter over time?
Yes, the Roomba i3 gets smarter over time due to periodic software updates with newer and advanced features.
Conclusion
Roomba i3 differs from i7 because of the camera integration and the ability to create zones within rooms. So which model should you buy?
Sale
Buy Roomba i3 if you
Do not have large rooms or do not need a keep-out zone feature.
Have a tight budget.
Have privacy concerns over a camera recording your home.
Buy Roomba i7 if you
Have large rooms.
Are a pet owner. As the filter confines the pet dander, and the keep-out zone feature keeps the robot away from the pet's water or food bowl.
Want advanced mapping and navigation.
I hope this comparison review helped you decide which vacuum cleaner is the best for you. Do you think the absence of a camera in Roomba i3 is a disadvantage? Please comment below.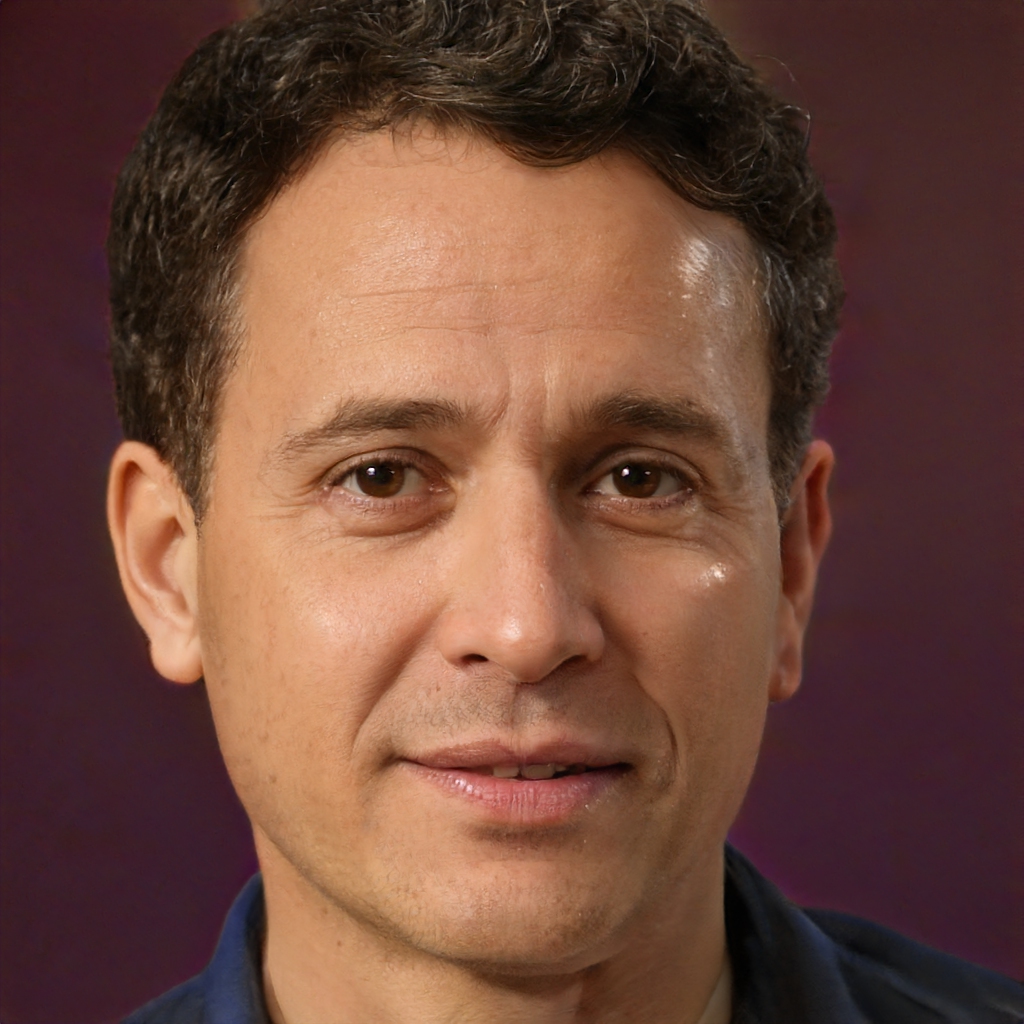 Danny is a passionate writer who loves to share his knowledge about air purifiers. He's been writing for 10 years, and he'll share all that experience with Very Well Home viewers to help you make the best decision when it's time to buy an appliance!