Choosing between Roomba i4 vs i7 can quite be a challenging task. Especially when both of them are the top contenders in the market for exceptional cleaning capabilities.
To find out how these models differ and which one to pick, I invite you to check out this detailed comparison review. Don't waste time, let's begin!
Quick Comparison
The i4 and i7 robot vacuum cleaners offer cutting-edge technology and outstanding performance:
Both are equipped by dirt detection technology.
They have dual rubber brushes that easily clean a variety of floors.
Both are robot vacuums that can be controlled via smartphone and voice commands.
But in some aspects, they are miles apart.
The i4 comes with longer battery life, an extra filter, and a large dirt bag capacity.
The i7 on the other hand, comes with a built-in camera, creates virtual boundaries with an imprint smart mapping system, efficient cleaning in specific rooms, and entire floor plans.
Continue reading to find out a more detailed comparison by 11 parameters as dirt disposal system, mapping, navigation, and so on, to make the most informed decision. So, let's dig in!
Comparison Chart
Let's have a quick overview of how these models compare based on their features:
| | | |
| --- | --- | --- |
| | | |
| | | |
| | | |
| | | |
| | | |
| | | |
| | | |
| | | |
| | | |
| | | Yes, up to 10 floor plans |
| | | |
| | iAdapt 2.0 with sensors, reactive sensor technology | iAdapt 3.0 with VSLAM and camera, smart maps |
| | | |
| | | |
| | | |
| | | |
| | Yes, works with Braava jet m6 robot mop | Yes, works with Braava jet m6 robot mop |
| | Yes works with remote control with Alexa and Google Assistant | Yes, works with Alexa and Google Assistant |
| | 13.34 x 13.34 x 3.63 inches, 7.04 lbs | 13.34 x 13.26 x 3.63 inches, 7.44 lbs |
| | | |
Roomba i4: The Pros and Cons
Sale
Roomba i4
Let's have a look at the benefits and drawbacks of the i4 Roomba:
Advantages
The vacuum cleaner has simple controls and an easy-to-use app.
It is inexpensive and suited for individuals on a tight budget,
Its extended battery life allows it to clean more places in a single cleaning session.
Disadvantages
It finds it tough to vacuum up hair on bare floors.
Roomba i7: The Pros and Cons
Sale
Roomba i7
Now next I will go over the pros and cons of the Roomba i7:
Advantages
Advanced tracking detectors and camera.
Clean base digital waste disposal mechanism in the charging port.
Increased suction power technology force for excellent cleaning of a variety of floor kinds.
Disadvantages
The battery life of the robot is limited.
What Sets the Roomba i4 and the Roomba i7 Apart?
Here are some of the things which both these affordable robot vacuums have different with each other.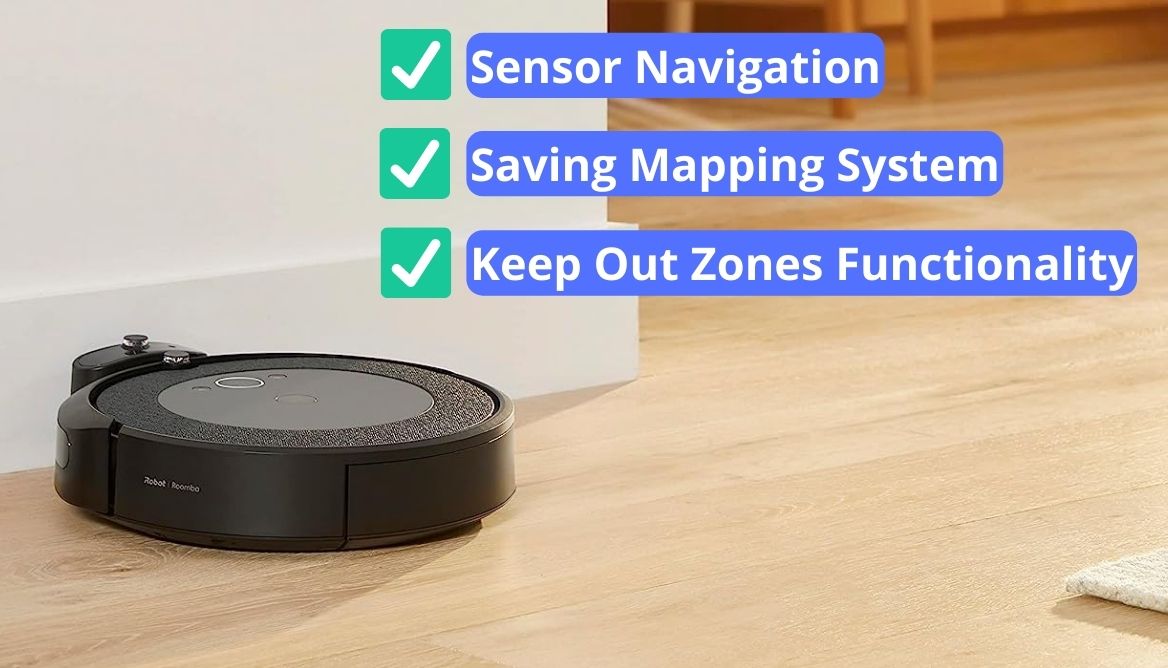 1. Sensor Navigation
The i7 unit cleaner will tour your house and learn the placement of various indicators such as items of furniture. Because it works with its camera for navigation, it will require some normal illumination when cleaning your house.
Whereas the Roomba i4 lacks inbuilt cameras. Instead, it navigates your home using floor tracking sensors.
2. Saving Mapping System
When you first use the i7, it may take some time to understand the structure of your home. When the process is completed, it will generate maps with specific labels that you may keep.
If you live in a smaller house and don't use the mapping feature frequently, the i4 will do the job.
3. Keep Out Zones Functionality
With the i7 model, you can enable to select specific places in your home that you want to keep the vacuum out of. The iRobot software allows you to draw these areas.
These are called Keep out zone.
This is an excellent method for keeping it away from valuable products and out of narrow areas.
In contrast, the i4 model does not have this functionality. This means you'll either have to manually block off regions of the entire house where you don't want the Roomba to operate. Or get an iRobot Virtual Wall Barrier for labeling these locations.
What Features Do the Roomba i4 and the Roomba i7 Share?
Here are some of the features both of the models have in common: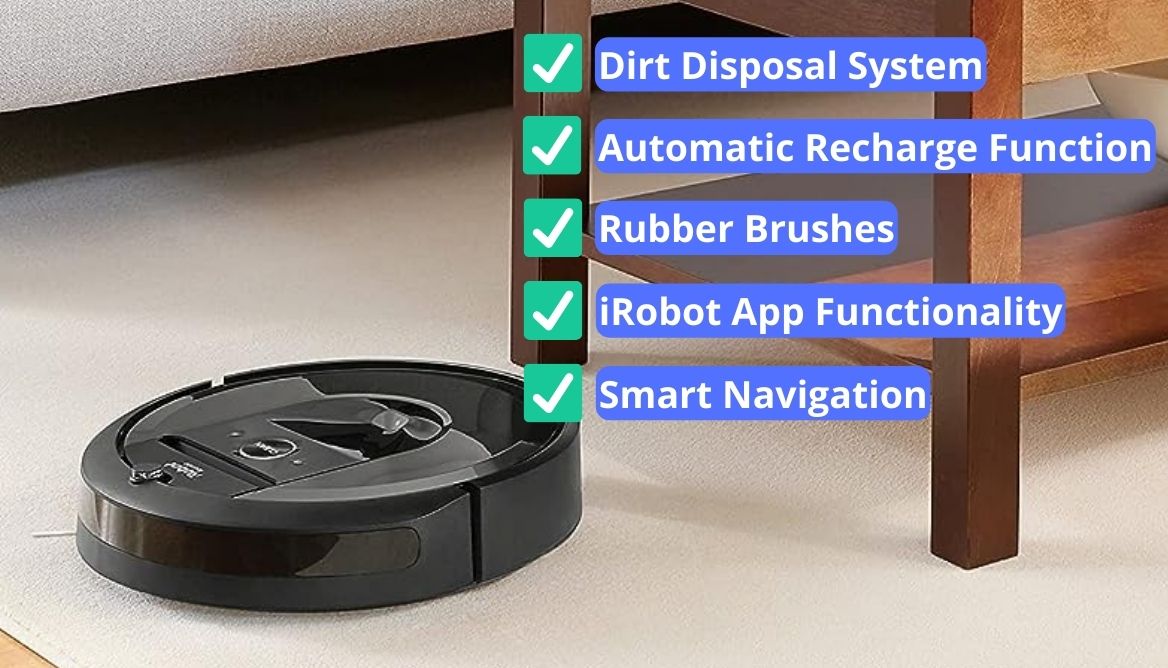 1. Dirt Disposal System
Both of the devices, the Roomba i4 and i7 are compatible with an iRobot Clean Base Automatic Dirt Disposal. This clean base is essentially a docking station that charges your vacuum and gets rid of the dirt the unit has collected after each cleaning session.
Important! The iRobot Clean Base is only included with the "+" series. You will therefore have to purchase it separately. If you do not purchase the clean base, then you'll have to empty the garbage bag every two months.
2. Automatic Recharge Function
Automatic recharge function means:
Whenever the batteries of the cleaners go low, they will pause that session.
Next, they go to the respective charging stations to power their battery life.
After the battery is entirely charged, the robot will continue its cleaning routine from where it initially left off from the previous session.
3. Rubber Brushes
These vacuums come with a dual brush system, which loosens fire.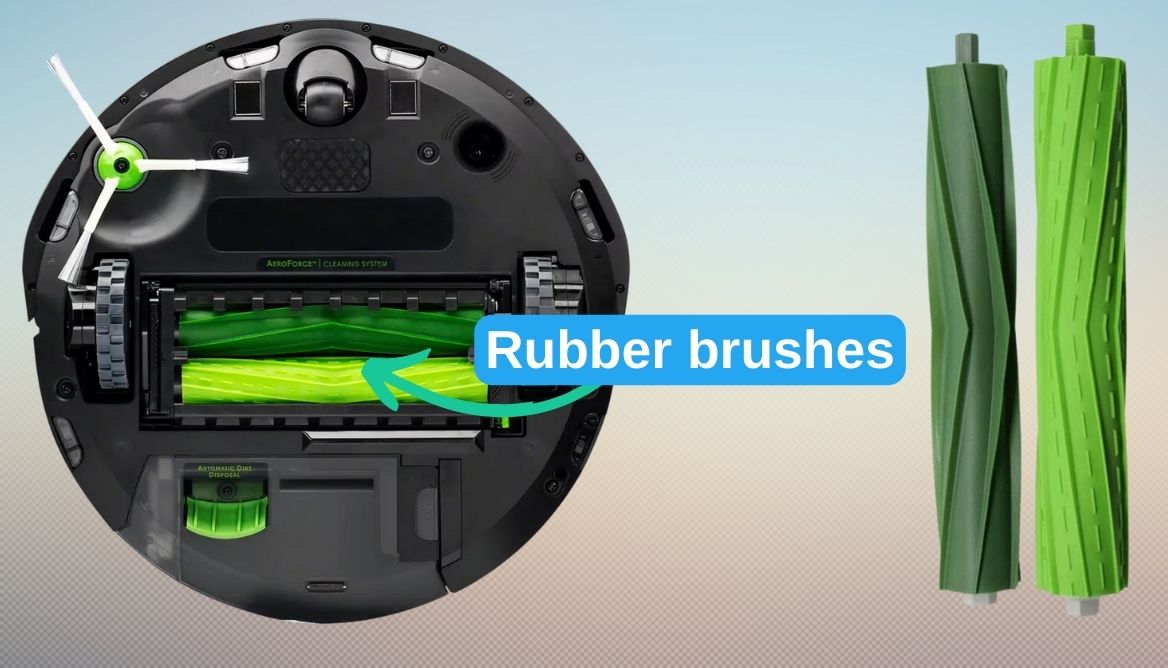 The two brushes work together to remove any kind of dirt, grim, and leftover from multiple surfaces such as hardwood floors, flooring, tiles, and carpet floors.
Another brush picks up the dirt into the vacuum's body.
The brushes have three-sided prongs. This helps the cleaning units to be able to collect dust and debris into their suction body.
4. iRobot App Functionality
The Roomba i4 and i7 come with a great user-friendly app called "iRobot".This enables you to access amazing functions through the app. This includes:
Easy activation of the device.
Making specific cleaning paths to follow.
Setting preferred schedules for cleaning.
Control via voice command.
5. Smart Navigation
Both the i4 and i7 are able to navigate around your home in an analytical manner. In order to thoroughly clean your floor, they work in straight, precise lines.
In contrast, earlier-generation other robot vacuums employ a "bump and turn" navigation approach and travel randomly to clean a room.
Roomba i4 vs i7: A Showdown of 11 Key Features
To assist you in making the best purchase decision possible, let's discover the 11 major features. Read on to see which model emerges victor in most categories: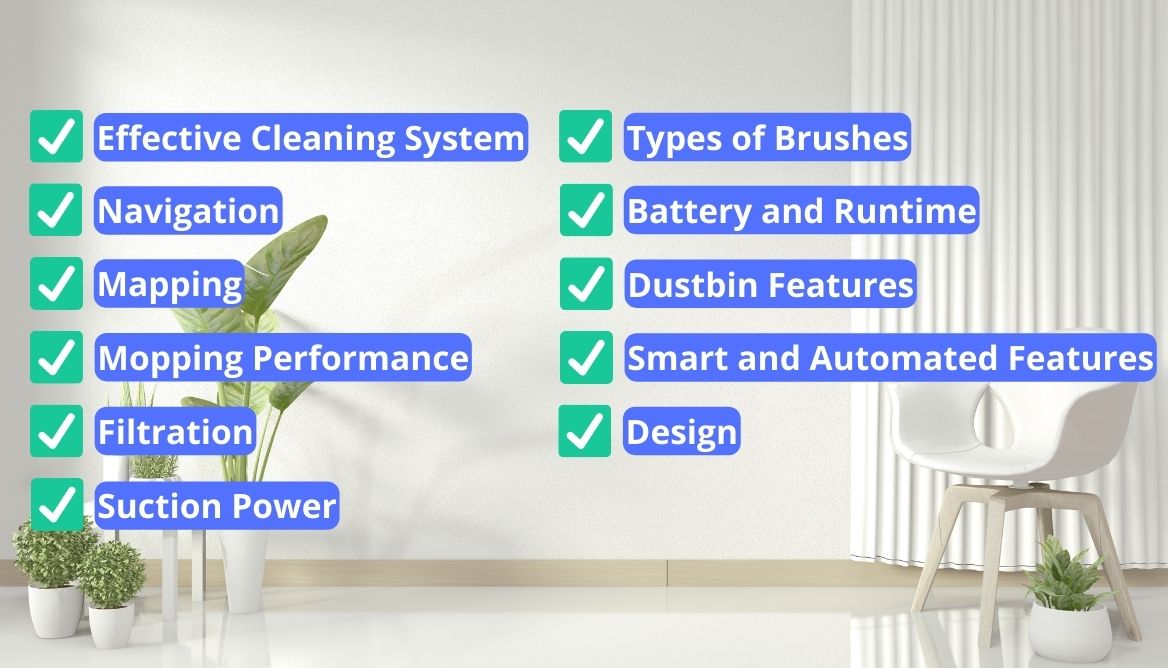 1. Effective Cleaning System
Let's see how the i4 cleans:
Roomba i4
The Roomba i4, like all previous Roombas, is efficient at sweeping and vacuuming tasks. In terms of specialization, it is a better choice for non-covered surfaces such as:
Hardwood;
Vinyl flooring;
Tiles.
It is also intended for mild low-pile carpet vacuuming. Because of the anti-tangle brush mechanism, the i4 is perfect for users who have a long-haired pet and face with pelts of fur all around the floor.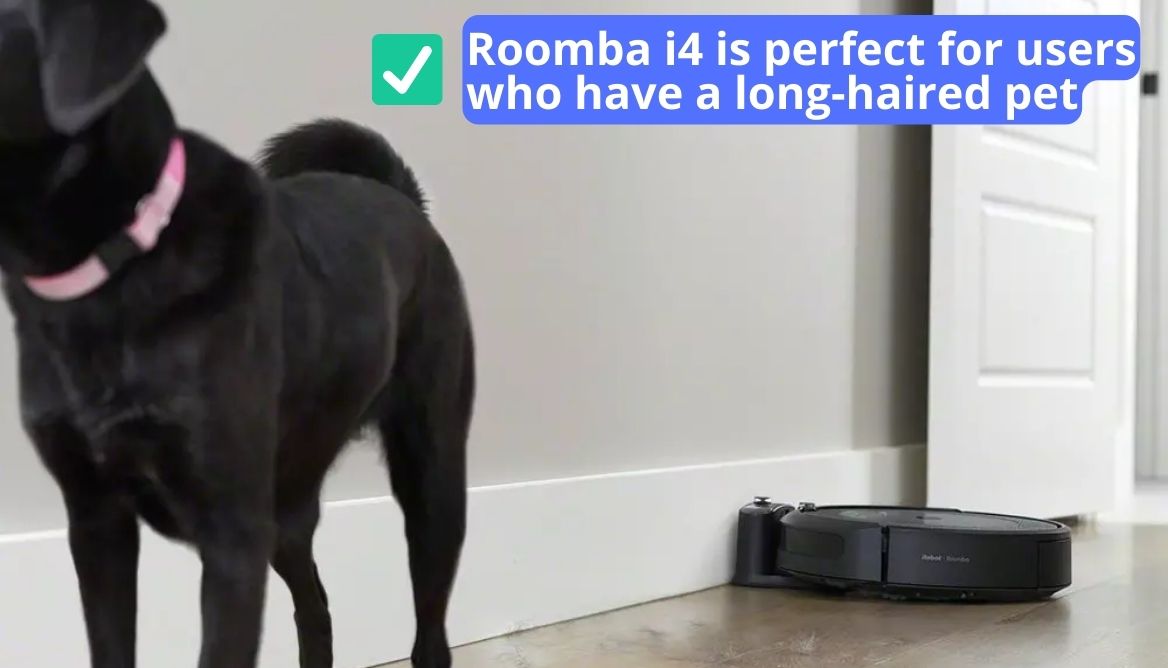 Roomba i7
Now let's see how the i7 operates:
The i7 works great on all surfaces covered and uncovered like carpeted flooring.
As the i7 is supported by a state-of-the-art Imprint System. The Braava M6 is required for the duo function for both mopping and sweeping the floors.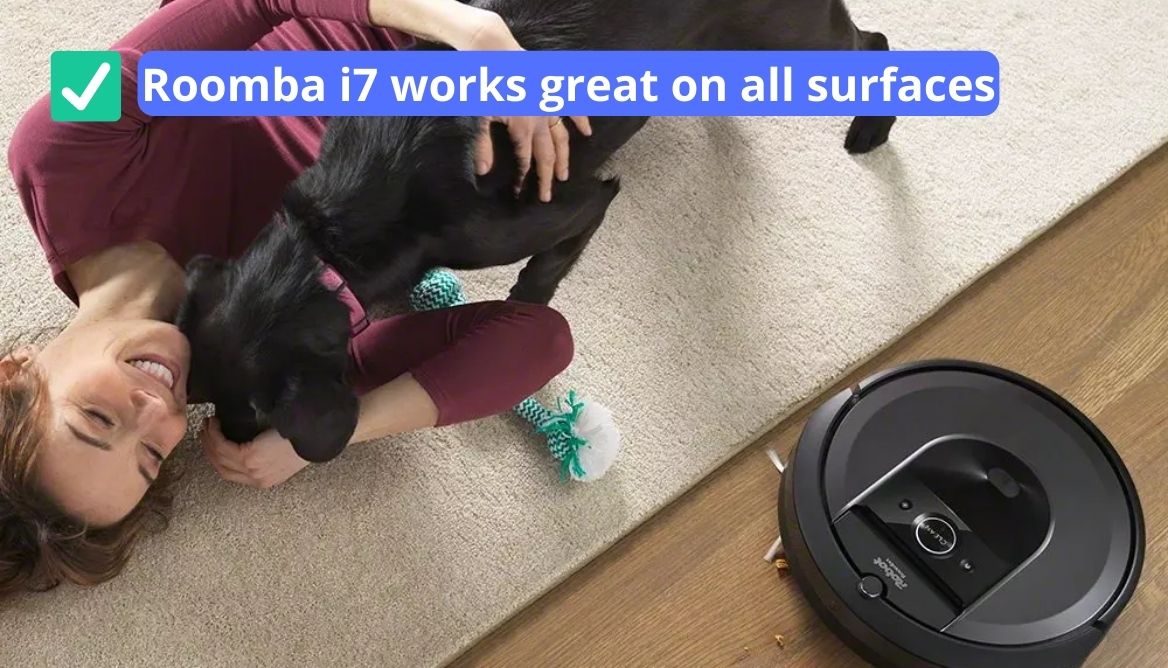 Winner: In terms of cleaning performance, both of them have the same technology. But the better choice would be the i7 works as it works skillfully on the same surfaces as i4 and additionally on carpets as well which gives it an edge.
2. Navigation
Let's explore the cutting-edge navigation feature which the Roomba i4 uses:
iAdapt 1.0 Navigation System: For efficient robot vacuum cleaning, the Roomba i4 employs a reliable navigation system called iAdapt 1.0.
Modern positioning and avoiding object hindrances sensors: Allow the robot to recognize where it is currently located in the house and ensure it avoids hitting any objects.
Retractable Bumper for Enhanced Protection: Effectively absorbs the impact if it comes in contact with an impediment and collides with it.
Impressive Performance in High-Traffic Areas: I tested this robot vacuum in a room with a larger and high-traffic Despite the challenges posed by a more demanding environment, the Roomba i4 delivered impressive cleaning results.
Reactive Sensors: These advanced sensors work in harmony with the iAdapt 1.0, significantly enhancing the Roomba i4's ability to detect and avoid impediments while it's cleaning. This combination ensures the robot vacuum can navigate around your home safely and efficiently.
The Roomba i7, on the other hand, includes:
iAdapt 3.0: The ground-breaking iAdapt 3.0 technology to make you cleaner smarter.
VSLAM System: Unlike the simultaneous locating and mapping algorithm used by the Roomba i4, the i7 employs a VSLAM-based system that integrates the real-time powerful camera with that reactive fast-paced sensors.
Object Avoidance: The robot avoided blockages more precisely and rarely became trapped as compared to the i4.
This is suitable for people with large residences and heavy-traffic rooms.
Winner: The i7 undoubtedly has a better system for navigating around obstacles which enables it to avoid certain areas and blockages. Hence, it stands victor in this category.
3. Mapping
In terms of mapping, the Roomba i4 lacks once more.
It misses advanced floor scanning and mapping technology, thus it cannot learn, map, or adapt to your home's floor layout.
Instead, it will move about randomly while cleaning. Long-term, especially in big apartments, it could leave certain areas unnoticed.
Unfortunately, the i4 does not support digital boundaries for boundary marking.
Note: To be clear, the Roomba i4 cannot build or save maps.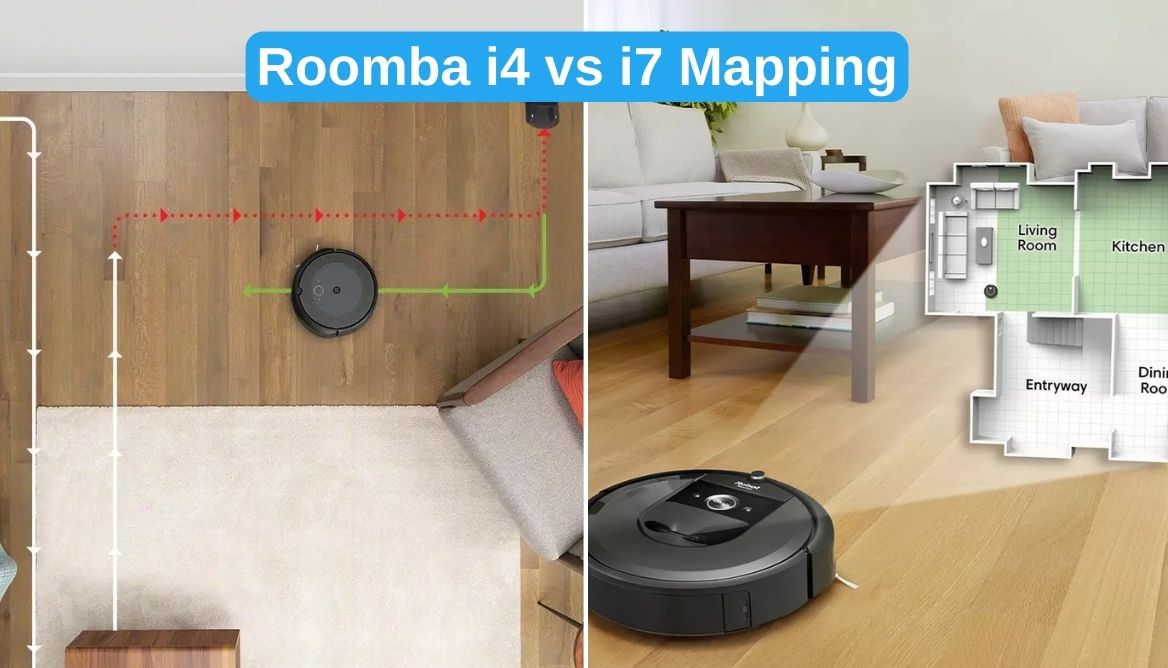 Roomba i7, on the other hand, scans and maps your home using the ground-breaking Imprint Smart Mapping technology.
Unlike the i4, the i7 will learn, map, and adapt to the layout of your house to ensure effective cleaning.
The robot can build extremely precise maps of your home and save up to ten-floor layouts, making it suitable for multi-level homes.
Even in big flats, the i7's regular cleaning routines ensure that the whole level is cleaned.
Finally, the i7 includes digital barriers known as Keep Out Zones.
This function enables homeowners to draw borders directly from the app.
Winner: The i7 takes the win making it a better choice in terms of mapping. The smart imprint technology makes it a smart and more efficient device than its counterpart.
4. Mopping Performance
As previously mentioned, the Roomba i4 is a vacuum-only robot. There is no mopping feature. And, the same goes for the Roomba i7. If you want to employ the mopping feature, then purchase the Braava 6 which is compatible with both i4 and i7 to enable this functionality.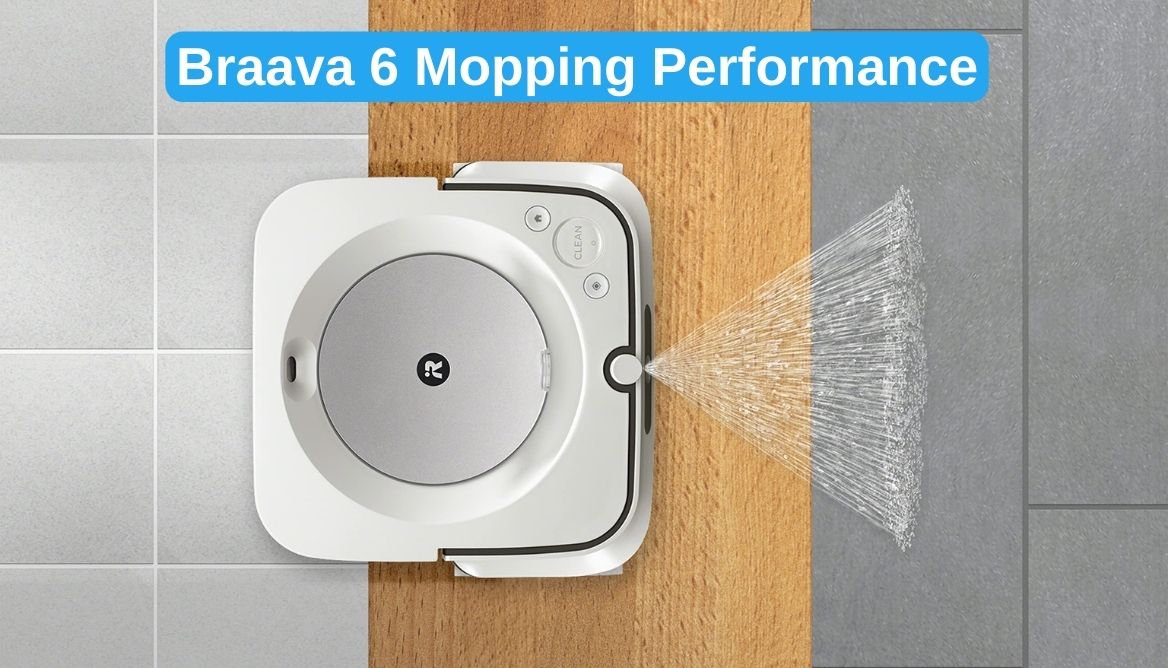 Winner: They are tied, because both haven't mopping features. But at the same time are compatible with Braava M6.
5. Filtration
Both the Roomba i4 ad i7 have come equipped with AeroForce high-efficiency filters.
These collect 99% of allergens like pollen and dust mites, leaving the environment clean.
While these filters are effective, they are not real HEPA filters and cannot filter down to 0.3 microns as can HEPA grade filters. Regardless, they do an excellent job.
Winner: When it comes to filtration, there is no clear winner. Both the Roombas have the same technology for filters using identical methods for cleanup.
6. Suction Power
Here is a rundown of important highlights regarding suction power: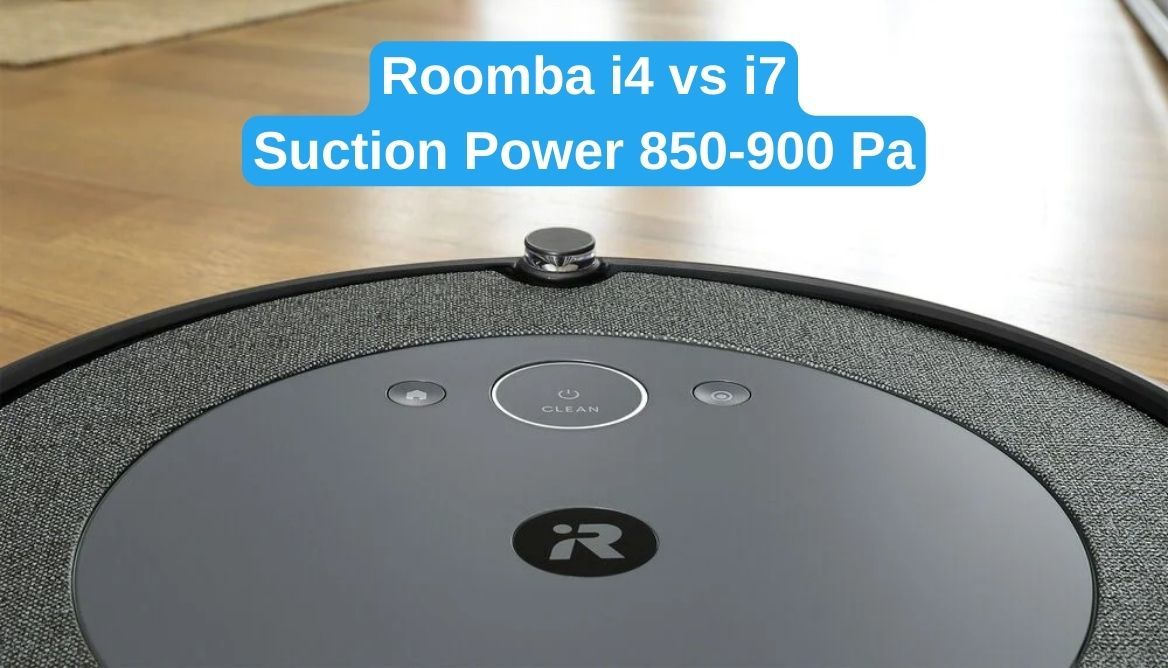 The Roomba i4 is ideal for medium suction and utilizes the same technology as the Roomba 800 series and Roomba 960.
The Roomba i7 has the same specifications in terms of suction power as it uses the identical 2nd generation motor.
Both units deliver approximately 850 – 900pa.
Winner: Both of them stand the same in this category as they employ the 2nd gen motor for dirt pickup.
7. Types of Brushes
The two-brush system is present in both vacuum cleaners.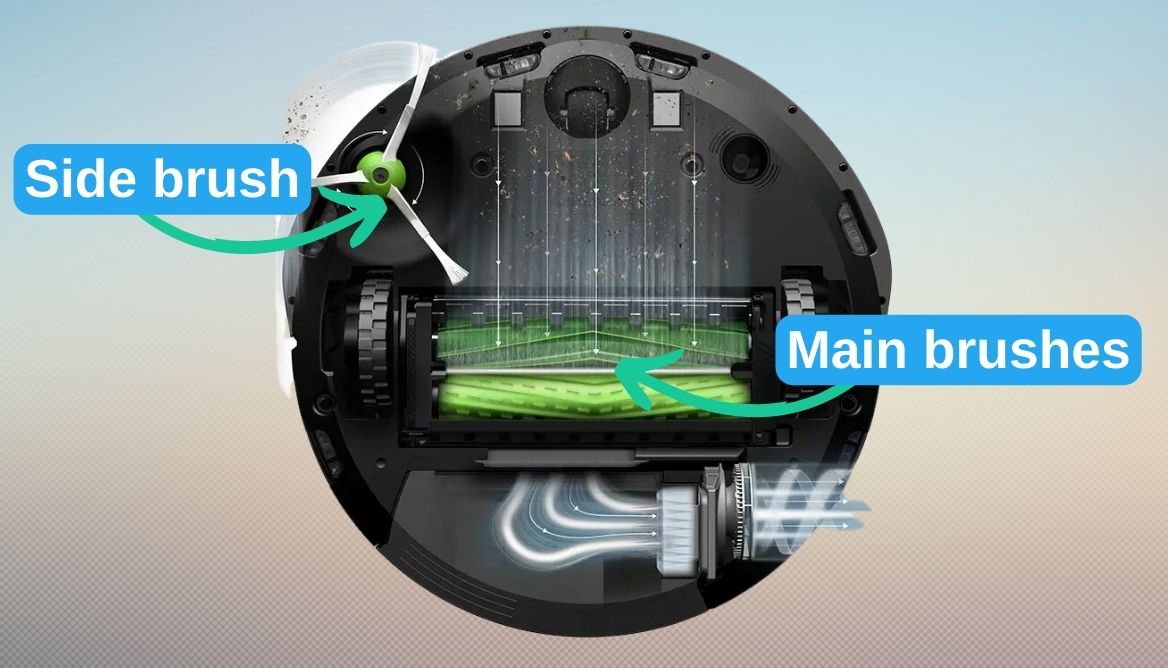 Featuring anti-tangle technology these products have an AeroForce dual multi-surface brush system. The first brush removes and stirs the dirt from the floor. The second brush helps in lifting up the dirt from the surface into the suction pipes.
I appreciate the fact that it does not tangle even while managing long dog hairs.
It is excellent at collecting all types of material, from microscopic particles to huge residues such as sand granules and sawdust.
For sweeping, a side brush is also included for cleaning the edges of walls and in-depth corners.
Winner: The units have identical technology for brushes which come equipped with an anti-tangle mechanism. Hence, this category also results in a draw.
8. Battery and Runtime
The Roomba i4 has a slightly contrasting battery to the different robot vacuums in its compatibility.
This battery has a duration of up to 100 minutes and is 20% bigger than a typical 2210mAh lithium-ion battery.
In terms of managing power, the i4 is able to dock and recharge itself whenever its battery is low.
It can restart cleaning automatically, so you won't come home to a half-empty flat because the Roomba forgot to finish the work.
The recharge time is around 3 hours.
The Roomba i7 has a much smaller and more compact 1800mAh battery that provides a run time averaging 75 minutes of operation.
The good news is that it can recharge itself too and restart cleaning without being asked.
The charging time is similarly three hours.
Winner: The i4 takes the big win by having an improved battery life and more cleaning runtime.
9. Dustbin Features
The Roomba i4 has an integrated 0.5L bin with a full bin indicator.
When the trash can is full, it has to be cleaned.
As this model is one of the earlier launches, it does not feature an automatic feature that empties the dust from the robot. This does not come with the iRobot Clean Base unit.
If you want to use the automatic functionality then you need to buy the Clean Base unit which is sold individually.
The unit may store dirt for up to 30 days.
The Roomba i7 also has an inside bin, although a smaller 0.3L bin, however, the full bin indication is still there.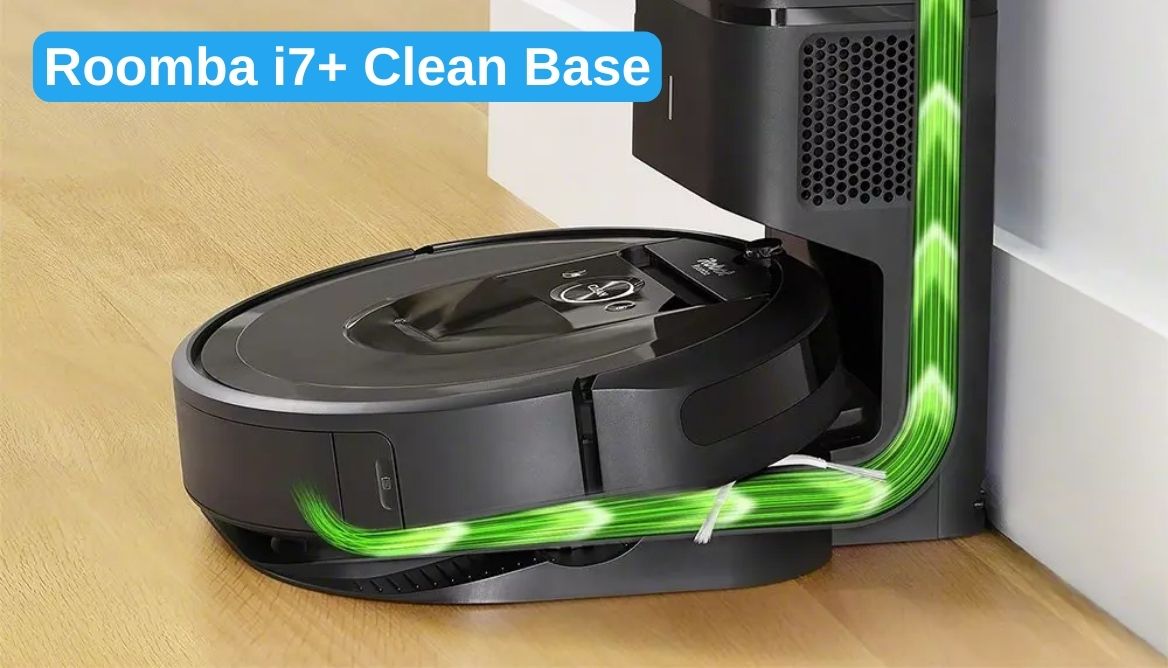 This container must be manually emptied, ideally after each cleaning area.
If you are looking for the same model that empties itself automatically, then I would suggest going for the Roomba i7+. This particular model has a disposable bag that can hold a month's worth of dirt.
Winner: The i4 stands tall here with a greater discharge capacity for dirt.
10. Smart and Automated Features
The Roomba i4 and i7 are smart Wi-Fi-capable device robot vacuums that operate on 2.4GHz.
You can link it with your phone and control it with the iRobot Home app.
You may start or stop a cleaning session via the smartphone, and you can even configure the robot to vacuum at specified times for seven days straight.
Able to sync with top voice assistants like Alexa or Google Assistance.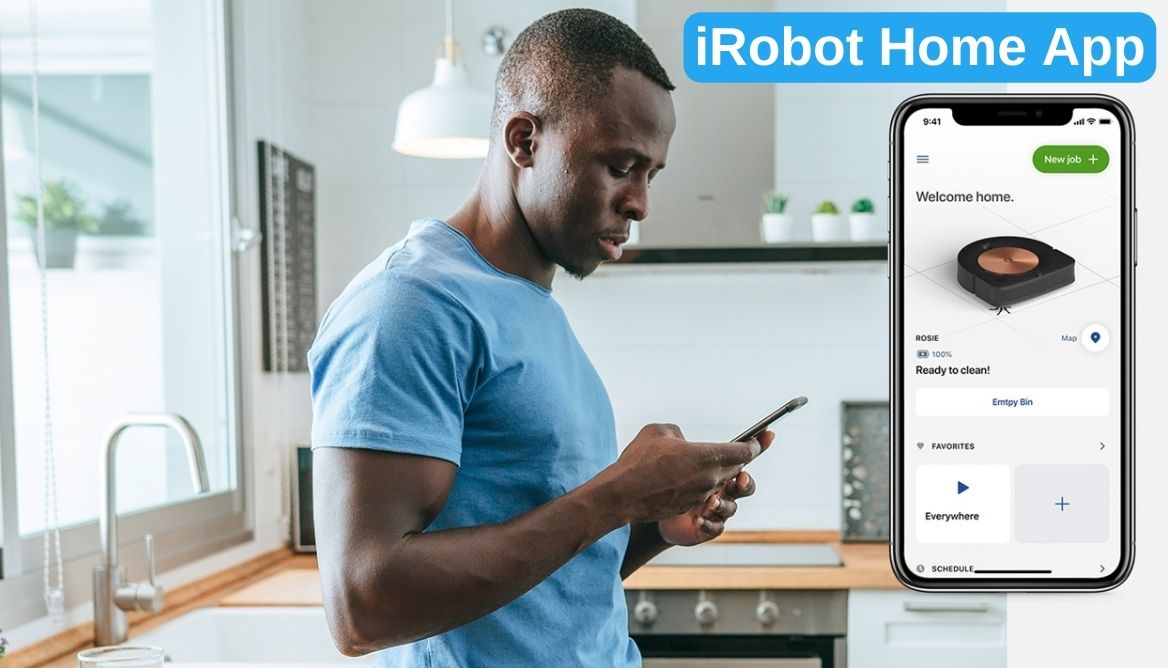 Roomba i7 is another smart robot vacuum cleaner that also supports 2.4GHz Wi-Fi.
It is compatible with the mobile app and tags.
It also provides additional functionality provided by Imprint Smart Mapping.
This feature allows it to learn your house map, tag specific places and adapt to your needs.
It is also able to create virtual walls and boundaries for keep-out zones.
Winner: Both of these are smart devices that have smartphone compatibility and a voice command option. But the i7 takes the lead as it also comes with an additional Imprint Smart Mapping system which its counterpart lacks.
For more insights, check out this helpful video on i4.
11. Design
The Roomba i4 like the previous versions, features the traditional round-shaped robot vacuum.
Regardless, it boasts a low slim design that measures 13.26 inches broad x 3.63 inches high and weighs 7.44 pounds.
The i4 features a dark blackish coat with a nice woven surface and three regulators at the top interface.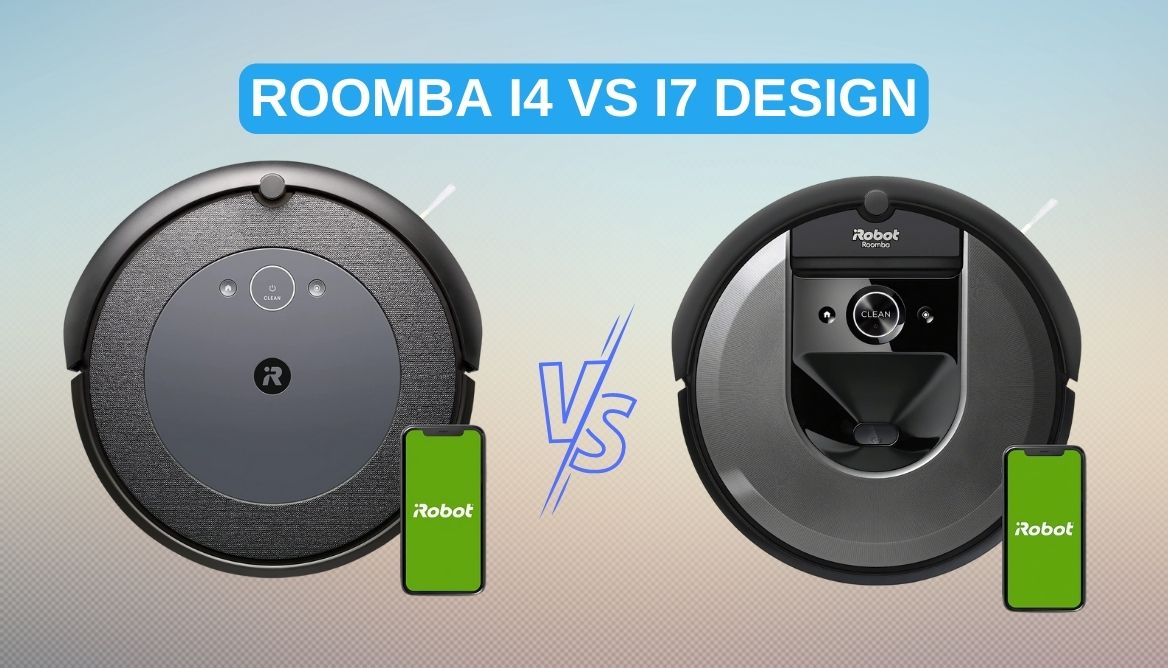 The Roomba i7 also boasts some identical points in design compared to the i4.
Comes with the same round shape and is quite sleek.
It can fit under most low-profile furniture and through narrow places.
The measurements are 13.34 inches broad x 3.63 inches tall, and the weight is 7.44 pounds.
The upper interface features three command buttons and has been coated in matte black and silver.
Winner: The design of these cleaners is the same except for the fact that the i7 has a silver finish on top of it. Therefore, I will call it a draw.
For a better understanding, check out this video on i7.
The Unboxing Experience
It is almost the same for both of these devices.
The Roomba i4 kit includes the following items:
iRobot Roomba i4 Robot Vacuum
One Extra High-Efficiency Filter
One Virtual Wall
Pair of AA batteries
One Home Base Charging Station
On the other hand, here's what i7 got:
Roomba i7 Robot Vacuum from iRobot
1 North American Line Cord
1 Home Base Charging Station
1 Exceptionally High-Efficiency Filter
1 Extra Side Brush
Warranty
Both of these units have up to 1 year of warranty for hardware.
In terms of battery life, you can avail of up to 2 years of assurance.
Any kind of misuse damage will not be covered, that includes, dropping the robot from a certain height, using it in wet conditions and extreme working temperatures.
You should register the product with the company to activate your coverage of the device.
Maintenance Guide: Easy Way to Optimize Your Roomba
If you are thinking of getting a Roomba, then you should need to know about its regular maintenance. Let's know if is it simple or hard!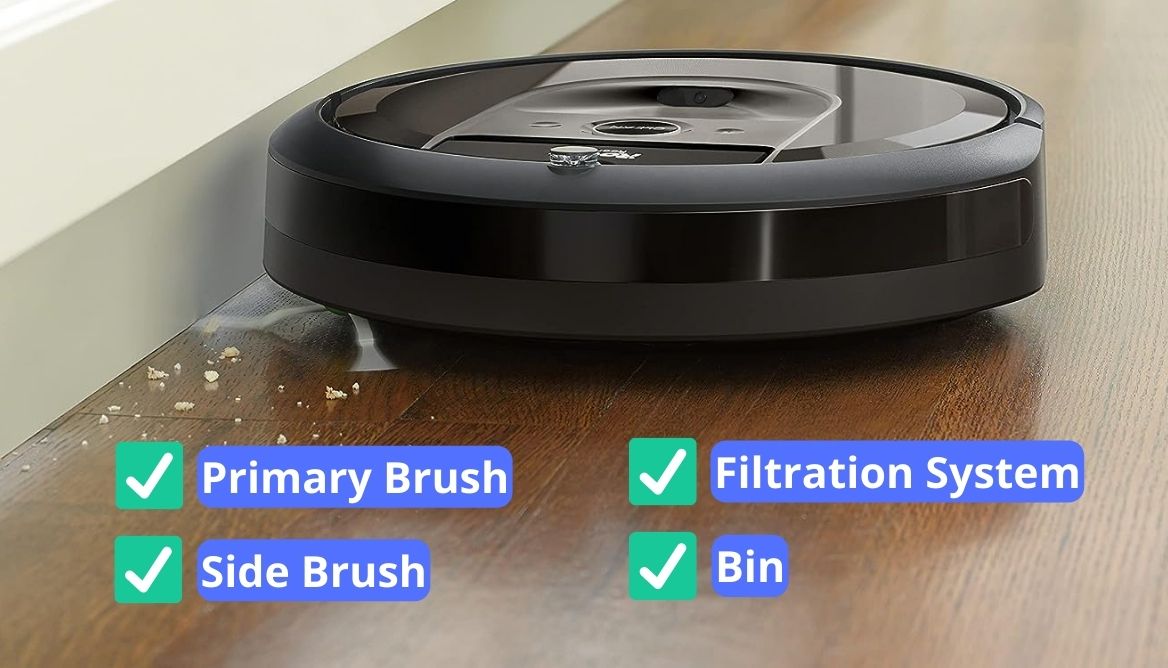 1. Primary Brush
The brush on both units should be checked on a regular basis for hair tangles and other debris. In order to do that:
You would need to lift the robot often to ensure that the primary brush roll is rotating freely.
Make sure to take out any debris and matted hairs that can prevent the brush system from working properly.
Remember to replace the brush every 8-12 months.
2. Side Brush
To maintain side brushes:
You should see if the brush is freely spinning by lifting the robot.
After 12 months, make sure to clean the brush and replace it.
3. Filtration System
Both Roombas require the same upkeep and their filters must be cleaned at least once a month.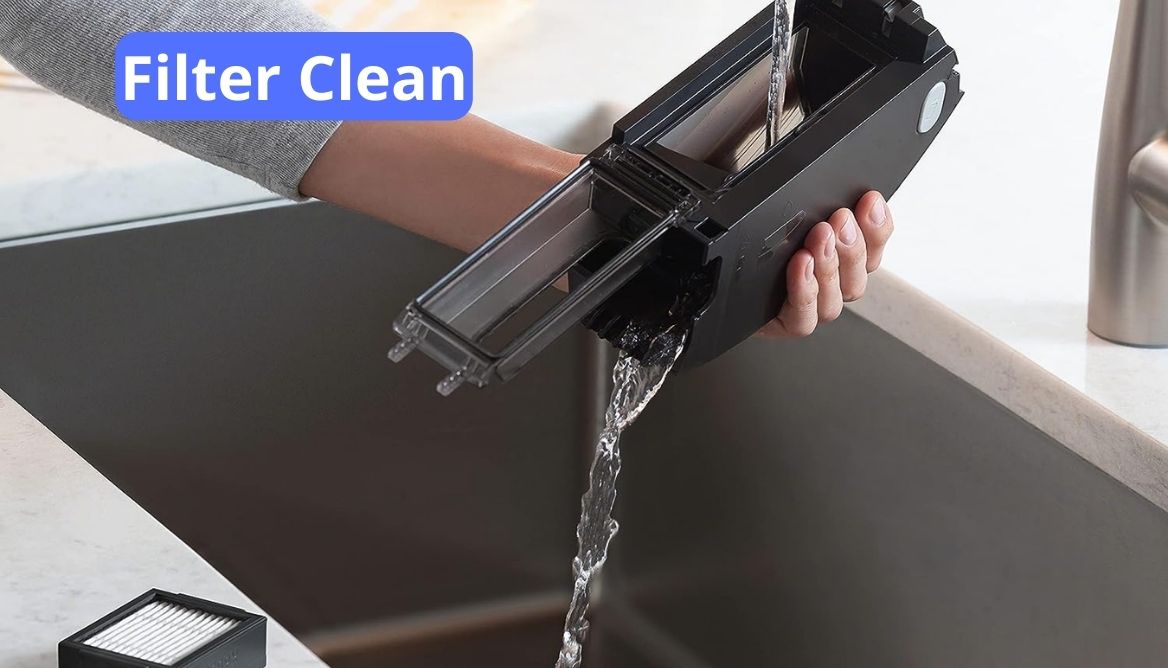 The filter chamber should be washed, rinsed, and dried before replacing it.
Filters should be replaced every 6-8 months.
4. Bin
To avoid odor buildup, you would need to dump and remove any residue after the Roomba is done cleaning.
Removal and replacement of disposable bag after 30 days if you get an i4.
Roomba i7 would also need bin emptying following each cleaning session.
The trashcan on the i7 should be removed and replaced after 30 days.
Who Should Choose the Roomba i4?
You should choose the Roomba i4 if you want: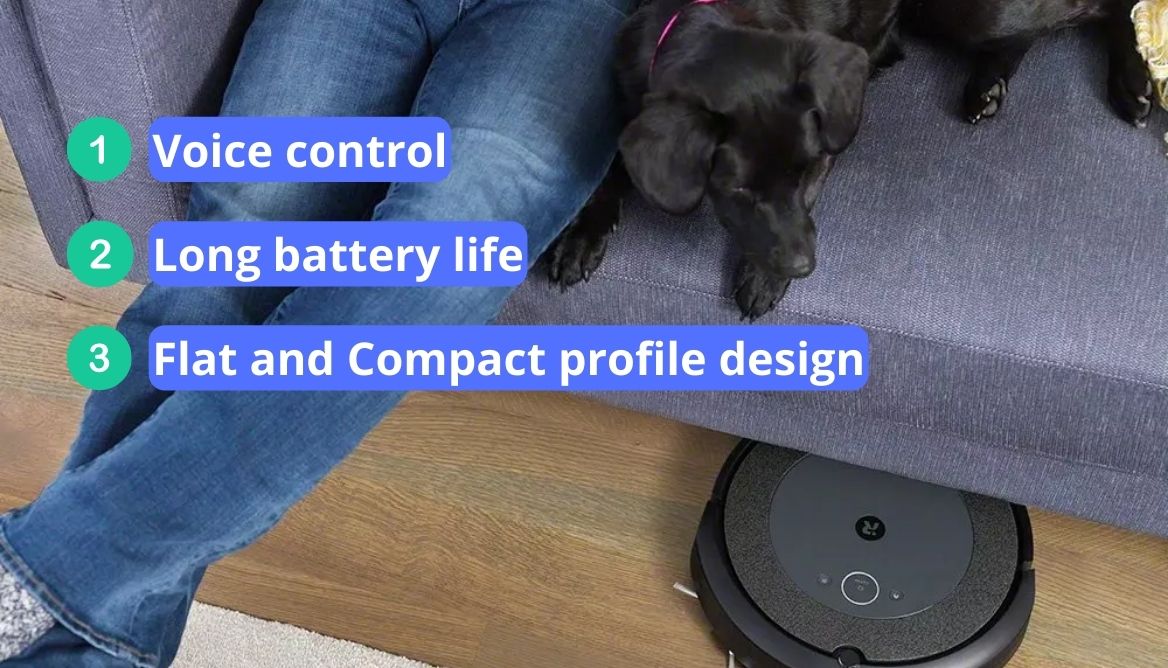 Voice control: Along with connecting to the smartphone, the i4 may be operated by voice aides, such as Google Assistant or Siri and Alexa.
Long battery life: When 2210 mAh Lion battery lets the i4 function for up to 100 minutes.
Flat and Compact profile design: The i4 is merely 3.63 inches tall, so it is able to go under any piece of furniture and reach tight and really low areas.
Who Should Choose the Roomba i7?
Here are the top reasons why you should use the Roomba i7: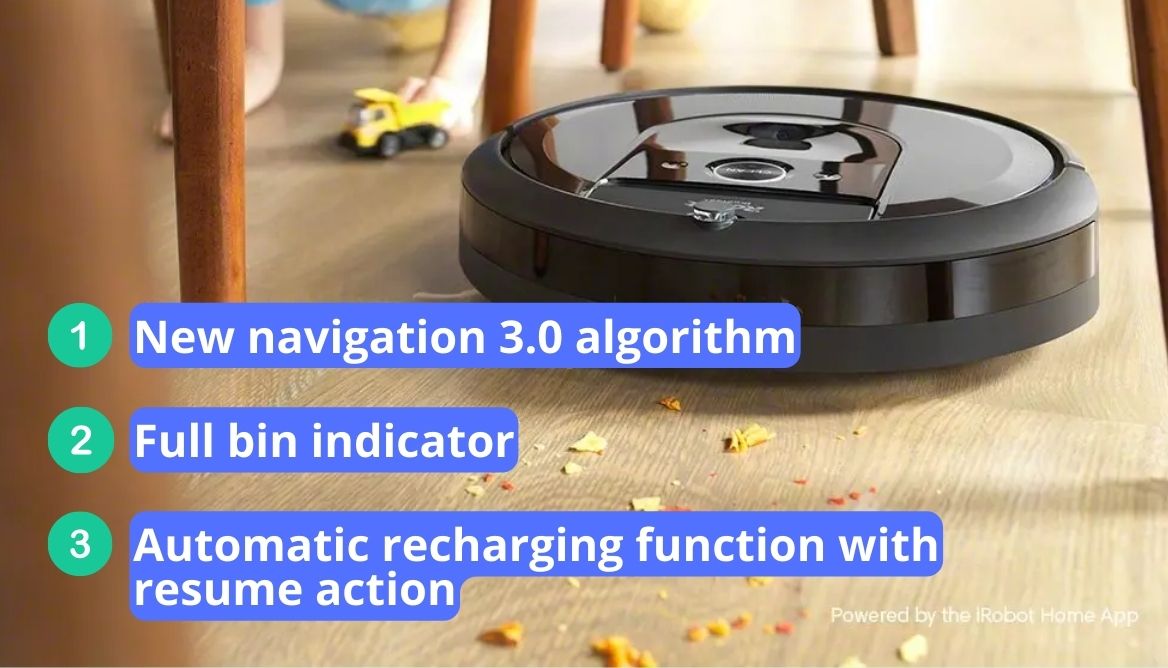 New navigation 3.0 algorithm: The i7 uses an algorithm based on VSLAM for providing real-time monitoring and the camera aids in accurately avoiding all obstacles and creating optimal cleaning patterns.
Automatic recharging function with resume action: If the root is less than 20% charged, it automatically stops for a three-hour recharge and continues cleaning where it left off.
Full bin indicator: The Roomba is able to skillfully notify the owner when the 0.3 L bin requires cleaning.
Also read about:
Roomba i3 vs j7 Robot Vacuum: 5 Impressive Differences
Roomba i3 vs i4: Which Robot Vacuum is Better and Why?
Roomba i6+ vs i7+ Robot: Check Out 3 Important Differences!
Roborock S7 vs Q7: Which One is The Best for Your Needs?
FAQs
What is the difference between Roomba 4 and 7?
The difference between Roomba 4 and 7 is that, i4 has better dirt capacity and battery life but the Roomba comes with advanced navigation and mapping systems.
Is Costco Roomba i4 the same as i3?
The Costco Roomba i4 is not the same as i3 as it comes with two extra filters and a virtual wall accessory.
Is the Roomba i7 much better than the i3?
Yes, the Roomba i7 is better than the i3 as it has more advanced features and better performance on low and high-pile carpets and clears more pet hair.
Conclusion
For choosing the perfect Roomba cleaner for your home, look at its dirt compartment capacity, navigation skills, run time, and mapping.
If you want a smart Roomba with an in-built camera, virtual navigation mapping, and can clean carpets with greater efficiency and suction then go for the Roomba i7.
Sale
Roomba i7 Robotic Vacuum Cleaner
Experience true cleaning with the most advanced and intelligent cleaner with 10x suction power with carpet boost. Equipped with iAdapt 3.0 navigation and vSLAM technology to navigate your home with precision. Advanced Dirt Detect sensors, ensure that no speck of dirt goes uncleaned to leave your floors spotless!
But if you want a model with greater run-time, it best works on bare floors and has greater dirt capacity so requires minimum discharge. Then definitely go for the i4 one.
Sale
Roomba i4 Robotic Vacuum Cleaner
10x suction power for deep cleaning. iAdapt 2.0 provides the most efficient coverage. Dirt detect sensors and Imprint Link technology for seamless coordination. Comes with extra two filters and a virtual wall accessory.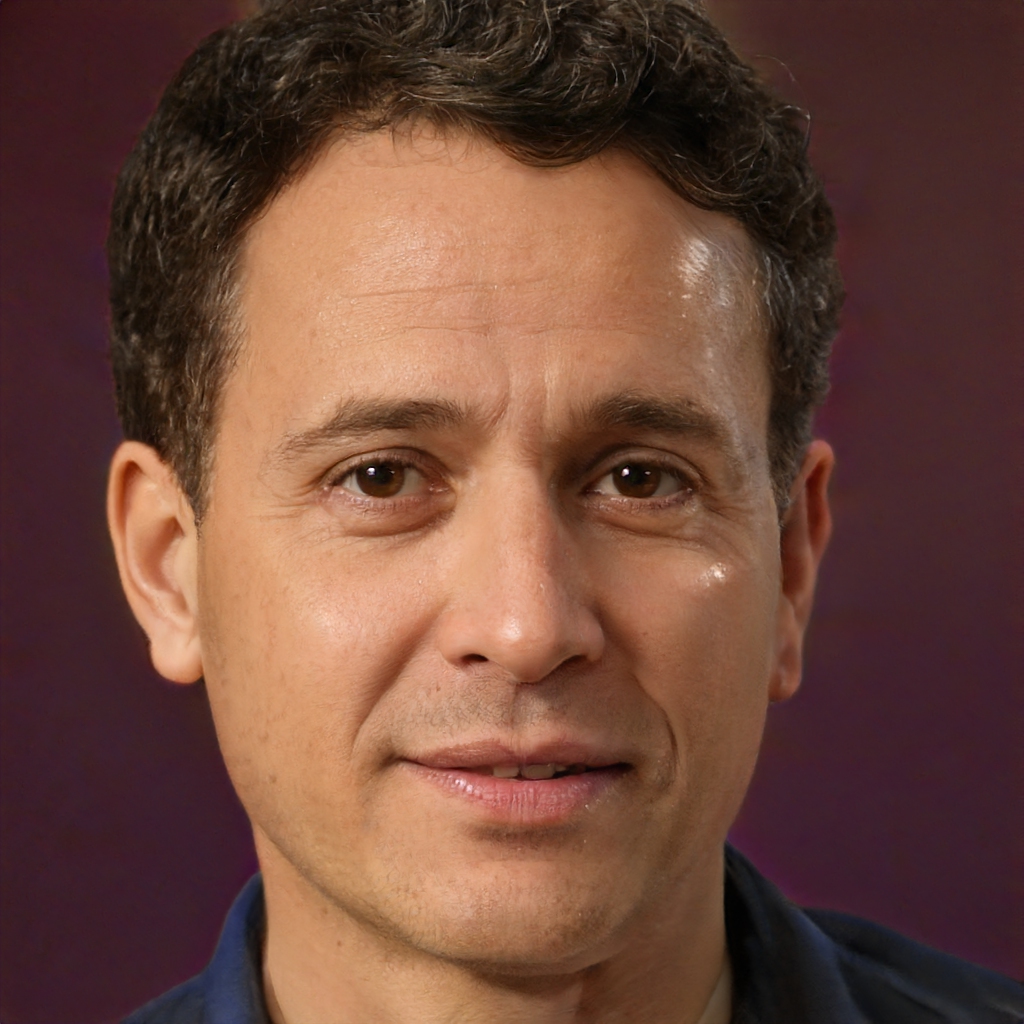 Danny is a passionate writer who loves to share his knowledge about air purifiers. He's been writing for 10 years, and he'll share all that experience with Very Well Home viewers to help you make the best decision when it's time to buy an appliance!