Trying to make the tough choice between Roborock S7 vs Q7? No need to be confused! You are at the right place. Check out this detailed guide for a comparative analysis of both models to make a well-informed decision. Let's dive into the technical details!
Quick Comparison
The Roborock S7 and Q7 are both outstanding automatic vacuum cleaners. They are famous for their performance and smart features such as:
The mapping system allows the unit to understand the layout of the room or the whole house;
Brush systems that efficiently collect the dirt without damaging the flooring surface;
Smart features offer hands-free controlling or scheduling clearing rotations remotely.
However, both models have some differences that set them apart such as:
Mopping Performance;
Suction Power;
Bin system;
Water Tank Type (e.g. electronic water tank or gravity-based water tank).
There is a lot more to understand about both models before concluding your thoughts. Continue reading to find out about the specs, parameters, advantages, and disadvantages, and uncover the mystery of which model stands victorious. Let's find out!
Detailed Comparison Chart of the Robot Vacuums
Discover the table below to know all the essential details:
| | | |
| --- | --- | --- |
| | | |
| | | |
| | 13.90 × 13.78 × 3.80 inches | |
| | | |
| | | |
| | PreciSense Precision LiDAR Navigation | PreciSense Precision LiDAR Navigation |
| | | |
| | | |
| | | |
| | | |
The Advantages and Disadvantages of the Roborock S7
Sale
Roborock S7
Listed below are the pros and cons of the device. Let's check them out!
Pros
Endurance high-capacity battery that offers reliable performance.
Easily maneuvers around obstacles.
The surface detection system helps in identifying different materials.
Cons
Not ideal for a pet hair on the carpets.
The Advantages and Disadvantages of the Roborock Q7
Roborock Q7
Let us shed some light on the pros and cons of Q7 that makes it different from other automated vacuums.
Pros
Efficiently collects debris and dirt from surfaces (hard floors, laminate, etc).
The mopping features are exceptional.
The Roborock Q7 is a feature-packed cleaning device.
Cons
It is a pricey investment.
Differentiating between the Roborock S7 and Q7 Robot Vacuums!
Here are some major differences between both models. Let's have a look!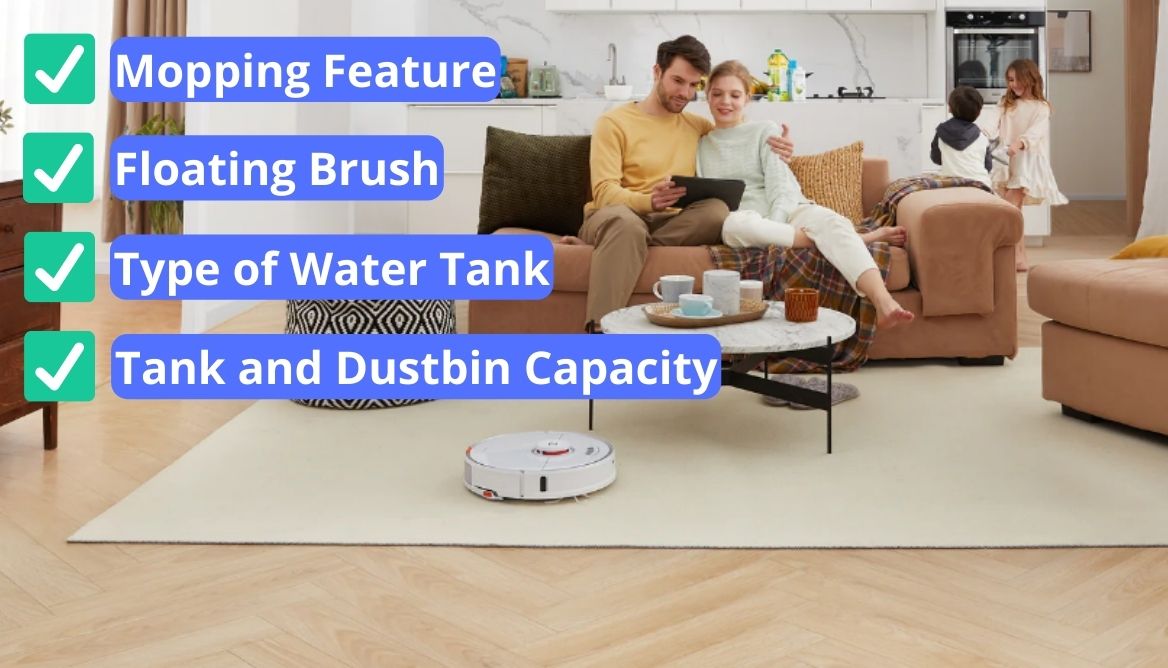 Mopping Feature: The S7 Robot Vacuum has a sonic mop (mopping pad) that vibrates for a deeper clean. While the Q7 has a standard mop without vibration making the S7 more effective in mopping.
Floating Brush: The S7's mop automatically lifts on the carpet preventing water stains. The Q7 on the other hand cannot do this! This makes the S7 more suitable for homes with carpets.
Type of Water Tank: The S7 has an electronic water tank with precise control. The Q7 has a gravity-based water tank with basic control. This gives the S7 an advantage in handling different floor types and messes.
Tank and Dustbin Capacity: The S7 Robot Vacuum has a larger water tank but a smaller dustbin. This makes it ideal for hard (hard floors) or mixed surfaces (hardwood and laminate). The Q7 has a larger dustbin but a smaller water tank suited for predominantly carpeted areas with occasional light mopping needs.
Roborock S7 and Q7: Similarities Between Both Models!
Here are some similar traits of both models that you should know!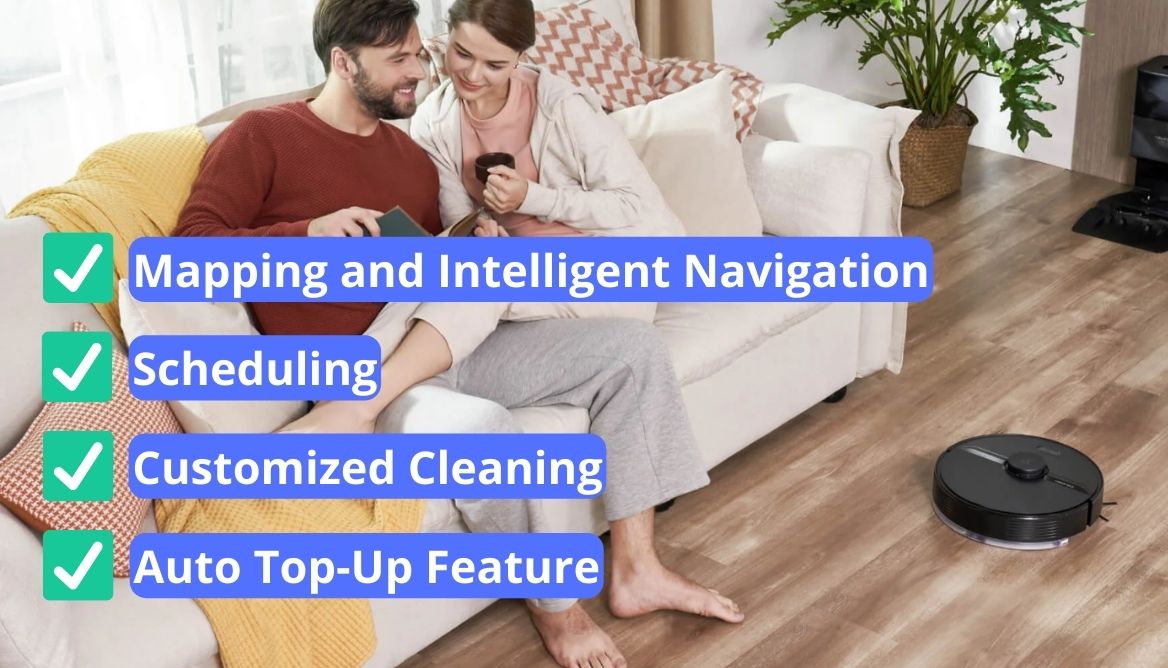 Mapping and Intelligent Navigation: Both the Q7 and S7 Robot Vacuums use LIDAR for precise mapping and smart navigation, ensuring they efficiently clean your home while performing obstacle avoidance.
Scheduling: Both vacuums offer multiple containment options, such as invisible walls, and No-Go zones, and the S7 even has no-mop zones, giving you control over where the robots can and cannot go.
Customized Cleaning: Both the S7 and Q7 allow you to customize your cleaning by dividing your house into rooms and selecting which rooms to clean, providing flexibility in your cleaning routine.
Auto Top-Up Feature: One advantage both vacuums have is the "auto top-up" feature, enabling them to return to the charging dock (auto empty dock) when low on battery, recharge, and resume cleaning, ensuring they clean your entire home without battery-related interruptions.
Check out this video to learn more!
In-Depth Comparative Analysis by the 13 Parameters
The Roborock S7 and Q7 Robot Vacuum are excellent automatic vacuum cleaners. Let's see how these both devices stand in 13 different parameters which are:
Cleaning Orientation
Navigation
Mapping
Mopping Performance
Filtration System
Suction Power
Brush System
Battery and Runtime
Bin System
Smart Features
Design
What`s in the Box
Maintenance
Let's dive in and learn more about them for better understanding:
1. Cleaning Methods and Features
First, let's talk about the cleaning orientation of both vacuums. The Roborock S7 and Q7 Robot Vacuums have the following features:
They both have a 2 in 1 cleaning mechanism meaning that they can mop and vacuum the dirt or remove stains.
Cleaning carpets is not an issue for both of them.
If we talk about surfaces then they are suitable for cleaning almost all variations of flooring such as hardwood floors, tile, ceramic, marble, vinyl, laminate, etc.
If you have pets at home then it can clean the litter, remove hair, and eliminate urine odor from surfaces with ease.
Winner: Both the S7 and Q7 have equal standing as they have similar cleaning features!
2. Navigation Systems of the Robot Vacuum Cleaner
The ability to navigate around obstacles and map out the room is one of the major features that an automatic vacuum cleaner has built-in. While, there are various navigation systems, the most advanced systems make it possible for the units to efficiently work. Let's learn more:
The S7 and Q7 both are intelligent vacuum cleaners.
They are equipped with a SLAM-based navigation system (PreciSense Precision LiDAR Navigation)
Both units lack a real-time camera.
Sensors are present in both of them that prevent them from falling off stairs or high places.
They are ideal for rooms that have average traffic but a high-traffic area can be a bit challenging for both the devices.
A retractable bumper helps to prevent damage caused by impacts or head-on collision shocks into obstacles.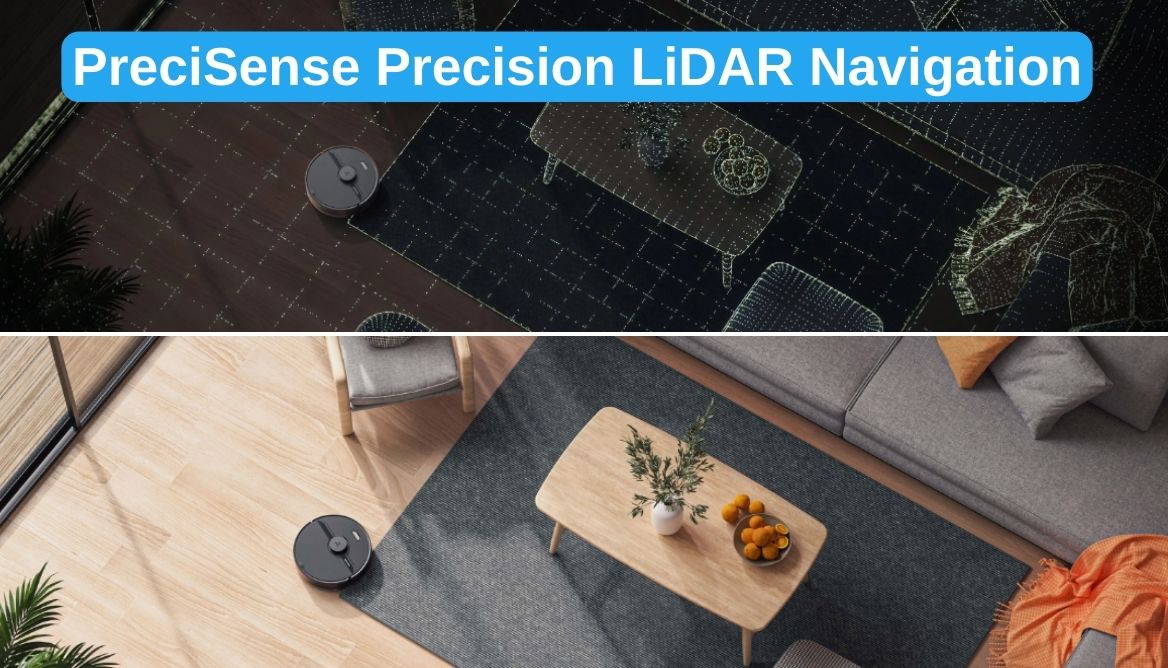 Now let's have a look at the features that give both models an edge over each other. Let's get started:
The Roborock Q7 has an average climbing threshold via the two ScratchSafe wheels. While the S7 can travel on surfaces without leaving any visible marks.
The Q7 is not suitable for all types of floors while the S7 Robot Vacuum is ideal even for fragile floors which can get scratched easily.
Winner: The S7 Robot Vacuum wins as it competes in all features with the Q7 and excels in floor compatibility and handling.
3. Mapping and Terrain Analysis Systems
An automatic vacuum cleaner has mapping systems that help it to set its routes, enhance its work efficiency and ensure that the unit can maneuver obstacles every time. The Roborock Q7 and S7 have impressive mapping features. Let's find out more:
They both have Smart mapping technology based on PreciSense Precision LiDAR Navigation built-in.
The S7 and Q7 are both equipped with a 32-bit Quadcore processor for creating hyper-accurate maps of the home.
Both units can save up to 4 maps for multi-floor homes.
The devices can plan a systematic cleaning pattern for comprehensive floor coverage.
With the advanced features, they have the capability for boundary marking with Invisible Walls and No Go Zones.
The S7 and Q7 can analyze the cleaning routes feature to track the progress.
You can set a custom cleaning schedule (cleaning session) for personalized routines in both units.
The Roborock S7 and Q7 both may seem equally matched but the Q7 has the upper hand here. A unique feature helps it take the lead. The Q7 features 3D Mapping for creating 3-dimensional maps of the home. This helps in enhancing and also understanding the furnishings/fittings.
Winner: The Q7 wins this battle with the advantage of 3D mapping!
4. Mopping Pad Performance
The Roborock S7 and Q7 both can perform mopping and vacuuming. There is a vast difference in the features that makes one better than the other. To find out which one is the best. Here is a table that provides a detailed comparison of the features!
| | |
| --- | --- |
| Roborock Q7 Exclusive Features | Roborock S7 Exclusive Features |
| Gravity-fed water tank with a 180ml capacity | Electronic water tank with a 300ml capacity for precise water dispensation |
| Suitable for mopping an average of 1615 sq ft | Capable of covering more than 3200 sq ft |
| Water dispensation is not precise | Sonic Mopping Technology with Sonic Vibration (vibrating mopping pad) for effective scrubbing (3,000 times per minute) |
| Lacks advanced mopping features like Sonic Mopping Technology | Intelligent enough not to wet carpets, thanks to UltraSonic Carpet Sensing Technology |
| Prone to wetting carpets as it lacks Ultrasonic Carpet Sensing and VibraRise | VibraRise raises the mopping head when carpets are detected to prevent wetting |
Note: The large water tank allows the S7 to have an unmatched advantage!
Winner: The Roborock S7 Robot Vacuum cleaner wins this category with flying colors with its area coverage, large water tank capacity, and mopping technology!
5. Filtration System Equipped in the Units
Filtration is one of the main features that help to remove unwanted particles from surfaces. Both the Roborock Q7 and S7 are fitted with a washable E11-rated filter. This filter helps in capturing allergens, dust, pet-related allergens, tiny particles, pollens, and microbes that can cause bad odor. Let's find out more about the filters in both units:
The Roborock Q7 Filter
It can filter down to 0.6 microns which is a standard for most Roborock units. The efficiency against pollen is 99.7%.
The filters are washable and ensure that you cut down the cost of maintenance.
The Roborock S7 Filter
The filter can capture up to 95% of allergens.
It can filter down to 0.6 microns just like the Q7 filter.
You can easily wash the filter which contributes to a much less maintenance cost.
Winner: Both devices feature an E11 filter, so this category results in a draw!
6. Suction Power for Unmatched Cleaning of Surfaces
Suction power enables an automatic vacuum to remove persistent dirt and debris clinging to carpets or surfaces. The more power the more easier it is to get rid of unwanted particles. Both the Roborock Q7 and S7 have powerful next-generation variable speed motors that feature four suction modes and they are:
Quiet Mode: This mode is ideal for light vacuuming.
Balanced Mode: If your cleaning requirements are normal then this is the best pick.
Turbo Mode: For dealing with large messes, stains, or patches of dirt this is the best option.
Max Mode: For tough dirt marks on surfaces or carpets this mode is an excellent choice.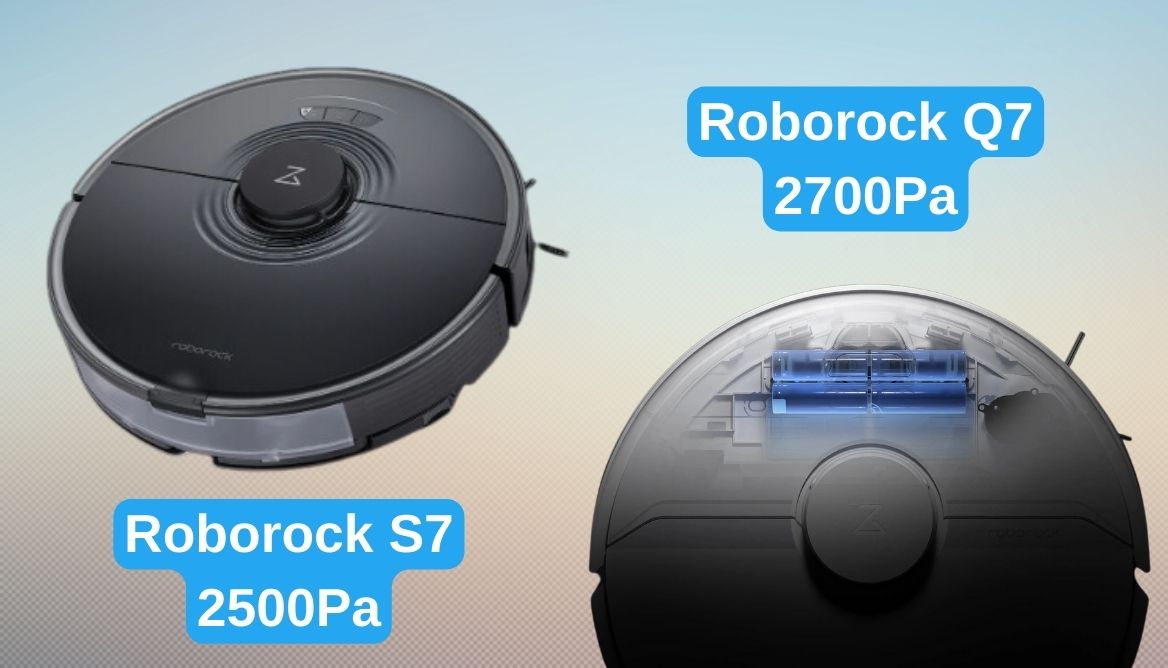 Additionally, if your home has carpets in rooms then both of these models are superb choices. The carpet boost feature detects the fabric of the carpet and boosts the suction as required. Although the two models have similarities they have a major difference in power. The Q7 offers users 2700Pa while the S7 delivers a maximum suction of 2500Pa.
Winner: The Q7 wins this competition as it can remove dirt from various surfaces with its powerful suction!
7. Brush System in the Q7 and S7 Roborock Vacuums
Brush systems allow vacuums to efficiently pick up dirt, hair, pet-related particulates, and similar unwanted grains on surfaces. There are different types of brushes in vacuum models so let us shed some light on the Q7 and S7 to get a better understanding.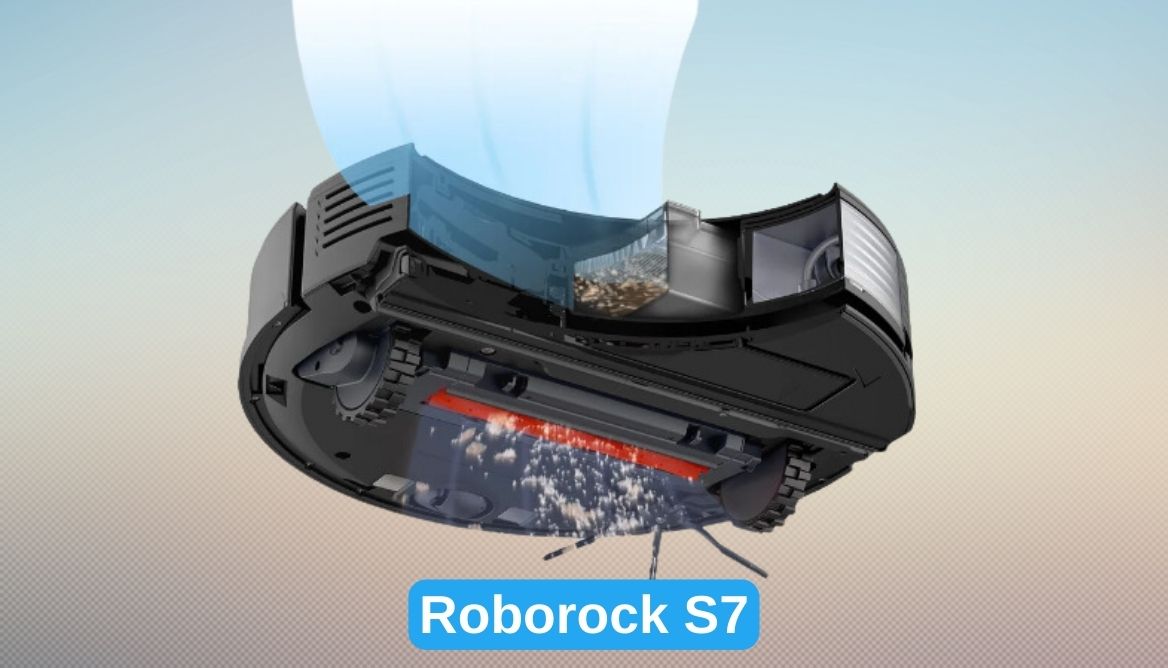 The Roborock Q7 and S7 are designed with a brush system that efficiently picks up dirt and agitation.
They both feature a Roborock Roller Brush 3.0 which has rubber fins instead of bristles like a traditional brush design.
A sweeping side brush is equipped in the two models to remove dirt from corners effectively and direct it to the main brush.
The primary brush in both units is self-adjusting. It offers optimal contact with the surface for efficient cleaning.
A ScratchSafe brush is fitted in both models to ensure delicate surfaces are scratch-free.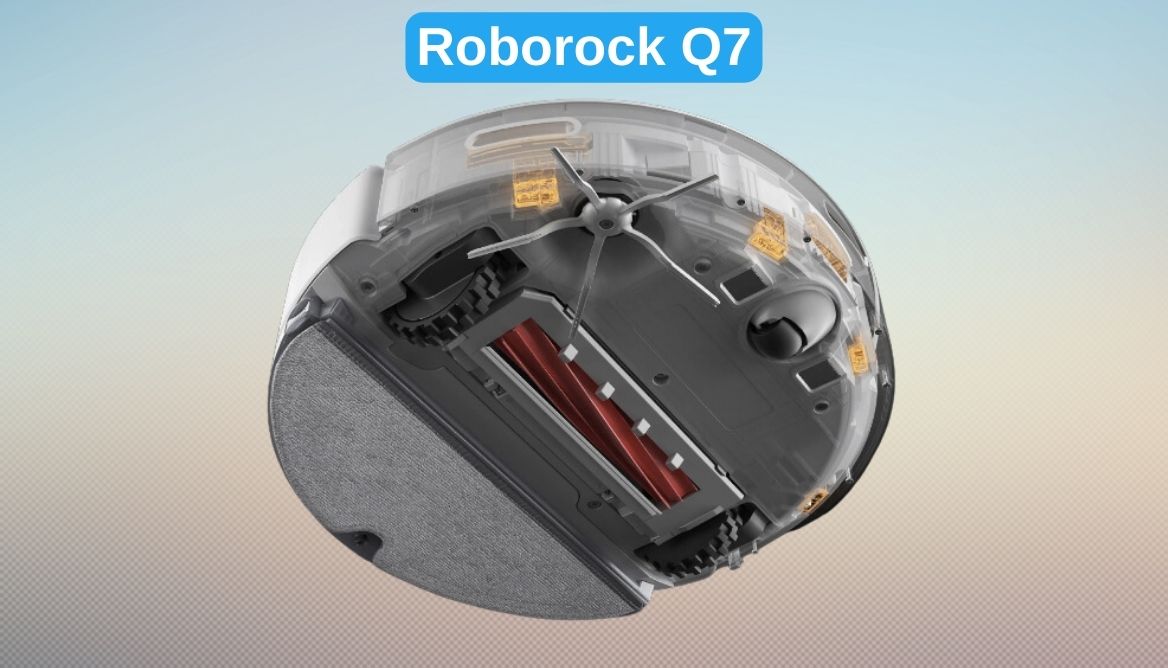 Winner: This is a draw as both models have similar features ensuring effective cleaning of surfaces!
8. Battery Capacity and Total Runtime of Roborock Vacuums
Battery time plays an essential in the cleaning cycles and frequencies of the automatic vacuum. If we talk about the Roborock S7 and Q7 then they have quite similar battery features. Let's have a look at these:
Both the Roborock S7 and Q7 are powered by a high-capacity Lithium-Ion 5200 mAh capacity battery.
If you are using the units in "Quiet Mode" then you get a 180 minutes runtime for each.
Using higher power modes will reduce the battery time.
The S7 and Q7 both have automatic recharging and resuming cleaning features.
Top Up Charging is a feature in both units that allows the vacuum to resume cleaning even if the battery is not fully charged. For example, resume working at 80% charging instead of 100%.
Winner: This category also results in a draw as the battery runtime and features are the same for both models.
9. Bin System for Collection of Dirt, Debris, and Pet Hair
The Bin System is an innovative feature that helps the vacuum in holding collected trash for some time. All the dirt, dander, liquid spills, and similar mess is successfully collected into the bin of the device. The Roborock S7 and Q7, both feature a washable onboard bin that gathers dirt and debris.
They have been programmed with automatic self-emptying technology. Let's have a closer look at the bin system features these models have:
The Roborock S7 has a 0.47L washable onboard bin while the Q7 has the same type but with a larger capacity of 0.75L.
The larger capacity bin of the Q7 helps it hold dirt for a couple of days while the S7 needs to empty the bin frequently.
Note: The Roborock Auto Empty Dock is not included with these models on purchase.
Winner: The Q7 wins with its large capacity bin in comparison to the S7. This also saves you time to wash the bin!
10. Smart Features of the Roborock Vacuums
Some additional smart features make both units interesting choices for your home or workplace.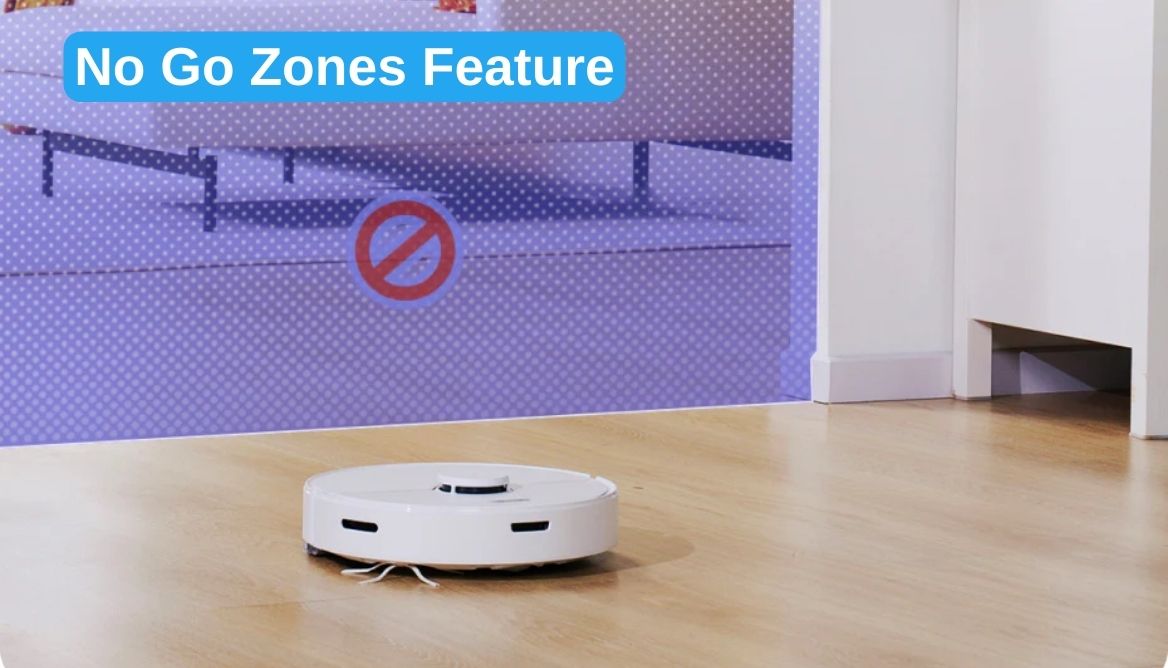 The Roborock S7 and Q7 are powered by 2.4GHz Wi-Fi.
They can be voice commanded via Alexa, Google Assistant, and Siri.
You could install the Roborock Home app to control the unit. The Roborock app allows you to adjust cleaning functions, adjust suction levels, set schedules, set "No Go Zones", and Invisible Walls, and view cleaning reports.
Winner: This is a draw as both the models have the same smart features!
Find more information in this video review.
11. Design and Button Layout
Both models have a sleek and trendy design that matches well with any room setting. The Roborock Q7 and S7 share a low-profile design making them easily navigate under furniture and go through tight spaces. These units have a round-shaped design and they are available in two distinct colors (black or white).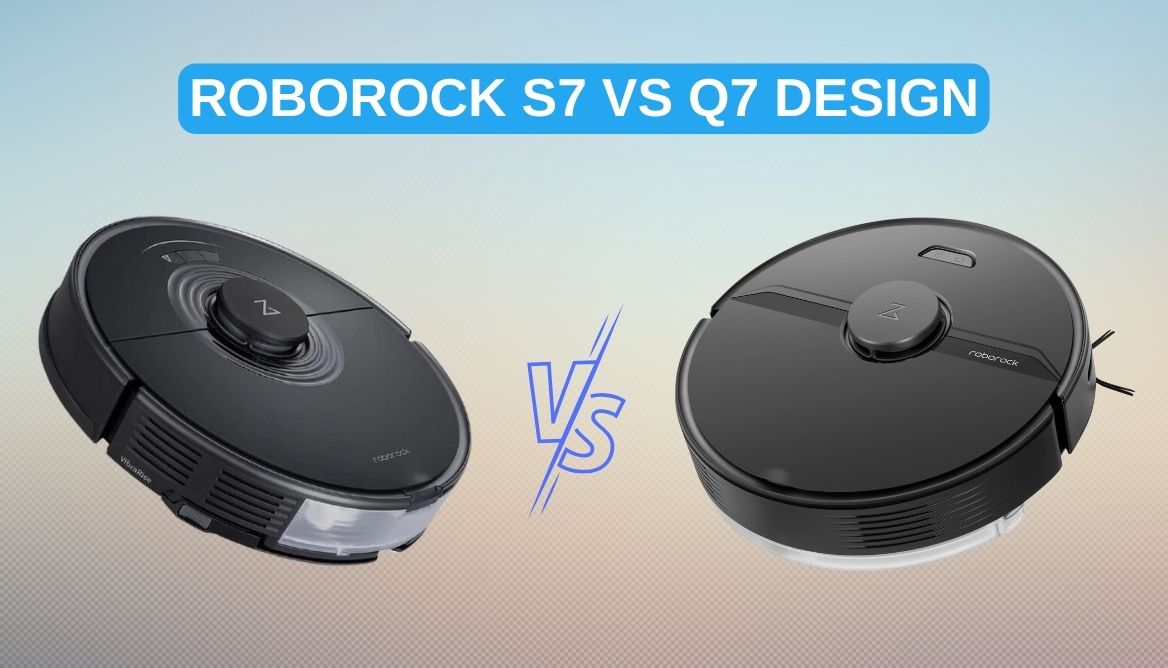 There are some differences in the dimensions and look of the models. Let's analyze more closely:
The Q7 weighs 7.05 lbs and measures 13.90 × 13.78 × 3.80 inches while the S7 has a total weight of 10.44 lbs and the dimensions are 13.9 x 13.8 x 3.8 inches.
Both have a raised turret but the button configuration is a little different.
The Q7 features two buttons on top namely the power and home button with the Roborock logo. On the other hand, the S7 has a three-button layout with the Home, Power, and Child Lock button.
Winner: The Q7 is lighter than the S7 and stands tall in this category.
For more info check out this video!
12. Contents of the Box
If you purchase the Roborock Q7 then you get the following items in the box:
Roborock Q7 Robot Vacuum Cleaner
Auto Empty Dock Station
Power Cable
Screwdriver
User Manual
And if you buy the Roborock S7 then you will also have the same experience as the Q7 including:
Roborock S7 Robot Vacuum Cleaner
Auto Empty Dock Station
Power Cable
Screwdriver
User Manual
13. Maintenance of the Roborock Vacuum
If you want your vacuum unit to last longer then frequent maintenance is the best way to achieve this. You can easily identify any problems in this way. Let's review the maintenance requirement of both models: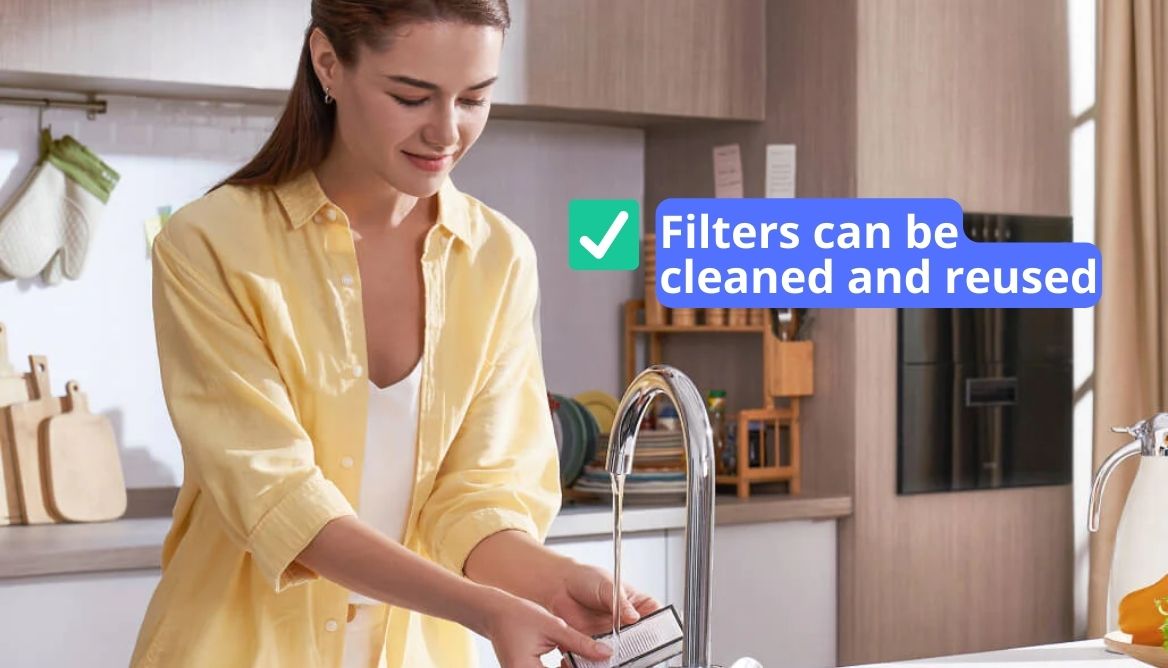 Brushes can wear out after constant use and then they need to be replaced. Both the Roborock Q7 and S7 need a brush replacement after 6-8 months.
Filters trap particles and after cleaning they can be reused but after some time they too wear out. The Roborock Q7 needs a replacement after 3-4 months while the S7 requires a swap after 2-3 months.
The bin of both models needs to be cleaned manually since the Automatic cleaning dock is not part of the standard equipment included.
Mopping components such as the mopping pad can be reused after washing. But, for both models, it is ideal to change them after 1-2 months.
To avoid marks on delicate surfaces or marks on the flooring you need to clean and inspect the wheels regularly. Check the wheels regularly for both models.
The Q7 has a few sensors that can be wiped with a damp cloth to remove the dust settled on them. While for the S7, you need to check the various sensors such as:

LDS (Laser Distance Sensor)
Gyroscope and Accelerometer
Cliff sensors, Optical Sensors
Bumper Sensors
Mopping Sensors
Winner: The Q7 wins as its filters last longer and it does not have very high maintenance demands.
Top 3 Notable Qualities for Selecting the Roborock S7
Several features make the S7 stand out among the rest of the automatic vacuum cleaners in the market. But, let us focus on the top 3 reasons that are mentioned below: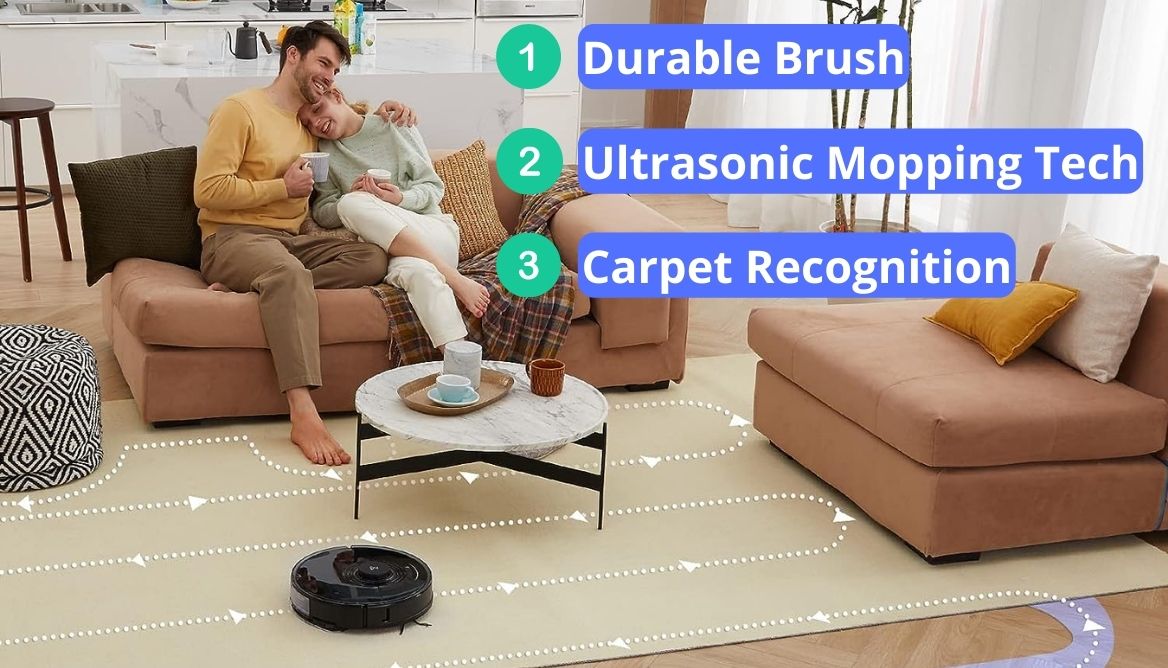 Durable Brush: Have you ever seen hair tangled in the cleaning brush of a vacuum cleaner? The finned all-rubber brush of the S7 doesn't let that happen. It is also extremely durable.
Ultrasonic Mopping Tech: This technology cleans the surface with a 3000 times/min cycle and a 300ml water tank. It ensures that the surface is thoroughly cleaned and spotless.
Carpet Recognition: The S7 has an intelligent carpet recognition feature that allows it to identify different carpets and heights. This signals the device to lift the mopping pad and clean the carpet via its powerful cleaning features.
Top 3 Notable Qualities for Selecting the Roborock Q7
Here are the three main reasons to opt for a Q7: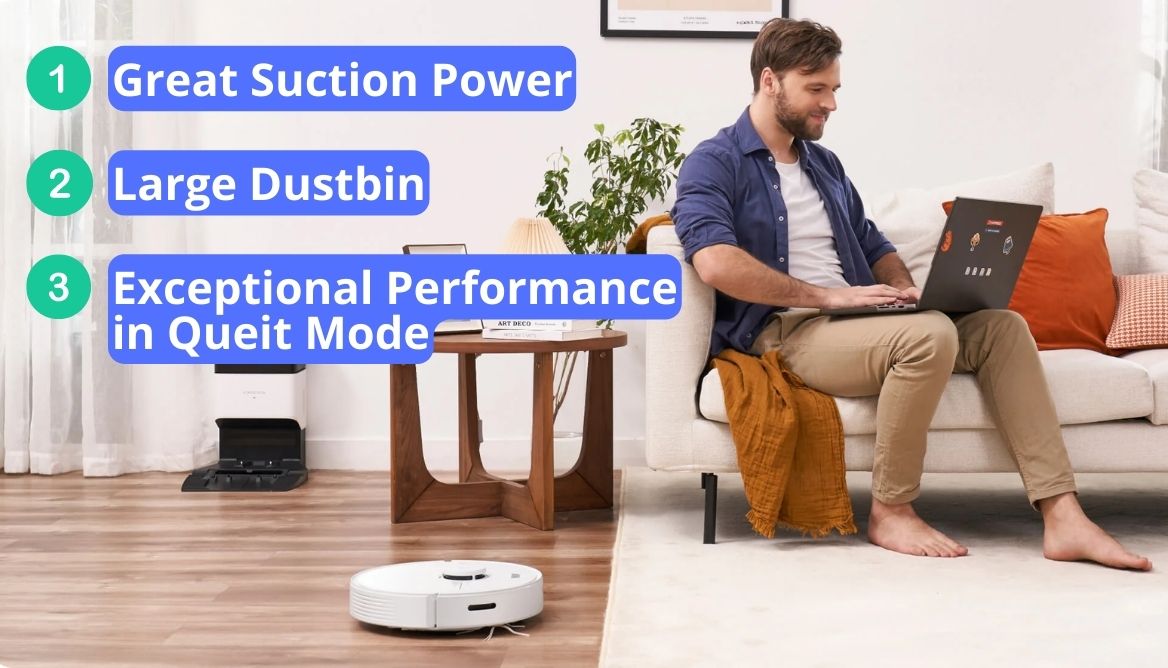 Great Suction Power: High-powered suction of 2700Pa featuring automatic boost loosens the dirt and debris from the carpet effortlessly.
Large Dustbin: The exceptionally large dustbin compartment of 0.75L allows ample space to store picked-up debris. This compartment is built-in, washable, and the vacuum cleaner automatically empties it into the Auto Empty Dock.
Exceptional Performance in Queit Mode: The Q7 delivers 180 minutes of uninterrupted cleaning capabilities in Quiet Mode.
Also read about:
Roomba i4 vs i7: Which One is the Best Vacuum Cleaner
Roomba i3 vs j7 Robot Vacuum: 5 Impressive Differences
Roomba i3 vs i4: Which Robot Vacuum is Better and Why?
Roomba i6+ vs i7+ Robot: Check Out 3 Important Differences!
FAQ
What is the difference between Roborock S7 and Q7?
The basic difference between the Roborock S7 and Q7 is the filtration and mopping features. S7 scores greater in performance while Q7 is a little more affordable.
What is the difference between Roborock S7 and Q7 Max?
The notable differences between the Roborock S7 and Q7 Max are the following: The Q7 Max offers higher-suction power, has 3D Mapping, and holds a larger tank/bin capacity. While, the S7 has almost half the suction power, no 3D mapping, and a smaller tank/bin space.
What is the difference between Roborock S7 MaxV and Ultra?
The difference between Roborock S7 MaxV and Ultra is that the Ultra version is thinner, has a larger dustbin for collection, and is narrower so it passes under objects.
Does Roborock S7 have multi-level mapping?
The Roborock S7 has a multi-level mapping feature built into it. You can easily create various maps for a multi-level house accurately or even the workplace by enabling this feature in the settings.
Conclusion
The Roborock S7 vs Q7 comes to an end. Both compete pretty well with their impressive features. If you prioritize advanced mopping capabilities and higher filtration, the S7 might be the preferred choice.
Sale
Roborock S7
The Roborock S7 is an innovative robot vacuum that integrates intelligent features into a modern and stylish design. Equipped with advanced mopping capabilities and powerful suction, it efficiently cleans various surfaces, making it an ideal choice for maintaining a pristine home. Its smart mapping and obstacle detection technology ensures thorough and convenient cleaning.
However, if you're on a budget and seeking a reliable option, the Q7 remains a solid investment with its larger bin and advanced 3D mapping option.
Roborock Q7
The Roborock Q7 is a reliable robot vacuum designed to keep your home tidy effortlessly. With its efficient cleaning modes and intelligent navigation system, it tackles dust and dirt on different surfaces effectively. Though lacking some premium features of the S7, the Q7 provides great value for those seeking a cost-effective and dependable cleaning solution.
Ultimately, your decision should consider factors such as specific cleaning needs, preferences, and budget constraints.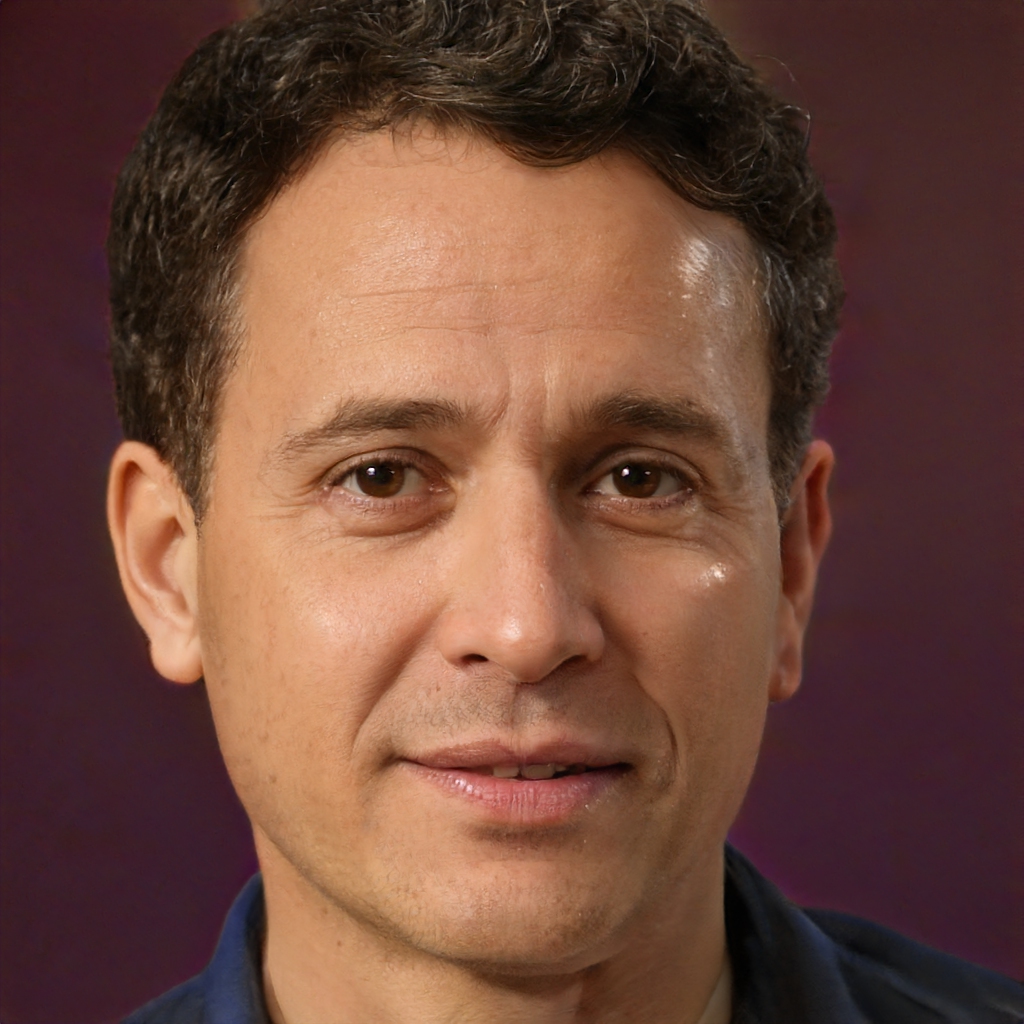 Danny is a passionate writer who loves to share his knowledge about air purifiers. He's been writing for 10 years, and he'll share all that experience with Very Well Home viewers to help you make the best decision when it's time to buy an appliance!