IRobot Roomba has some excellent entry-level vacuums, and Roomba i3 and i4 are two of the best among them. But which one is better, i3 or i4?
Well, we have come up with a Roomba i3 vs i4 comparison here to decide that. So, let's dive into the ins and outs of these two robot vacuums.
A Quick Comparison of Roomba i3 and Roomba i4
Both robot vacuums are seemingly identical, and many features are exact copies. However, there are some noteworthy differences.
Roomba i4 has a larger battery backup and can clean for up to 100 minutes. Roomba i3 comes with a dual-brushing feature, suitable for pet owners.
But there are more. Continue reading, and you will know which one the ultimate winner is.
Roomba i3 vs i4 Robot Vacuums: A Comparison Chart
| | | |
| --- | --- | --- |
| | | |
| | | |
| | 13.34"L x 13.26"W x 3.63"H | 13.97"L x 41.91"W x 45.72"H |
| | | |
| | | |
| | | |
| | | |
| | | |
| | | |
| | | |
| | | |
| | | |
| | | |
| | | |
| | | |
| | | |
| | | |
| | | |
The Main Difference Between Roomba i3 vs i4
The appearance of these two vacuums are same, and the main difference lies in the package accessories. Let's have a quick glance at the main differences:
Roomba i3 comes with one extra filter, while Roomba i4 comes with two spare filters.
Roomba i3 EVO has no Virtual Wall, but the i4 robot has one.
Roomba i4 gives 20% extra battery runtime than Roomba i3.
As we can see there are some minor differences as well. Now let's look at the main similarities between these vacuum cleaners.
Similarities Between Roomba i3 vs i4
You might wonder to see the similarity list is long. Yup, both i3 and i4 have similar features and advantages.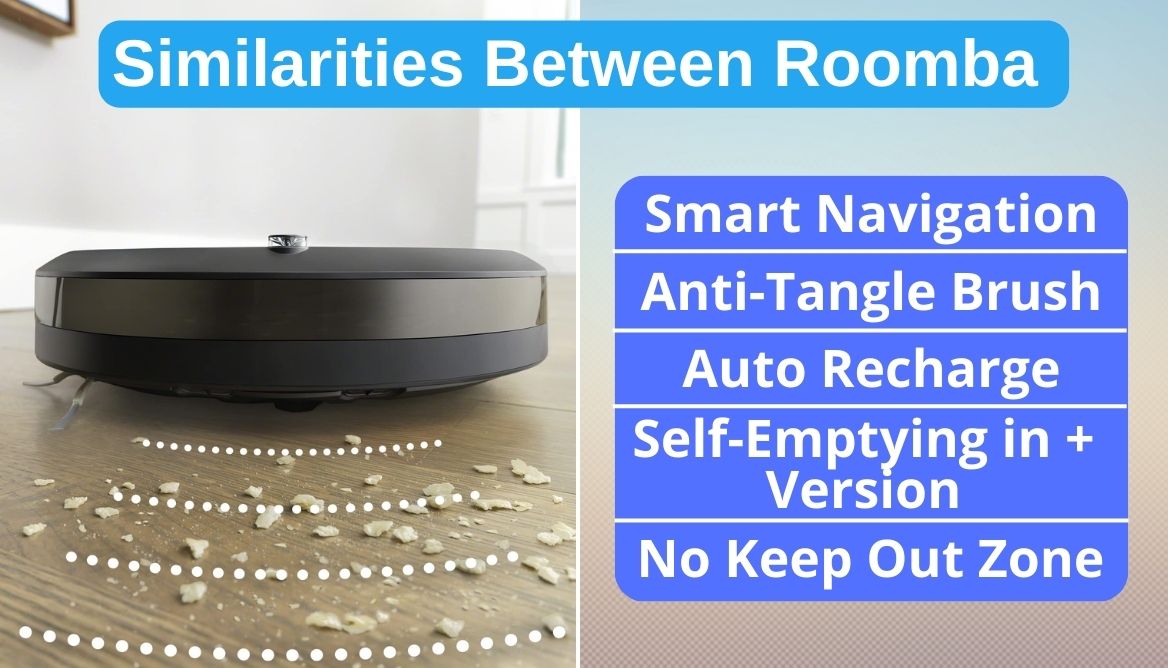 1. Smart Navigation
Smart navigation means your robot vacuum can clean your home with in-built intelligence, and you don't need manual touch.
Both vacuum cleaners can navigate and clean your rooms with intelligent mapping and creating rows. But these two doesn't have any built-in cameras for privacy reason.
2. Anti-Tangle Brush
Tangling up is a grave issue for vacuum users. Roomba i3 and Roomba i4 have dual anti-tangle brush that prevents hair from tangling in the machine.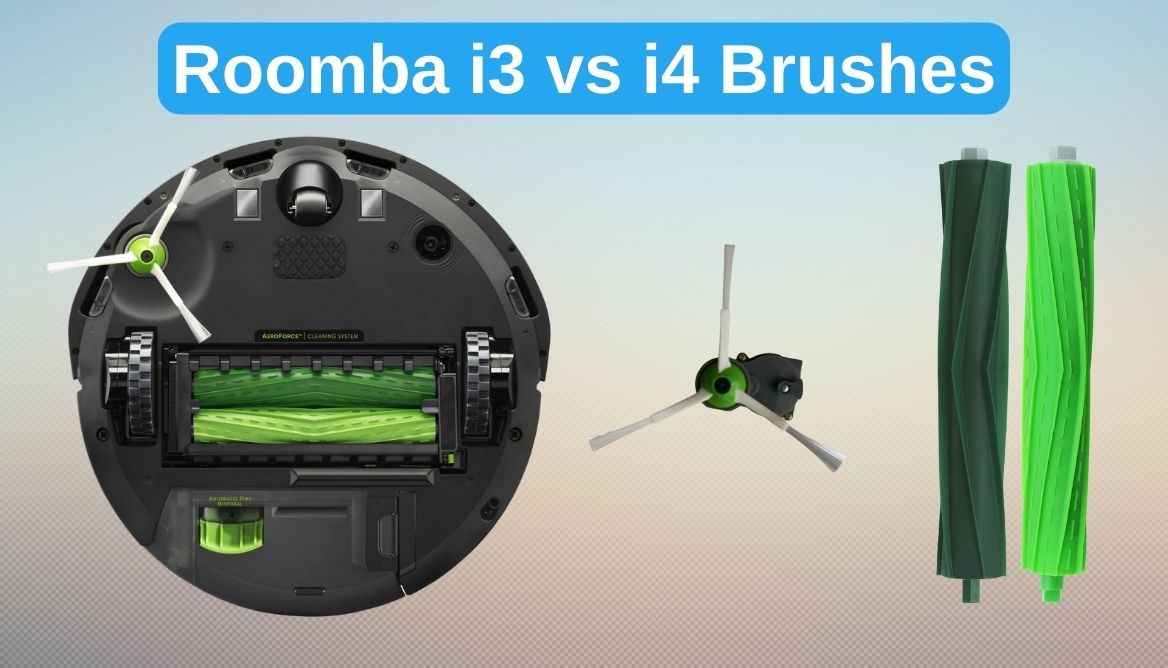 Normal vacuums have bristles that are prone to entanglement. But these robot vacuums give great comfort to cleaning pet hair or even long hair without messing up.
3. Auto Recharge
Well, that's an incredible feature to have. Roomba i3 EVO and i4 have auto-recharging features. Both Roomba models have automated sensors to tell whether the remaining battery is enough for selective room cleaning or not.
If the charge is insufficient, these vacuums return to the charging dock. After the battery recharge, they resume cleaning from the exact place.
4. Self-Emptying in Plus Version
Roomba i3 and i4 are entry-level cleaners, and they don't have the self-emptying feature. But the plus versions, Roomba i3+, and i4+, can automatically return to the docking station and empty themselves.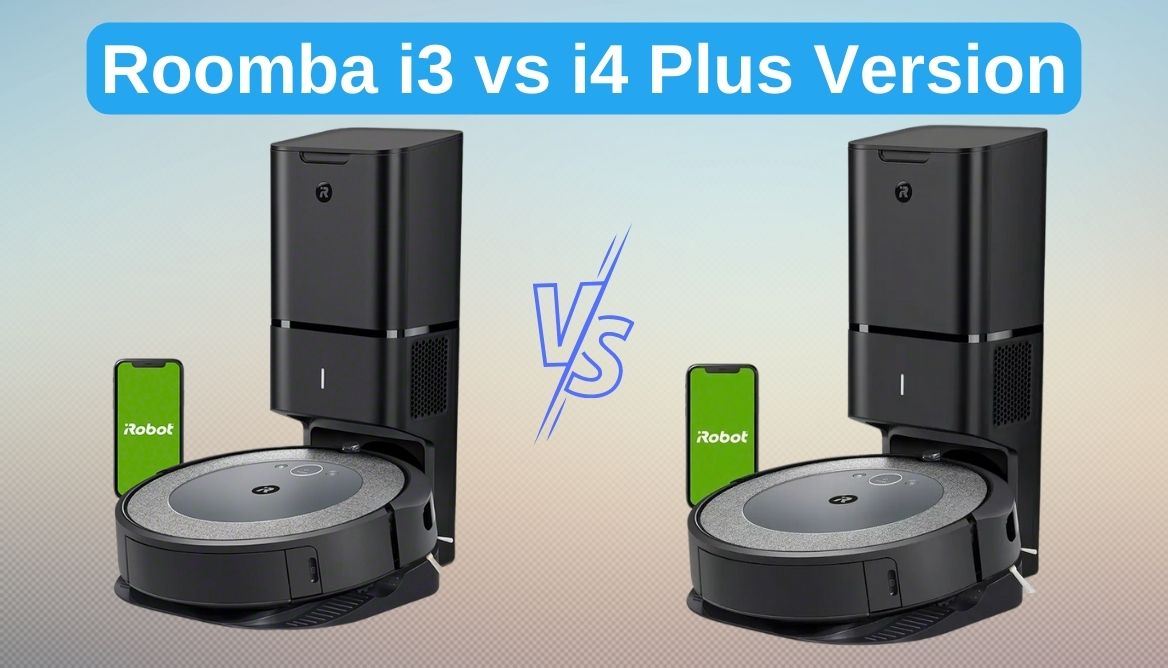 That means you don't have to touch the clean base or make your hand dirty. But the drawback is that you need to buy frequent disposal bags as they are for one-time use.
5. No Keep-Out Zone
As we have told earlier, both Roomba i3 and Roomba i4 are entry-level vacuum cleaners. They lack this comfy "keep out zone" feature. Keep out zone means you can draw maps and boxes where you don't want vacuums to clean.
Advanced Roomba models (Roomba s9+, for instance) have this feature. However, in Roomba i4, you can use the Virtual Wall to mark places for cleaners to avoid vacuuming.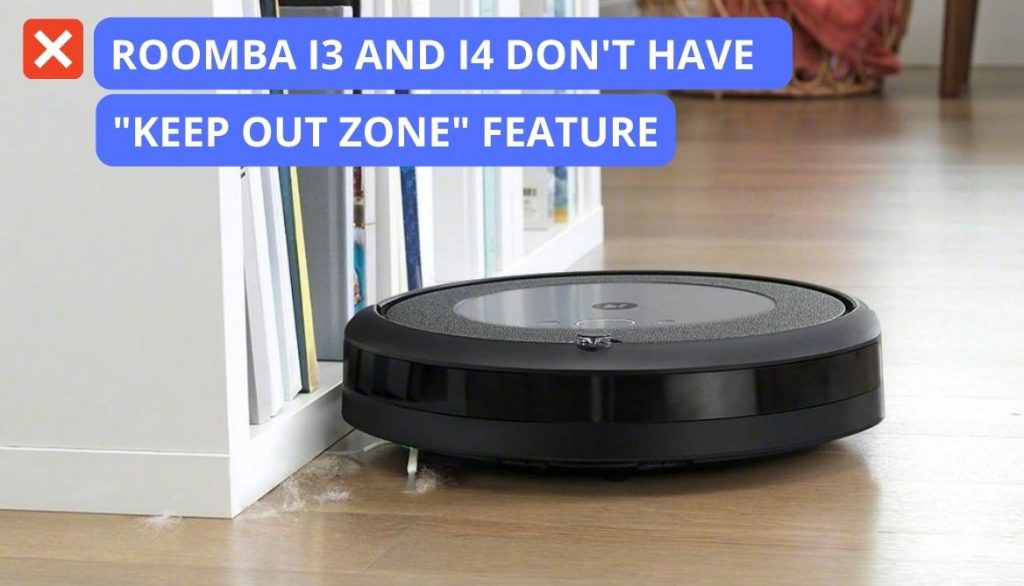 Now we know the similarity between these two robot vacuums. But let's compare head-to-head which one provides better convenience. We start with the navigation capacity.
Roomba i3 and i4: Which One is Better in Navigation
The navigation system of a vacuum cleaner tells you how sophisticated the cleaner is. It is important to note the effectiveness of a robot vacuum.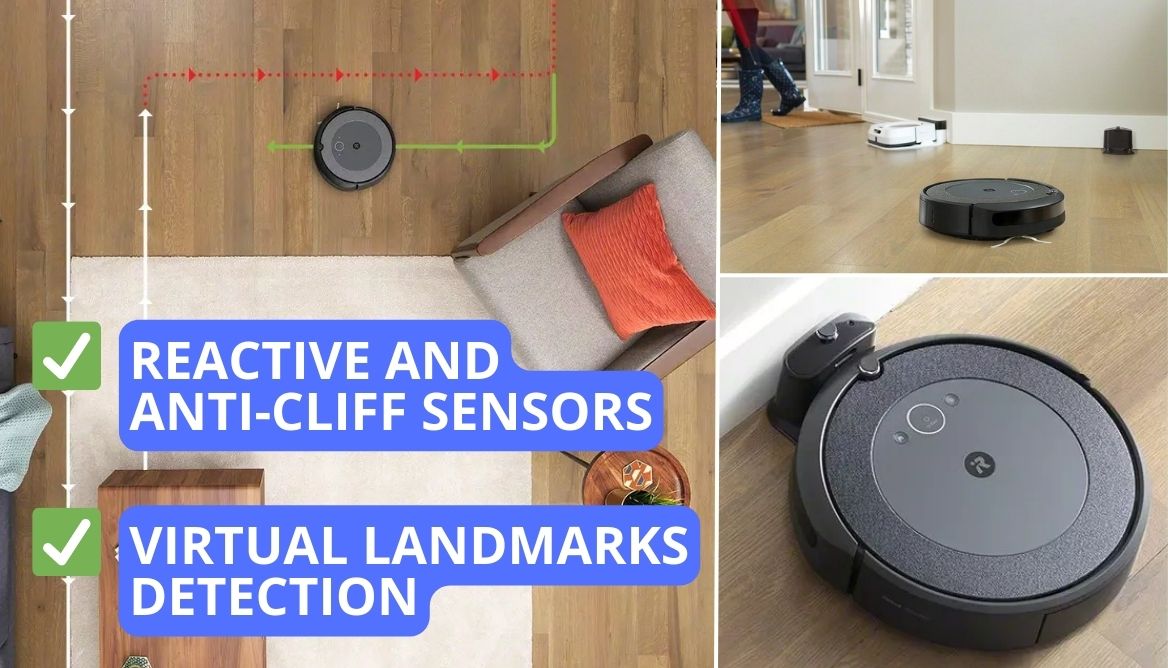 Roomba i3 Navigation
IRobot Roomba i3 and i4 are similar in their navigation features. But the model i4 has one advantage.
Roomba i3 uses iAdapt version 1.0.
As typical of Roomba cleaners, the i3 model uses Visual SLAM to generate maps.
Roomba i3 has sensors to detect dirt and obstacles across the rooms.
There is an anti-cliff sensor to prevent the device from falling from stairs.
With the help of a Reactive Sensor, this vacuum cleaner also finds landmarks to avoid accidents.
Though it doesn't use sophisticated navigation, this model provides an easy cleaning experience for house owners.
Roomba i4 Navigation
This device uses an almost identical navigation process.
Roomba i4 uses the same iAdapt version 1.0, while the i4+ uses the iAdapt 2.0 and 3.0.
This model has similar Reactive and Anti-cliff sensors.
Roomba i4 can detect the dirtiest area with its sensors.
The i4 robot can detect virtual landmarks and can consider them obstacles.
In both devices, you can control the navigation system using your google assistant or a voice command. They don't need any remote control.
Mapping and Marking Technology: Head-to-Head Comparison
Mapping is an important feature in most robot vacuums. Let's see what difference both models can have.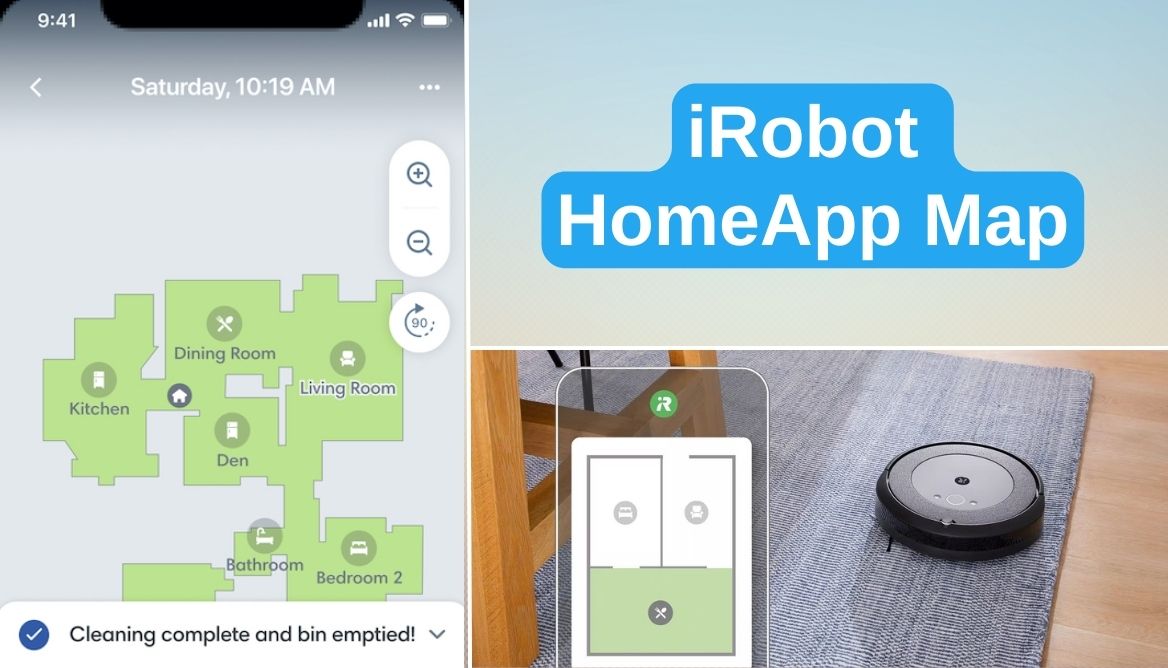 Mapping and Marking by Roomba i3
Roomba i3 has followed mapping and marking features:
Using the iRobot home app, you can scan your home and create a virtual map.
After having an efficient map, the robot can move in straight lines or neat rows to clean the bare floors.
You can literally select where you want the cleaner to go and where to avoid it.
However, the i3 does not have digital boundary marking.
Mapping and Marking by Roomba i4
Roomba i4 has similar mapping technology for powerful cleaning. It also creates a map with the sensors. And you can mark the places you want the cleaner to go or avoid.
But you can use the Virtual wall as a replacement for the keep-out zone. You will get one node with the i4 package. Unfortunately, neither i3 nor i4 supports digital boundary technology.
Roomba i3 vs i4: Cleaning Performance
Cleaning is, after all, our ultimate goal. Which vacuum does clean better? Let's see.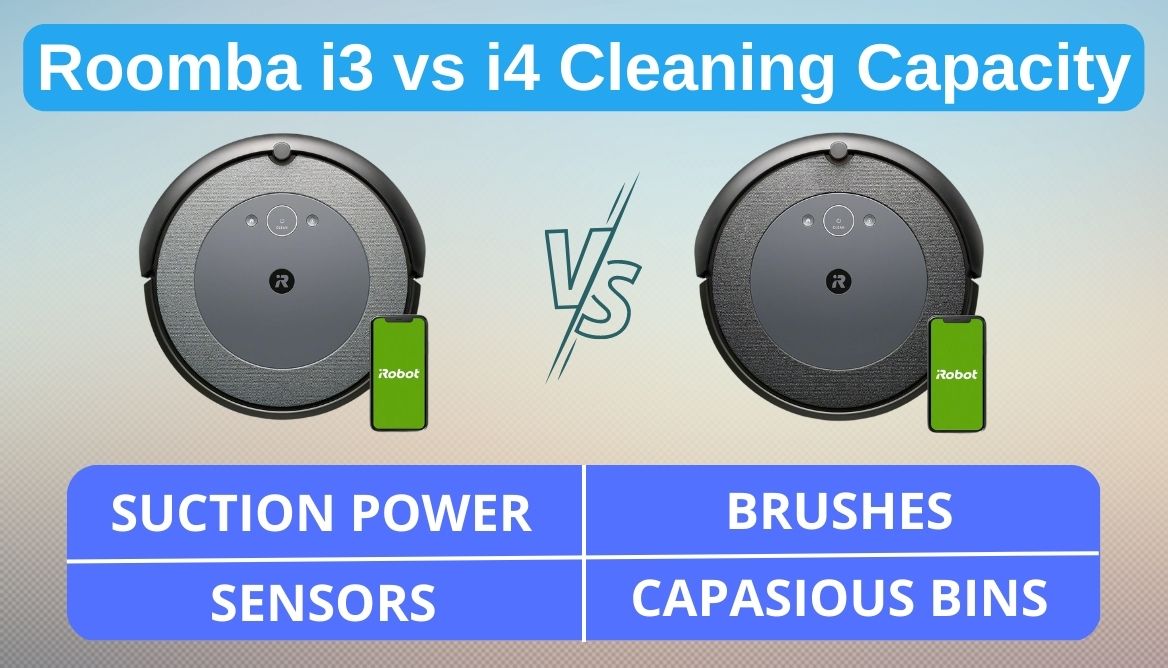 Roomba i3 Cleaning Capacity
Though Roomba i3 does not provide the advanced cleaning as advanced models, it cleans the household pretty well.
Roomba i3 comes with a massive suction power of 1800 pa.
This suction power can clean stubborn dirt and bare floors with ease.
The i3 robot is suitable for a low-pile carpet but cannot deep clean a high-pile one.
The main and the side brush can reach the edges and corners for effective cleaning.
The robot has a sensor to detect carpets, and the suction power reaches its peak in the carpet.
The i3 cleaner is compatible with a mop from Braava (model M6), and you can even set cleaning and mopping in sequence with these two devices.
Roomba i4 Cleaning Capacity
Roomba i4 gives a similar cleaning performance as the i3 cleaner gives:
The i4 vacuum also has 1800 pa suction power.
This robot can detect high-traffic areas through its sensors.
The main and side brush also provides maximum cleaning capacity.
It can a few rooms without interruption, thanks to its longer battery.
These two robots have bins to contain 400-500 mL of dust at a time. The noise level in these robots can reach up to 68 decibels. And Auto Clean Base technology is available for both models at some extra cost.
Which Vacuum Has a Better Cleaning Brush?
Both Roomba vacuums have:
Rubber brushes to avoid tangling with pet hair.
The side brush in each facilitates vacuuming the edges and corners.
The interesting part is that brushes in i3 and i4 are:
Removable, and you can easily replace them when necessary.
A new brush has 250% more bristles, so the machine can pick up more dirt.
The Roomba i3 and i4 Robot have the same set of brushes. So, you can relax with your pets while your Roomba i3 or i4 Robot does the cleaning.
Filter and Bin System in Roomba i3 and i4
Filter and Bin systems in the i3 and i4 robots are almost the same:
Roomba i3 and Roomba i4 have onboard dustbins where all the dirt goes.
Both robots can hold 0.5 L of dirt, enough for a couple of cleaning.
Both devices can reach the dustbin automatically.
Both cleaners have a HEPA filter to capture allergens, dirt, and particles.
Dust from these vacuums will not affect people with allergies and asthma.
Both have a full bin indicator to let you know when the bin is full.
You have to change the filters of Roomba vacuums every three months of use. Roomba i4 has two extra filters for future use, and Roomba i3 has only one. However, you can easily buy filters from nearby shops.
Both i3 and i4 don't have Clean Base Auto Disposal with the package. But you can buy it from online stores and use it with the iRobot app. However, if you buy an i3+ or i4+ vacuum, you will get the Clean Base unit with the package.
Which Vacuum Has Better Dirt Detection?
Dirt detection is an essential feature of Roomba gadgets. Roomba i3 and Roomba i4 have sensors that can detect dirt. This Irobot patented technology finds spots with concentrated dirt and cleans them.
Roomba's dirt detection is quite reliable, and the spot mode cleans every particle. Both models work in a similar way here as well.
Which Vacuum Has Better Carpet Recognition Technology?
We found this carpet recognition feature to be amazing in iRobot Roomba i4. This robot vacuum can detect and recognize high-pile and low-pile carpets.
When these cleaners recognize the carpets, their suction power increases automatically. The cleaning brush then provides a powerful cleaning of the carpet. Roomba i3 doesn't have this feature.
The Roomba i4 version goes one step ahead again.
Sensors In Roomba i3 and Roomba i4
Roomba i3 has a dirt detection sensor to find out dirt on the floors. This sensor will also ensure the cleaning of the detected spots.
It has another sensor to prevent clashing with walls and furniture. What's more interesting is the anti-cliff sensor that prevents the robot vacuum from falling off the high ground.
Roomba i4 has similar sensors and works with the same pattern.
Which Vacuum Has a Better Design Between i3 and i4?
Now let's talk about the design of the Roomba i3 and the i4. The ideal design of a robot vacuum should be low-profile, so it can reach under furniture. Both of them are good for this task.
The Roomba i3
The Roomba i3 has next parameters:
Color: Black, Woven Neutral.
Shape: Round-shaped.
Weight: 7.48 lbs.
Dimensions HWD: 13.34 x 13.26 x 3.63 in.
Take a look at a video review of the Roomba i3 from one of the customers:
The Roomba i4
The iRobot i4 robot has a similar design and parameters:
Color: Black, Woven Neutral.
Shape: Round-shaped.
Weight: 7.44 lbs.
Dimensions HWD: i3 is 13.34 x 13.34 x 3.63 in.
Check the video with an in-depth review from one of the buyers:
Both vacuums have woven rings on the top to give the device an aesthetic look.
Irobot Roomba i3 vs i4: Battery Backup Comparison
Check out the Roomba i3 vs i4 battery material, runtime, and auto-recharge facility.
Roomba i3 Battery
Irobot Roomba i3 battery:
It is an average 1,800mAh lithium-ion, that provides more than an hour of runtime.
After a long time of use, you shall find the runtime less than the original. It happens to all robot vacuums.
This i3 vacuum has an auto-recharge facility, and it takes around 2 hours+ to fully charge.
After recharging, it can resume cleaning from the exact spot where it left off cleaning.
Roomba i3 Battery Backup
Irobot Roomba i4 is far ahead in battery performance compared to the Roomba i3:
It provides 20% extra runtime.
Has a larger battery of 2210 mAh that gives a runtime of around 100 minutes.
This model also has the auto-recharge feature, and its battery needs around 3 hours for a full recharge
Provides auto-resume cleaning.
Battery Performance Comparison Table
The i4 model has a clear advantage in battery performance.
Smart Features in Roomba i3 and Roomba i4
We all need a smart home with smart devices for utmost convenience. And Roomba promises to give you just that. Both Roomba devices have similar smart features for convenient use. So, let's have a quick glance.
Roomba i3 Smart Features
Easily controllable with the Irobot Home app
Voice command with Google Assistant and Alexa
Supports scheduled, preferential cleaning
Smart sensors for smart navigation
Roomba i4 Smart Features
Customized cleaning option
Responsive voice command feature
Compatible with Irobot App and Irobot Genius Home
Auto recharge and resume feature
Read Also:
Roomba i4 vs i7: Which One is the Best Vacuum Cleaner
Roomba i3 vs j7 Robot Vacuum: 5 Impressive Differences
Roomba i6+ vs i7+ Robot: Check Out 3 Important Differences!
Roborock S7 vs Q7: Which One is The Best for Your Needs?
FAQ
Does Roomba i4+ Robot Vacuum Have mapping?
Does Roomba i4+ Robot Vacuum Have mapping?
Yes, the Roomba i4 has intelligent mapping sensors to map and navigate your house. However, it lacks the digital boundary marking technology found in advanced models.
Is iRobot i4 better than i3?
Irobot i4 and i3 are two vacuums with similar features, but the i4 is slightly better. Roomba i4 offers an extra Virtual Wall accessory, and it guarantees better battery performance.
Conclusion
So we now know the Roomba i4 has some advantages over the i3, like extra battery backup and Virtual Wall. That's why we recommend buying it. But an extra convenience always has some extra charge. The Roomba i4 will cost you some extra bucks than the i3.
So what do you think? Which one would you pick? Let us know your decision in the comment section.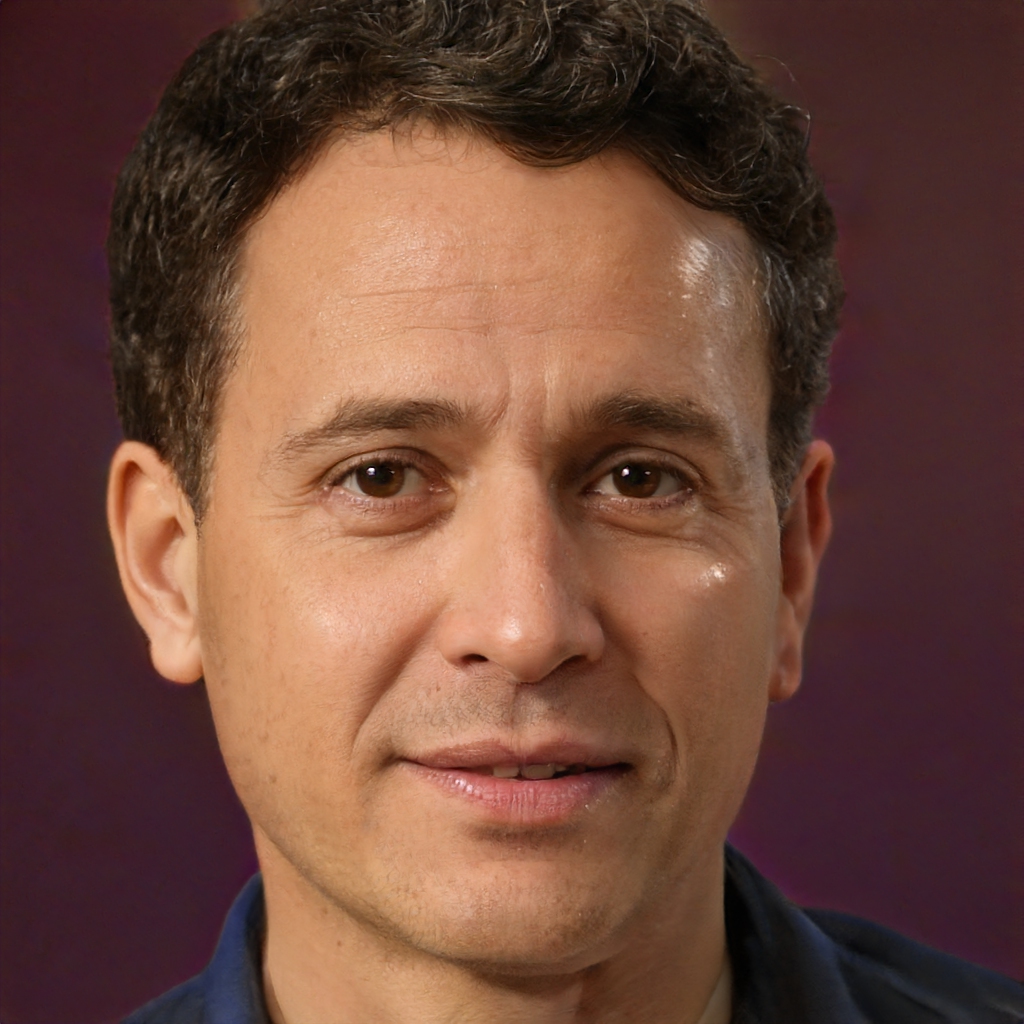 Danny is a passionate writer who loves to share his knowledge about air purifiers. He's been writing for 10 years, and he'll share all that experience with Very Well Home viewers to help you make the best decision when it's time to buy an appliance!