There has been an unending debate between Roomba j7+ vs i7+. These two robot vacuums are currently the latest Roomba models on the market and some of the world's smartest cleaning robots.
Keep reading to discover all the similarities, differences, and unique specifications of these two smart models and know which is best suited for you.
Quick Comparison
How does the Roomba i7 compare to the Roomba J7+? Let's have a quick recap and see some of their notable features:
Both models highlight advanced floor sensing technology that can detect the type of flooring and adjust the suction power accordingly for optimal cleaning performance.
They also come with a new precision navigation feature for navigation around pet waste and other obstacles.
The main difference between the Roomba J7+ and the iRobot Roomba i7 is their camera placement. The J7+ has almost a front-facing camera for obstacle avoidance, while the i7+ has a top-mounted camera.
That is just the tip of the iceberg. Read on to find out more about these robot vacuums.
Comparison Chart
| | | |
| --- | --- | --- |
| | | |
| | | |
| | | |
| | | |
| | | |
| | | |
| | | |
| | | |
| | | |
| | | |
| | | |
| | | |
| | | |
| | | |
| | | |
| | | |
| | | |
| Magnetic / Optical Virtual Walls: | | |
| | | |
| | | |
| | | |
The iRobot Roomba j7+ Pros and Cons
The following are some of the benefits and drawbacks of the high-end Roomba j7+.
Pros
It has great suction power for thorough cleaning
Has self-emptying technology for a hassle-free cleaning experience
It features carpet boost for effective cleaning of thick carpets
Comes with smart mapping for multi-floor cleaning
Has voice control for convenient cleaning
Uses obstacle avoidance technology for effective cleaning without causing any damage.
Cons
Has small dustbin capacity
Its battery capacity is small
It doesn't feature a dirt sensor
Slightly heavier than the iRobot Roomba i7+
The iRobot Roomba i7+ Pros and Cons
Here are the pros and cons of the iRobot Roomba i7+.
Pros
Large dust bin capacity for less frequent emptying
Covers more ground with its large cleaning area
Big battery capacity for longer cleaning sessions
Slightly lighter design for easy maneuverability
Dirt sensor alerts you to dirtier areas
Convenient self-emptying technology for a hassle-free cleaning experience.
Cons
Slightly lower suction power
It is a bit more expensive than many other robotic vacuums
Plus Features – Clean Base and Self-Empty
The plus and standard models differ in terms of the Clean Base and Self-emptying features, as evidenced by the comparison below: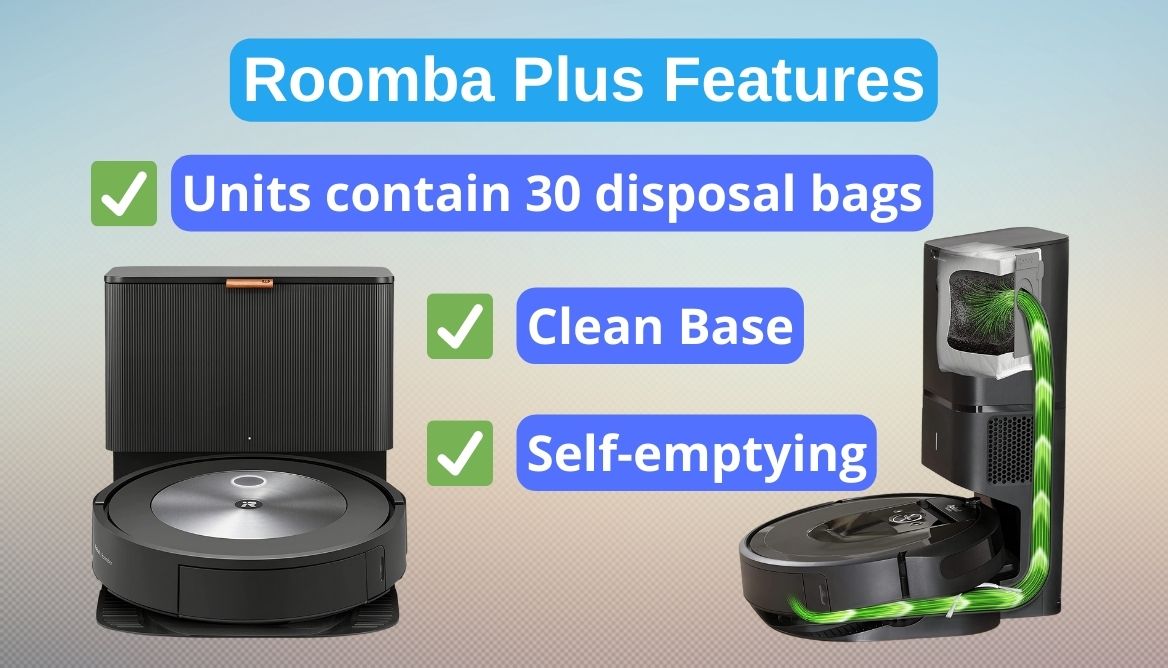 The main difference between the standard and plus models is the inclusion of an automated dirt-removing self-emptying docking station.
Plus models are considered superior to the base models because of the Clean Base unit. These units can house a maximum of 30 dirt disposal bags.
Smart Navigation and Mapping Features
The Roomba j7+ is equipped with the latest iRobot OS technology and a Precision Vision Navigation system that uses a front-mounted onboard camera to detect and avoid obstacles such as dog poop. Here are some other key features of smart navigation: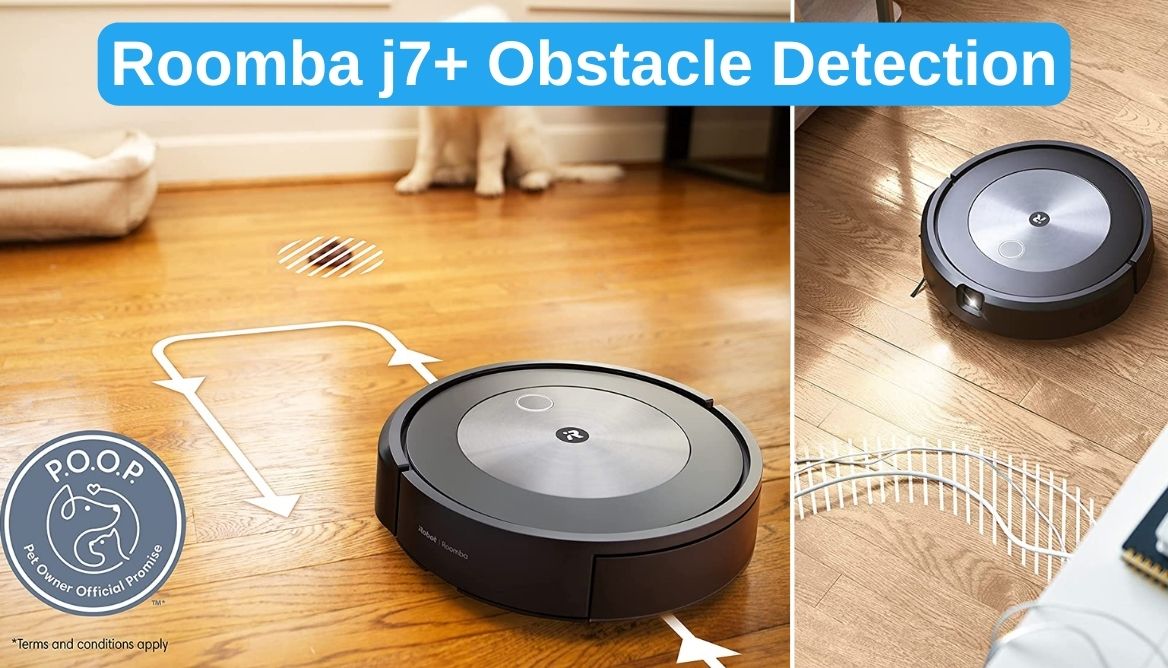 This advanced obstacle detection system ensures that the robot vacuum avoids pet accidents.
There is a Pet Owner Official Promise guarantee that allows for a free replacement of the j7+ model in case the robot vacuum runs over your pet or dog waste. Only this Roomba model has this guarantee for any pet owners.
Both models come with the iAdapt 3.0 Smart Navigation and Imprint Smart Mapping, which uses floor sensors to map your home and clean them efficiently.
Now take a look at the highlights of mapping: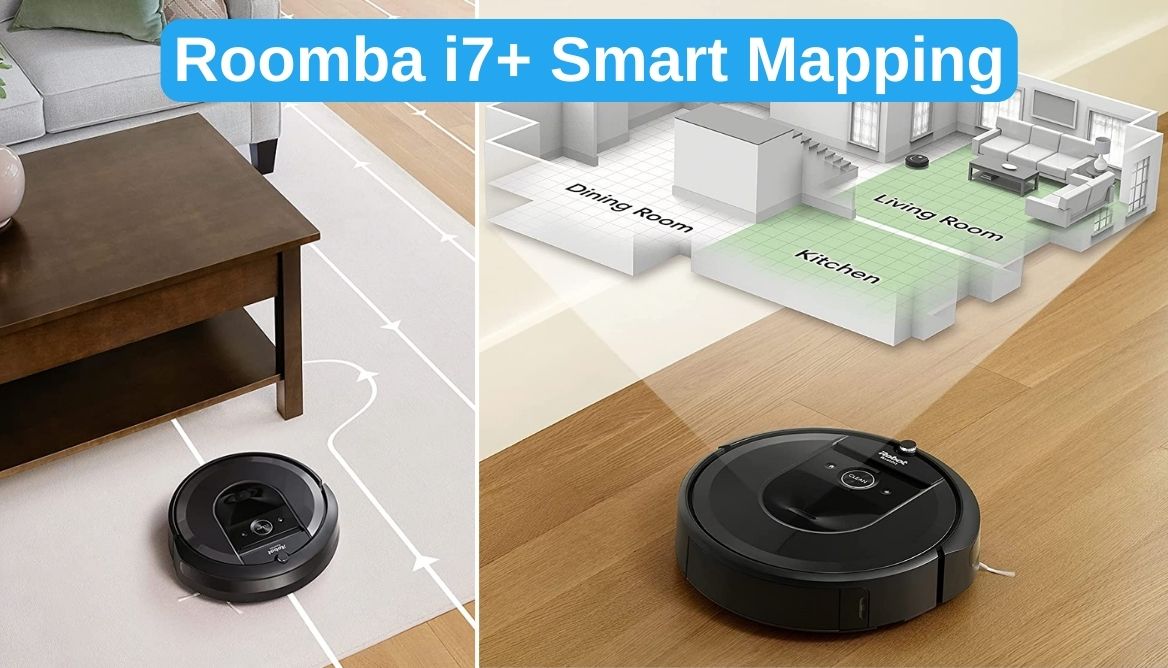 The Roomba i7+ has a top-mounted camera that assists in this mapping. You can also name different rooms in your house and instruct your robot to clean a particular room or even schedule multiple cleanings.
Both models allow you to create Keep Out Zones using the iRobot App, which the vacuum will avoid. When the Roomba vacuum encounters a new obstacle, it can take and send pictures of the new obstacle to the iRobot app.
The Imprint Smart Mapping technology and Imprint Link technology make it possible for the two models to sync with the Braava jet m6 robot mop and work cooperatively.
Cleaning Technology System and Suction Power
Here I compare Roomba j7+ vs i7+ in terms of cleaning technology, such as obstacle avoidance and the suction power of each robot vacuum. Keep reading to find out more.
Ability to Suck and Sweep
When it comes to vacuuming and sweeping, these Roomba models highlights in the following way: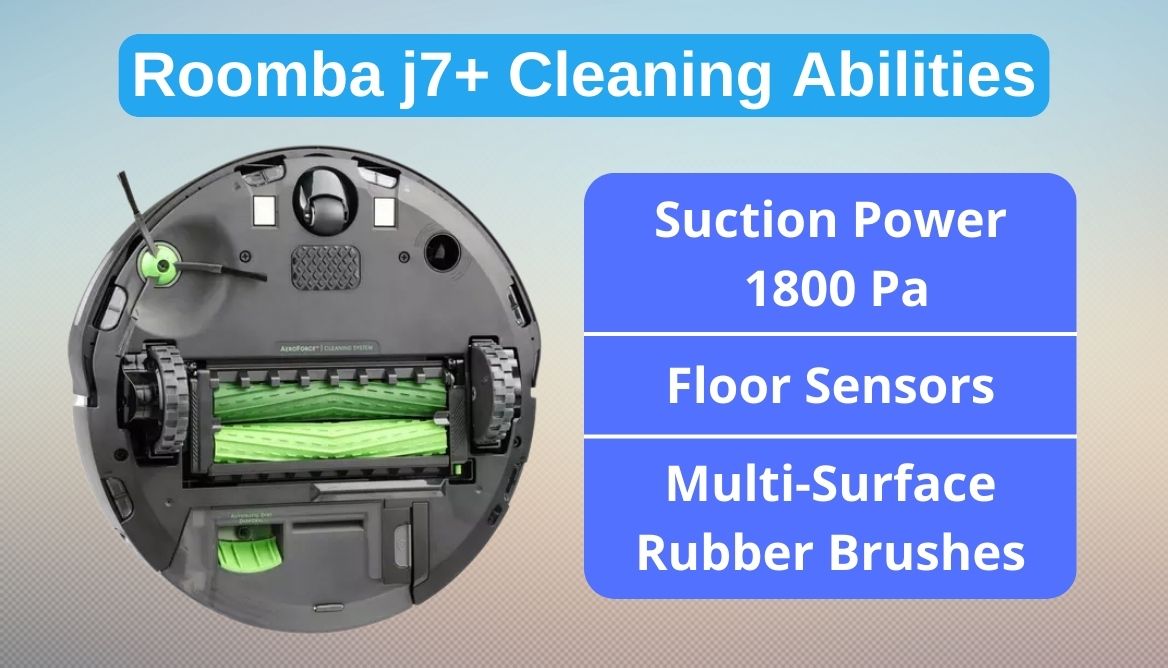 The Roomba i7+ boasts a power lifting suction capacity of 1800 Pa, while the j7+ has a suction capacity of 2200 Pa, making it more powerful.
Both models feature floor sensors that can detect the type of flooring, such as hardwood floors, high pile carpet, and low pile carpet, and then adjust the suction power accordingly for optimal cleaning performance.
The two robot vacuums come equipped with the cool feature of multi-surface rubber brushes that effectively remove pet hair without tangling.
Both models feature an edge sweeping brush for cleaning wall edges and corners. The cleaning brush also comes with removable tips, making cleaning easy.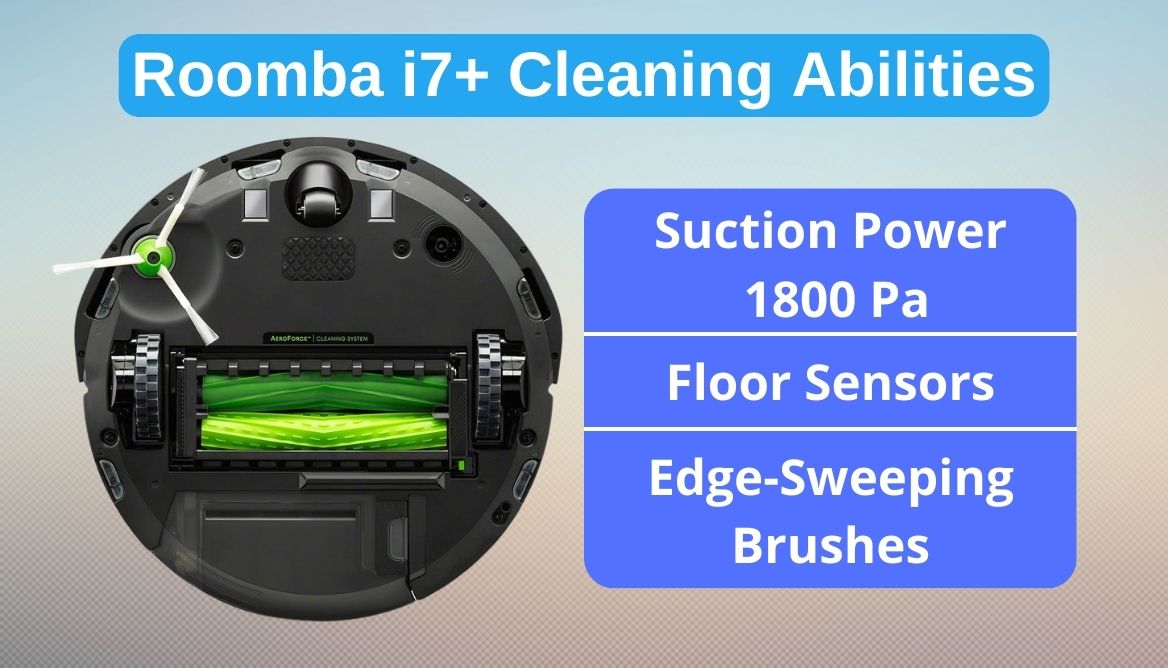 It's worth noting that while both models are highly efficient at sweeping and vacuuming, they do not have the capability to mop.
Filters and Dustbin Capacities of Robot Vacuums
The filters and dustbin capacities of these vacuums compare in the following way:
Both the Roomba i7+ and Roomba j7+ come with a HEPA filter making them safe for people with allergies and asthmatic conditions. However, this filter is not removable and should be replaced every three months.
The iRobot Roomba i7+ has a greater dust bin capacity than the Roomba j7+. The i7+ comes with a 500 ml dust bin, whereas the j7+ comes with a 400 ml dust bin.
When the dustbin of these plus models gets full, the robots return to the charging station to empty their contents, and then they will resume cleaning.
Both of these bases hold the same amount of debris. Their bases can carry up to 30 dust bins, lasting up to a month before getting filled up.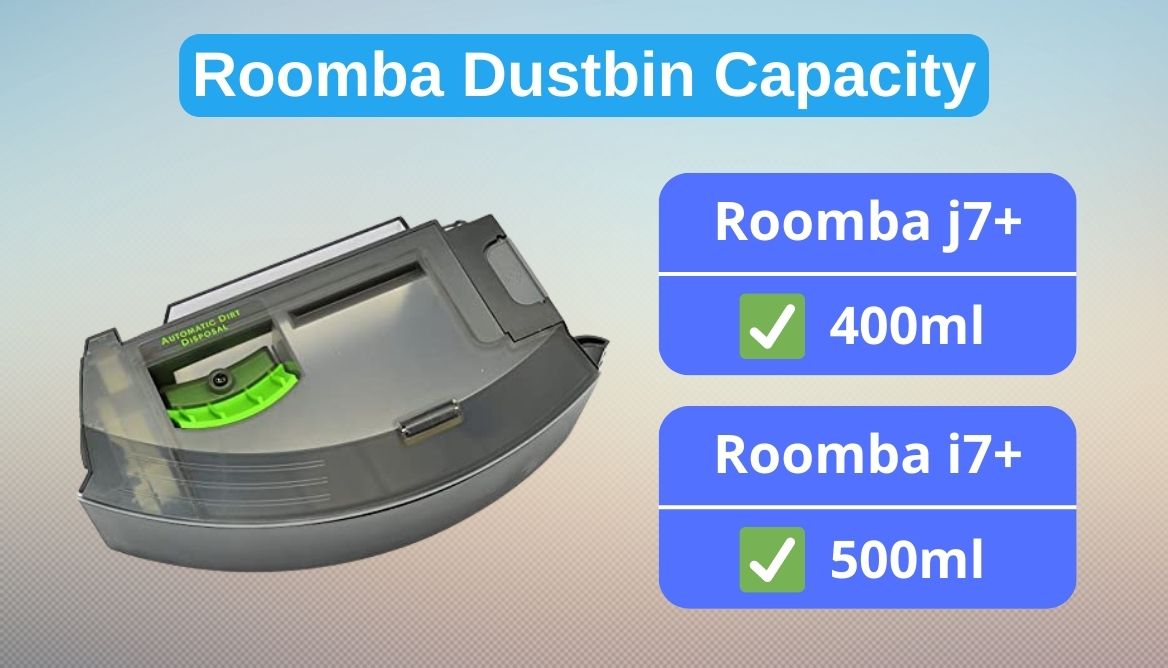 Design, Size, and Weight
Let's now discuss the i7+ and j7+ Roombas' designs and see how they are both qualified for the job.
The Roomba i7+
Here are the design specifications for the i7+ vacuum:
Color: Black
Shape: Circular
Weight: 7.44 Pounds
Dimensions: 13.34*13.34*3.63 inches
Take a look at a detailed video review of the i7+ by one of the users:
The Roomba j7+
The design of the j7+ is almost similar to that of the i7+, with only a slight difference.
Color: Black with Grey top
Shape: Circular
Weight: 7.5 Pounds
Dimensions: 13.34*13.3*3.4 inches
Check out a helpful video review from one of the buyers of the Roomba j7+:
Battery Comparison
The batteries of the two vacuums slightly differ, as can be seen below.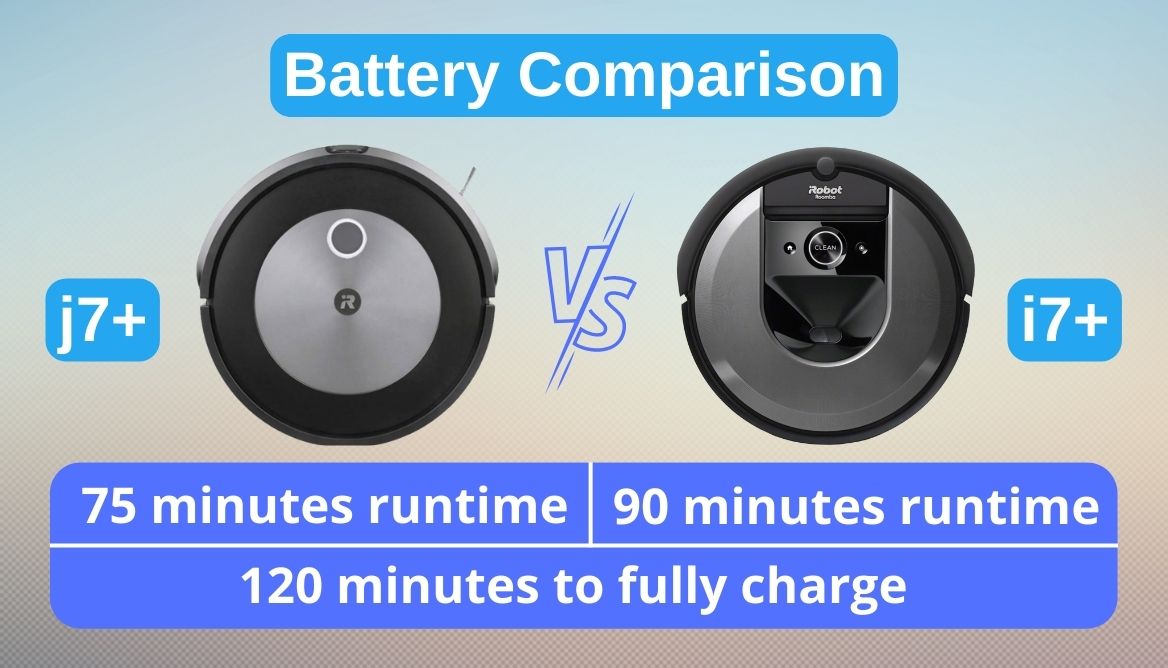 Roomba i7+ Battery
The Roomba i7+ battery has next features:
The Roomba i7+ packs a 3300mAh Lithium-Ion battery.
It has a battery life that can vacuum for up to 90 minutes on a full charge.
Takes about 120 minutes to charge fully.
Sale
iRobot Roomba i7+
Experience the ultimate in modern technology with the Roomba i7+ robot vacuum, which features:
Automatic dirt disposal feature.
Wi-Fi connectivity and voice control with Alexa and Google.
The iRobot OS saves your cleaning routine for maximum efficiency.
Self-emptying dust bin that has a large capacity of up to 60 days.
Advanced sensors optimized for cleaning carpets, hard floors, and pet hair.
Roomba j7+ Battery
The Roomba j7+ battery has next highlights:
The Roomba j7+ has a 2210mAh Lithium-Ion battery.
The battery takes 120 minutes to fully charge.
It has a battery life of up to 75 Minutes.
If the battery charge of both vacuums runs out during a cleaning session, they will automatically go to the charging dock and thereafter resume the cleaning cycle from where they left off. This great feature is useful in large houses which require longer cleaning sessions.
iRobot Home App with iRobot Genius
The iRobot Home App is a mobile application that gives you control over your iRobot remotely through your smartphone or tablet. By connecting to a Wi-Fi-enabled Roomba, the user can schedule cleanings, customize cleaning maps, and have real-time access to the device.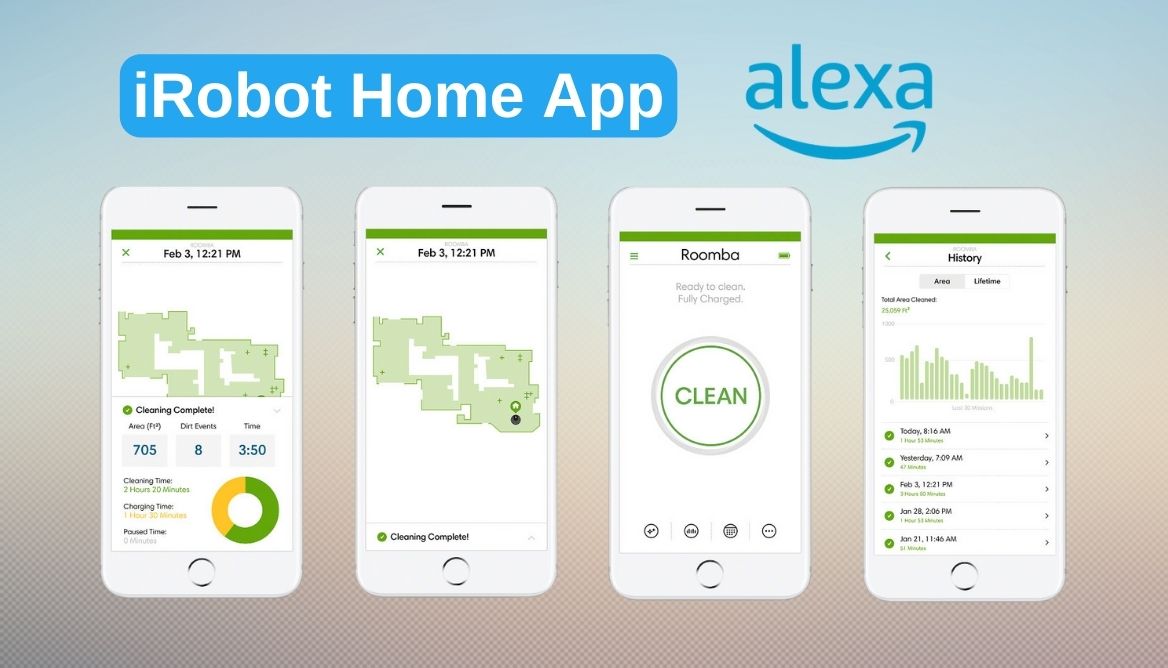 The latest updates of the iRobot bring new features:
You can create schedules for the Roomba i7+ and J7+.
The schedule is made by continuously learning your cleaning habits.
It also keeps tabs on pollen count and pet shedding season to give you that extra sparkle when cleaning.
The iRobot Genius tool comes with some additional special highlights, such as:
Voice assistant control with a smart device and Alexa.
Available start, pause, and stop cleaning.
Customized maps for scheduled cleaning.
Sends the robot back to charge.
Shows the cleaning history.
iRobot Select Membership
The iRobot Select membership program started in October 2021. With the membership, you can buy the Roomba j7+ with a monthly payment plan. It's an advantage, especially if you can't play the full price all at once. The Roomba i7+ does not participate in the program.
The benefits of having the select membership include:
Premium protection plan.
Ability to upgrade your robot vacuum cleaner every 3 years.
With the iRobot j7+, you'll be up to date with the latest technology and updates.
Customer service support team.
iRobot Roomba j7+
Get the most out of advanced cleaning technology with the J7+ robot vacuums with features such as:
The iRobot OS powers the vacuum to follow your cleaning preferences and easily navigate around obstacles.
Avoiding pet waste comes with a full replacement guarantee if it doesn't work.
Cleaning schedule ability to plan and store multiple maps.
Care and Maintenance of a Robot Vacuum Cleaner
Timely maintenance is an important aspect of any robot vacuum. The following are some of the major maintenance tasks you should be doing periodically to ensure the optimal performance of your vacuum device.
1. Emptying the Docking Station
While the Roomba i7+ and J7+ both feature a self-emptying dustbin system, it's still necessary to periodically empty the debris bag from the Clean Base docking station.
The i7+ model boasts a 30-day capacity, while the J7+ model can hold up to 60 days' worth of debris. This makes the Roomba J7+ a more convenient option with less frequent maintenance requirements, making it the recommended choice.
2. Filter Cleaning
For optimal performance, maintaining the filters in your Roomba is crucial. Here's a simple, step-by-step guide to keeping your filters clean: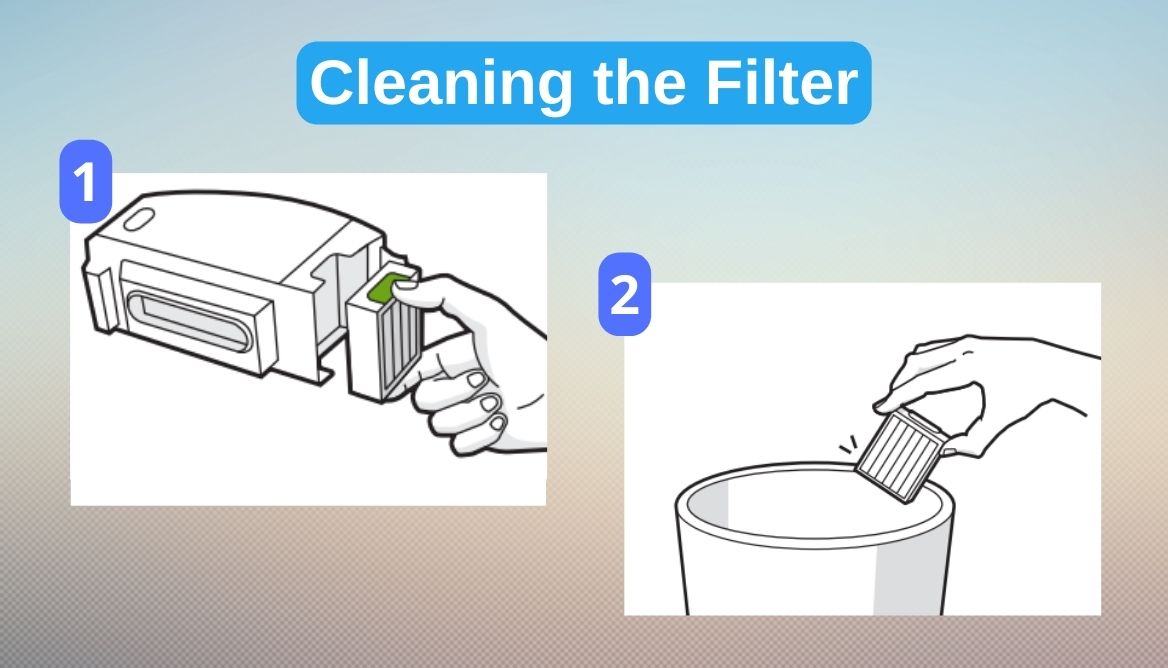 Remove the filters with ease.
Give them a quick tap on the side of a trash can to dislodge any accumulated debris.
Use a soft brush, if necessary, to give them a thorough cleaning.
Keep in mind that the Roomba plus models may have different filter types, but the cleaning method is the same. It's recommended to regularly check and replace the filters with appropriate ones for the best cleaning results.
3. Cleaning the Underside
Checking the underside of the robot vacuum regularly is essential. You will identify blockages in the brush rolls, spinning side brush, or wheels.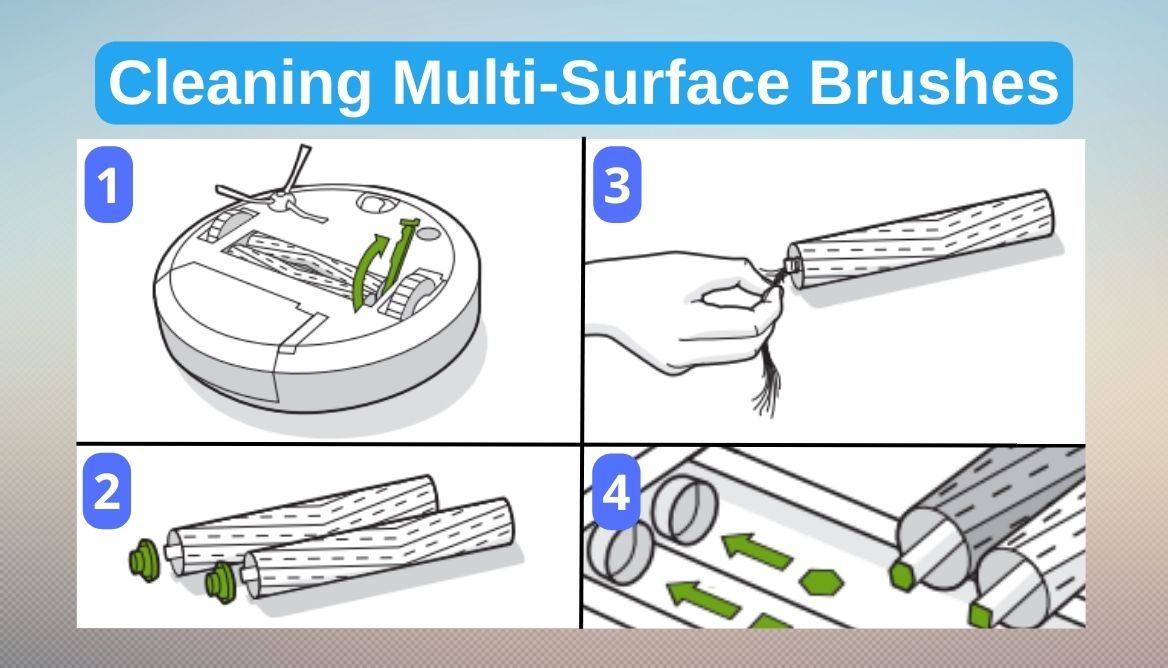 All these vacuums are not immune to time and aging and will eventually become obsolete. To avoid this, use the iRobot select membership and be up to date with the latest features and updates.
Roomba i7+ vs j7+ Who is Each Roomba For?
In this iRobot Roomba i7 vs j7 comparison, you have noticed that both models are good robot vacuum cleaners. Therefore, crowning a winner in this debate is not easy as they have distinct useful features in different situations. Some people might prefer the Roomba i7+, while others might find the Roomba j7+ superior depending on the nature of their homes.
However, to help you choose which one best suits you, here is a list showing the applications of these two Roomba models.
The iRobot Roomba i7+ is best suited for people who:
Have larger homes or need a Roomba vacuum with a higher dustbin capacity (500ml)
Need a Roomba vacuum with a powerful suction capacity (1800 Pa)
Want a vacuum cleaner that can automatically empty itself
Wants their cleaner to have a front-facing camera that works hand in hand with the Precision Vision Navigation to avoid all obstacles on the floor, be it toys, electrical wires, or furniture.
The Roomba j7+ is ideal for people who:
Have smaller homes or need a vacuum with a lower dustbin capacity (400ml).
Want a Roomba vacuum with a more powerful suction capacity (2200 Pa).
Want a vacuum that can automatically empty itself.
Are pet owners. The iRobot OS powers this gadget, allowing it to avoid pet poop as it guarantees the ultimate cleaning performance in your home. Additionally, only iRobot j7+ comes with a P.O.O.P. guarantee.
Are on a tight budget. This is because the j7+ comes with a monthly payment option that is included in its iRobot Select Membership.
Frequently Asked Questions
When did the Roomba j7+ come out?
The Roomba j7+ come out on the market through pre-orders starting on September 12th, 2021. By September 19th, it was ready for purchase, offering customers the option of purchasing the j7+ robot vacuum alone or with a convenient self-emptying base.
Does Roomba j7+ have smart mapping?
Yes, Roomba j7+ has the ability to create smart maps of your home. These maps are created after the robot takes into consideration your cleaning routines, furniture placements, and rooms. Furthermore, the j7+ continuously keeps mapping and adapting to your house.
Is Roomba j7+ good for pet hair?
Yes, the j7+ is good for pet hair. If you're a pet owner, you exactly might choose it.
Conclusion
As you have seen, both the Roomba i7+ and the j7+ are exceptional robot vacuums that offer great value for money. Both models have advanced features such as automatic dustbin emptying, floor-sensing technology, and powerful suction.
I recommend considering your home's size, budget, and cleaning needs when making your final decision. I would personally go for the Roomba J7+ because I am a pet owner, and the P.O.O.P. guarantee can come in handy.
Which model would you choose? Leave a comment below, and also let me know which other topics you would like me to cover.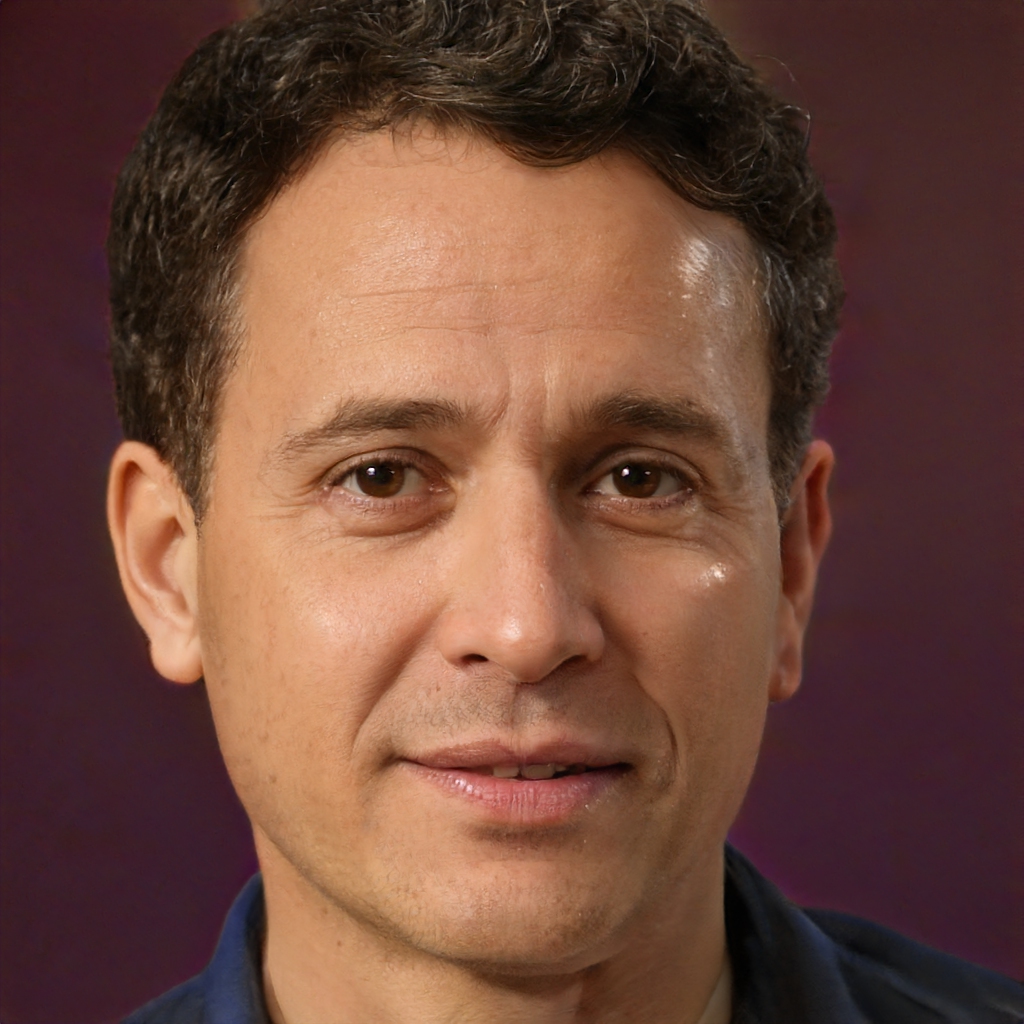 Danny is a passionate writer who loves to share his knowledge about air purifiers. He's been writing for 10 years, and he'll share all that experience with Very Well Home viewers to help you make the best decision when it's time to buy an appliance!